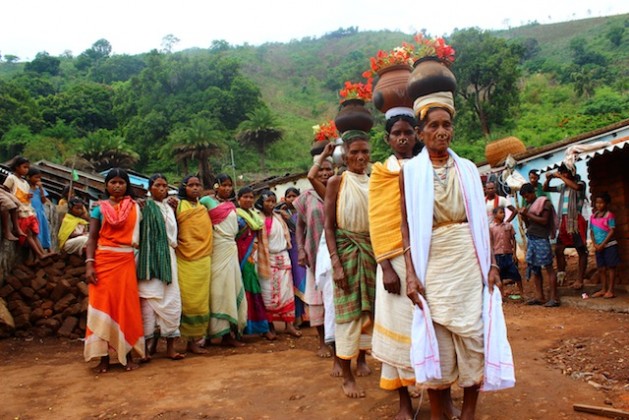 Priestesses from the Dongria Kondh tribal community in the eastern Indian mountain range of Niyamgiri perform an elaborate ritual before setting out on a quest for ancient seeds. Credit: Manipadma Jena/IPS
NIYAMGIRI, India, Jul 22 2015 (IPS) ­ As the rhythmic thumping of dancing feet reaches a crescendo, the women offer a song to their forest god for a bountiful harvest.
Then, with earthen pots on their heads and their spiritual creatures – a pigeon and a hen – in tow, they proceed in single file on a long march away from their village of Kadaraguma, located on the Niyamgiri mountain range in the Rayagada District of the eastern Indian state of Odisha.
Members of the forest­dwelling Dongria Kondh tribe, who worship these hills as the sacred abode of their god Niyam Raja, these women are priestesses, known in the local dialect as 'bejuni'.
The ceremony today is the first stage in a journey to a neighbouring village to collect a rare variety of heirloom millet, the traditional staple food source of the 10,000­strong tribe.
The hardy, highly nutritious cereal was once cultivated on massive swathes of farmland throughout India. Here on the Niyamgiri Hills, the Dongria Kondh tribe has long sworn by the benefits of millet and dedicated stretches of the mountainside to its production.
Over the past several decades, however, industrial and extractive development in the resource­rich state has swallowed up many acres of land and pushed the drought­resilient crop to the sidelines.
A government rice subsidy scheme has also contributed to a decline in millet production and consumption, much to the dismay of indigenous communities like the Dongria Kondh who attach not only good health, but also spiritual and cultural value to the local food source.
Determined to preserve it, the priestesses are going door­to­door, from village to village, encouraging their members to revive the unique heritage.
First published by Inter Press Service