Specially written for Vikalp Sangam
Small millets are one of the important traditional food groups that have been moved out of the regular diets in the recent past. In the Indian context, small millets include finger millet, kodo millet, little millet, foxtail millet, proso millet, barnyard millet and browntop millet. Cultivated for more than 3000 years, small millets are an integral part of the culture and history of India. They have an important place in the food system and culture of marginalised and poor communities living in backward rainfed tracts of India, including Scheduled Tribes and Scheduled Castes. They are rich in protein, micronutrients and dietary fibre, are gluten free and have a low glycemic index. Hence they have the potential to address i) triple burden of malnutrition (i.e.) stagnating under nutrition, widespread micronutrient deficiencies and rising incidence of overweight and obesity, and ii) non-communicable diseases, including diabetes.[1],[2] Small millets are one of the promising alternatives to prevailing water guzzling food crops like rice and wheat, with low water requirement for the same yield and nutrition.[3] Small millets being C4 crops are proven to be climate resilient with high tolerance to warmer temperatures and ability to recover rapidly from drought and heat stress. They are also safe source of food, as very little farm chemicals are used for their cultivation. They are part of diverse cropping systems with many nutritious crops like horsegram, niger, cowpea, etc. and many uncultivated greens. They also offer nutritious fodder. Given the context of declining biodiversity, climate change, acute irrigation water scarcity and widespread malnutrition, reviving small millet cultivation and consumption serves as one of the promising solutions.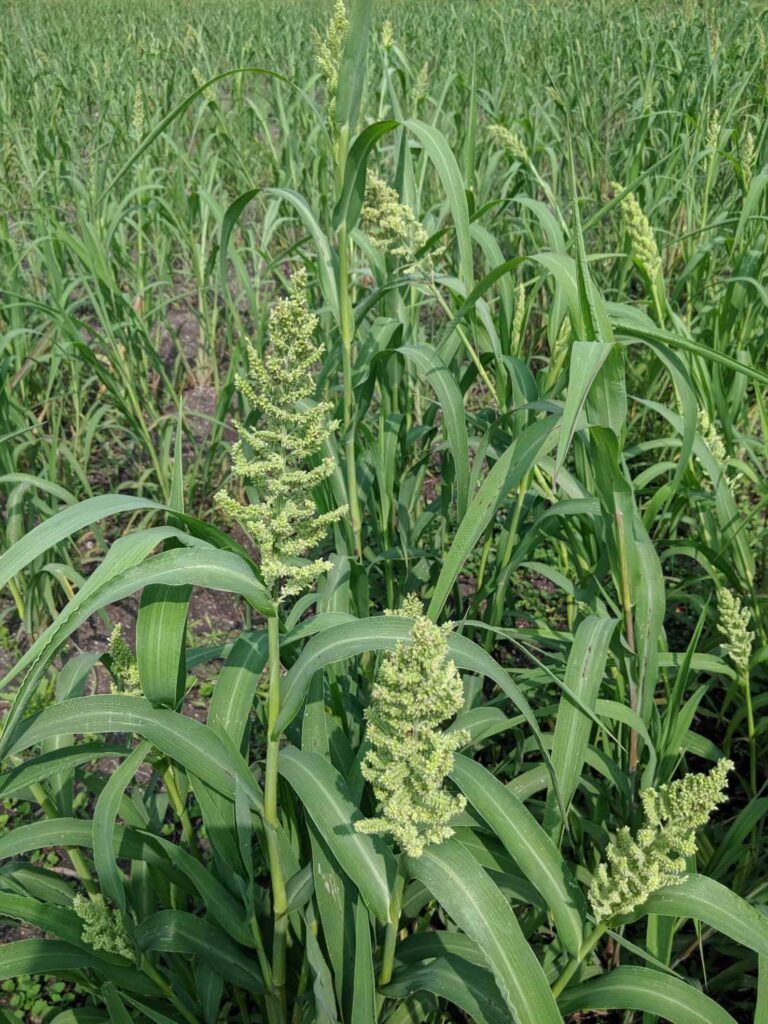 In spite of these advantages, cultivation and consumption of small millets have declined drastically in India. The area under cultivation declined from 7.26 million ha to 1.98 million ha (a decline of 56.4% in finger millet and 82.5% for the other small millets) between 1965-66 and 2011-12.[4] This has lead to erosion of crop and varietal diversity of small millets and their associated crops, and decline in cereal diversity in diets and associated agronomic and culinary knowledge systems. While the word 'rice' was a common accompanying word for dehusked product of most of the cereals earlier in Tamil culture including small millets (little, foxtail, kodo, barnyard and proso millets), now it has come to denote only 'paddy rice'. While there are many reasons for this decline (namely low productivity, lack of remunerative farm gate prices, low social status associated with small millet foods, inadequate availability of small millet foods, lack of skills on utilisation of small millets and inadequate policy support in comparison to rice and wheat), drudgery of women in primary processing due to lack of local processing infrastructure is a major reason for decline in consumption of 'small millets with husk' namely kodo, little, foxtail, proso, barnyard and browntop millets in the production regions across India.[5] This write-up describes how this critical issue can be addressed through small scale mechanised millet processing. The following sections cover i) primary processing of small millets, ii) small scale mechanized processing, iii) experience of early adopters of mechanized processing and iv) the implications of these developments for increasing dietary diversity and strengthening local and regional food systems.
Primary processing of small millets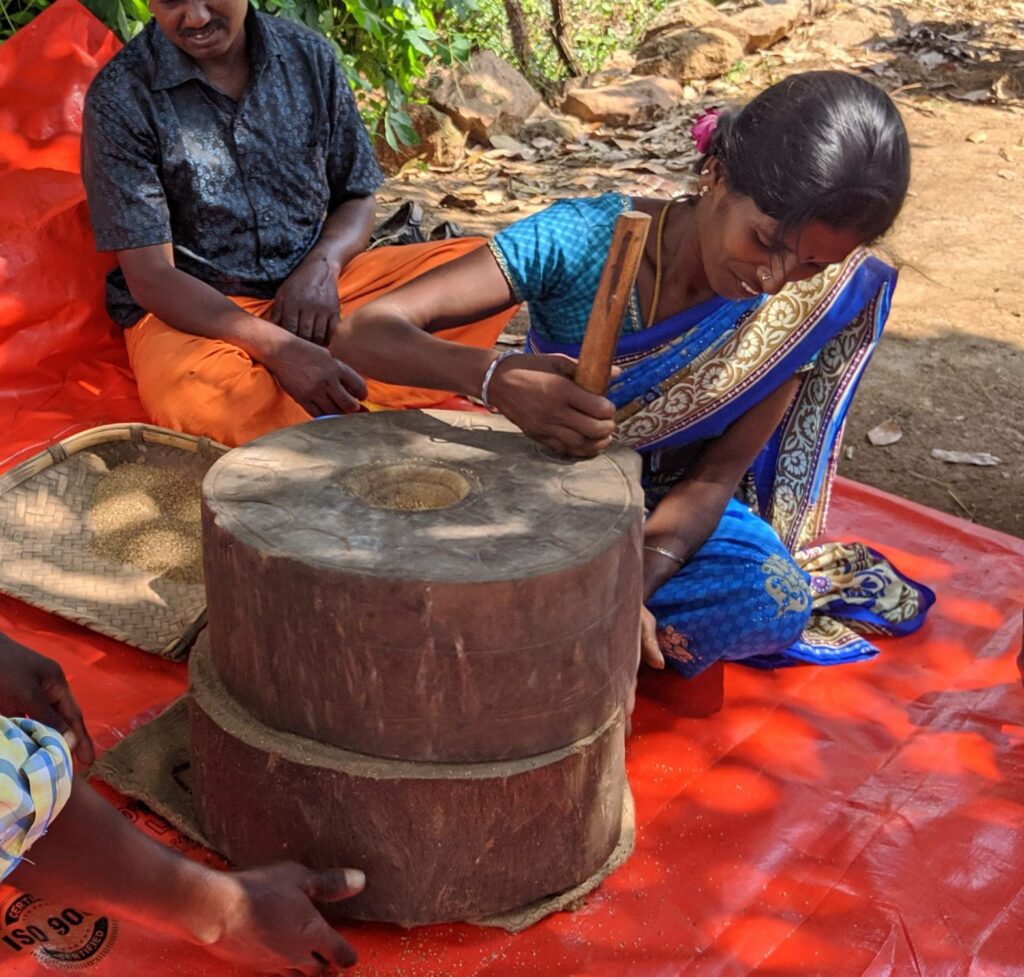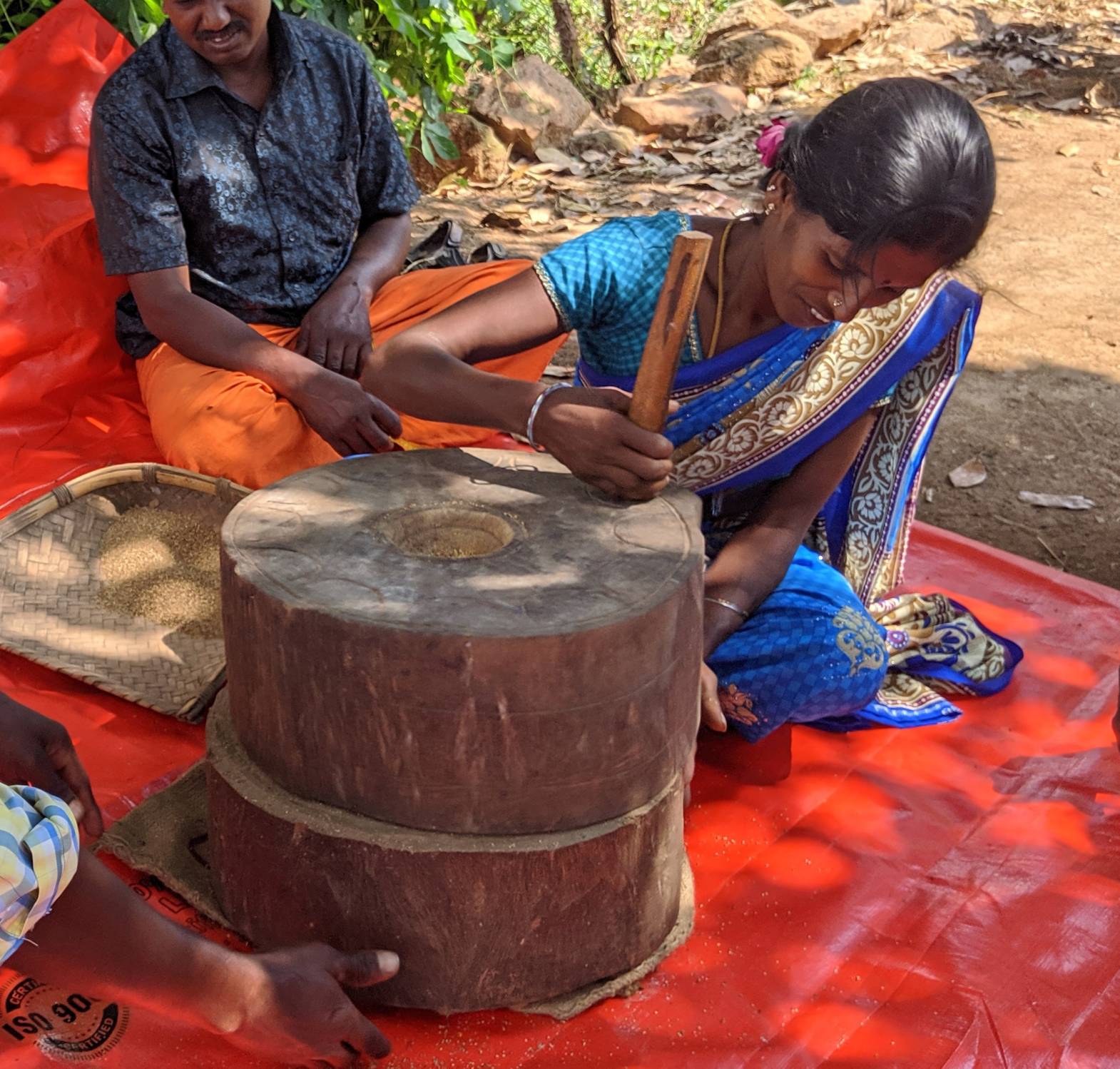 'Small millets with husk' need to be dehusked/hulled to make them edible. This is a vital process for obtaining grain-rice and for further processing of grains for consumption. In all communities residing in the small millet production regions across India, women have been responsible for manual processing of small millets with husk. Manual processing involves a series of activities, mainly i) drying the grains to optimum moisture, ii) cleaning of the grains to remove small and big stones and other unwanted materials using winnowing pan ('nembuthal' in Tamil; different operations for small stones and big stones), iii) removing the husk using wooden/stone grinder followed by drying and hand pounding in mortar or just through hand pounding in mortar, and iv) separating the unwanted fractions from millet rice and grits using winnowing pan ('pudaithal' in Tamil).[6] Second and third operations will be repeated twice or thrice until clean small millet rice is obtained. From this description it can be understood that manual processing of small millets is a skilled work involving considerable drudgery. Women need to toil about four hours to process 5-8 kg of grains. Most of the young women are not ready to put up with that level of drudgery and there has not been adequate inter-generation transfer of skills and knowledge associated with manual processing. This combined with ease of availability of rice and wheat (perceived to be superior foods) in Public Distribution System has led to drastic decline in cultivation and consumption of small millets with husk. Even where production of small millets was retained, they have transformed into a commercial crop from food crop (E.g. little millet in Jawadhu Hills and barnyard millet in Peraiyur, Tamil Nadu) and gets transported to large-scale mills located at Nasik, Maharashtra. This in turn crowds out local consumption and drastically increases the food miles. These issues can be addressed through development of small scale decentralized mechanized processing infrastructure for small millets in the production regions across India as has been the case for paddy.
Small scale mechanised processing of small millets
The challenges in processing small millets are, i) variations in raw materials and ii) low shelf life of the processed small millet rices and grits due to pest infestation and rancidity[7]. The grains of different small millet crops vary in terms of shape, nature of grain surface, hardness, husk-grain bonding and expected rice recovery (see Table 1). Furthermore, there are variations with the same small millet crop due to variation in varieties, cultivation practices, and microclimate across production regions and years.
| | | | | |
| --- | --- | --- | --- | --- |
| Small millet | Hardness (N) | Force required (F) to split the husk | Terminal velocity m/s | Expected rice recovery percentage (%) |
| Kodo millet | 25.5 | 18.5 | 3.75 | 60-64 |
| Barnyard millet | 23.8 | 17.3 | 3.08 | 60-65 |
| Little millet | 22.8 | 16.4 | 2.73 | 70-75 |
| Foxtail millet | 21.5 | 16.0 | 2.94 | 70-75 |
| Proso millet | 18.5 | 14.3 | 2.45 | 70-75 |
Table 1: Data on critical parameters related to processing of small millets[8]
Given these challenges, small millets can be processed at the production location/region using the available small scale processing machines with minimal drudgery to get good quality small millet rices, grits and flours. A minimum of three machines namely, (i) Aspirator with Grader/Mechanized Sieve/Shaker, (ii) Destoner/Density grader and (iii) Dehusking/hulling machine are needed to reduce drudgery and improve the quantity and quality of the output in a small scale small millet processing unit. Machinery development for small scale processing of small millets is a work-in-progress and has undergone different phases over the last 20 years, with considerable progress in the last five years. Initially, grain processing machines designed for rice and pulses were used for processing small millets without much improvisation. In the nineties, efforts were taken by some of the small scale fabricators for improvising the paddy processing machines to process small millets. All these developments has led to three types of huller/dehusker for small millets namely, a) Emery mill working on abrasion principle, b) Rubber roller mill working on compression-cum-shearing principle and c) Centrifugal type working on impact principle. Among the three, centrifugal impact hullers were well received by the users for its advantages over other two types and have undergone further improvements in the last five years. With the small scale manufacturers responding to the feedback from users namely the small scale mills and with new prototypes developed and insights gained from few research projects, there has been gradual and continuous improvement in the design of small scale millet processing machines. Improvement has been on
increasing rice recovery (weight of the rice fraction in the output as a percentage of input material),
reducing share of broken rice,
fine-tuning to hull different small millet crops,
increasing energy efficiency,
developing machines to hull varied quantities, including small quantities suitable for custom hiring service,
flexibility to operate on single-phase and three-phase electricity and other source of power,
decreasing height, weight and footprint,
improving safety features,
improving ease of use, particularly for women, and
decreasing maintenance requirements.
Currently, wide range of machines varying in capacity and design are being sold by a bunch of fabricators, offering some choice for buyers. Table 2 gives a glimpse of machines supplied by some of the fabricators in Tamil Nadu and Karnataka. These machines have been adopted by small scale mills in different parts of the country and were found functional. As millets have started to get the policy attention which is due for long time, it is expected that many prototypes of improved small scale processing machines designed exclusively for small millets will emerge in the near future.
Sl. No.
Processing machine
Some of the actors involved
1
Aspirator cum grader- 50 to 500 kg capacity
Improvised for small millets and offered by
AVM Engineering (AVM), VICTOR AGRO SALES (Victor), Perfura Technologies Private Ltd. (Perfura), KMS Industries (KMS) and Vishra Agro Sales in Tamil Nadu, and Bhavani Industries, Vishwa Agro Tech and Bio-tech in Karnataka
2
Destoners- 50 to 500 kg/hour capacity
As above
3
Aspirator cum destoner cum grader- 50 to 500 kg/hour capacity
As above
4
Single chamber centrifugal impact huller
Improvised by Victor and AVM, and improved by DHAN Foundation (DHAN) and Tamil Nadu Agricultural University (TNAU) under IDRC & GAC supported project
5
Double chamber centrifugal impact huller
Developed by DHAN and TNAU under IDRC & GAC supported project and currently offered by AVM, Victor and Perfura
6
CIAE model abrasive huller
Developed by Central Institute of Agricultural Engineering (CIAE) and offered by Perfura
7
Portable impact huller- 200 to 400 kg/hour capacity
Developed by Small Millet Foundation of DHAN and offered by Kalanjium Thozhilagam Limited (KTL)
8
Tabletop impact huller- 50 to 80 kg/hour capacity
As above
Table 2: Details of some of the small scale millet processing equipment available in the market
Experience of early adopters
Mr. Jeyaraman, Thoppur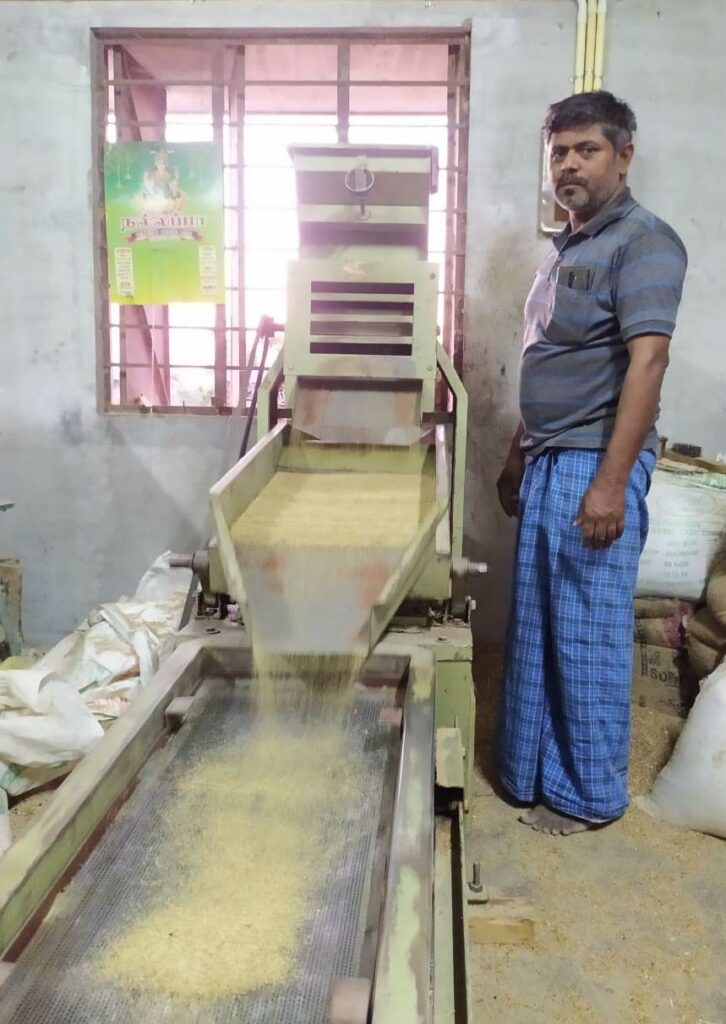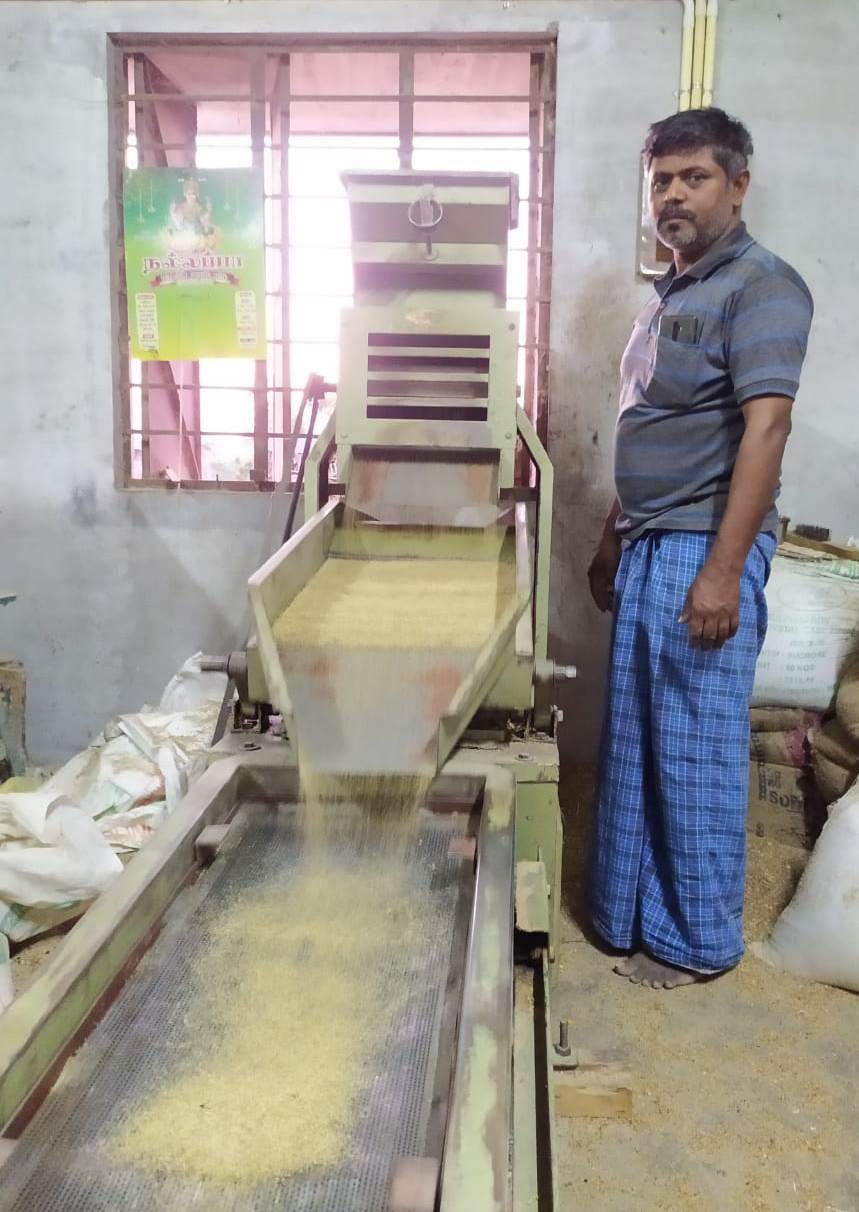 Mr. Jeyaraman aged 47 was an early adopter of improved small millet processing equipment. He hails from Kongupatti in Salem district, ITamil Nadu and was marketing paddy rice. Being a food science graduate, he was impressed with the nutritional benefits of small millets. He started catering to the demand for small millets from his customers by sourcing it from large scale mills located in Theni. But he found that he could source only polished less nutritious small millet rice. He felt that he could offer unpolished nutritious small millet rice at affordable price to local consumers. So, he ventured to small millet processing in partnership with a friend by 2013. With the experience gained, he initiated a small scale processing unit in Thoppur, Salem district, by 2015 utilising his own funds. His unit had the following machines: an aspirator-cum-destoner-cum-grader (200 kg/hour capacity), a single chamber centrifugal impact huller and polisher fabricated by AVM, a portable impact huller designed by Small Millet Foundation, and a pulveriser from Pilotsmith. He employed a male labourer and his son was also helping him in running the unit. He offered milling service to local people on a custom hiring basis and also functioned as a commercial small scale processor. He was processing major millets (sorghum and pearl millet), small millets and pulses. He also processed maize and other constituents for preparation of cattle feed. Besides raw small millet rice, he also offered parboiled small millet rice based on demand. Of these products, little and kodo millet rice were sold more. His mill had the capacity to process around 500 kg of small millet rice per day. A quick learner, Mr. Jeyaraman had self acquired the nuances of operating processing machines and could customize the process flow and operations for different small millets and different quality of inputs, to get good quality unpolished small millet rice. He was able to optimise the rice recovery and reduce the share of broken rice. He has proven that with acquiring necessary skills, good quality output can be taken from few small scale millet processing machines. He adopted portable impact huller by 2019 and found it effective in processing even smaller quantities and easy to use when compared to other hullers especially by women due to the lower height of the hopper and safety features.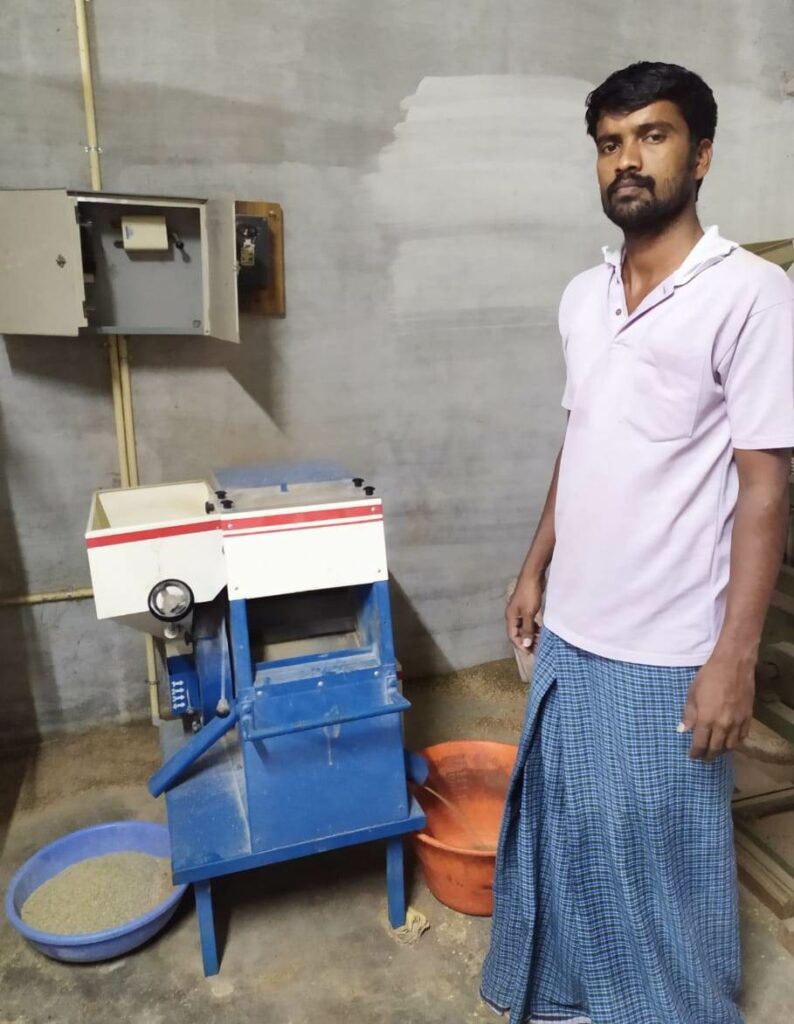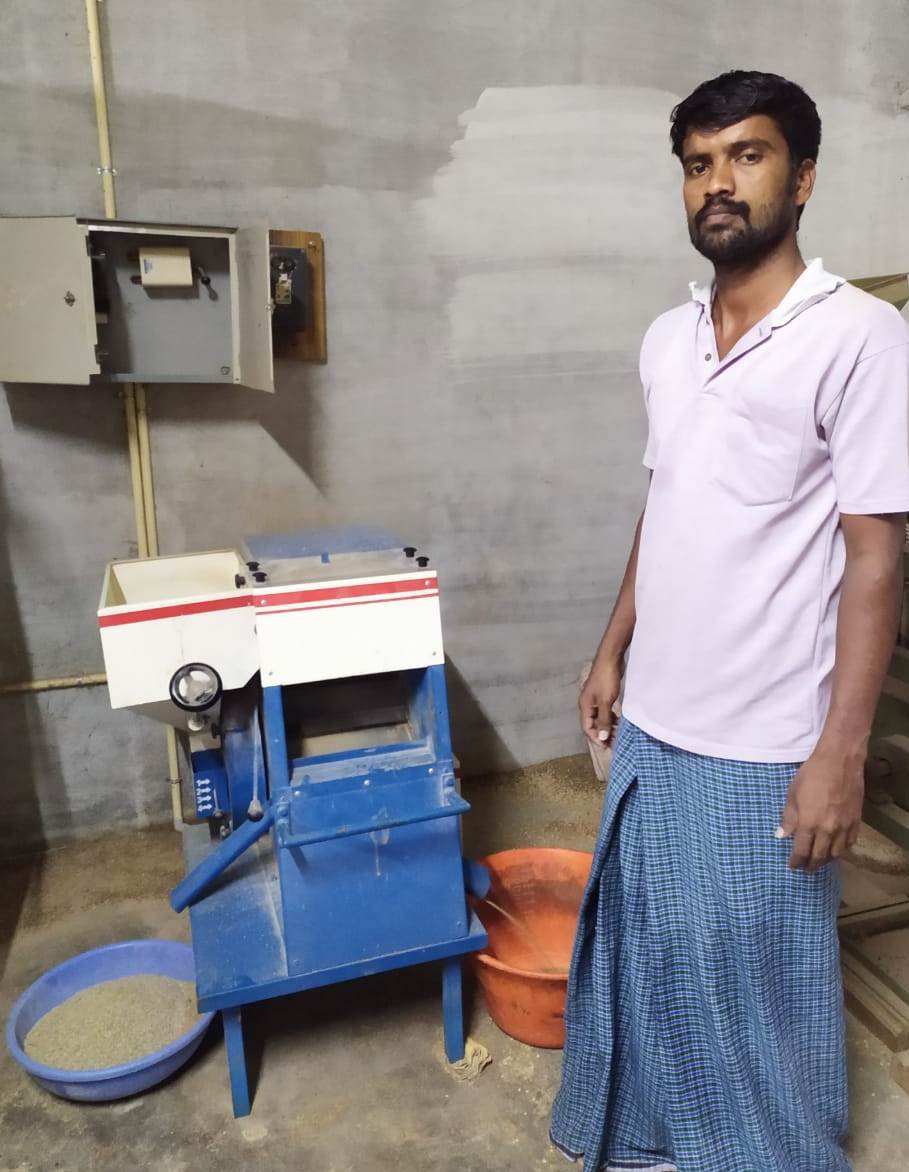 He was able to connect with different farmers' organizations and local suppliers across South India for sourcing the raw materials of small millets. He prefers to source directly from farmers and farmers' producer organisations. He was able to pay an additional price of one or two rupees over the market price to farmers besides correct weighing. He was able to offer support to interested farmers to revive production of small millets in his region, particularly barnyard, proso, foxtail and browntop millets. He was also able to offer custom hiring services to around 150 producers to process the small millets grown by them for their home consumption. In the beginning, his major buyers were from Chennai, Bangalore and other major cities. Slowly local buyers in the 100 km radius, both households and retailers, have increased and in the recent past he sold most of his produce to local buyers. He has faced difficulties in ensuring payment from wholesalers from distant markets to whom he had to sell on a credit basis. Due to this, he prefers to sell on cash basis to local buyers. Women from the nearby areas bought small millet rice from him on a regular basis, mainly because of the awareness on the benefits of millets to address lifestyle diseases like diabetes. Mr. Jeyaraman offered tips for cooking small millets to the buyers based on need. He also invested in raising demand for small millet foods in the region by supporting cooking demonstrations and educating about the benefits of small millets. He was catering to the small millet requirements of 1000 families per month approximately and could effectively revive inclusion of millets in the local food system in a small way. He was an inspiration to other aspiring entrepreneurs and he had offered structured training on small millet processing to the interested persons. Furthermore, he had supported individual entrepreneurs and FPOs in setting up millet processing mill. He was in turn benefited by the mutual learning on suitable tools and machines and in sourcing raw materials. Though he has seen ups and downs in the business in the last five years, he has plans to increase the processing capacity by installing additional machinery and increasing manpower to meet the rising demand for small millets in the local and regional markets. He was expanding his processing facility with construction of a godown and drying yard.
Mr. Janakan, Rasipuram
Mr. Janakan, a 29 years old mechanical engineer, was exploring meaningful engagements beyond typical careers sought out by engineering graduates. He started involving in conservation of local crop varieties. In this course of engagement, he started focusing on conservation of millets as he understood that while paddy and other main crops got lion's share of attention in conservation, neglected crops like millets got very limited attention. He has collected 23 varieties of sorghum, 12 varieties of foxtail millet, seven varieties of finger millet and five varieties of little millet. On motivating farmers to conserve and cultivate these local varieties, he further realised that unless there is assurance of procurement with remunerative prices, local farmers will not be keen to revive millet cultivation. This realisation has led to initiating a millet processing unit, mainly to serve as a place for the local farmers to sell their millet produce and/or to process their own produce. As he had to source the funds from bank, he decided to go for commercial scale processing unit. He has extensively visited the small scale millet processors in different states to learn from them for one-and-half years. With the confidence and learning gained from his exploration, he initiated a small scale millet processing unit in Rasipuram, near Salem, Tamil Nadu, by March 2018, with the credit-cum-grant support mobilised from District Industry Centre. His unit had two 500 kg/hour capacity graders sourced from Ganesh Mills, two aspirator-cum-destoners of 500 kg/hour capacity sourced from Perfura, a Portable impact huller sourced from Small Millet Foundation, a 50 kg/hour capacity pulveriser (for flour making) and a 300kg/hour capacity pulveriser (for grinding the husk). He employed four male labourers in his unit. He had invested about 15 lakhs on fixed capital (building and machines) and 15 lakhs in grain stock.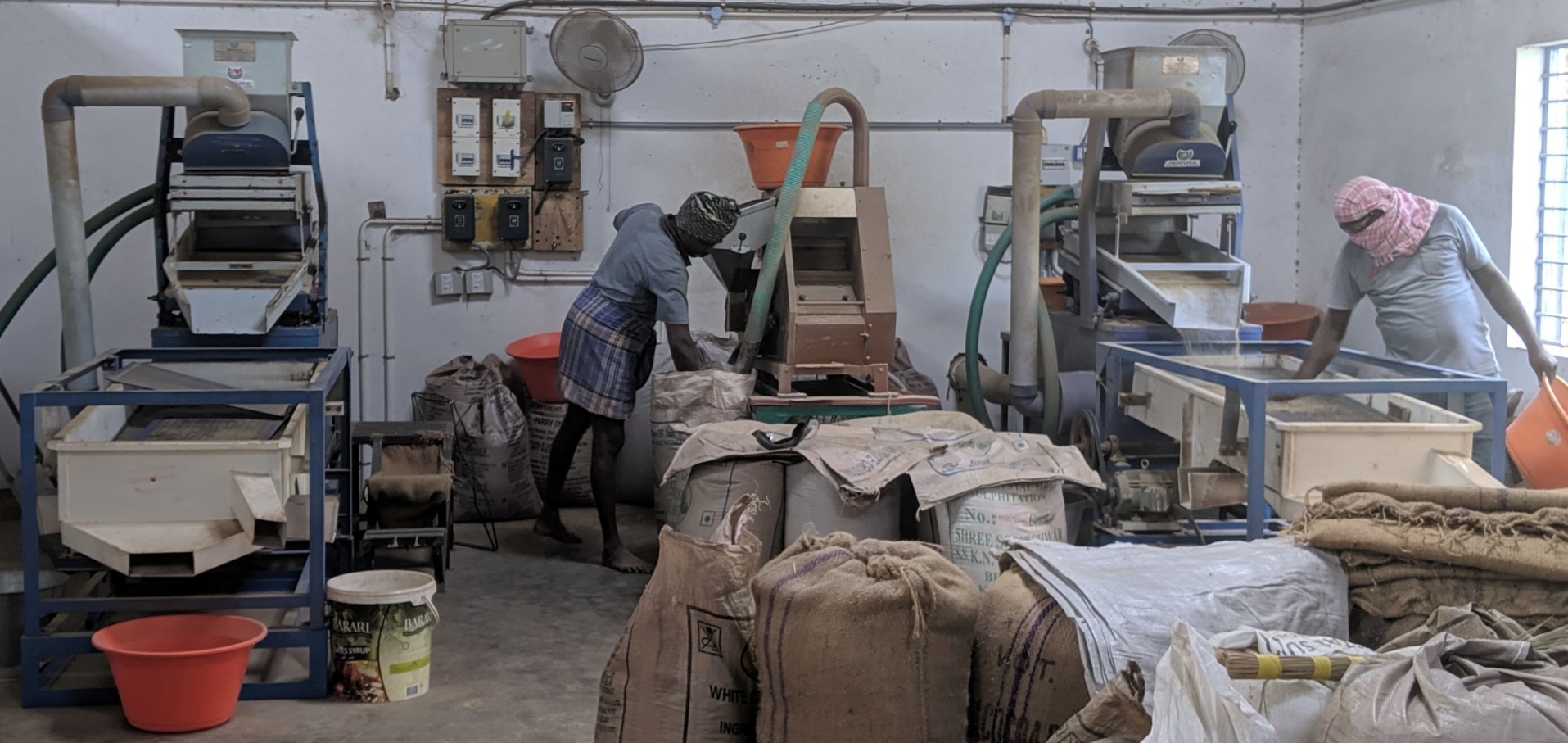 He was focusing only on millets and was processing sorghum and pearl millet and small millets except browntop millet. The major products from his processing unit were raw small millet rice from little, kodo and barnyard millets and pearl millet (native variety). A quick learner, Mr. Janakan benefited from the guidance of Mr. Jeyaraman and other processors and had self acquired the nuances of operating millet processing machines. He customized the process flow for different small millets and for different quality of inputs to get good quality output of unpolished small millet rice.[9] He was the first processor to adopt portable impact huller, which he has found very useful when compared to the other hullers in terms of higher rice recovery percentage, lower broken rice percentage, and ease of use and maintenance. He also used Variable Frequency Drive (VFD) to improve the veracity of the available machines to process different millets. His mill had the capacity to process around 500 kgs of small millet rice per shift.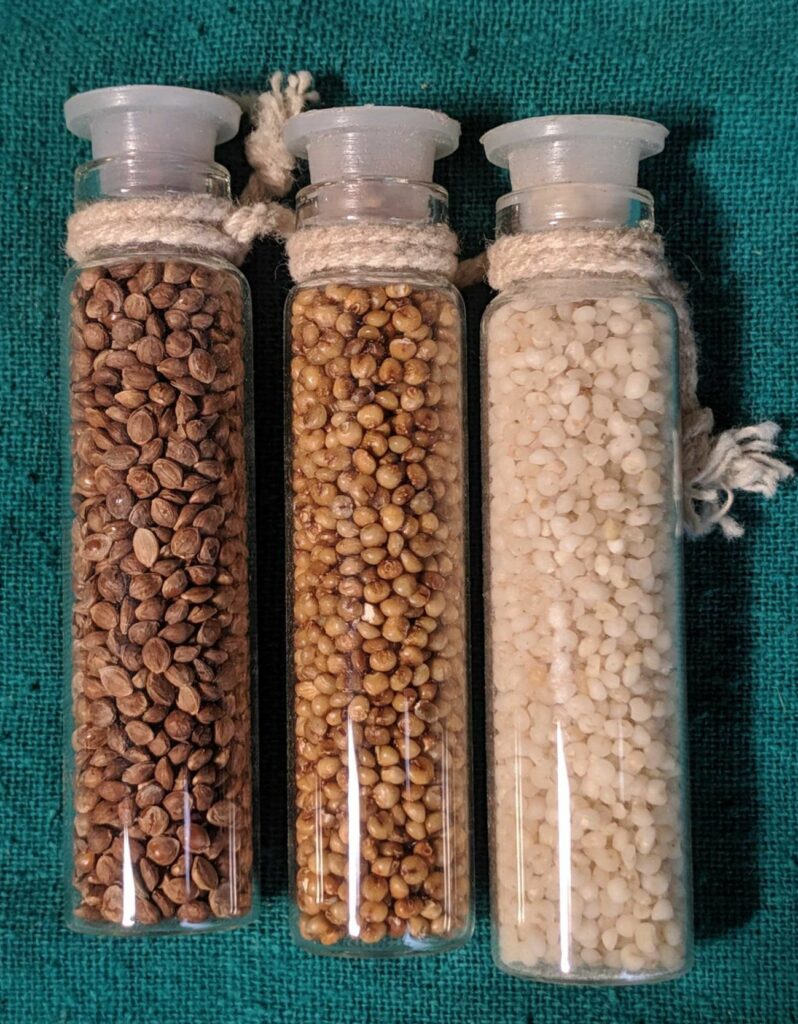 Like Mr. Jeyaraman, he was able to connect with different farmer's organizations and local suppliers across South India for sourcing the raw materials of small millets. He found that it is better to procure from individual farmers and farmers' organisations rather than from traders, as it is easier to ensure the quality of grains. He could also establish viable business relationship with buyers. His main buyers were around 50 retailers, mainly organic shops across South India. In the recent past he had started supplying beyond South India. He sold about 10% of his output to buyers in his vicinity thereby reintroducing millets in the local food systems. He had been effectively using the by-products namely
husk with millet flour, and
broken and shattered millet kernels by converting them into cattle feed, thereby improving the viability of his operations.
He was supplying 6 to 10 tonnes of millets on an average per month. He had kept low price margins to ensure the reach of millet foods to a wider population. He had encouraged farmers in his vicinity, millet growing pockets and non-millet growing areas across Tamil Nadu for millet cultivation by supplying seeds of about 10 millet varieties, sharing about the crop cultivation practices, procuring the produce and offering processing service on a custom-hiring basis. He exchanged processed millets for the millet raw materials from the local producers based on the prevailing prices of millet grains and millet rice in the market. He felt that his main accomplishment was supply of unpolished small millet rice across South India at an affordable price in the context of supply chain focusing predominantly on polished small millet rice from large scale mills. He was serving roughly 6000 families per month. He also supported other entrepreneurs who were interested in setting up processing units for millets and other food products by sharing his learning. Many such entrepreneurs have got exposed to his unit. He also maintained mutual learning relationship with other processors in the region, which aids in improving their collective learning on addressing the issues related to millet processing. He took part in the local millet promotional events. He found that his engagement in millet promotion as a business has helped in his personal improvement in terms of proving his ability to establish a social enterprise, which made him an inspirational model for the youth and improving his skills on undertaking planned action. It has helped him to engage on a wider development agenda of 'promoting healthy foods'. His future plans include, i) installing additional machines to address the bottle neck in the process line related to final cleaning and reduce the time spent by him to ensure quality of processing, ii) bringing in additional manpower for management, and iii) diversification to ensure additional earning for sustaining the millet business. As he started with conservation of millet varieties, he has plans to deepen that aspect of his work in the near future by promoting specific varieties of small millets like red foxtail millet variety. 
Insights for promoting dietary diversity and strengthening local and regional food systems
From these experiences it can be understood that acceptable quantity and quality of small millet rice can be obtained through small scale processing machines. But these experiences also indicate that capacity building of operators/entrepreneurs is critical for succeeding in running the small millet processing unit. Though small scale millet processing machines have improved considerably in the last few years, operators and supervisors need to acquire practical skills and knowledge on how to use these machines effectively and on related aspects of quality assessment of raw materials, machine maintenance and pest management. Given the huge degree of variability in the grain characteristics of small millet crops, the ability of the operators to assess the raw materials and accordingly fine tune the operations of the processing equipment plays a major role in optimising the quantity and quality of the outputs. Only a combination of machines and manpower can bring out the desired outputs. Many community level processing units supported by Government schemes and NGOs have become defunct due to inadequate capacity of the operator. Even the ones that are functioning are incurring high production cost per kg of millet rice due to their inadequate ability to ensure optimum rice recovery and quality of output. While Mr. Jeyaraman and Mr. Janakan have undergone a costly trial and error approach to acquire the skills on their own, other new entrants need not undergo such an arduous process. State need to support the new entrants to build their skills and knowledge on small millet processing as part of its support to develop small millet value chains to improve nutrition security.[10]
As can be seen from the cases of Mr. Jeyaraman and Mr. Janakan, development of decentralized small millet processing infrastructure in the production regions can benefit rural communities in many ways by addressing the critical missing link between small millet production and consumption. It increases the choices of farmers related to inclusion of small millets in their farming systems and the choices of small millet producers related to selling or retaining their produce. Rural families can enhance their choice of foods, dietary diversity and nutrition security by reviving small millet cultivation and consumption. This is particularly so for the marginalized communities like Scheduled Tribes and Scheduled Castes living in the backward rainfed tracts across the country, for whom small millets still remains as an important part of their life. It significantly reduces the drudgery of women. It was observed that with the availability of improved small millet processing machines in the vicinity for custom hiring, 25 to 35 kg of small millet grains can be processed in 20 to 45 minutes depending on the huller model to meet the monthly requirement of small millets. Thereby women can save one day per month and can effectively avoid drudgery involved in manual hulling. It was also observed that the gender roles related to processing small millets changes in favour of women. While it was the exclusive domain of women in the case of manual processing, men also took part in the case of mechanised processing. Furthermore, small scale processing of small millets can offer business opportunities to budding small rural entrepreneurs like Mr. Jeyaraman and Mr. Janakan who can meet the rising demand for staple and value added small millet based food products in their region as part of the sunrise market for 'health foods' segment. Given that machines with varied processing capacities that can run with different power sources (petrol instead of electricity; single and three phase electricity) are available, varied actors like Self Help Groups, and small and medium scale entrepreneurs can get involved in small millet processing. These developments in the food systems are expected to help in reviving and increasing area under these ecologically suitable crops. The cultivation of small millets in the farms as part of biodiverse cropping systems will improve the condition of the soil and reduce dependence on chemical fertilizers, pesticides, etc. Development of decentralized processing is also critical for meeting the rising demand for small millets in the non-production areas, both as bulk and value added products, given the widespread prevalence of malnutrition and life style diseases. Even though small millet foods are slowly emerging as a 'food category' in the urban markets, it is still positioned as an 'elite food' given the smaller scale of production, high food miles and high prices. Only development of decentralised small scale processing can lead to development of local and regional value chain of small millets that can transform small millets into a 'mass food'. Furthermore, revival of millets in cropping and food systems by serving as a symbol has the potential to promote wide variety of biodiverse and nutritious foods in the local and regional food systems in harmony with local culture.[11]
---
[1] Kam J, Puranik S, Yadav R, Manwaring HR, Pierre S, Srivastava RK and Yadav RS. 2016. Dietary Interventions for Type 2 Diabetes: How Millet Comes to Help. Front. Plant Sci. 7:1454 https://doi.org/10.3389/fpls.2016.01454
[2] Ruchi Vaidya, Viswanathan Mohan, Mookambika Ramya Bai, Sudha Vasudevan. 2014. Glycemic Index of Indian Cereal Staple Foods and their Relationship to Diabetes and Metabolic Syndrome Wheat and Rice in Disease Prevention and Health https://doi.org/10.1016/B978-0-12-401716-0.00025-8
[3] K. F. Davis, D. D. Chiarelli, M. C. Rulli, A. Chhatre, B. Richter, D. Singh, R. DeFries. 2018. Alternative cereals can improve water use and nutrient supply in India. Sci. Adv. 4, eaao1108 https://doi.org/10.1126/sciadv.aao1108
[4] Government of India, 2014. Status Paper on Coarse Cereals, Directorate of Millets Development, Department of Agriculture and Cooperation, Ministry of Agriculture.
[5] While sorghum, pearl millet and finger millet are naked grains without husk, other six millets namely kodo, little, foxtail, proso, barnyard and browntop have husk layer in the outer part of the grain.
[6] Detailed video documentation of manual processing of little millet by women at Jawadhu Hills by DHAN Foundation can be viewed at YouTube; While wooden grinder and/or mortar is used for little, foxtail, barnyard and proso millets, stone grinder with cusion is usually used for kodo millet.
[7] Karthikeyan, M. Small millets in mainstream diets: Establishing decentralized processing infrastructure, DHAN Foundation, 2016
[8] Sources: i) Final Technical Report, Scaling up Small Millet Post-Harvest and Nutritious Food Products Project, DHAN Foundation & McGill University, 2018. & ii) Guidelines for setting up a small millet processing unit, Small Millet Foundation
[9] The process flow followed by Mr. Janakan can be viewed in the Community scale Small Millet Processing A Training Manual
[10] Relevant resources include i) Audio visual manual on Community scale Small Millet Processing (CSMP) and ii) Community scale Small Millet Processing A Training Manual available at Small Millet Foundation
[11] For instance, Government of Karnataka has combined promotion of organic foods with millet foods thereby focusing on a wide range of biodiverse healthy food crops.
Contact the author