Written specially for Vikalp Sangam
Introduction
The naturally beautiful precincts of Ahalya Heritage village in Palakkad district, Kerala, provided the right backdrop to conduct a children's summer camp. I had come to see how a youth group focused on education, was involving the younger generation in a sustained effort to conserve River NiLa, more popularly known as Bharatpuzha, Kerala's second-longest flowing river that passes though Malappuram, Palakkad and Thrissur districts.This river has given rise to the rich culture of south Malabar. A culture imbued in folk songs, dances, art, craft, livelihoods, food etc. which is why Vayali, a non-governmental organisation (NGO and www.facebook.com/vayaligroup based in Arangottukara, Thrissur through their AlterSchool program https://alterschool.wordpress.com is attempting to stitch together art, culture and environment education to school and college students. But, before the reader brushes this off as one more run-of-the-mill summer activity camps, the reason for Vayali's efforts being written about is their keenness to NOT make their conservation education programmes a one-off effort. Although, they ventured into education through one-off NSS camps that were conducted among schools and colleges located near the banks of the river, they quickly realized that this was not a sustainable way to involve the youth in conserving the river.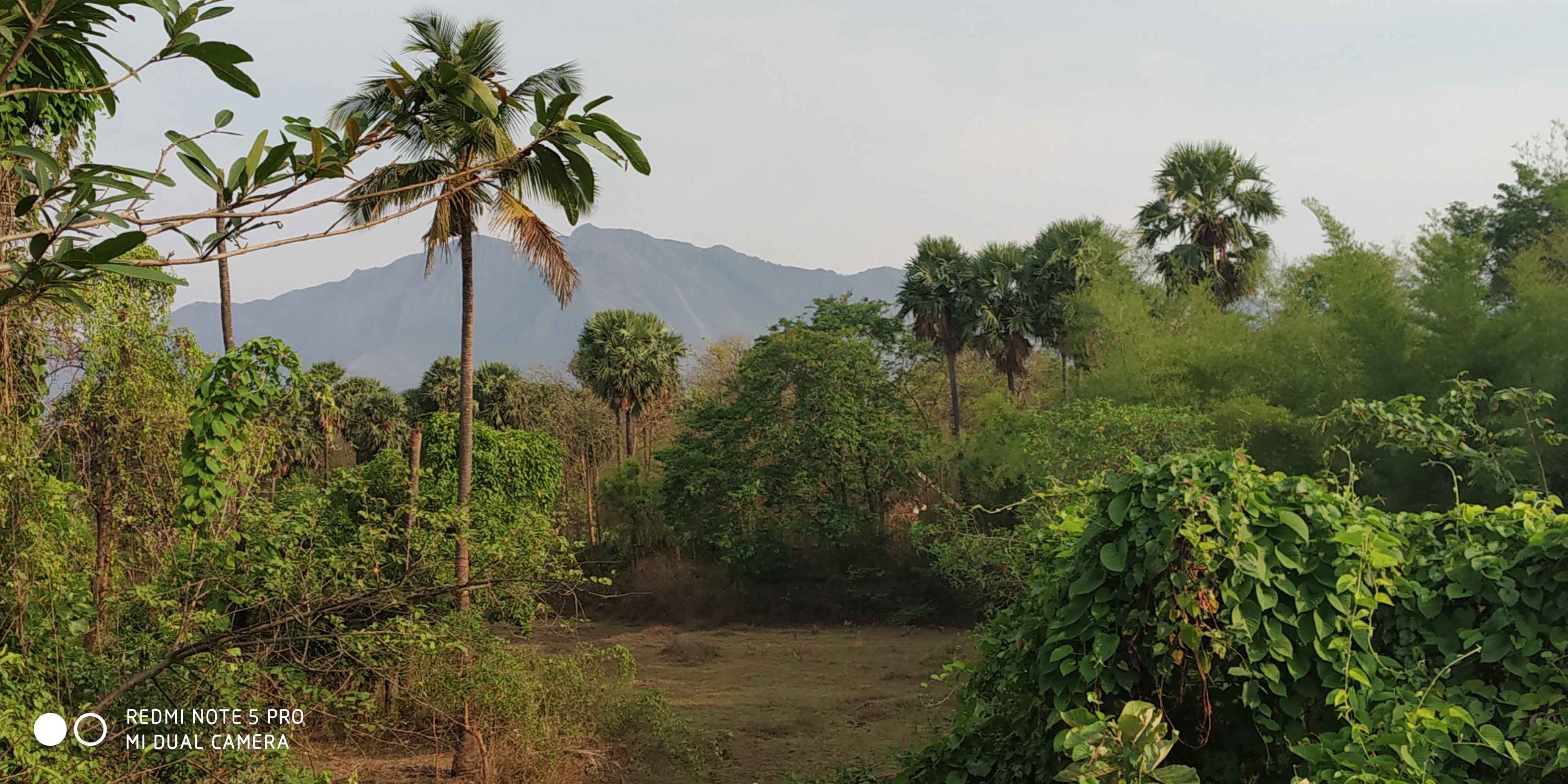 Ahalya heritage village campus in Palakkad
History
Vayali was born in 2004 when Vinod Nambiar and his friends started a group to promote folk songs. Sharath, AlterSchool Programme Founder, joined Vayali twelve years back, while Ragesh, co-founder, joined in 2018 after getting acquainted with Sharath at ICS International Citizen Service program conducted by Pravah, during a leadership and learning journey workshop that targeted young social entrepreneurs. A precursor to AlterSchool was an amorphous grouping of youth who conducted some classes for children with craftwork using tender palm leaves – kuruthola. Slowly, this transformed into youth activities with a junior folksong team, craft making activities etc. A youth team was concretised in 2008.
About 30-40 years back, Kerala's first river conservation activities began from the banks of River Bharatapuzha under the banner of Bharatapuzha Samrakshana Samiti.  Vayali's participation in the last four conventions, i.e., from 2016 onwards, made them realise that the participation from local community members and the youth were abysymally low. They believed that for a sustained effort at conserving River NiLa, concerted participation from both these constituents is necessary for the future of the river. The first step towards this was taken in Decemeber 2017 when they did a rapid survey of the NSS camps that were held in schools located along the banks of River NiLa. The survey revealed that the youth were aware about the degradation of the river, but did not have the space or guidance to do something about it. They also realised that the National Service Scheme (NSS)[1] camps were being conducted without any particular objective in mind. Vayali then suggested to the district co-ordinators of the NSS camps to make river conservation as the core theme around which activities should be conducted. School co-ordinators of NSS camps further raised the demand for activiity based modules connected to the river. That is how the idea of bringing the river conservation education module came into being. This idea was further concretised after Sharath and Rakesh received training in Delhi and got exposed to the Jagrik game of Pravah.
AlterSchool was slowly born out of this, in 2017, dealing with education where children and youth are encouraged to think out of the box, using their creative and imaginative skills. The target group falls in the age group of 9-18 years. They hope to achieve this by supporting children in their passions and interests and, developing community learning spaces. For example, preparing community biodiversity registers, documenting and propagating folklore related to the river, nature clubs, organizing farming collectives etc. The aim is to create "puzhakootams" – a group of school/college students who are concerned about the river. Outside of the school/college NSS youth group, Vayali plans to create "puzhayalees"–a collective space for youth in villages to take action for the river. Both these collectives are a space for youth working under different organisations in different places along the river bank to come together to take concerted action for the river. Vinod Nambiar asserts that this collective will be owned by different people and not just Vayali alone. In essence, by creating a continuous pool of local youth who identify themselves as river soldiers, Vayali aims to create and sustain an army of foot soldiers, whose actions based on and for the river, will help to conserve Bharatapuzha.
Objectives
The river conservation education module includes 1) Activities to be conducted with students on three aspects of the river – socio-economic, cultural and environmental 2) Follow-up activities, and 3) Feedback procedures to be followed by teachers. These modules will be distributed to school teachers, initially from ten schools, make them conduct these sessions after setting obejctives for their class, support them through the activities and conduct a follow-up later. After this, review meetings will be held with teachers to fine tune the module for the next academic year. The main objective of this module is to let the youth know that there is space in AlterSchool for them to exchange their ideas about holistic and sustainable studies.
This river conservation education module is now being tested out through four different summer camps that are being held during the months of April and May. The summer camps, by themselves, are being organized by other organisations, but the content for these camps are being provided by Vayali's Alterschool group. In other words, Alterschool provides the technical expertise for various summer activity camps. The resource persons also come from other units of Vayali, thus making it sustainable, as they don't need to depend on external resources for running the camp. For example, mud painitng and pottery activities are conducted by Gopalan from Craftila unit and folk songs are conducted by Sajeeva and his team from the folklore unit of Vayali.
River sensitization activities
How does Alterschool programme help to sensitize the children to River NiLa? Visiting the Puzhayali summer camp showed me the various interesting and fun ways in which children were slowly introduced to various aspects of the river.
Introducing the river
The first day of the summer camp began with the children (aged between 6-18) being introduced to river NiLa and how she sustains many communities along her river banks. All information about the river and the communities dependent on her were provided by the research wing of Vayali called The Intiative for NiLa Action Group or TeNAG for short.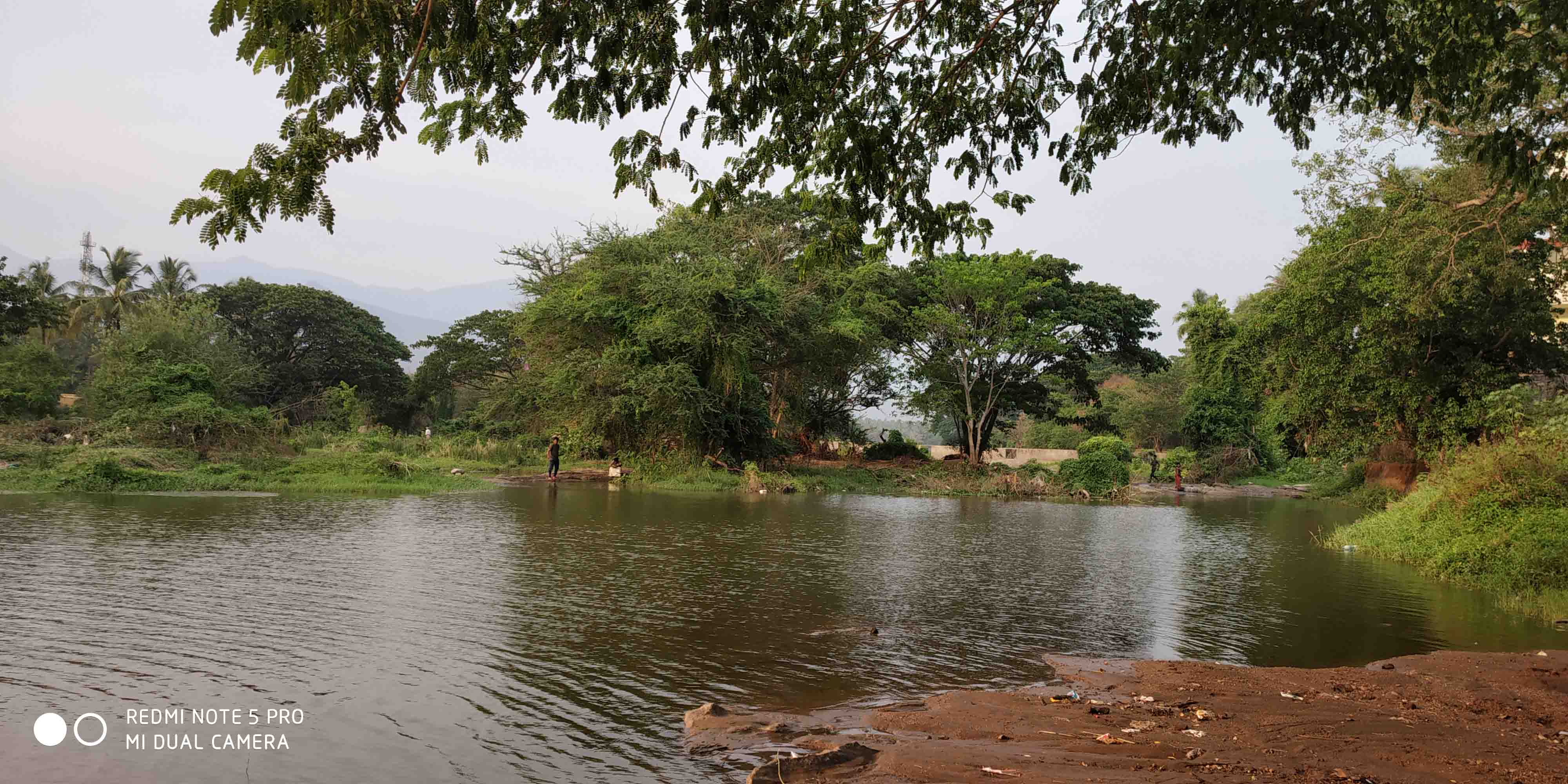 River Nila at Kalpathy Gramam
Conducting survey through village visits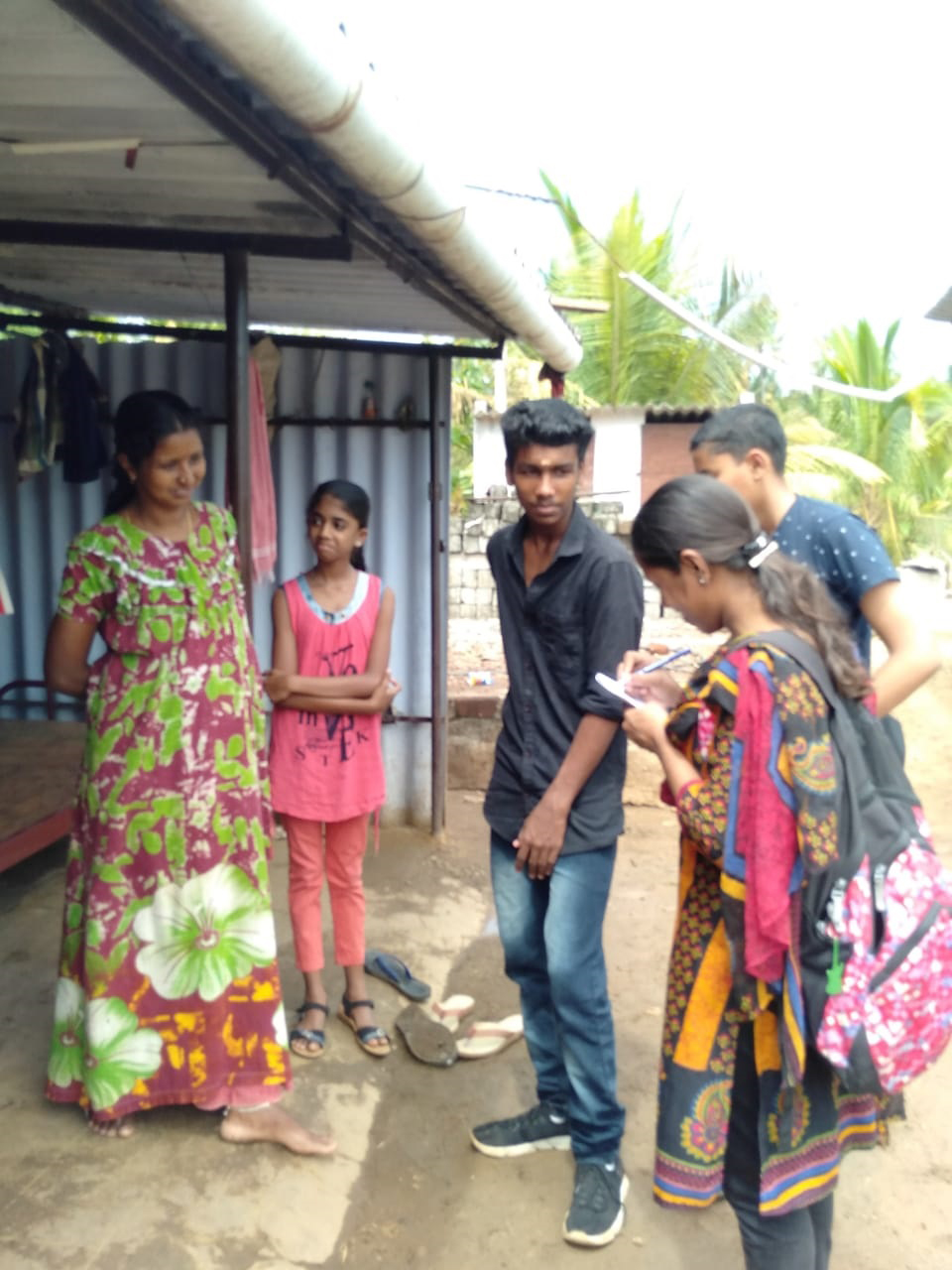 Young researchers collecting field data; photo credit Sharath K R
The children were broken up into groups and they were given specific questionnaires that had to be administered to the communities that they were visiting the same day. Each group had team leaders, who were children of a higher age group, and were assigned the responsibility to lead the team into the community and carry out household surveys regarding their drinking water sources and the problems that the community was facing with regard to water. At the end of this "research activity" that was conducted through the village visit, the children were asked to put down a very brief feedback on the activity on post-its that were then collected and put up on a chart.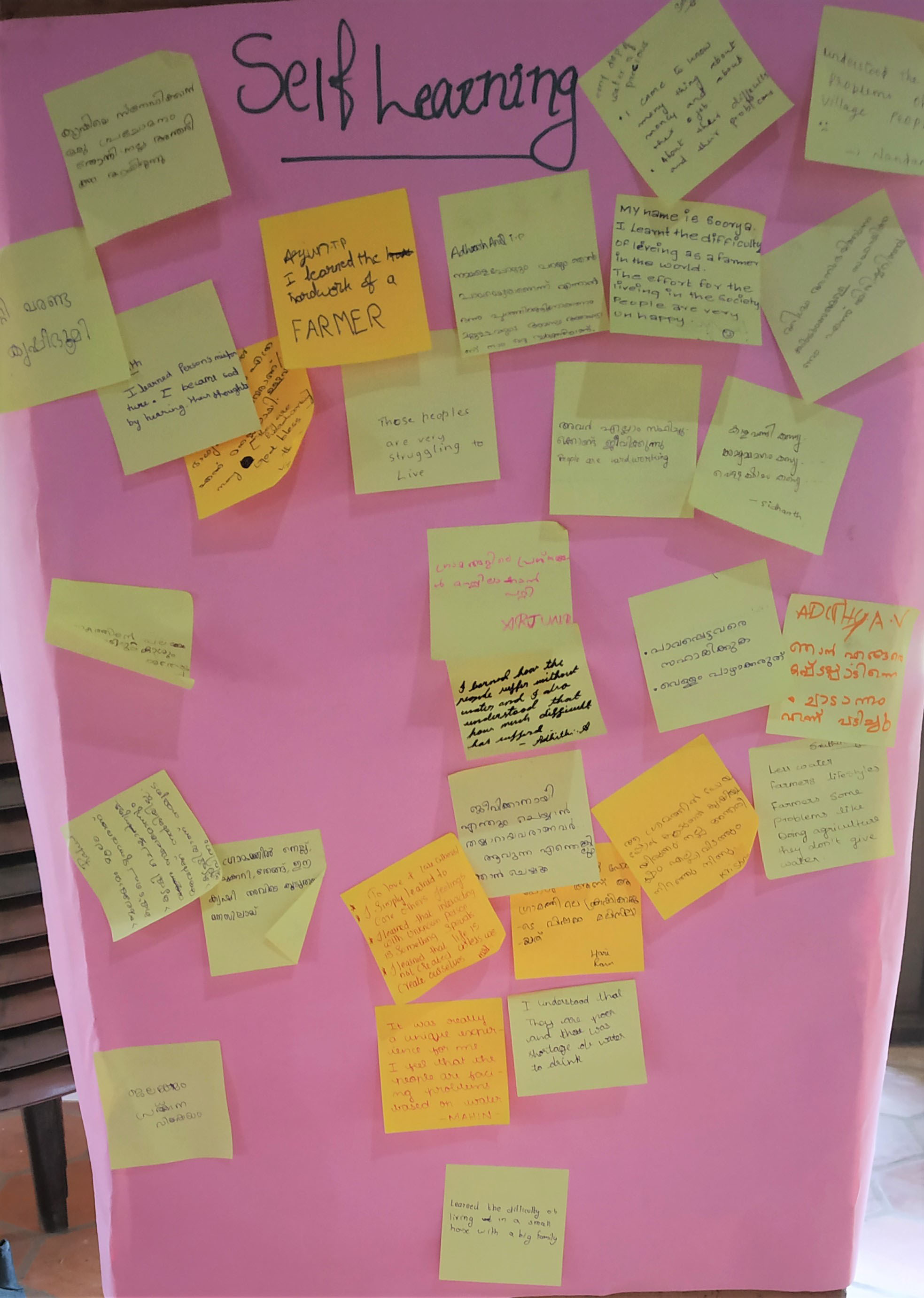 Emotions and information gathered by the young minds on little pieces of paper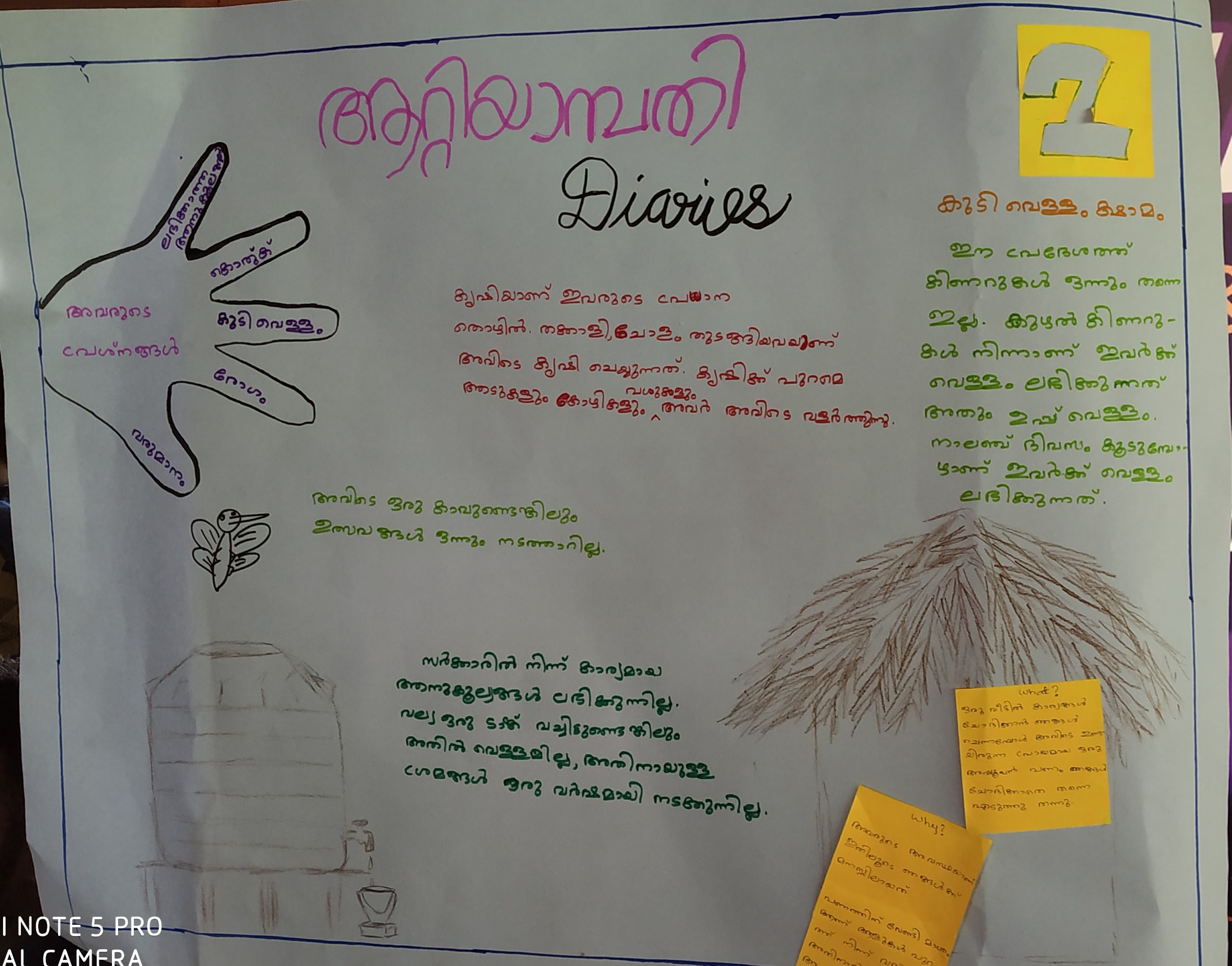 Putting up what they felt, heard, saw and smelt from the village visits
Even a cursory look at these tiny post-its reveals what a wealth of information and emotions were experienced by the children. There's no better way to show children the impact of a dying river on communities, with whom they hardly interact in their normal day to day life. Not only did the children see how a dying river has severely affected communities dependent on traditional livelihoods, they were also made acutely aware of the urgent need to conserve a precious resource – water! Additionally, these sensitive young minds also became aware how lucky and blessed their own lives were – living as they were in the relative comfort of easy access to drinking water.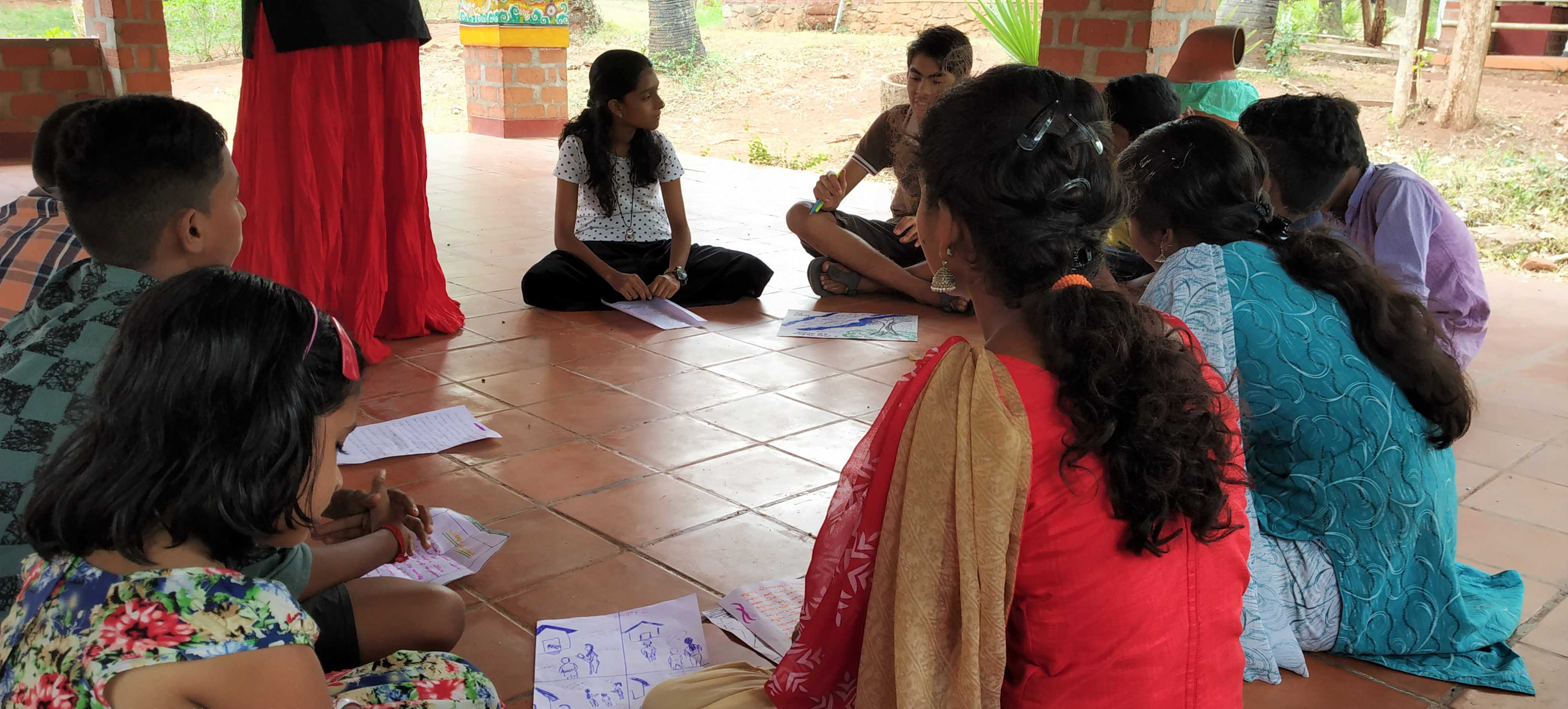 A team discussing their experiences from the village visit
Mud painting
After a heavy duty, emotionally draining experience at the village, the children were given a fun activity with mud painting. Before beginning the activity, they were informed that the mud that they would be using for painting has been brought from the river bank. They were told how it takes thousands of years for the river, starting from Anamalai hills in Tamil Nadu to break down the rocks and pulverize them to the fine silt-clay that is eventually deposited in the river valleys and are utilized by "kumbar" or potter communities to produce various earthern ware that sustains their livelihoods. They were explained how different elements in the rocks impart different colours to the mud. These mud shades were aptly utilised by the children. As they say, one picture speaks a thousand words, and so I shall allow for some of the paintings to speak to the reader about the creativity of these young minds!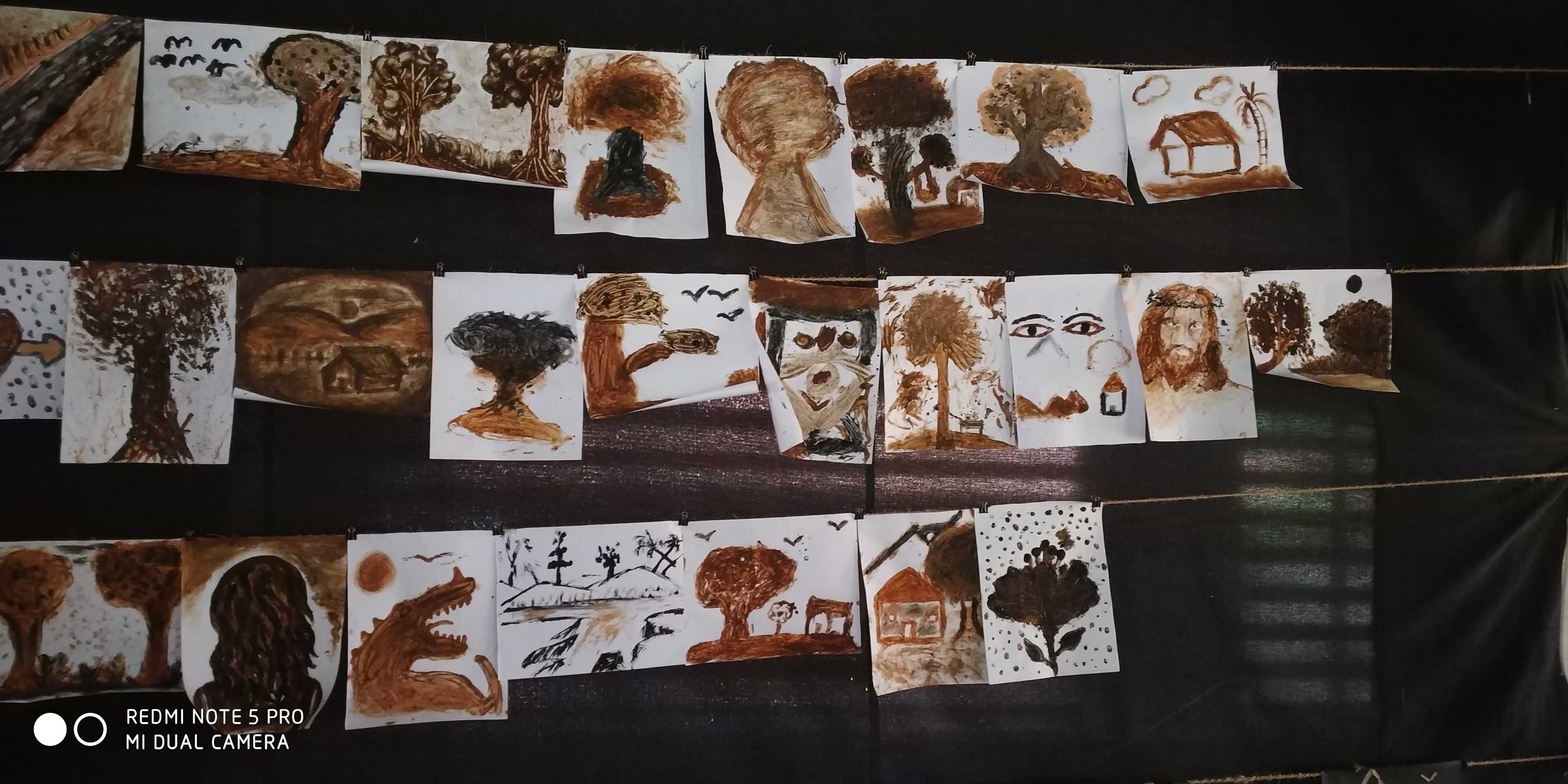 Some of the beautiful exhibits from mud painting activity
Pottery and clay modelling
Closely associated with a river are her potters, who eke out their living by shaping earthen ware from the clay brought down by River NiLa from the mountains in the Western Ghats. Children were introduced to pottery work by Shri Gopal, member of the potter community in Arangottukara and associated with Vayali. Their work has been desribed in greater detail in an earlier article /article/nila-a-river-and-its-relationships/#.XRba5-gzY2x
Even as an adult, it gives supreme pleasure to play with the soft mud and create something. Children worked in teams to produce an array of objects. At the end of the session, each team was asked to spin a story based on the clay work that they had produced. It was such a delight to hear some of the stories that were told impromptu! For me, personally, it was reliving my childhood!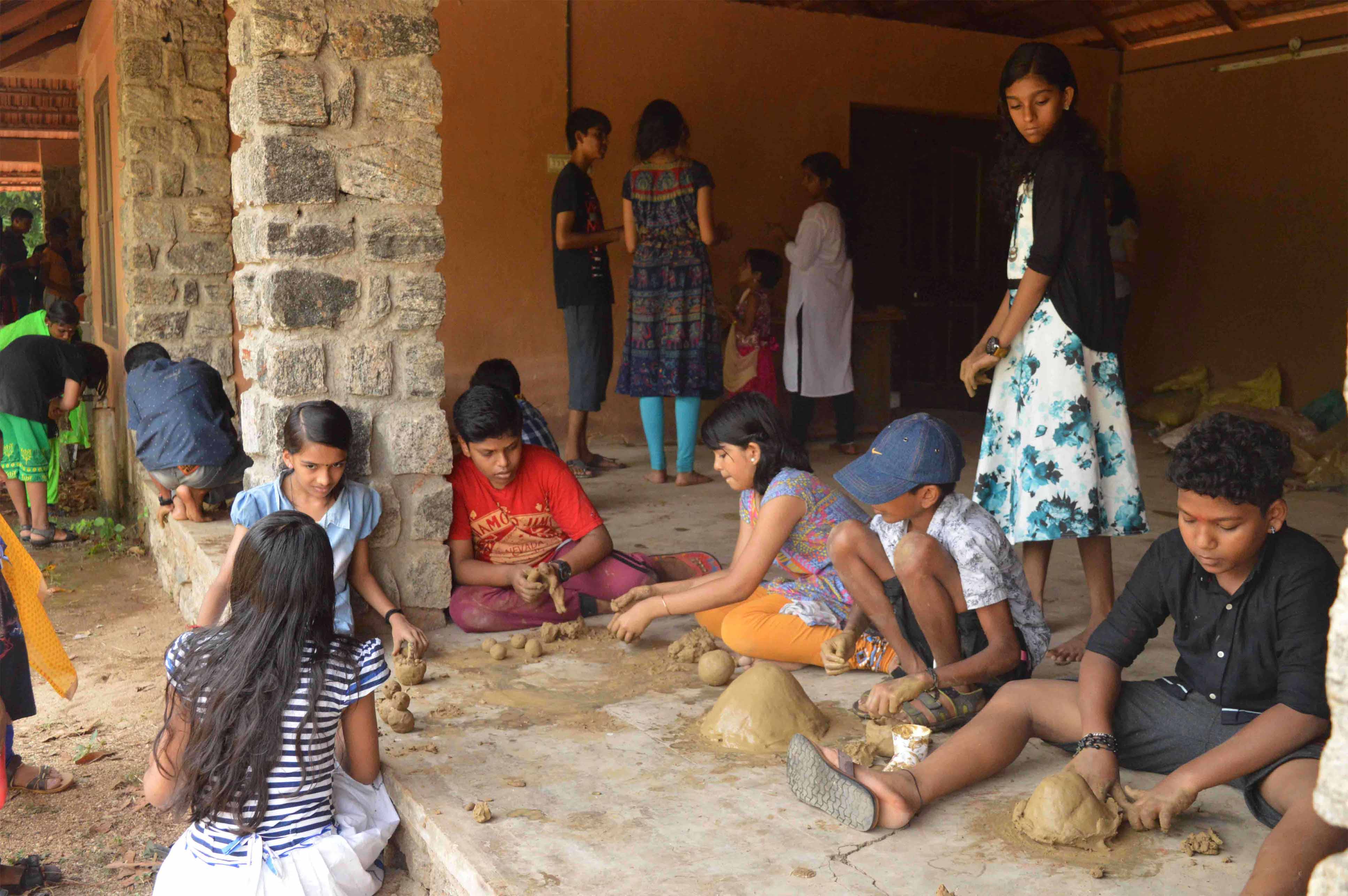 Children immersed in the sensations of river clay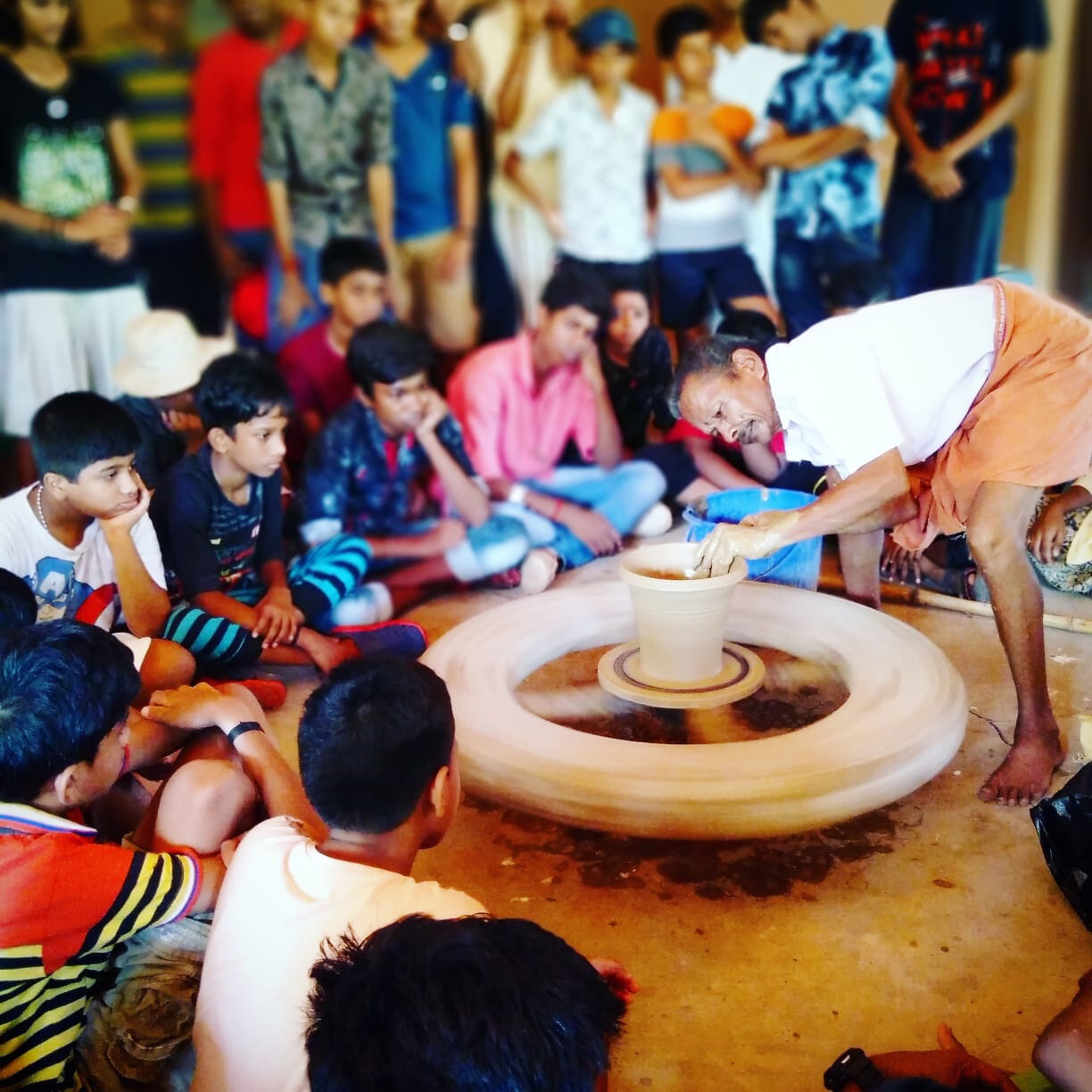 Trying their hand at the wheel…..potter's wheel! photo credit Sharath K R
Best out of waste?
But here, it's the natural materials that were lying around in Ahalya Heritage campus that the children were asked to choose and come up with something creative on paper. Some of their art work reflected how close children are to Mother Nature, showcasing the seasons and natural life that delight them. Materials, ranging from coconut fibre, coconut palm sheaths to dried leaves were used to impart different shades to their picture.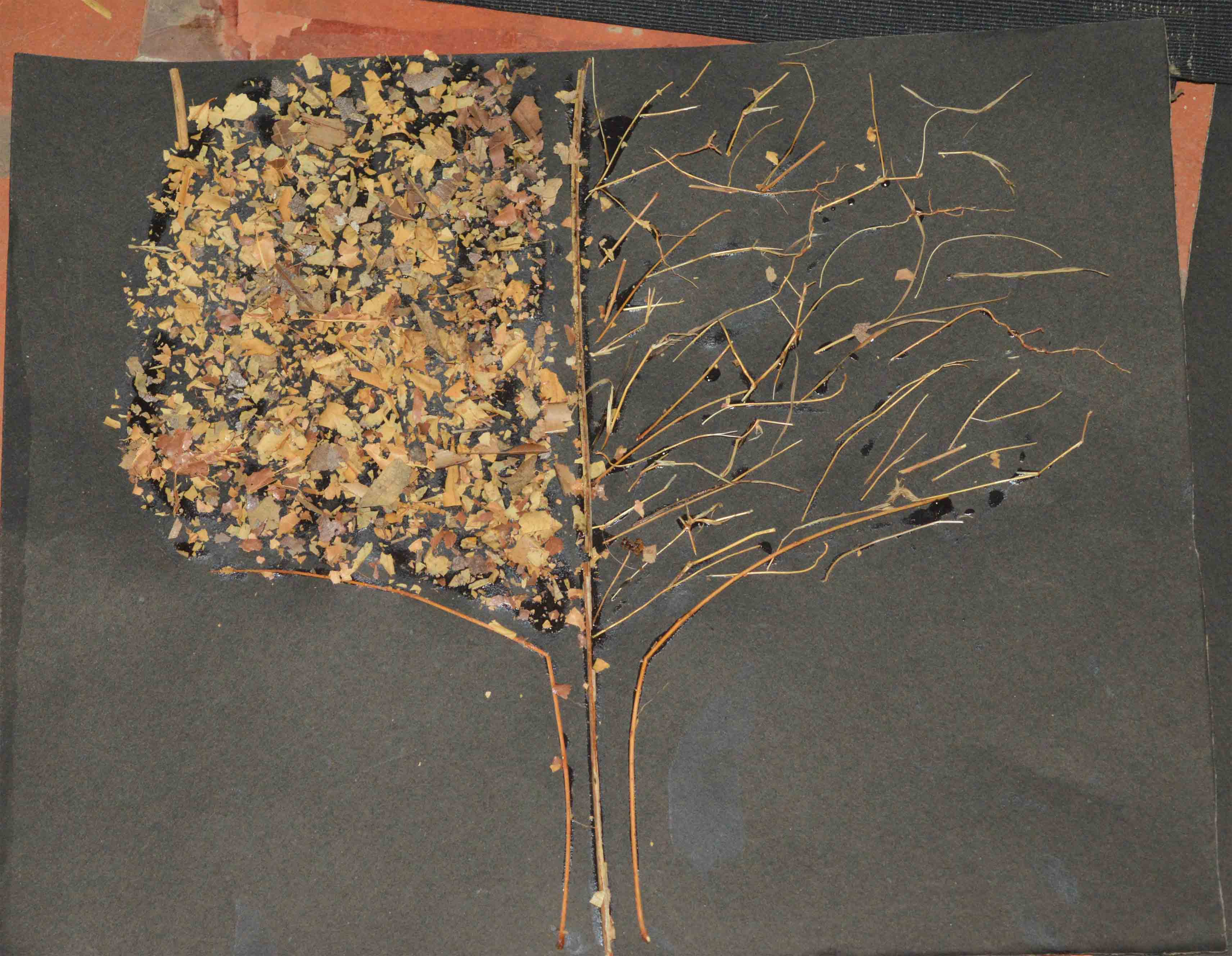 A sample of the exhibits created from natural material
Bonding with the river!
The children were taken to Kalpathi gramam – a Palghat Brahmin village famous for its car (ratha) festivals, music and architecture.They were shown that it was not only the poorer, lower caste communities that were dependent on the river, but that the river also sustained the Brahmin households of Palakkad. Garbage dumped at the banks of the river provided an opportunity to inform the young ones how the river was being polluted not only by big factories, but even by individual households. They realized that even as individuals they could act and prevent further degradation of the river by making their families and neighbours aware of the harm caused to the river through indiscriminate dumping of household waste.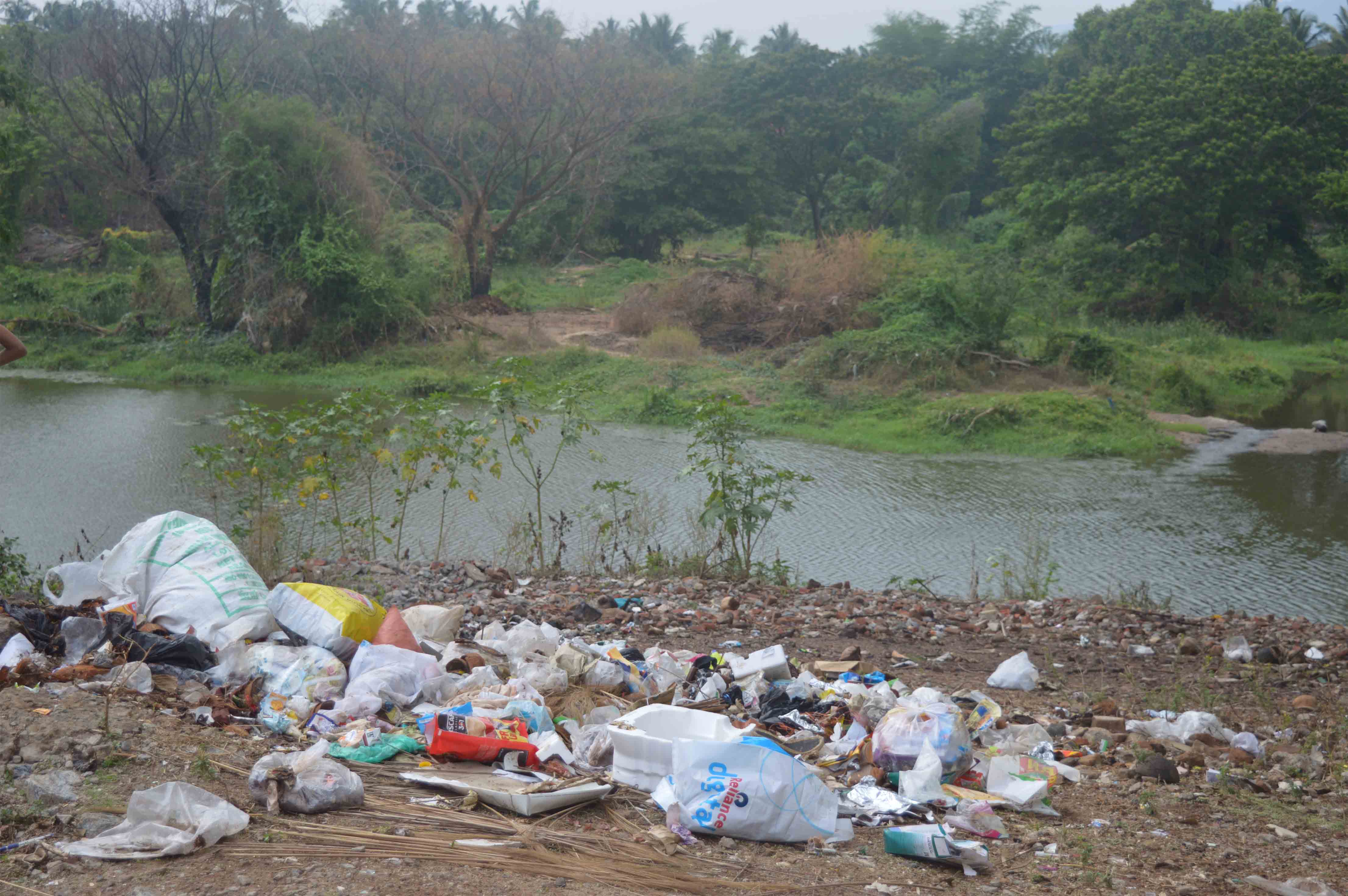 Household garbage dumped at the bank of River NiLa at Kalpathy gramam
Children being children, soon forgot these sad sights and rushed towards the river in their enthusiasm to play, splash about and bathe in the river. Impromptu fishing nets were also made! The impact of this activity could be gauged from the fact that every team that was asked to recollect their most memorable moments in the summer camp spoke about their time spent playing in the river. This is a sure indicator of the importance of physically connecting children and youth to nature, in order for them to feel connected with that natural resource and motivate them to work towards its conservation.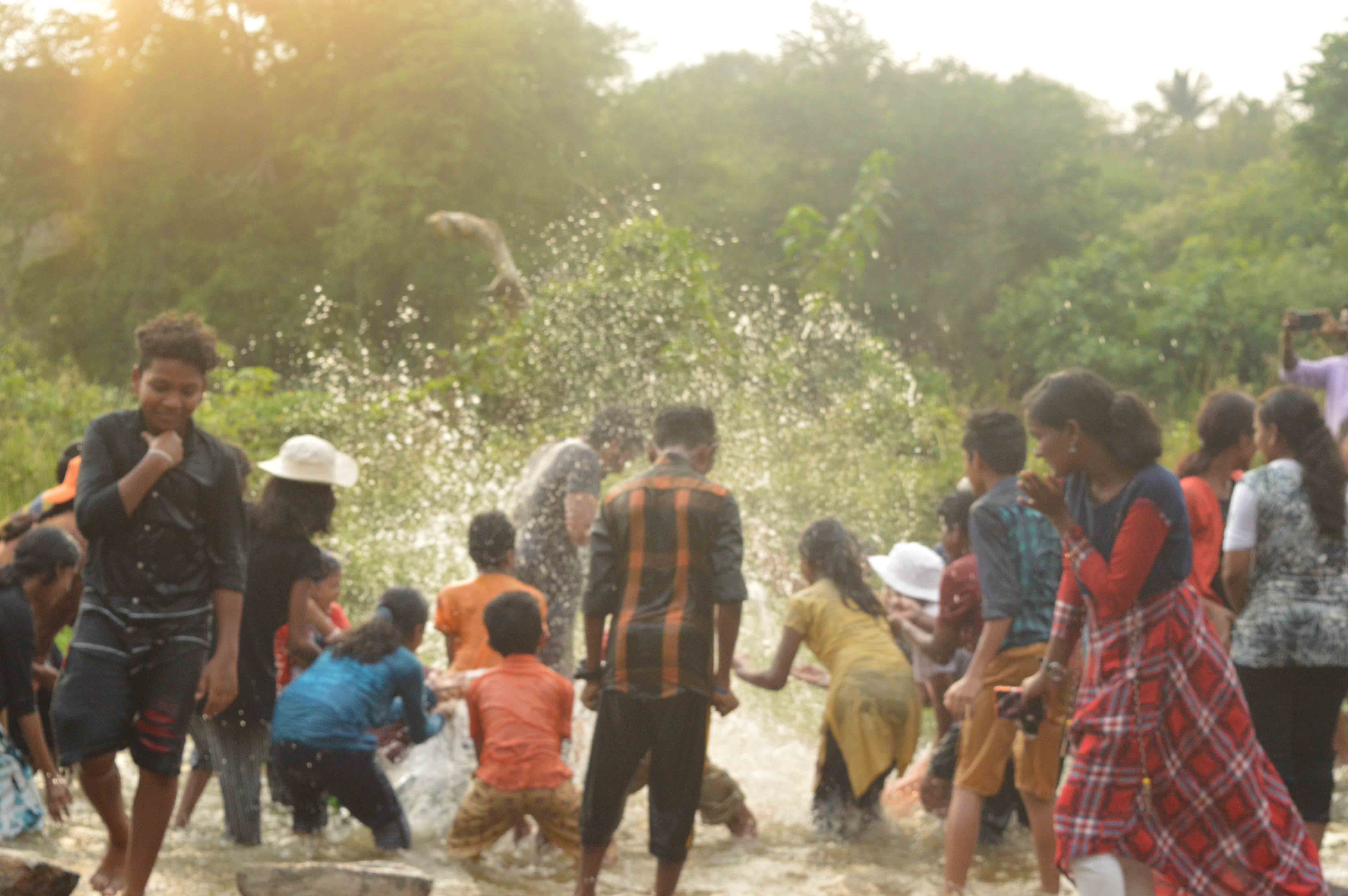 Drenching themselves in fun!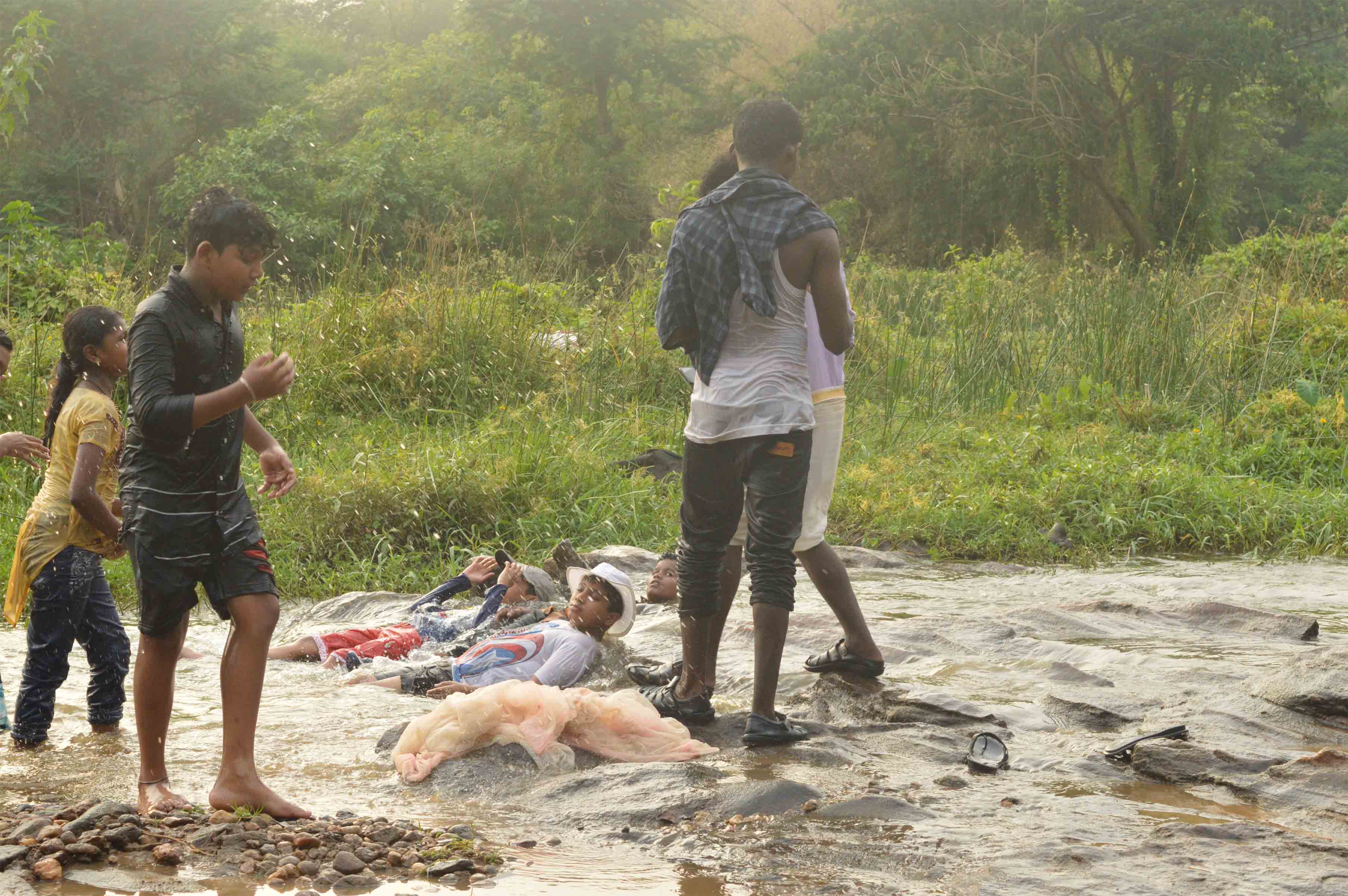 In the lap of River NiLa
Kolam drawing
The activities focussed not only on the ecological aspects, but also the cultural aspects that this river nurtures. Introducing children to kolam drawing activities soon after they freshened up in the morning, gave them the experience of how Brahmin ladies drew beautiful and intricate drawings in their courtyards with rice paste. Children were informed that this was also a way to feed the ants, thus revealing to them a culture that was considerate even of the tiniest of life forms!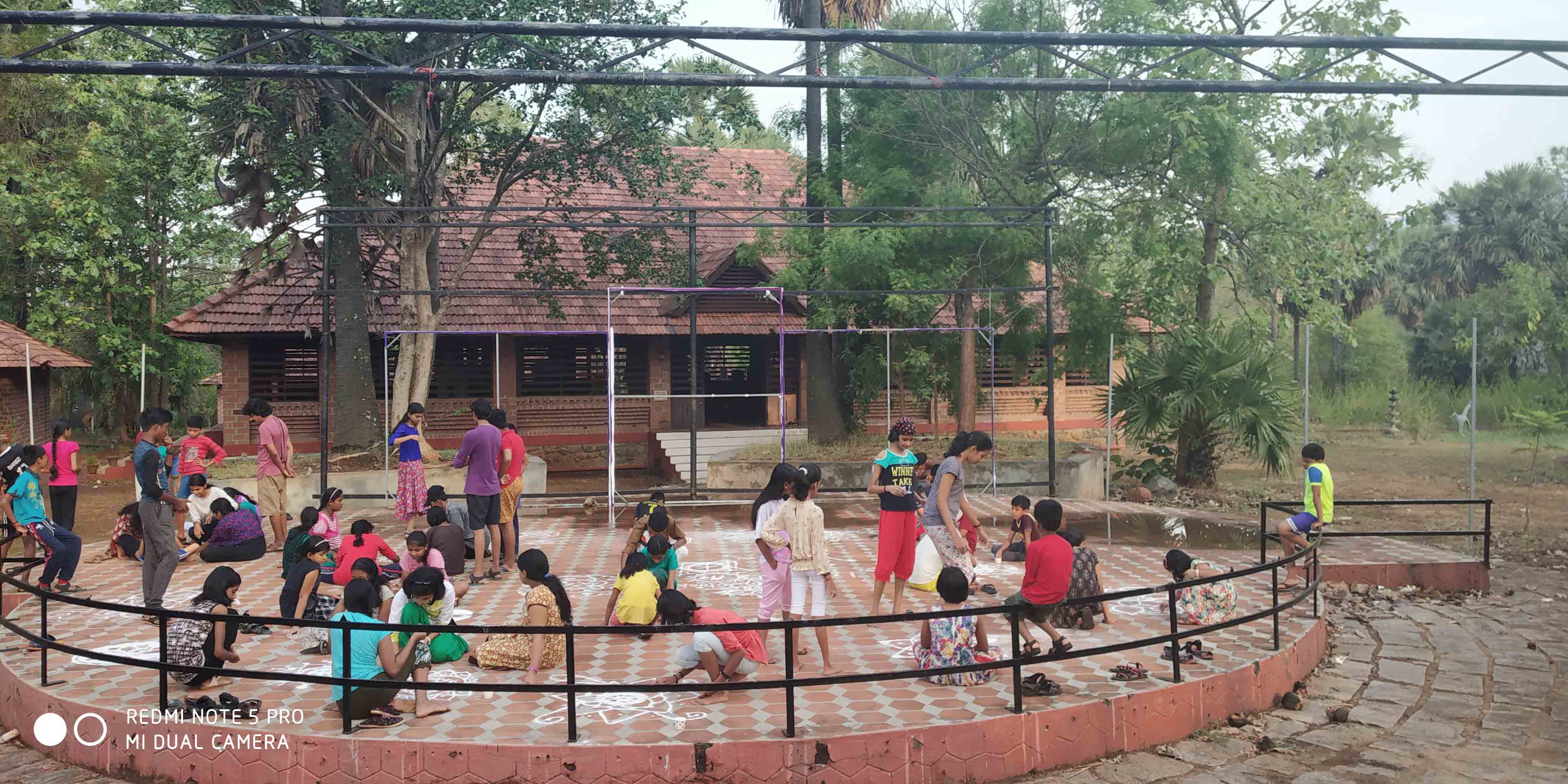 Children trying out their hand at kolam drawing
Connecting through folk songs
The musical renderings of folk songs sung by Sajeev and his troupe regaled and encouraged the children to sing and dance in tune to the rhythms that were beaten out. The Folk song unit also educated the children about various musical instruments that were made from bamboo and other material found along the banks of river NiLa.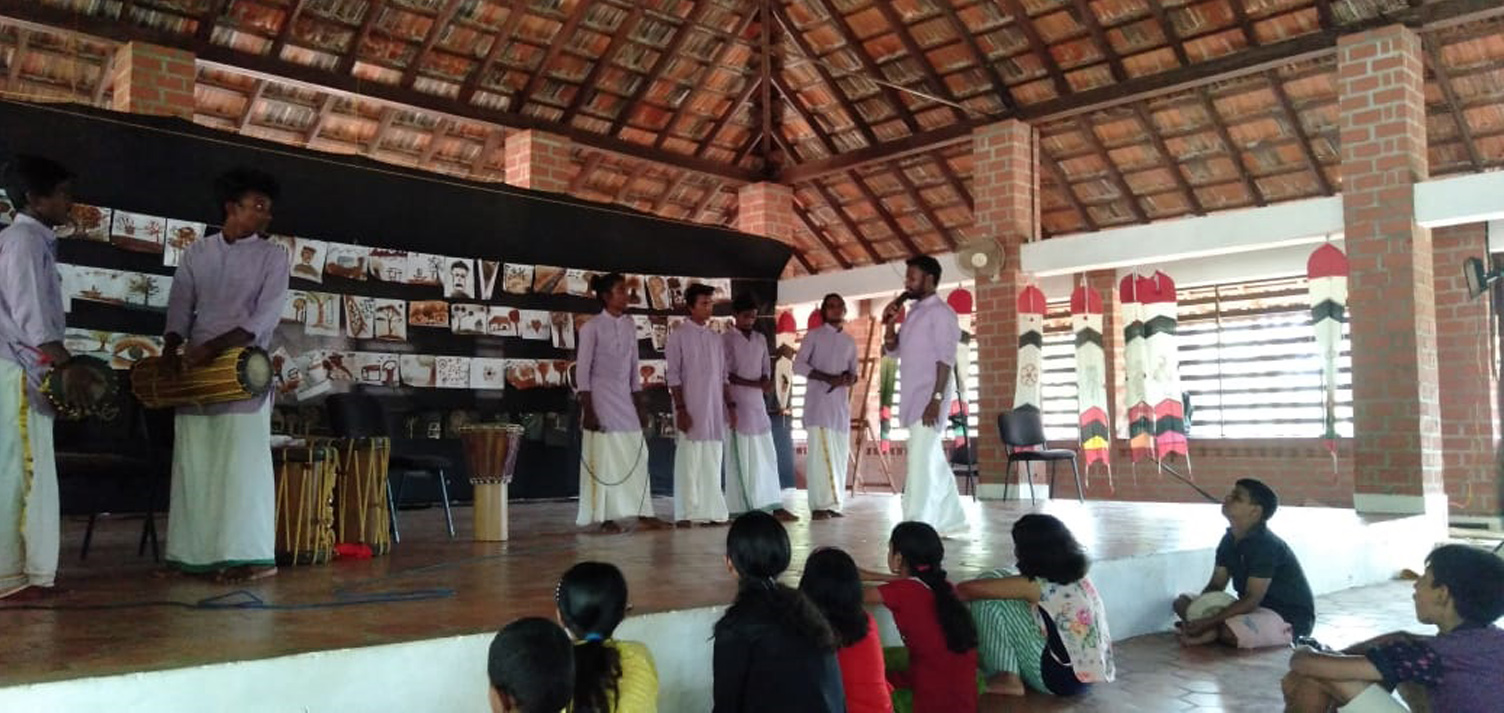 Folk Song troupe of Vayali; photo credit Sharath K R

Sustaining the program
As mentioned before, AlterSchool intends to sustain this activity by developing leadership among the children. This they did by continuously inducting and involving youth leaders from amongst the group that they have trained. For example, Abhirami and Shreelakshmi were entrusted with planning and executing the last day's activities, steering the teams and the various sub-committees formed amongst the children to take various responsiblities in running their summer camp.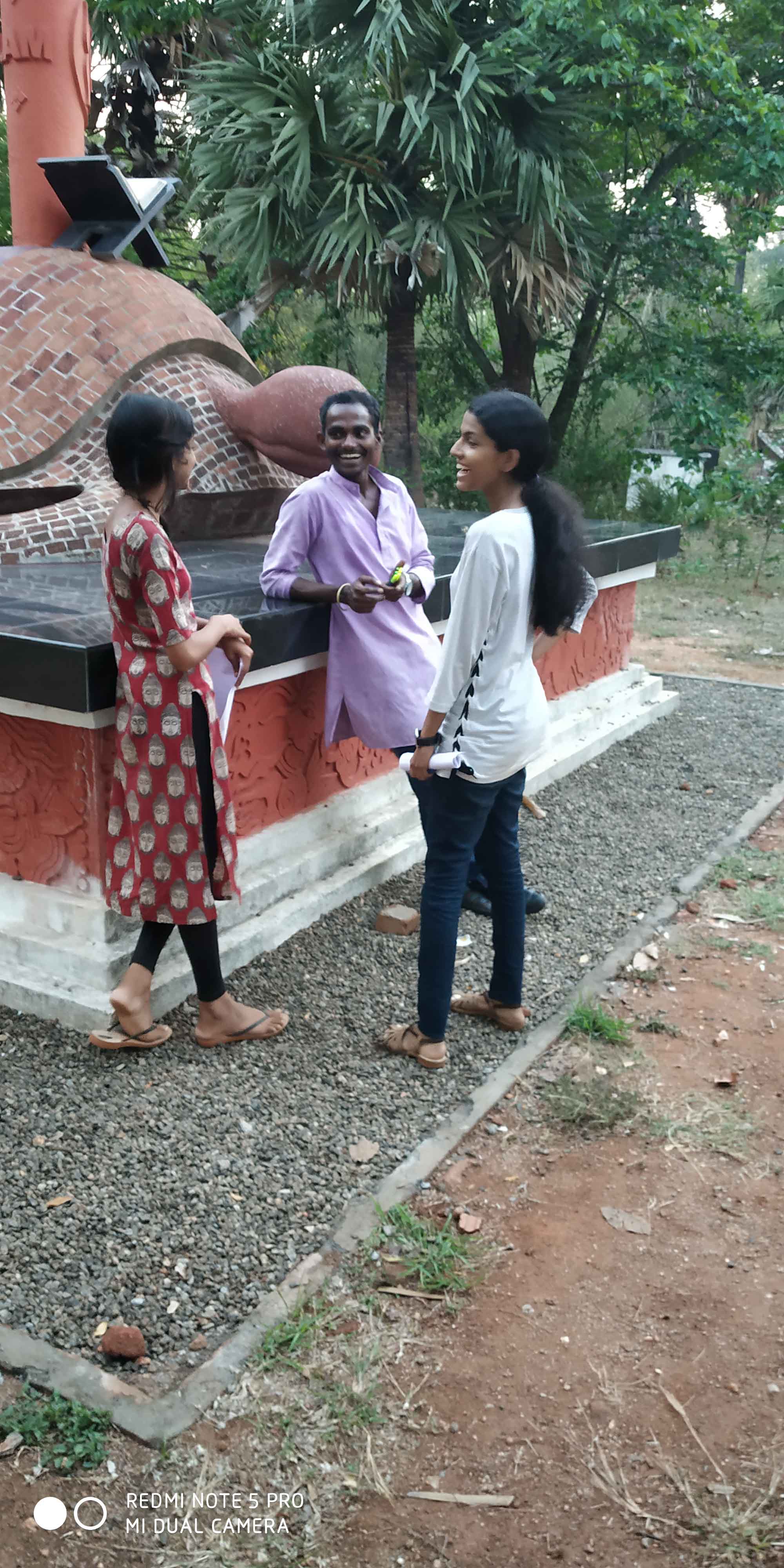 Sharath sharing a lighter moment with upcoming youth leaders
Throughout the five-day camp, children were repeatedly reminded that it is their own summer camp and not Ahalya Heritage's. This was a beautiful way to slowly train the children in taking up responsibilities in the running of the camp. Thus, the light and sound committee had to ensure that lights were switched off and on at the appropriate time, in case of stage shows, arranging for extra sound and light and so on; the wake- up committee had to ensure that everyone woke up in time and that there was no delay in beginning the day's programs; clean-up committee had to ensure that the activity hall, dining hall were left clean after the activities concluded, that everyone washed up their plates and seperated their waste in the bins provided etc; food committee members had the responsibility of arranging food and serving them to others, notifying the caterer what would be needed and decide on the size of portions; art and craft committee had the responsibility of taking care of all the required materials for this activity and ensuring that they were put back into the boxes after use; and lastly, cultural committee. I was surprised at how children responded admirably to the responsibilities and tasks allotted to them, the foresight with which they put forth solutions for the problems that they encountered within their sub-committees. I found out later, that most of these children attend the summer camps regularly every year. AlterSchool plans to tap these regular attendees to develop leadership qualities and assign bigger tasks and responsibilties as the years go by, by involving them in the river conservation programs that Vayali would be conducting. In this way, they are ensuring a steady stream of youth volunteers who would help to conserve the ecology and culture that river NiLa has given birth to and sustained.
Future plans
Based on the feedback that they receive from the children, AlterSchool plans to fine-tune this module and give it to ten schools located near the banks of River NiLa – with whom they have already built up a rapport through their previous engagements with schools. A teacher training workshop will precede the introduction of this module into schools.The  plan is to run this module, containing various activities, throughout the academic year, working on the philosophy of repetitive learning inputs leading to deeper understanding of that concept. In December, a review session will be held with the schools to further fine-tune this module for the next academic year, when they will expand to include more schools. Vayali hopes that in a course of 3-4 years, they would be able to cover about 170 government or aided schools located in the 131 gram panchayats which are situated along the entire course of Bharatapuzha river in Kerala. In due course, they also plan to hold a children's/youth's Bharatapuzha convention, where instead of environmental activists/academics/scientists of an older generation, the focus will be on these school and college children.
Future plans also include making this river conservation education module an open source material that can be adapted to local contexts by organisations in other states of India. Vayali also plans to build up TeNAG – their research wing, by preparing a database of all the organisations that work on the river. Currently, they have a database on 120 organisations covering most of the 131 gram panchayats that fall along the course of the river. They also plan to produce a NiLa knowledge centre – in the form of live culture and documentation. Towards this end, they have already collected twelve PhD theses that have studied various aspects of the river – riverine botany, bird species or river geology. This information would be connected to a map of the river that would be placed as open-source material on the Web. Through this, Vayali hopes to create an online platform that connects like-minded people concerned with river conservation, along with the foot soldiers of Puzhakootams and Puzhayalis, on the ground.
Ultimately, by connecting the younger generation with this river and making them aware about the rich cultural and ecological life that this river supports as it flows through Kerala, Vayali hopes to create a new generation who will, in the future, take efforts to protect this river from being completely destroyed. Even as the new generation is engulfed in a consumerist lifestyle, such education hopes to create youth, who are sensitive to Mother Nature, aware of what she can provide for humankind, and therefore, would not allow a river to die.
Read the Tamil translation here.
---
[1] The National Service Scheme is an Indian government sponsored public service program conducted by the Mininstry of Youth Affairs and Sports of the Government of India.
Contact the author