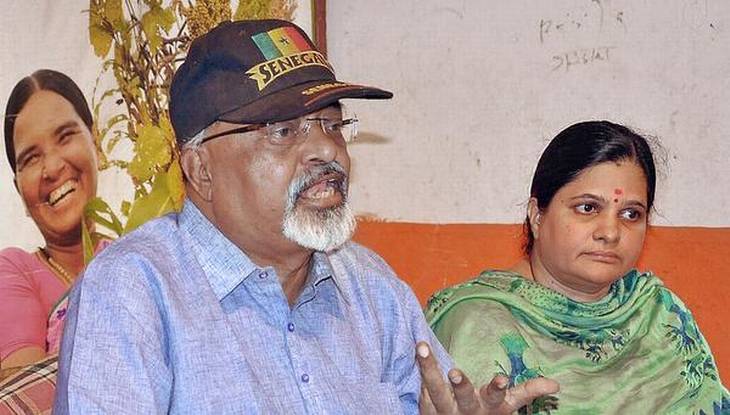 P.V. Satheesh, Convenor, Millet Network of India and Director, DDS, speaking to media at Pastapur in Sangareddy on Thursday.   | Photo Credit: MohdArif
'The Mini Millet Mission is a threat to existing bio-diversity in the area'
The Deccan Development Society (DDS), an NGO working with millet farmers at Zaheerabad area based at Pastapur, has alleged that the government has failed to involve millet farmers in evolving the policy of Mini Millet Mission (MMM).
Speaking to reporters at Pastapur on Thursday, P.V. Satheesh, Convenor, Millet Network of India and Director, DDS, has alleged that the organisation has more than two decades of experience, working in association with women farmers. "The government has behaved in the most undemocratic way in framing the policies for MMM. The programme, aimed at reviving the millet cultivation, was entrusted to the agriculture department, which has been instrumental in the decline of millet cultivation. An earlier experiment held at Andhra Pradesh in the name of Comprehensive Millet Production Revival Programme spread in Vishakhapatnam and Vizianagaram districts, has yielded catastrophic results," said Mr. Satheesh, adding that the tribals in that area have reached a stage that they no more remember their traditional knowledge!
"The millet farmers in this area are growing more than 30 varieties of crops based on rain-fed farming and are known for their expertise in millet cultivation across the country. The MMM, being implemented by the government, could completely damage the existing bio-diversity in this area," commented Mr. Satheesh. He said the women are working in 75 villages in four mandals covering about 5,000 acres and have set up a market to sell their produce. DDS was instrumental in establishing Millet Sisters and Millet Network of India.
Millet farmers Chandramma, Mogulamma, Krishnaveni were present.
First published by The Hindu