Weaving a revolution, one piece at a time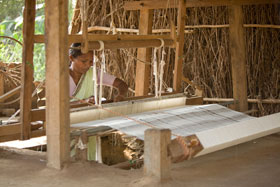 Mass-produced yarn from spinning mills increases production but neutralizes the quirky variations of regional Indian textiles. In the past, cotton itself went by many names: bafta, nainsukh, dosuti, moree, jamdani, mulmul, chint, mashru, himroo and others. Now, they all have morphed into Westside or Big Bazaar cotton.
Read more about Malkha here/Download
Watch Uzramma founder of Malkha fabrics sharing her experience in creating sustainable enterprises for textile production in India.
First Published in Live Mint,Thu, Jul 15 2010
Read a report on Uzramma's talk: 'Native varieties of cotton disappearing'