WRITTEN SPECIALLY FOR THE VIKALP SANGAM WEBSITE
A young boy from the village of Gya in a remote part of Western Ladakh becomes an award-winning film maker. Another from the Eastern part of Ladakh sets up a natural building company with three others. A quiet but determined and hard working girl starts the first ever all women travel company in Leh. A young lad starts a small business selling locally made food products. Another joins politics and holds the Education portfolio in the Hill Council. Two others start a cheese-making enterprise. Several others are head masters or teachers in government schools. Another becomes an IAS officer and yet another, a police constable in Leh.
There are common threads that run through their lives: they are all from remote farming villages of Ladakh, but more significantly they all had a stint in SECMOL (the Students Educational and Cultural Movement of Ladakh), an NGO that has done path-breaking work in the field of Education in Ladakh.
I am in Leh in the summer of 2014. I get a chance to interview four of them and I realise that they have much more in common: a disadvantaged childhood marred by poor schooling; finding their feet and establishing themselves as responsible adults trying to earn a living (many through entrepreneurship and green livelihoods); and demonstrating a concern for the environment and a sensitivity towards others more disadvantaged.
I am curious to know more. I interview some of them to find out how and to what extent SECMOL shaped their lives. As I speak with each one of them, I try to understand the impact of SECMOL's work through their experiences and struggles.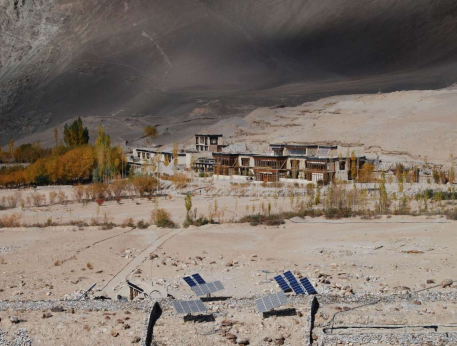 SECMOL
SECMOL was started in the late 80s by a dynamic young Ladakhi, Mr. Sonam Wangchuk. He was pained to discover to what extent the formal education system in Ladakh was disempowering young Ladakhis. Sonam had started free tuitions in Leh for Class X students. This helped him understand the many problems that they faced, like a very low self-esteem due to earlier failures and language difficulties in not being able to express themselves even when they had completely understood concepts. Sonam also realised that the students were definitely not "stupid" or "unintelligent due to lack of oxygen", comments he had often heard made by non-Ladakhi school teachers usually from Jammu and Srinagar, who were posted to schools in Ladakh.
Sonam Wangchuk must have been a very determined boy from a young age. Part of his education was in a school in Srinagar as his father, Mr. Sonam Wangyal, was a politician. Sonam disliked the school and one fine day left for Delhi and sought admission all on his own in a school there! Later he joined an engineering course and it was while he was on vacations in Leh that he had started tuition classes. It was in 1988, a year after he graduated as an engineer, that he started SECMOL along with one of his brothers and five other peers.
I meet Thinlas Chorol in her office in the bustling market in Leh town. Thinlas started the first Ladakhi Women's Travel Company in Leh that organises treks and tours for tourists. She has just returned from a four day trek. The one-room office is bright and sparkling clean. Bright-eyed Kunzes, the office manager who is also from SECMOL, is seated behind the reception table making notes in her laptop and answering phone calls. Behind her is the season's calendar and I can see that their trekking schedule is already full up till September.
Thinlas spent a decade in SECMOL from 1999 to 2009, the year she started her Company. After clearing her Class X examination, she signed up to attend a "summer camp" in SECMOL (see Camps for Ladakhi students). After the camp experience she opted to enroll for the Foundation Course (see Academic Support ). And after the Foundation Course, she stayed on as "SECMOL was not just a school for me; it was a place that opened up many windows". She recalled having the opportunity to improve her reading and writing skills, and her English. She learnt about Ladakhi culture and its history, and participated in discussions around many issues. However, what helped and influenced her the most was the opportunity to interact with people from different parts of India and abroad, and SECMOL's guidance in helping her hone the skills she needed to start her Company.
Camps for Ladakhi students
SECMOL has run camps since 1994 for students who are waiting for their class X exam results. These two-week residential camps help to build the self-confidence of Ladakhi students, while giving them an opportunity to learn about Ladakh's history, geography, environment, culture and solar energy. A number of different activities are conducted by senior students of SECMOL and volunteers from many parts of the world. Every day ends in singing and dancing, the traditional Ladakhi way.
Till date over 2000 to 3000 students have participated in these camps, which are now held in autumn as well, since the Jammu and Kashmir State Board changed its exam schedule. Other than the general camps, SECMOL has run camps on traditional Ladakhi music and dance, archery, and ice skating, and camps for college students on environment, entrepreneurship, and social issues.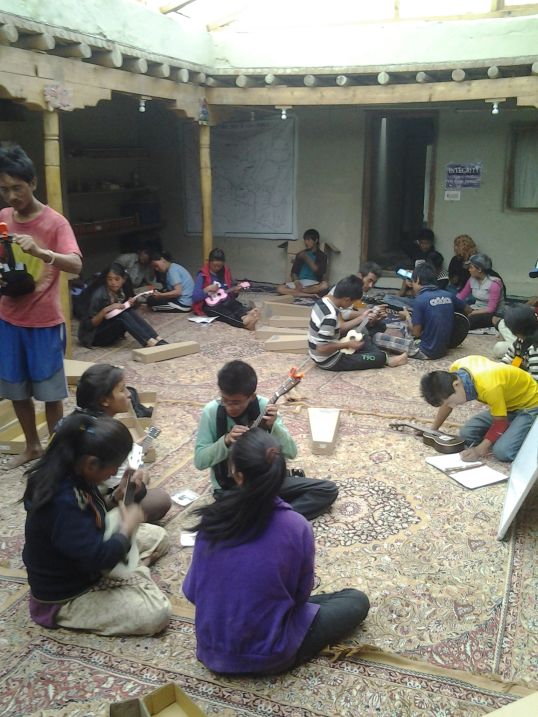 Thinlas recalled her childhood years spent in Takmachik and Domkhar villages in the Sham region in Central Ladakh. She lost her mother when she was very young. She used to trek in the mountains with her father during her school vacations, herding their livestock and collecting fuel and fodder. These early experiences were the seeds of her love for walking in the mountains and the reason for setting up a travel company in Leh.
Was it difficult to start an all women company in Leh? Were there any challenges that she faced, I ask.
Thinlas smiles and recalls the initial years before she started her firm. She started as a freelance trekking guide, but there were travel agencies in Leh who were sceptical about a woman having what it takes to be a guide on trekking routes in the mountains.
Where did she get the determination and grit to make a place for herself in a male-dominated area, I wonder? What made her want to start a Travel Company, wholly run by women, and where the only condition is that the group that avails its services should have at least one woman? I slowly realise that there are experiences in SECMOL that have also been formative.
I listen as Thinlas recalls various experiences during her two years in the Leh Government Girls Senior Secondary School. I see that she has been deeply influenced by discussions and talks she has heard in SECMOL, especially on issues of corruption. She recalls complaining to the Chief Executive Councillor (the CEC, Head of the Ladakh Autonomous Hill Development Council) about absentee teachers in the school, using a radio programme that had been started where one could call in to flag problems or issues that one was facing. Later, when it was her turn to give a talk at morning assembly, she gave a fiery one about corruption. Hearing her, one of the teachers asked her if she saw any corruption in school. Thinlas replied to a shocked audience "Yes, if you look honestly, yes." She then went on to elaborate that classes were being held outdoors, while the classrooms were full of unused mats and furniture. Her speech caused a huge stir in the school, but the positive outcome was the fact that the classes finally moved indoors!
Today, in its sixth year of operation, the Ladakhi Women's Travel Company hires eight women guides, five trainees who will soon become independent guides and four more who are under training, and a woman cook. The trainee guides also act as porters till such time as they are sufficiently trained to lead a trek or a tour independently.
Adademic Support
One of SECMOL's programmes that has had a very significant impact is the Foundation Course and the subsequent academic support that the organisation provides to students. The Foundation Course is offered to students who have failed their class X examination. It is also offered to dropouts and those who may have passed but want to improve their academic foundation before studying further. Over the years, it is this academic support that has helped many students pass secondary and senior secondary levels. Staying on campus provides much more though: interactions with a number of persons, a daily morning talk with Sonam on a number of issues, teaching juniors, and taking on responsibilities on campus. Campus activities at SECMOL
I meet Stanzin Dorjai over coffee one evening. He is an old friend and it feels strange to interview him. But it is soon like old times, chatting, sharing, laughing…..
Stanzin is today the most sought after film maker in Ladakh. He started his film company, Himalayan Film House, in 2006. His latest documentary, "Jungwa — the Broken Balance", with co-film-maker Christiane Mordelet, won the Jury Award at the 29th Mountain International Film Festival held in France. The film explores the connections between Buddhism, environment and climate change in Ladakh. Fame has not affected him in the least bit and he remains the soft spoken, diligent and sensitive person I met over a decade ago.
Stanzin led a semi-nomadic life in Gya village till the 8th grade, helping his family herd their livestock and simultaneously attending the village school. He went to Leh to pursue his studies, but repeated failure in the class X examinations took him to SECMOL in 1994. There, he passed his class X exams privately and then went on to finish class XII. He recalled that SECMOL was more than a home to him. While he studied, he partook in many campus responsibilities and also earned a little to support himself (Campus activities at SECMOL).
I ask Stanzin how he got to becoming a film maker. He laughs gently and tells me how the first seeds were sown in SECMOL. It was compulsory for all to listen to the daily local and national news on radio. SECMOL initiated "SECMOL radio", a programme that was recorded by students and broadcasted in many of the rooms on campus through speakers. He mentions a particular interview that he did where he recorded ambient sounds and introduced these in the programme. This was greatly appreciated by SECMOL staff and many volunteers who thought he had a natural flair for media!
It was also a time of educational reform in Leh district, with SECMOL playing a major catalyst role. This gave Stanzin a chance to visit remote Ladakhi villages as part of an audio-visual team that put together programmes to encourage villagers to participate in educational issues that their local school faced. It was here that Stanzin realised the full potential of audio-visual communication….90% of the village showed up when such a method was used as against a public talk or speech that very few attended. This influenced him deeply enough to realise that he had found his career path.
Stanzin went on to finish a B.A. and became the first to graduate from his village. He headed the Audio-Visual Department of the Media Team in SECMOL. The Media Team highlighted local issues and news using various methods: they brought out a magazine called Ladags Melong; produced and sold videos; and also produced weekly programmes on Leh AIR radio and DD TV.
Stanzin learnt the art of film making with help from film makers who visited SECMOL from time to time. From them he learnt cinematography, script writing, editing and direction.
When I appreciate the journey that he has made, Stanzin acknowledges SECMOL's role in it. He recalls Sonam's advice to the students, "Every SECMOL student should be a job maker, not a job seeker." This motivated him to set off on his own. We have a great visionary in Sonam, he added, a rare person who has contributed so selflessly to Ladakh.
Educational Reforms
One of the over-arching influences that SECMOL had in Ladakh was in the area of educational reform. SECMOL launched Operation New Hope (ONH) in the year 1994 in collaboration with the Ladakh Autonomous Hill Development Council and the Education Department. Under ONH, major reforms took place that sought to set right various problems that were plaguing education in Ladakh.
One of the most significant contributions under ONH was raising awareness amongst local communities about "rights" to education in many remote areas. Most parents were unaware that they could demand that their village schools function properly. SECMOL helped form Village Education Committees (VECs) comprising members from the village who would oversee the proper functioning of the school, help the school staff solve any issues that they face, and even help raise funds. SECMOL conducted training programmes for VECs where they were trained on how schools should be run and what their rights are. Over 1000 VEC members undertook these programmes. Simultaneously, SECMOL held village educational festivals with the help of their Media Department that created audio-visuals that were used to convey messages effectively.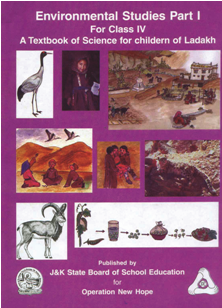 Another significant reform that SECMOL spearheaded was in the area of textbooks. Children in Ladakh inhabit a unique region, which has moulded their lifestyles and cultures. Primary schools in Leh district were using textbooks that were written in Delhi. These presented a bewildering array of concepts and examples that had little relevance to children in Ladakh (for example, road safely rules, coconut trees, tigers and lions). SECMOL staff with the help of local teachers and experts from other parts of India, produced locally relevant textbooks for the district in English and Environment Science (EVS) by 2004. A selection of chapter titles from the EVS textbooks highlights the relevance of these textbooks to the lives of the children: Life in a Farming Village; Making a building warm; Wild Plants of Ladakh; The story of Leh town.
Under ONH, many other educational initiatives started, including teacher training programmes that focussed on child-friendly methods, developing low cost teaching aids, taking teachers on educational tours to see good educational practices in other parts of the country and designing and building a solar heated residential government school for children of far-flung families in Changthang.
My next interview is with Tsering Chosphel, a Head Master in a remote middle school in Photoksar village in Khaltse Block bordering the Zanskar region, and currently on leave to write his M.A. examinations. I am excited. Chosphel was one of the teachers I had worked with, when I was part of SECMOL's textbook team in 2003. On all my subsequent trips to Ladakh, I never had the opportunity of meeting up with him. Every time I enquired about him, I was told that he was teaching in some village quite far removed from Leh.
Chosphel's deep commitment to the field of education had its early beginnings when he was a student of grade 5. A female teacher inspired him to consider teaching as a profession by being different from most teachers: her manner was polite with the students and she never used corporal punishment. This interest deepened further when he went to SECMOL in 1994 as a summer camper after writing his class X board examination. He very quickly got involved in all the campus activities.
Campus Activities at SECMOL
The campus is located at Phey village, 18 km from Leh town. The campus has grown over the years and has residential space for students and campers, large rooms for training, smaller work spaces, a library, kitchen and dining area. All the buildings are solar heated. The campus also has over a 1000 trees that have been planted, vegetable gardens and green houses and cows.
Running of the campus is largely the responsibility of the students. Tending to the garden and trees, milking the cows, maintaining the solar panels, helping with any construction work, kitchen duties, and so on.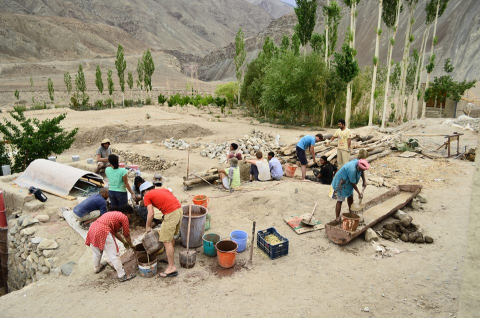 Chosphel opted to stay on at SECMOL even though he passed his examinations. Here, he managed his studies and a campus job. He completed a B.A. through correspondence from Kashmir University with SECMOL's help while working at SECMOL as a teacher. He honed his teaching skills as he taught Political Science and Education to the students, getting help in clearing his doubts and learning about good teaching methods from Becky (Rebecca Norman, known as Becky, who has been in SECMOL for over 20 years, and has been a guiding force). He was selected for a Government teaching position in 2002.
Chosphel feels that SECMOL's work has made a huge difference to the education scenario in Ladakh. He recalls how some of his classmates dropped out of school, not being able to take the harsh physical punishments meted out to them, that often made children faint or have nose bleeds. He feels that things are now very different. Besides SECMOL's influence, younger teachers are trained by District Institute of Education and Training (DIET) regularly, and are also exposed to many positive influences from outside.
I ask him about the government school in Photoksar where he has managed to start a hostel for children from villages even more remote. Half the expenses of the hostel are met by the village and half from the Education Councillor. Every day, a member from the VEC comes to the hostel to help the cook in the kitchen. He smiles and adds that the school was recently awarded the 2nd Best Academic Prize after the children were tested by Zonal Education Officers and staff of DIET. Even before I can congratulate him, he humbly adds that it was more in recognition of the efforts of all the staff and students, than the actual student academic performance.
A Solar Campus
All the buildings of the SECMOL campus are built on the principles of passive solar architecture. These buildings capture the heat of the sun during the day and retain it for long periods, so they do not require any additional heating through burning of fossil fuels, even during peak winter when temperatures dip to -25 degrees C.
Some of the features of the SECMOL buildings include very thick rammed earth walls which are insulated with material like wood shavings; rooms that are used to work, sleep in, etc face the South so that they capture more heat during the winter months when the sun is low on the Southern sky; plastic sheets are attached to the buildings during the winter months to trap the heat within. Rammed earth architecture is a practice which was used in monasteries and forts in ancient Ladakh. SECMOL started a commercial unit called Sheyson Solar Earthworks that took on contracts to build passive solar buildings for individuals, the Army and the government. This unit is no longer running, but some from SECMOL used the knowledge and experience they gained to start similar construction companies.
Currently, the organisation has started the SECMOL Skills University, which offers short and practical courses on renewable and sustainable energy, Earth Building and Passive Solar Architecture. The courses are attended by students from different countries as well as from Ladakh. Interestingly, the SECMOL campus has become self-reliant, earning enough from these courses to meet the running costs. This has meant that they no longer need to send in proposals to funding organisations!
The campus is also off the grid and is almost completely powered by solar energy. Solar water heaters provide water for bathing and washing needs of the residents; solar panels provide electricity that powers all lights and other appliances like computers, TVs and so on; large parabolic reflectors help cook a lot of the food using solar energy.
I am keen to meet up with Norgay who started Third Pole Construction with three others that makes solar buildings. Norgay worked in SECMOL for many years and under the guidance of Sonam learnt rammed earth construction and solar architecture. I hear that Norgay's company has taken off to a good start. They have already constructed a few buildings, including individual homes. They have just landed a large contract to do a resort in Gangles, just outside Leh town. Unfortunately that meant that Norgay was too busy and I am unable to fix an interview with him.
However, I do manage one with another young entrepreneur, Chozang Namgial, who had just launched his brand of agro-products "Ladakh Fine Foods". I meet him in his little shop and am impressed with the neatly arranged array of products: pickled capers (a first in Ladakh) and gherkins, dried apricots, apricot nuts, apricot jam, kimchi (a Korean pickle, very much like one of the traditional Ladakhi pickles). I look around while Chozang, bright-eyed and excited, tells me that all this is because of SECMOL.
Over a glass of refreshing apricot juice, his story unfolds. A naughty boy, Chozang faced problems in two schools that he attended. He was often beaten by teachers who could not handle his mischievousness. He finally dropped out of school in grade 9 and at fifteen years of age became a bus conductor and then a driver.
The turning point in Chozang's life came when his grandfather insisted on taking him to SECMOL. He was reluctant, since he expected it to be like any other institution. But he was blown over by what he experienced. He was trusted fully, given responsibilities, his opinions were valued. But more importantly, the staff at SECMOL understood and accepted the fact that he was averse to formal schooling. There were no pressures to conform, instead here were people who helped him realise his dreams. At that time he visualised a career in adventure sports, rock climbing and mountaineering. SECMOL helped him get to the Nehru Institute of Mountaineering at Uttarkashi where he completed a Basic Course and then an Advanced Course in Search and Rescue. He also did an Advanced Course in Wilderness First Aid. However, during the course of these trainings, Chozang had two out-door traumatic accidents which made him decide that this was not the line for him.
After a couple of years of work, he went back to SECMOL in 2011. He finished his class X and XII examinations through National Open School and worked as Manager of SECMOL campus till 2014. It was here again that he planned his new enterprise, "Ladakh Fine Foods" with help from staff and volunteers at SECMOL. Currently, as he establishes his little business in Leh, he hopes to help farmers by adding value to what they grown. He says that many of them sit for hours on Leh's market pavements selling produce from their farms. He will ensure that their income is definitely not less than what they earn now, and he hopes that the saving of money that they spend on transport to Leh and the time and effort invested would be an attractive and fair incentive for them.
A place of innovation
SECMOL has always been a place of innovation. The engineer in Sonam is always innovating, looking for effective and environment friendly solutions. I remember being very impressed by their absolutely low cost water heater that served over 40 us of well when I lived on their campus in 2003. A low trough two inches deep was dug out and lined with a black plastic sheet. This was covered with a green house plastic sheet. Small pipes served as the inlet and outlet for water. The little pond would be filled in the morning, and by noon there would be hot water for bathing. This low cost innovation cost only a few hundred rupees.
The latest experiment that Sonam did was to create an artificial glacier (or Ice Tower) near Phey village in the winter months, which would make water available in early spring when villages need water to start agriculture. While there have been earlier experiments with artificial glaciers that would provide water to villages in this desert region, Sonam created a glacier that was conical in shape like a stupa. He reasoned that a stupa-shaped glacier would take longer to melt than one created on a flat surface. He created this cone of ice by squirting water into the air through a hose pipe. This was done on the banks of the River Indus and around the dried branches of Seabuckthorn bush. As the water was thrown up into the air, it froze given that it was winter and temperatures were low. The water in this Ice Tower lasted until 18th of May, meeting the local farmers' need for water (usually scarce at this time of the year) for ploughing and planting, indicating that this model could be a climate change adaptation solution for villagers in future.
As I leave Leh, I mull over the few interviews that I did. And a workshop that we conducted for Ladakhi college students on various environmental issues plaguing the region. There were a few participants from SECMOL. During the wrap-up session, one of them asked us what else they could do at SECMOL to protect the environment. I thought deeply for a few minutes, but was speechless. Here were people who were living what they believed in and what they preached, something that remains a distant dream for many of us.
Contact: Sujatha Padmanabhan