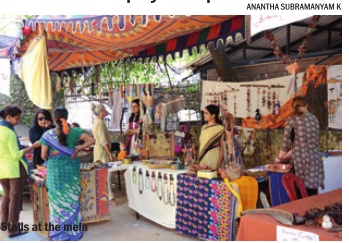 Standing at the entrance of the Golden Bead School in Ashoknagar, Lakshmi Ramachandra, an agriculturist from Sirsi, proudly displayed her stall full of tubers that consisted of seven different varieties.
The occasion: Malnad Mela 2016, the ninth edition of the event on January 30 and 31. It was organised by Vanastree, a Sirsi-based collective of traditional seeds, tubers and soil, run mainly by women. The event consisted of various stalls which showcased seeds, soil, tubers, cotton clothing and food.
Lakshmi said, "It is a very old tradition of growing tubers and conserving old seeds. This is for the very first time that we have come to Bengaluru to make people aware of how tubers are grown and how useful they are. In one acre of land, around 50 kg of root crops are grown every year."
She said it was very difficult to sell all the produce since most people in Sirsi grew tubers."My village, Mattighatta, is about 49 km from the Sirsi market place. It costs more than Rs 700 just to reach the Sirsi bus stop. We cannot afford going there every week as we don't make much profit from these trips. Growing these plants and exporting them to Bengaluru would not be workable. The quantity of tubers wasted every year is unbelievable. So we have no solution for this problem. We grow plenty of tubers every year hoping to get some profit, but we are not recognised in the market."
There are 12 varieties of edible roots, and seven of them were on display at the event: kurimalay gedde, beela kesu, naygilu gonne, turmeric, mottay (colocasia), mango ginger and vaalu.
Renuka Gopal Siddhi, who has been growing tubers for the last 25 years, said, "It is so heartbreaking to find that people in urban areas do not know how tubers are grown, and also how useful they are. Our ancestors ate tubers all their lives. The production and consumption is more in our region and most women are involved in tuber farming. The practice allows them to make a living and be independent. It is not a lucrative business, but we earn just enough."
The founder of Vanastree, Sunita Rao, said, "Women in agriculture sector are not recognised anywhere. They play a vital role in handling all the aspects of agriculture in rural areas. Through Vanastree, we are trying to provide a platform to the women of Sirsi. People are realising that tubers are climate-sustainable crops. To make people aware of tubers, we need to have a communitybased conservation strategy."
First published by Times of India