Paddy farmers from across Tamil Nadu and neighbouring states congretgate at the 12th Annual Nel Thiruvizha at Thiruthuraipoondi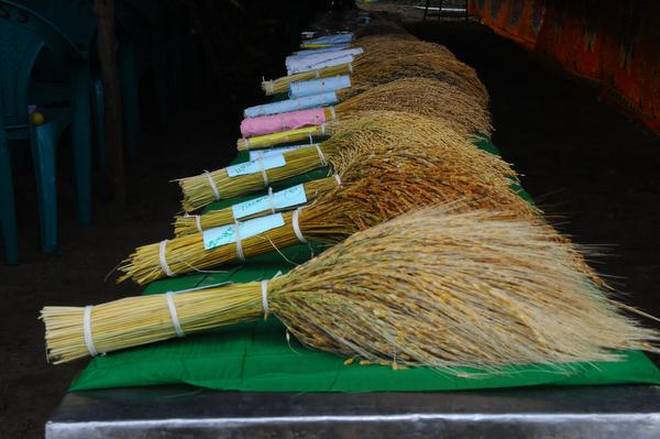 Nel Jayaraman, Tamil Nadu State Coordinator of the Save Our Rice Campaign, stood tall, unmindful of the heat, greeting people and keeping an eye on the preparations. The 12th annual Nel Thiruvizha brought together thousands of paddy farmers from around Tamil Nadu and a few from neighbouring states as well. The wedding hall in Thiruthuraipoondi was a sea of colour with farmers in white veshti and shirt with a bright green thundu thrown over their shoulder, and the women in bright saris. Youth volunteers were everywhere — managing logistics, serving food and water and manning the registration desk.
There were speakers, microphones, cameras, lights and speeches wherever one turned.
People who came early were witness to the rally that began from the centre of Thiruthiraipoondi town. A handsome Kangeyam calf was led out, followed by a bullock cart with vegetables, fruits and other crops, a basket made of straw, plastered with cow dung and filled with paddy seeds alongside a photo of agricultural scientist and environmental activist Nammalwar. The idea was to create awareness about traditional food and seeds. The seeds were brought in and placed reverently in front of the hall, signalling the beginning of the Nel Thiruvizha, organised by the Save Our Rice Campaign and other groups.
The thiruvizha has become an integral part of the agriculture calendar of Tamil Nadu farmers. It is no longer an event by Save Our Rice alone. It has become a public event with local people from in and around Thiruthuraipoondi and Thiruvaroor participating in large numbers and paddy farmers coming from all corners of the state.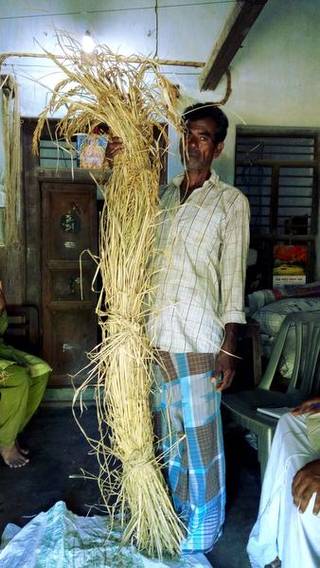 A farmer with the Mappilai Chamba paddy he grew  
An enclosure with 12 tonnes of seed was the focal point of the meeting. The thiruvizha is the high point of the year and sharing these seeds is sacrosanct. Jayaraman reeled off facts and figures, "We were ready with 12 tonnes of seeds across 164 traditional paddy varieties. We multiplied large quantities of Karuppu Kauni, Mappilai Samba, Jeeraga Samba, Thuyamalli, Poongar, Kullakar, Kichadi Samba and Kuzhiyadichan. By the end of the second day, approximately 11.5 tonnes of paddy seeds were distributed to 5742 farmers. Farmers also returned around 3.5 tonnes of seeds. This is a system of barter based on honour. We give each farmer two kilos of seed; they bring double the quantity back the next year. Almost 60 per cent do this. Many share the seeds with their neighbours leading to a multiplier effect. Every farmer signs a pledge that he/she will grow the seeds though organic methods."
Farmers collect paddy varieties and also return varieties that they had taken earlier and multiplied. The event has become an annual meeting point where farmers growing traditional varieties of paddy using organic techniques meet fellow sojourners, share notes, listen to speakers, visit exhibition stalls with seeds, books, food products and agriculture implements.
Ponnambalam, one of the pillars of the campaign, reminisced, "The first thiruvizha was inaugurated by Nammalwar in 2007. Adirengam village, eight kilometres from Thiruthuraipoondi town, was the venue and the meeting was held in the paddy fields lying idle post-harvest. We welcomed the 147 farmers with seven traditional varieties (Kattuyanam, Kuzhiyadichan, Kudavalai, Panangkattu kudavalai, Poongar, Sigappu kauni, Garudan samba)."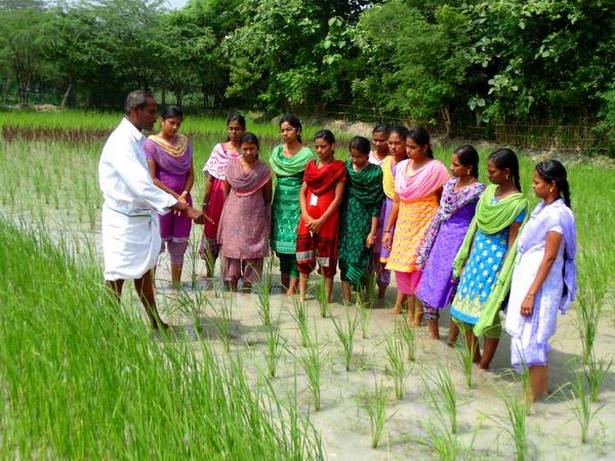 Usha Kumari, who has led the Save Our Rice Campaign since its inception, remarks, "Seed saving and conservation is an integral part of agriculture. They lost favour with the introduction of high-yielding seeds and commercialisation of seed production as part of the Green Revolution. In the process our wealth of traditional varieties was lost. The thiruvizha is not only a reminder of what we have lost, but also of what we can recapture. The conservation and revival of traditional paddy varieties has become an imperative with climate change causing havoc in agriculture. We have to revive these resilient traditional varieties and introduce them into the fields."
These farmers and seed conservers are not rich. They battle adversity every day. They are challenged by climate change, lack of water and a market. Yet they have decided to adopt organic paddy cultivation and to conserve traditional varieties.
They have found that these traditional varieties, which are our heritage, could be their saviours in these uncertain times. In the process, they have become the saviours of these seeds that, if not cultivated season after season, could cease to exist.
Saving rice
In December of 2004, 150 activists working on agriculture and environment came together in the small picturesque village of Kumbalangi near Kochi, in Kerala, to discuss the future of paddy farming. Usha Kumari and Sridhar Radhakrishnan, who led the campaign, travelled around meeting people working on seeds, organic farming and farmers and The Save Our Rice Campaign emerged with the objective of conserving rice ecosystems, sustaining rice culture and diversity. In 2006, the Campaign began work in the three paddy-growing states of Kerala, Tamil Nadu and Karnataka and then moved to West Bengal as well. Twelve years later, the seed conservation work has been adopted by tens of thousands of paddy farmers in the four states.
First published by The Hindu on 2 Jun. 2018