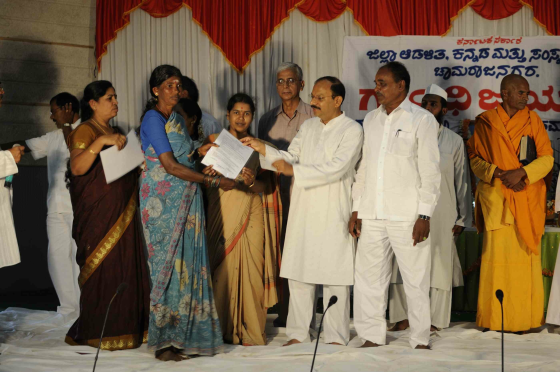 This article (written in August 2011) is about a community governance plan devised by Soliga adivasis in Biligiri Rangaswamy Temple Wildlife Sanctuary for conservation and management of their forests. The plan is to have a three-tiered structure of governance and have a landscape level approach to conservation.
---
Can an adivasi community save the forests and wildlife they live amidst? According to the sentiments echoed by about 160 Soliga adivasis, the answer is a resounding yes. The occasion that brought them together from far flung podus (settlements) was a workshop organized inside the Biligiri Rangaswamy Temple (BRT) Wildlife Sanctuary in Karnataka on 12-13th July. The workshop, facilitated by some civil society groups, focused upon framing a community based plan for forest management and wildlife conservation.
Conservation by exclusion: the prevailing model
BRT Sanctuary is part of an ecologically critical landscape in the meeting point of the Western and Eastern Ghats, known for its plant and animal diversity, including elephant, tiger, and gaur. Soligas have resided in the area for several centuries. Traditionally they practiced shifting cultivation, along with some hunting and gathering. During the 1970s the attention of conservationists and the Forest Department turned to BRT because of its wildlife and the next few decades saw a series of official steps with a bearing on the Soliga community:
In 1974 the area was declared as a wildlife sanctuary leading to forcible settlement of Soligas into small podus. Shifting cultivation and hunting was banned. Their livelihoods became dependent on some settled cultivation, labour and income from forest produce like honey and amla.
In 1980, their practice of setting litter fires, which has cultural and ecological significance for the community was banned.
In 2006, there was a ban on harvest of non timber forest produce which increased tensions bet ween the community and Forest Department.
In January of 2011, the BRT Wildlife Sanctuary was declared as a Tiger reserve despite persistent organized protests against this by the soligas.
A large part of BRT is today covered with the invasive species Lantana camara. This species inhibits growth of other plants, and the habitat of wild animals. There has also been an increase in hemi-parasites. Such invasive species affect not only the health of the ecosystem but also local livelihoods because of the connectivity bet ween ecology, economy and culture. According to Soligas' repeated claims, the reason for this deterioration of ecosystem quality has been the suppression of practiced litter fires. Scientific research by the Ashoka Trust for Research in Ecology and the Environment ( ATREE) suggests that this claim is valid. Litter fires inhibited growth of weeds and suppression of those fires by forest department (through ban) has made the ecological condition worse. This should serve as an example of how attempts at conservation which exclude local knowledge could backfire.
Creating a new paradigm of conservation
Many Soligas and civil society groups protested against declaration of BRT as a Tiger reserve because of its negative implications for their access to forests for livelihoods and customary practices. But rather than only protest, they felt the need to conceive of an alternative that could be community-based and inclusive of both tiger/ wildlife conservation and people's livelihoods. The strongest opportunity for this is the Scheduled Tribes and Other Traditional Forest Dwellers (Recognition of Forest Rights) Act 2006 (in short, called Forest Rights Act 2006), which empowers communities to not only claim rights to use forests but also to their management and protection. With facilitation from civil society groups they have started believing strongly in the possibility of a real change in the method and governance of conservation.
Discussion at the workshop
The workshop was organized in BRT Sanctuary by ATREE, Kalpavriksh, Vivekanada Girijana Kalyana Kendra (VGKK) and Zilla Budakattu Girijana Abhivruddhi Sangha (ZBGAS). Other than the Soligas, participants included non-governmental members of the National Tiger Conservation Authority (NTCA), Nature Conservation Foundation (NCF), Vasundhara and independent conservationists such as Ravi Chellam and Kalyan Varma. During the two-day workshop, discussions took place on three major topics viz. ecological conservation, livelihood security, and governance and management.
Ecological conservation: BRTS faces a number of serious conservation challenges, a major challenge being the rapid spread of the weed Lantana camara. While all participants were convinced of the connection between suppression of fire and weeds, there was debate on whether reintroduction of fire in the current situation where there is tremendous growth of combustible material, would be advisable. Small experimental plots may be tried to start with. Other ecological issues discussed include poaching, tourism, plastic pollution by tourists, roads and check dams, quarrying, chemical use in coffee estates, and excessive tick infestation. Broad strategies were listed for each of these, such as regular patrolling by joint teams of Soliga and forest department staff, restrictions on tourists, and organic production of coffee.
Livelihood security: The Soligas presented a detailed list of plant species from the forest on which they depend for livelihood. They noted a marked decline in availability of most of these species over the last ten years, caused largely by the spread of Lantana. This served as a link and reminder of importance of conservation for livelihoods. At the same time livelihood options that may be in contradiction with conservation were discussed to look for ways to reconcile the two objectives. Examples include employment in coffee estates ( whose chemicals degrade the environment) and in tourism ( which pollutes). Organic coffee cultivation, and lo w-impact ecotourism managed by communities, were considered as options. The desire to remove middlemen in marketing of NTFP was also expressed. Many Soligas also wanted the forest department to create employment opportunities for them through conservation related work.
Governance and management: While conservation and livelihoods were the main objectives, a robust governance and management structure is important to achieve the objectives. Soligas proposed a three tier structure for governance of the sanctuary with a podu (hamlet) level forest management committee (taking its legal backing from the Forest Rights Act), three taluka level committees, and one sanctuary level committee. While the village level committee would have representation of all adult villagers of the podu, the taluka and sanctuary level committees would have representation from these village committees, the Forest Department and civil society groups. The plan was worked out in detail, such as rotation of office bearers and procedures to remove non-performers. It was proposed that village level committees would have the power to penalize community members who breached the committee designed rules, but more serious offences of criminal nature would be reported to the Forest Department or Police.
Kick-starting the process: To put their frame work plan to action, Soligas have constituted a 20 member working committee, which would consolidate the plan based on discussions of the workshop and consultations with an Advisory committee (constituting of members of civil society organizations and independent conservationists or social scientists). The report will then go to gram sabhas for comments. After incorporation of these comments a final report will be prepared which would be signed off by gram sabhas and forwarded to the Karnataka and central governments.
The road ahead
Discussions on a joint protected area management model for BRT have been sporadically going on for a decade, but it is only now that they are being concretized, with the Forest Rights Act as a legal basis. But any such model is going to face enormous challenges. The declaration of BRT as a Tiger Reserve is itself one, as it will bring with it pressure for villages in the core/Critical Tiger Habitat (CTHs) to be relocated. Though both the Wild Life (Protection) Amendment Act 2006 and the Forest Rights Act require consent of gram sabhas for any relocation, the Rs. 10 lakh package that is dangled in front of villagers can be tempting for many, especially those who are landless (some of whom may want to move even if offered options inside). This could lead to divisions and tensions amongst the Soliga. It is thus crucial to convince or pressurize the state government including the Forest Department that they facilitate a collaborative management process. There are of course also enormous challenges in achieving conservation objectives, in finding appropriate and adequate livelihoods, and in building a relationship of mutual trust and power-sharing bet ween the adivasis and the government.
However, there are reasons for optimism in this situation. The process of acceptance of community forest rights (CFR) through the Forest Rights Act is continuing. The latest news is that CFRs for 25 podus have been accepted, and will be distributed on August 6. This is certainly a remarkable achievement, and may be the first case of large-scale vesting of CFRs within a protected area in India. Other reasons for optimism are the positive, supportive role of conservation and social action organizations like ATREE, NCF, Kalpavriksh, and Vasundhara, and the backing of w ell-established social work agencies like VGKK. Close coordination is needed bet ween scientific research organizations, forest department, civil society groups and adivasis. Despite the on-ground challenges which this model may face, the enthusiasm and dynamism being shown by the Soligas provides much hope. This model should serve as a source of inspiration for all forest d welling communities and civil society groups who envision change. Only through such efforts will it be possible to bridge the chasm that divides modern and traditional knowledge, conservation and livelihoods, nature and culture.
Shiba Desor and Ashish Kothari are with Kalpavriksh, Pune/Delhi; Nitin Rai is with ATREE, Bangalore.
---
First Published on TRINet
Update: Since then, several villages have received recognition of their community forest rights in October 2011, several more have filed claims for recognition under the Forest Rights Act. However, the plan has not yet been implemented as the community is waiting for all the villages to receive recognition of their rights.