By the end of the first day, I thought I wouldn't make it.
In early May, I was at a "food workshop" in Himachal Pradesh and it was dinner time. That summer night in the Himalayas was gorgeous, starlit, and I was sitting on a wide, stone verandah right outside the dining hall, staring at my plate of rice, dal and lungdu. According to the organizers of the week-long food workshop, Food for Thought, at the Sambhaavnaa Institute of Public Policy and Politics, at the foothills of the Dhauladhar range, lungdu is a fern that grows wild near cold brooks and is foraged by villagers. The word "forage", of course, immediately brought to mind chef René Redzepi, his award-winning Danish restaurant Noma (which I have only read about) and his famous dish called "Vegetables in Soil".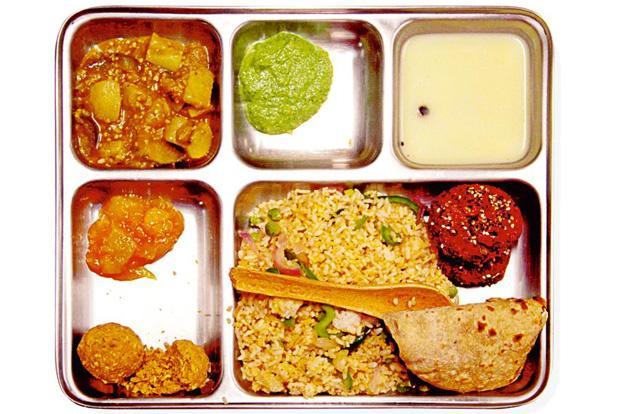 Since snacking between meals was not encouraged, and I hadn't had the foresight to sneak some biscuits, I ravenously shoved a large ball of rice and lungdu into my mouth. Well, it tasted like a "vegetable in soil" all right: more soil, less vegetable.
There were five more days to go. Who knew that this tiny, coiled, streamside vegetable was to be my gateway drug to new ideas of food that would change my kitchen landscape.
Open sesame
My mother brought up two daughters. She wasn't allowed to work or even imagine a career. Her revenge on the discriminatory system was the kitchen door, which she slammed on us sisters repeatedly. She is a remarkable cook but she never asked us to hold a knife or a ladle.
So it was surreal when I called her up and asked her to join me in this food workshop, whose aim was to deconstruct food—find where it came from, understand the farmer behind it, industrial farming, local foods, food processing, and, of course, explore how to cook. This was the first time in my whole life that I stood next to her in a kitchen to do something apart from scrolling through my phone or asking what was for dinner.
Going back
Before this workshop, my only relationship with food was what was served on my plate. I didn't care where it came from or what it was made of. I was merely a consumer concerned only with speed, efficiency, cost, and convenience of food.
As I write this, there are anguished posts on my Facebook feed shocked at the lead content in instant noodles Maggi. What shocks me is that did people really think of Maggi as food, leave alone nutritious?
As children, most of us are told to not waste food because there are people starving elsewhere. I think it is equally important to tell them where food comes from, who grows it, how does it get to our table, how much does it cost, what did the farmer get, and what did the plant look like?
The workshop helped me ask questions most of us take for granted and probably made me healthier for it.
Order, table, click—what's underneath?
Cooking is meant to engage all senses. From smell (of ripe fruits, baking cookies and aromatic oils), touch (of a gnarly jackfruit or a soft dough) and hearing (of sputtering spices, or the dull thump of a melon) to look, and taste—the final gratification.
Perhaps our engagement with food today seems skewed disproportionately towards one sense—sight, from photographs of gorgeous food to restaurant gimmicks—the end product. But cooking brings together all these senses—from finding the right produce to putting it on the plate.
Sitting at the workshop, I recounted things in my kitchen larder. Most were processed foods, even though I thought of them as "raw material"—from flours, to oils, spices, butter and juices, and even salt. And I was mildly shocked at how limited my larder was. Of all the food diversity that India has to offer, my diet had been focused on wheat and white rice.
Of course I had heard of millets, and that they are saturated with nutrient goodness but I never thought of it as food. Everyone said these are fasting foods. At the workshop I had to Google images of these "ancient" grains and I learnt so many new ways of looking at these grains—baking, stewing, pounding.
I should also mention that the food after the lungdu debacle was fascinating— home-made atta (flour) breads and seed cakes; zucchini-noodle coconut milk salads; laddoos made from sattu (roasted gram flour), dates and jaggery; beetroot cutlets with amaranth and sesame; jaggery ice cream; ragi (finger millet) porridge and idlis; and barley tikkis. It was a whole new ingredient universe.
Back in Delhi, I stocked up on every available wheat and rice replacement, moved over to chemical-free vegetables, fruits and dairy, and switched sugar with jaggery, and refined oils with kacchi ghani (cold-pressed) mustard, coconut, groundnut and sesame oils. My cook, a shy, young man from Uttarakhand, took one look at my new millet acquisitions, suppressed a laugh and said, "All this is poor man's food. Now rich people want to eat these grains and they will become more expensive."
Let go
Dairy, no. Refined oil, no. Sugar, no. Pickles, no. Butter, no. Flour, no. White rice, no. "This is really depressing," said my neighbour at the workshop. And it was. Sitting there, listening to all this talk about what we need to shun to live healthy was gloomy. It was militant, occasionally bordering on impossible, especially when the organizers started pointing out the downsides of pressure cookers and modern medicine.
While asking questions about where my produce is coming from is fairly easy, quite many changes are tough to make, or impractical. I cannot, for instance, make coconut milk from scratch every time I need it or cook in terracotta pans and solar cookers, or never buy packaged milk again. And I will continue to eat Hapoos mangoes, though I know the fruit is laden with pesticides.
Many of our present issues with food come from our desire to control our environment and thereby, nature. We want everything and we want them all the time at the supermarket closest to our house. It has its costs. This abundance of goods 24/7 has ruined our sense of seasonality. Seasons are delicate ballets of elements and the soil pushes forth their fruits. Perhaps it is okay to let nature control our patterns of consumption sometimes.
Questions and conversations
My new-found enthusiasm for value of food and its sourcing has meant that I can't stop talking about it and have quickly become the most annoying person at a dinner party. My babbling has extended to vegetable hawkers on my street and local vendors. Each and every vegetable seller has told me that it is impossible to grow vegetables without chemicals. One vendor, probably frustrated with me asking him where his spinach is from, sputtered in my face in mild rage, "Listen. I come from a true farming family. Over generations, our land has been divided repeatedly and we need chemicals to get the most out of our tiny patches. Why do you think I am here?"
Farming is one of our oldest ideas. But one of our biggest failings is our shockingly short memory. We only remember the world we have seen in our lifetime, sometimes just a part of that. We cannot grieve a loss we don't understand or have a memory of.
A handful of people in cities are initiating urban gardening, terrace vegetable patches and community farming in small ways. Once the rains are here this year, I plan on starting at least one patch of greens. If only to have a memory to mourn.
My takeaways
Cut down on processed food
Grains, lentils, spices: This is the easiest change to make as several varieties of grains are available at local vendors. Find a stone miller locally and get the grains ground. All grains, however, are not suitable for all seasons. For instance, 'bajra' (pearl millet) is too "hot" for summer.
Organic lentils, spices and honey are easy to find too. Switch to jaggery, which is unbleached unlike refined sugar.
Oils: Refined oils should have no place in your kitchen. Cold-pressed coconut, mustard, sesame, groundnut and flaxseed oils are easily available. Also, remember that different oils have different smoking points and some like flaxseed oil cannot be used for cooking.
Dairy: Make your own yogurt, that's one less processed food in your refrigerator.
Vegetables and fruits: A quick online search should tell you how and where to find organic fruits and vegetables in your city.
If you are looking to change your food habits, you could sign up for the Food for Thought course at the Sambhaavnaa Institute of Public Policy and Politics, Kandbari village near Palampur in Himachal Pradesh. Cost, Rs.3,400, including all the materials used in the workshop. For details, visit www.sambhaavnaa.org
First published on Live Mint