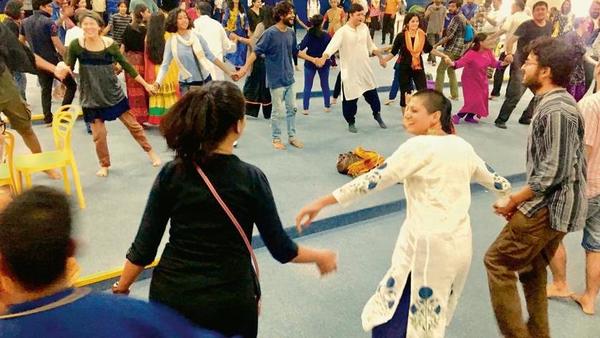 At a morning circle dance at LSUC, participants abandon inhibitions. Photo: Natasha Badhwar
This is the 11th LSUC, an annual event organized by Shikshantar, and Swaraj University, Udaipur, in collaboration with partner groups and organizations
These are all people who are exploring alternative choices in education, work, food, relationships and lifestyles.
Who would have thought that one day I would be typing the first sentence of this column in an auditorium of a university campus in the remote district of Gajapati on the border of Odisha and Andhra Pradesh, with a few hundred people dancing to the rhythm of Turkish music around me. They are all holding hands and following a set of dance steps that many of them are trying out for the first time. There is happiness and camaraderie in this hall. I feel the energy in my body too as my fingers move on the keyboard.
I am at the Learning Societies Un-Conference (LSUC) 2019, a gathering of over 700 people who have come together for six days to exchange ideas, share learnings, make friends and befriend their own self. These are all people who are exploring alternative choices in education, work, food, relationships and lifestyles. This is the 11th LSUC, an annual event organized by Shikshantar, a movement founded to rethink education and development, and Swaraj University, Udaipur, in collaboration with partner groups and organizations.
"This is a crazy and happy place," I text a friend who had planned to come but couldn't make it. "It is something else altogether." I worry that I will not be able to find words to do justice to this experience when I try to articulate it to others.
This is the second year in a row that I am attending the LSUC. In the year between the two gatherings, two of our children quit going to school and became unschoolers, my husband started organic farming, and our youngest child learnt to call out authoritarian and abusive behaviour when she spots it.
Every morning, people announce the sessions and workshops they will be conducting, filling up a grid of spaces and time slots that the organizers have created on a large wall on the campus. I have a serious case of Fomo (fear of missing out) as I scan the choices available. How to travel without any money. Emotional literacy 101. Get in touch with your grief. Cartooning for beginners. Befriend your child with NVC (non-violent communication). Draw your emotions. Unschool of Love. A sari-tying workshop. Urine Therapy. Retracing Gandhi's footsteps on the Dandi March. How to unschool your parents.
By early afternoon I am satisfied to just let everything happen around me, while I sit by the highway shop outside the campus gate and drink fresh coconut water. I order nimbu-pani (lime water) next and fight the temptation to order instant noodles. I have two small bananas instead. It is perfectly okay to un-participate in an un-conference, I reassure myself.
At LSUC, you can be a new person everyday. You can be anonymous or you can reveal yourself safely. You can abandon your fear of missing out. Whatever you may have been looking for, it will find you here.
"I don't want to be anybody here," I had decided when I had attended the previous LSUC at Bhoomi College in Bengaluru. It had felt liberating. This time, I put up an announcement about sharing the experiences I've had with Karwan-e-Mohabbat, a journey of atonement and solidarity that takes us, a group of volunteers, to the homes of victims of lynchings and caste and communal violence. I don't expect a large audience, yet I am surprised at the attentiveness of those who come to attend. We talk about how citizens have outsourced politics and the need to reclaim our power and agency.
Two young people find me later and express regret that they missed the session. We sit down and talk about the Karwan. Tears well up as I talk about witnessing the raw grief of parents. We fortify each other as we let our own vulnerabilities get exposed.
A young writer shows me some of his work. He sits calmly as I read chapters from his unpublished books. As I finish reading, I admit to him that I am wary of my own words as I share my feedback. I know I need to de-school my own mind as I assume the role of a mentor. Here, I have the mind space to listen deeply.
Just like the sudden highs of joyfulness, there are many moments of unexpected tears too. I don't know what it is about this gathering that makes us feel safer about expressing emotions. There is a shared code of conduct to respect and honour each other's space. Children can sense it too. They play together for hours without checking to see where their parents are.
At the Open Mela on the evening of Day 4, I meet Kamalbir Kaur, who I had first met in Udaipur last year. We rush to express our admiration for each other. Kamal has been a Khoji (seeker) at Swaraj University where students are encouraged to find their interest, seek mentors and develop their own sustainable, environmentally conscious career path. Kamal has created Saadgi—a brand of up-cycled utility bags and accessories made by rural women in Rajasthan using fabric waste from factories. The colours and block prints on each pouch, bag, wallet, hard-drive case and keychain by Saadgi exude joy. I love her work and her own saadgi (simplicity).
Is everything always fun, loving and wonderful at LSUC? Of course, it isn't. It isn't meant to be easy anyway. Many parts of this experience are an exercise in managing one's expectations. What have I come to receive? What do I want to offer? What are my own barriers?
I disregard my inhibitions and bring out copies of my own books for display and sale at the Open Mela. My daughters team up with friends and set up a stall where they demonstrate crochet skills and take orders for earrings, fingerless gloves and doilies. Next to me, a teenager draws huge crowds as he performs magic tricks with a pack of cards.
As I sit here amidst the music and the movement, I feel that I have reclaimed my own capacity for joy. For accepting hugs. For asking for help. For letting my children be free of me and allowing myself to be free of them. I do not need to be addicted to anxiety. I can be light.
"Every year we receive the feedback that LSUC could be better planned," shares Manish Jain, co-founder of Shiksantar and Swaraj University. "I don't want better planning. I want better responsiveness. We need to train ourselves to be prepared for uncertainty." It makes perfect sense to me.
We all need communities that remind us of other ways of being; that help us heal and connect. To our own selves, to our art and our inner core of joy.
First published by Live Mint on 25 Jan. 2019