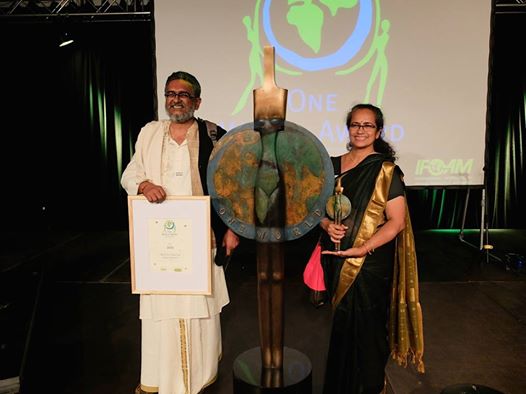 The Timbaktu Collective from India received the OWA Gold Award. With the international One World Award, the German organic food company Rapunzel Naturkost and the International Federation of Organic Agriculture Movements (IFOAM) honored for the fourth time individuals, projects and innovative ideas that make the world a better and more just place thanks to their positive ecological, economic and social impact.
The roots of the Timbaktu Collective go back to the political commitment and visions of the two founders Bablu Ganguly and Mary Vattamattam. It is their vision to empower the rural population of India to live self-determined, sustainable lives in harmony, with equal rights for both genders. Today, 200,000 members are supporting this vision and engage in various areas such as the alleviation of poverty, women's rights, environmental education and organic cultivation. Although the collective is very successful in all these areas the jury especially praised their achievements in the area of women's liberation and emancipation. As a result of this work, Indian women have real opportunities and prospects today. Mary Vattamattam and Bablu Ganguly succeed in an extraordinary way to implement their visions thus showing us how much can be achieved when people "walk their talks".
More information about the OWA.
First published by LEGAU, Germany, September 20, 2014 /PRNewswire/ —
The Timbaktu Collective website