An NGO working with women seed savers in Sirsi is quietly pushing the cause of tubers, for all the right reasons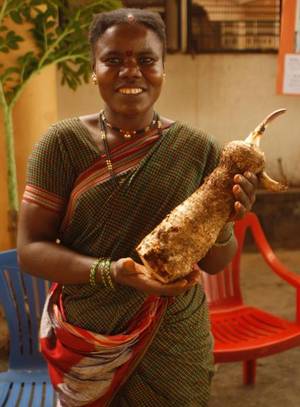 Lakshmi Siddhi   | Photo Credit: Sunitha Rao
Can there be a revival of interest in tubers, just like millets? Sunita Rao of Vanastree would like to be hopeful. What fanned her hope was the response received by tubers at Foodu, an event held as part of the fifth Sambrama hosted by Venkatappa Art Gallery Forum in Bengaluru.
"A lot of people took tubers to plant and grow that day," Rao joyously recalls. Vanastree, an NGO based in Sirsi, is working towards promoting traditional crop varieties, forest gardens and seed saving, and did a tuber food workshop and tasting session with Lalitha Manjunath. With hot vadappes — prepared from boiled tapioca, rice flour, onions, dill and coriander — and holiges being served to visitors, at a talk on tubers, and a table laden with different varieties of tubers — tapioca, elephant foot yam, sweet potato, dioscorea (yam), six kinds of colocasia, turmeric, ginger, sweet flag — on the side, it became a celebration of this long-forgotten food.
Take it forward
Vanastree's Grow A Garden, a guide for the gardener, boasts an additional section on tubers and beautiful botanical illustrations.
In April 2018, Vanastree is putting together an event called 'Land and Lens', a photography exhibition curated by artist Suresh Kumar G. Tubers will be one of the highlights of the event, with Lakshmi Siddhi and other major growers of tubers participating.
A tuber is a swollen, underground stem of certain seed plants, in which is stored nutrients for its growth and reproduction. Tubers can be classified into two categories: stem tubers and root tubers. While a stem tuber arises at the tip of an underground branch, a root tuber can sprout from any part of the root.
As the potato, eclipsed all its other cousins, particularly in cities, the consumption of tubers got restricted to tribes in various tuber-growing regions, like Odisha, Jharkhand, Bihar, West Bengal, Kerala, Karnataka, Andhra Pradesh and Maharashtra. But it's time we moved beyond the potato, which is vulnerable to pests and diseases anda lso requires more investment and attention.
As the potato eclipsed all its other cousins, particularly in cities, the consumption of tubers got restricted to tribes in various regions
"What makes tubers a special class of food is the fact that they are hardy, and have a longer shelf-life. Unlike potatoes, they are not vulnerable to diseases and pest attacks," states Sunita.
The NGO is attempting a stronger case for the ignored vegetable, with a report titled 'Tubers: An Overview with Prospects for Conservation' to be published soon.
In 2014, Vanastree organised a Tuber Mela in Sirsi. "We asked Siddhi women to bring one traditional food item and they didn't know what to bring. Very hesitantly, with low self-esteem, they brought a set of tubers. If you don't recognise a particular community's cuisine, it is like disrespecting them."
Tapioca vadappe
Boiled and mashed tapioca
Ghee
Rice flour
Chopped dill and coriander leaves
Salt to taste
Mix boiled tapioca, dill, coriander leaves. Add salt to it. Add water if required. Take a portion of the dough, flatten it and spread it on a banana leaf. Heat the griddle and put ghee on it. Place the vadappe on it. Cook slowly on both sides on medium heat. Serve it hot with chutney.
For Sunita, erasure of a food item is equivalent to erasure of a food culture and the politic associated with it. In the Malnad region, tubers are grown and consumed by the Siddhi tribe. In the thick deep forests where Siddhis live, tubers grow abundantly without much sunlight and care. They also don't require fertilisers. "But from there to 2017, when the tuber stall led by Lakshmi Siddhi registered sales worth ₹11,000, their confidence has only gone up," she adds.
At last year's Malnad Mela organised by Vanastree, tubers occupied pride of place. At a live food stall, people savoured bondas and bajjis made out of colocasia. "We have made a small beginning in this direction, but there is still a lot to be done. And besides us, there are others who have been engaged with tubers for years. Central Tuber Crops Research Institute in Kerala, Sambhav, a not-for-profit promoting organic farming, in Odisha, Bhaskar Saikia in Arunachal Pradesh and Ganesh Kadba of Puttur, Dakshina Kannada are doing some seminal work in the field."
First published by The Hindu