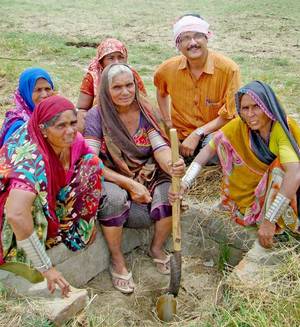 A simple technology has transformed the denuded farmlands of a north Gujarat district into an oasis
As I cross the bridge over the Narmada canal, the landscape begins to morph from fields to fallow land with just an odd smattering of vegetation. By the time I enter Sami taluka in North Gujarat's Patan district, the land appears distinctly denuded and encrusted with salt.
This district receives no more than 650 mm of annual rainfall, compressed into a few days. And when it does rain, the farmland gets inundated with water as the impermeable layer of saline soil prevents water from percolating. For the rest of the year, marginal and small farmers face a drought-like situation: borewells, ponds, check dams and canals prove inadequate sources of irrigation.
In the midst of this dreary landscape is Mubarakpura village, a veritable oasis with a blanket of green from wheat, cumin and dill fields. It is hard to believe that just 12 years ago, the farmland here was a barren stretch during winter and waterlogged in monsoon.
With me is Biplab Ketan Paul, an Ahmedabad-based innovator whose irrigation system, bhungroo ('straw' or 'hollow pipe' in Gujarati), based on rainwater harvesting, has revolutionised the lives of farmers here.
A pit and a pipe
The system simply and expertly captures standing water during rains, thus freeing arable land from waterlogging while recharging groundwater to use for irrigation during the lean season.
We enquire about Sankhuben, who was part of the first group of five women to own and manage bhungroo in Mubarakpura village in 2006. We are told that all five women have hired a car to visit Ahmedabad on the eve of Uttarayan, a kite festival. Bhungroo has brought more than economic prosperity to these women — it has empowered them.
"My family could only grow bajri and jowar during monsoon and we earned Rs. 20,000 to Rs. 25,000 every year. I had two children to feed and educate, my husband migrated for daily wage work and I had loans to pay," says Sankhuben when I talk to her over the phone. But after bhungroo was installed in the village, she has been able to grow crops over two seasons.
"I planted kharif crops that did not get destroyed by waterlogging and I was able to grow jeeru (cumin) and gehun (wheat) during winter." Cumin is a profitable herb. "I repaid my debts, freed my land, my husband returned to farming and today I earn over Rs. 1.5 lakh a year," says Sankhuben.
The bhungroo looks remarkably simple: a square 4'X4' cement-lined pit, eight feet deep, from which a pipe extends 80 feet into the ground. Water collected in this filtration chamber passes through the pipe into the aquifers. The bhungroo here channels 40 lakh litres of water, enough to irrigate four hectares of land for seven months. Today, 50 bhungroo units have been established in and around Sami and Harij taluka.
"Bhungroo is community-based and women-centric," says Paul. "We charge big farmers but do not take any money from the poor farmers for technology and installation. But they have to provide land, labour and raw materials."
Growing up in West Bengal's Hooghly district, Paul had seen both flood and drought. After obtaining degrees in economics and environmental education, his work took him to Gujarat. "There was acute water scarcity and groundwater depletion. The small farmers were the biggest sufferers."
Five States
But promoting his innovation was no easy task. While the men he spoke to were not instantly convinced by a person from Bengal working in Gujarat's rural heartland, he found the self-help groups (SHGs) of rural women more forthcoming. With his savings, help from SHGs, and land, labour and raw materials from village residents, the first bhungroo was born.
Paul and his wife Trupti Jain, whose development work spans several countries in South East Asia and Africa, have now been approached by five States to develop the bhungroo model under the National Rural Livelihood Mission programme.
The duo has installed over 3,000 units in the country and around the world at an initial installation cost varying between Rs. 8 lakh and Rs. 32 lakh (depending on the design). Once installed, bhungroo can harvest rainwater for up to 25 years.
Lilaben, one of the five in Sankhuben's group, says that she couldn't afford a borewell to irrigate her crops. Bhungroo changed everything. "I could hardly grow any crop in my two-hectare plot. But today I own a tractor."
---
First published by The Hindu 28 Jan. 2018
Also read a scientific paper on the subject: Converting dried-up borewells as groundwater recharge wells