Written specially for Vikalp Sangam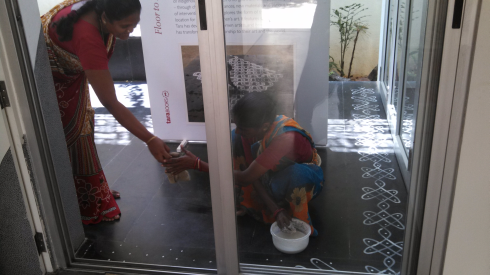 Though it's not so easy to find, visiting Tara Books in the Chennai suburb of Thiruvanmiyur, is well worth the search. Their new Book Building is more than a store and offices; it's also a museum, art exhibit and community space hosting children's events, workshops and artists' residencies. The space is open and cozy and one could end up spending an entire afternoon wandering around the building looking at their hand made books and reading biographies of the artists on the walls. There is an interior courtyard space with a small garden, an ever expanding mural and daily changing designs on the floor. Founded in 2004, Tara books has always been a worker-owned cooperative of artist, writers, and designers. As a fiercely independent publisher, their website speaks of their approach to publishing as one that is "rigorous and well researched. [They] are interested in concretely exploring ways of seeing, representing and thinking… especially in individuals and traditions which are overlooked or neglected. [They] conduct workshops, research and documentation, among others in the areas of critical pedagogy, indigenous and popular art, reading, art education, peace and gender studies".
Their books empower the village artists (mostly women) to tell their stories, and through storytelling and book illustration, the rich traditions of India's diverse folk painting is helped to be kept alive. And at the publishing house, young bookmaking artisans are trained and nurtured to develop a livelihood that supports not only their families but the preservation of tradition and culture as well. Any reader of any age will at once be spellbound by the illustrations and upon reading the story they will certainly learn something new and be inspired to promote small businesses, specially those like Tara Books that not promote education and village empowerment, but which also stay true to their collective roots.
Contact: Desneige Hallbert
Photo credits (for both): Desneige Hallbert