20,000 men and women from 500 villages joined voluntarily on 29th February 2020 to undertake soil and water conservation work in Jhabua district. They participated on their own with no monetary expectation. They had even brought their own food. Women with small children, elders, men, all participated in this 'sewa-sanskar mela'. This action resulted in the completion of massive development of land- a community resource. People came here to participate in 'Shivji ka Halma'. Halma is a bhili tradition to help distress. Here it was Her, 'The Mother Earth'! The underlying feeling was 'She is thirsty.'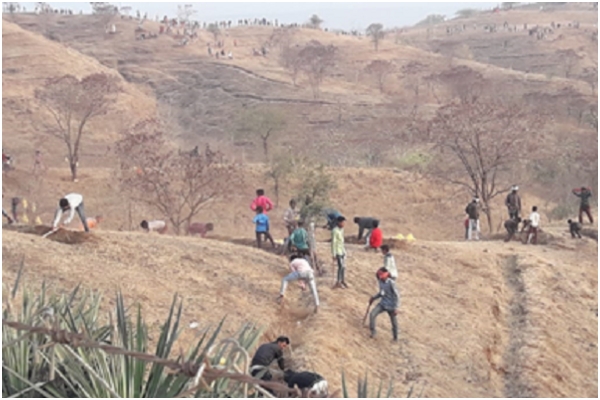 This Halma was called by local voluntary organization 'Shivganga Abhiyan'. The leadership is from the local community. It first started way back in 2009 and became a yearly festival to give two days for mother earth.
 
Traditions – promoting cooperation, conserving nature
 
Halma is a Bhili tradition to help distressed families from villages. This tradition can be found in all the states where Bhil reside. When all other options to uplift a family's situation get over, the family calls Halma in the village. All villagers come to support the family and provide necessary support in terms of farm work, home repairing or any other kind of help, the family requires in that distress situation. They do this without expecting anything from family. Only expectation is that the family should whole heartedly participate if a similar situation arises in the village with another family.
 
This is an age-old tradition. Such traditions are present in different parts of India. But in the bhil tribe, this is very prominent and important phenomenon. This brings the community together and this is a kind of disaster relief response developed by community. There is well laid down process on how to call Halma, in whose presence can it be called, etc. Tradition also ensures that a person asking for help does not feel ashamed or embarrassed. So, calling Halma is not considered bad. Halma is generally called in front of god.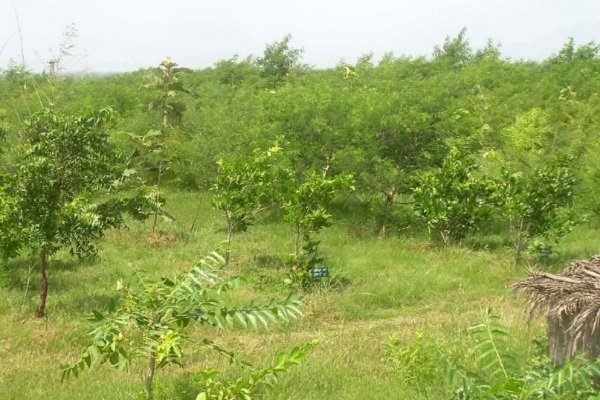 Jhabua is a home of Bhil, Bhilala and Pateliya tribes among others. It has several cultural traditions like Halma which promote cooperation besides conserving local nature. Mata nu Van i.e forest area cared and protected like a mother is another tradition. This led to a good forest conservation system in the area. At least 1 such Mata nu Van is present in each village. Average size of Mata nu Van is 5 acres. About 6000 acres are conserved by people on their own. One more tradition is Adaji-Padaji. Here villagers make groups and undertake farming work in each other's farm during peak farming season. So, one can complete the work in time. Similarly, jatar, salavani, navai are some rituals performed by people to improve cooperation. Interestingly these rituals are spread over the year and are performed mainly at Mata nu Van. All bhil clans are linked with one species which they worship. The same species is not killed by the clan members. They also have a local justice system, Bihada. It is a practice used to resolve all issues. Bihada is respected by everyone. Unique part of this system is after justice, both parties are satisfied and bury all hatred.
 
Jhabua, heaven turned to distress
 
Jhabua district is on western boundaries of Madhya Pradesh. It shares its boundaries with Gujarat and Rajasthan. All this area is surrounded by Aravali hills. It was a thick forest area. Forest was important source of survival. People wer living with their traditions and systems.
 
But today, Jhabua is one of the poorest districts in the country. Deforestation in the last 60-70 years has converted this green land into desert. It tops the list of water distressed districts and desertification rates are high in the area. Average rainfall of the area is very decent, but the area has lost a system which can harness this water. Deforestation has also led to reduction of income from forest for the local tribal population. So, people migrate from the area for a considerable period of year. It has one of the highest percentages of stunted and underweight children in the country. A study of Overseas Development institute shows that it has the highest migration in the country. High poverty rate in the district is an important cause of various problems. Some reports show that a few watershed works were successful in some parts of Jhabua. But they did not get transformed into a community movement.
 
Empathy connects
 
Shivganga Abhiyan has been working in Jhabua district since 1998. They are mainly working on community empowerment, soil and water conservation, plantation, skill development etc. The empowerment of the local community to take lead in their own self-development was the approach behind all this work by Sivganga Abhiyan. In 2008, they started a water conservation awareness campaign. During the campaign, they used to organize rallies in villages. In one such rally, an elder from the village asked them regarding the usefulness of such rallies. He said that we believe in some concrete action, however small it is. Rally is not a solution for water conservation. It was a turning point. They decided to harness this very intuition of people and a discussion started about how to go ahead. In 2009 they organized a shramdan on Hatipava hill, one of the important hills in Jhabua. They needed something more to connect this to local people. This linkage had to be very natural, very real and should come from within. During discussion, Halma emerged as a possible way to bring people together. Shivganga started calling this Shivji ka Halma. Dharatimata is in distress and Shivji is calling for Halma. It worked.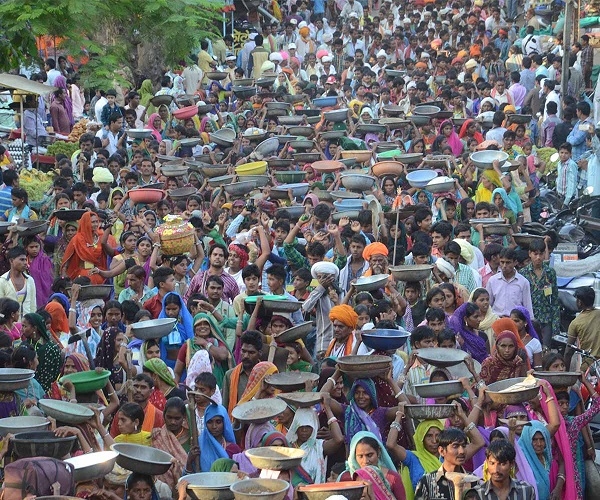 From 2010, Halma has been called every year. Thousands of tribal villagers participate in this movement. They come with their Geti (pickaxe) and 'Phawada'(spade). They prepare contour trenches on hill, dig pits for plantation. All this is for the society and not for any individual benefit. This two-day activity is a kind of sanskar on mind to take self-initiative in their own villages.
 
Entire effort is organized, managed, and controlled by local youths. All planning – stay, work arrangement and technical aspect of it, is also done by youth. All these youths are trained in technical aspects of water conservation activities with the help of Indore based experts. This helps them during common Halma as well in villages.
 
Antyodaya on ground
This effort has shown change on the ground. This change is by the people, for the people. Abhiyan was able to develop the capacity of 12,000 youths including 900 girls to drive local initiatives. This effort has also helped to identify local talent and encourage them. One such a youth, on his own has built a small dam which can provide irrigation water. He used his skills and knowledge received during training. He designed the dam and constructed the dam with the help of villagers.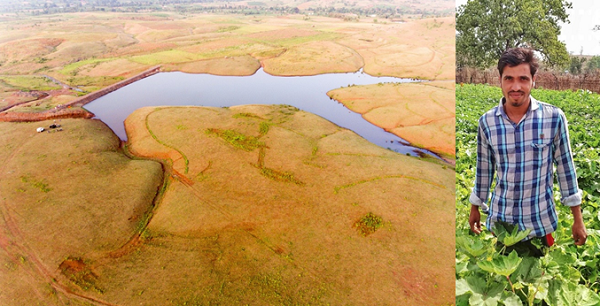 More than 110 villages revived their Mata nu van with plantation of more than 50,000 trees. Sixty-five (65) ponds were constructed by people in their respective villages. This has helped them to solve problems of drinking water and irrigation in some areas. More than 141,000 contour trenches were dug and constructed by people through shramdan on community land.
 
Halma is very Indian- from concept to execution to post programme activities. It is entirely based on Indian philosophy of community initiative for self-development. Government and all others will support but the community should take the lead. Halma represents this very philosophy which was the source of prosperity in India. Connecting people with a cause is the missing element in the current development and conservation paradigm. If we identify this connection, then even the last person also gives 100% to uplift self, society, and nation.
 
For more information , pls check : https://shivgangajhabua.org/halma/
(Photo credit : Shivganga Abhiyan Website and Dr. Gajanan Dange)
First published by News Bharati on 12 Aug. 2020