Written specially for Vikalp Sangam
A dining table stands in a newly painted compact kitchen and living area. It might easily accommodate a guest or two with the family of four that lives here. "And it folds out of the way to lie against the wall!" exclaimed the lady of the house, Pinky-taee (one respectfully addresses an older sister as 'taee' in Marathi), demonstrating how the two legs of the table nestled neatly behind the descending edge of the table top with a click of the magnetic catches.  The space looked so much bigger now.
What Pinky-taee loves best in her newly renovated house, is the kitchen area with its easily-cleaned removable baskets in their sliding trolleys, and the stainless steel kitchen sink with running water. "I have no longer any need to step out of the house for doing the dishes," she added.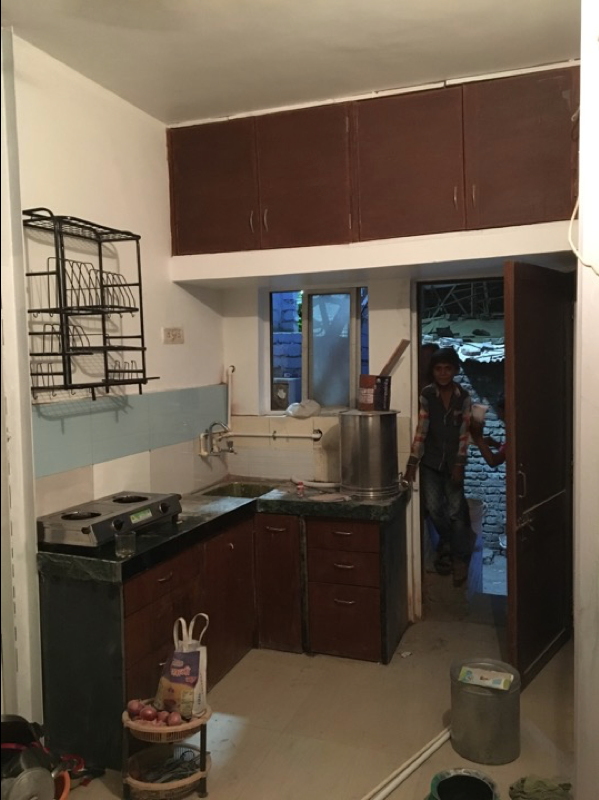 Pinky-taees new kitchen (Image – KPT)
The newly renovated blue-and-white, three-storied house stands out from neighbouring houses in the Indira Vasti of Aundh, a suburb of Pune city. It was a ground plus one room dwelling with a corrugated metal sheet roof and no direct water supply until it got renovated in 2017.
Before: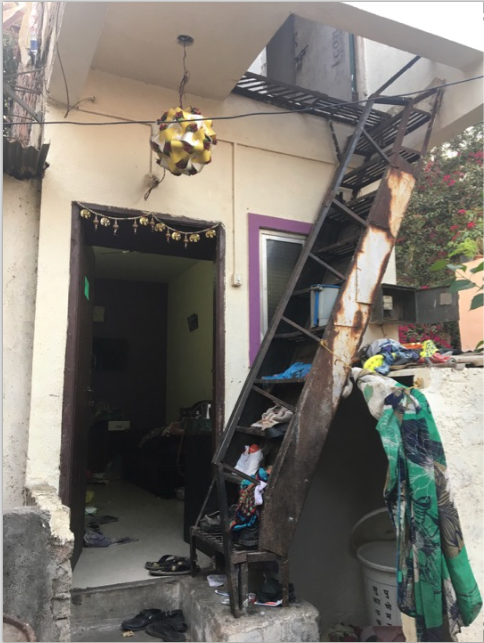 After: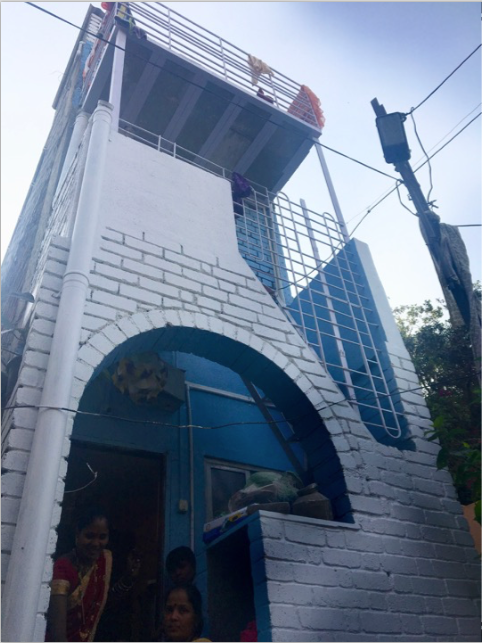 (Images – KPT)
The renovation became possible through 'A Step Towards Home', a recent initiative launched by Kashtakari Panchayat Trust (KPT) which involves linking architects to waste-pickers in need of renovation services. The main objectives of KPT include providing training and technical support to waste pickers and other informal workers, advocating for their rights in the informal economy and improving livelihood opportunities for them in sustainable waste management and recycling.
A step towards home calls for engagement of architects, structural engineers and design professionals with low-income communities. Pinky-taee and her husband both belong to SWaCH, which is a workers' cooperative engaged in solid waste management. The objective of the project is to help waste-pickers repair or rebuild their homes at a low cost with minimal wastage. The homes are surveyed to understand the requirements and the renovation is planned to fit within their budgets. This is made possible by obtaining reusable building materials like bricks, aluminium window frames, bathroom fittings, kitchen utilities, doors, and even furniture, often by way of donation. These are cleverly modified to create a sturdy and convenient home.
Pinky got in touch with Rajlaxmi (an architect), who was involved in construction of sorting sheds for SWaCH, for help to renovate her home, which became the starting point for the project. Rajlaxmi used efficient and cost-effective techniques like jack-vaulted roofing and floor-cut-off to make maximum use of the space and natural light. Reusable building materials including glass and bathroom fittings were selected. To understand what Pinky-taee desired she was taken to stores that offered modern appliances and then available material was reused innovatively to create a comfortable new home. After its completion, the Commissioner of Pune visited the house and expressed his appreciation for the results achieved within four months and with a budget of Rs.85,000.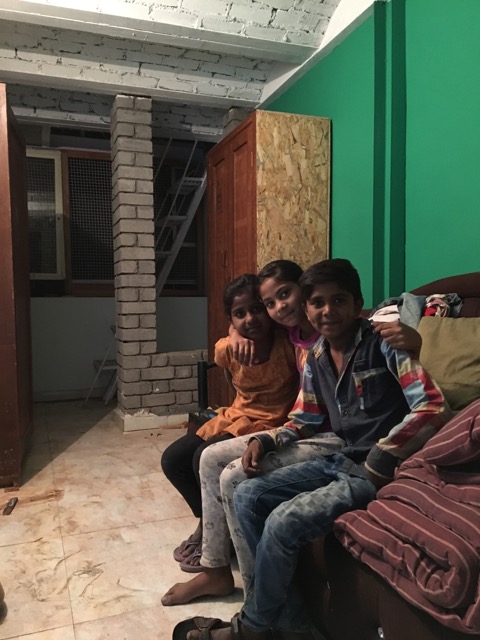 A glimpse of the jack-vaulted roof (Image – KPT)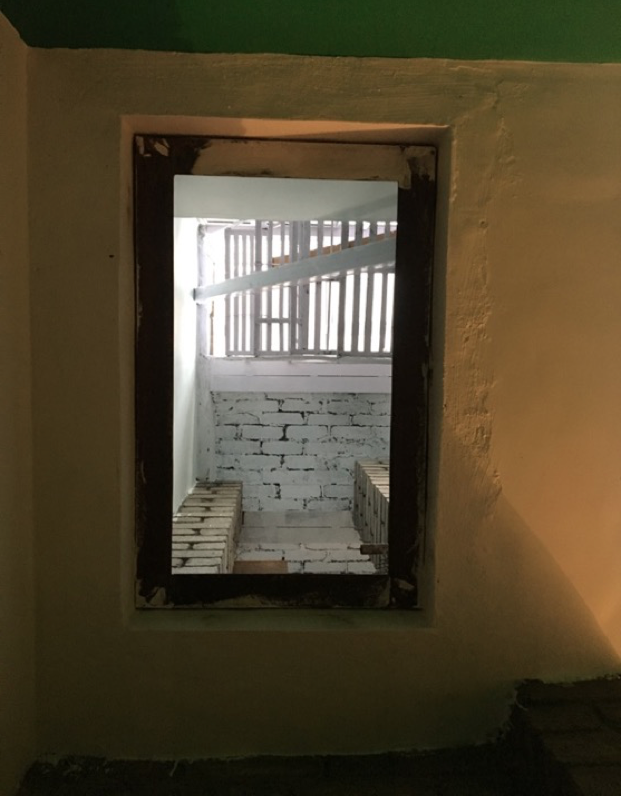 View of the floor cutoff – from below – showing the stairs leading to the terrace (Image – KPT)
One of the facilities generally lacking in overcrowded slums is a safe space for little kids to play. That lacuna, too, has been eliminated in Pinky-taees's new home, for the terrace on top of the house effectively serves as a play area and is the favourite part of the house for her little daughter.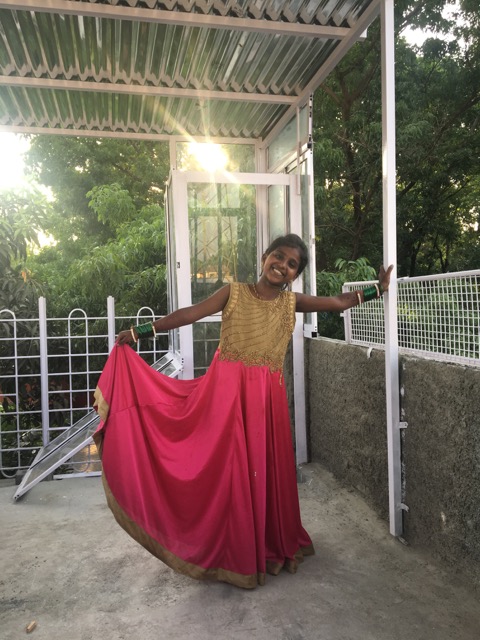 Spacious and safe terrace (Image – KPT)
The project process starts with a visit by Kashtakari Panchayat's field worker to informal settlements, providing information on the facilities the project can offer. Examples of the work that has already been done are displayed. A simple graphic leaflet is circulated in the community prior to the meeting. A more detailed booklet with images and the issues in slum renovations is shared with the members during the meeting.
A few more houses in different locations in Pune have also been renovated and more projects are underway. Neighbours and colleagues of Pinky and her husband have been impressed with the results of careful planning, generosity, and quick execution, and nearly a hundred of them have requested for similar renovation of their houses. One such person is Sheetal-taee, the sister-in-law and neighbour of Pinky-taee. Work on her home is progressing briskly.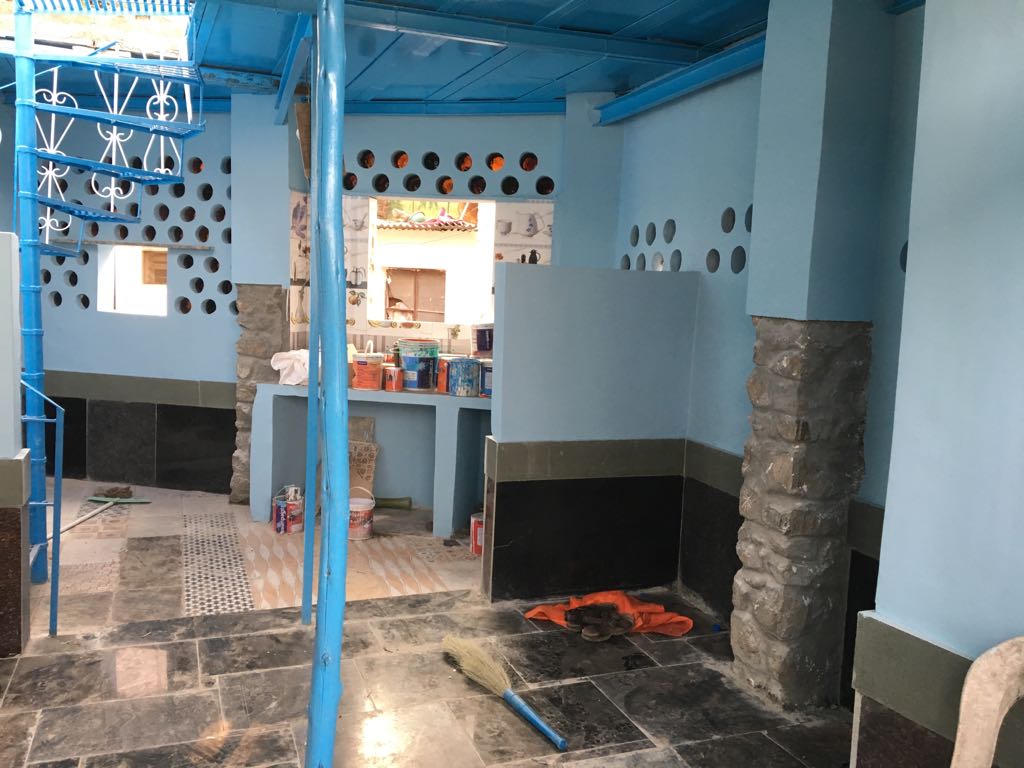 Sheetal's home under construction (Image – KPT)
Ongoing efforts by KPT include seeking to raise renovation loans for the house owners. A major focus of the project is the up-cycling of surplus and reusable materials or medium-quality, rejected materials considered unfit for large, high-end projects. Such recycling has a significant value for the city too, because at present this material has to be sent to overflowing landfills.
A major issue relating to the project is that most residents of slums and vasti's do not own the land beneath their houses. These spaces in Pune come under the purview of the Zhopadpatti Nirmulan va Punarvasan (Slum Eradication and Rehabilitation) department of the Municipal Corporation, which provides the slum with water and sewage services. The architects working on projects under this initiative remain in constant contact with this department, and the Slum Rehabilitation Authority too, in order to ensure that none of their projects are slated for demolition and redevelopment.
For the architects, projects like these are a professional challenge, different from the high-end projects they mostly deal with. As of now, about 25 architects are involved in this initiative. Some work on a voluntary basis, while others charge a percentage on the project cost.
The team is also looking for more storage facilities, located within easy distance of project sites, for storing materials being collected for this project These will enable the team to take the scheme to a larger proportion of the city's slum dwellers.
Slum dwellers have to depend on contractors to have their places maintained and improved upon periodically. These contractors charge high rates and much of the dwellers' savings go into paying them, although the facilities that they provide seem to be inadequate. So the conversion of Pinky's dwelling of a dark and ill-ventilated room connected to the terrace with an unsafe stairway into a bright and airy two-rooms-with-terrace home equipped with a toilet with proper fittings and running water, at a price that the couple could afford is more than a dream come true. It takes the pride of place in Indira Vasti.  
(The authors thank Pinky-taee of SWaCH, and Laxmi Narain and Sarthak Tapasvi of KP Trust for the information and for providing the photographs)
The authors are members of Kalpavriksh
Contact the Authors