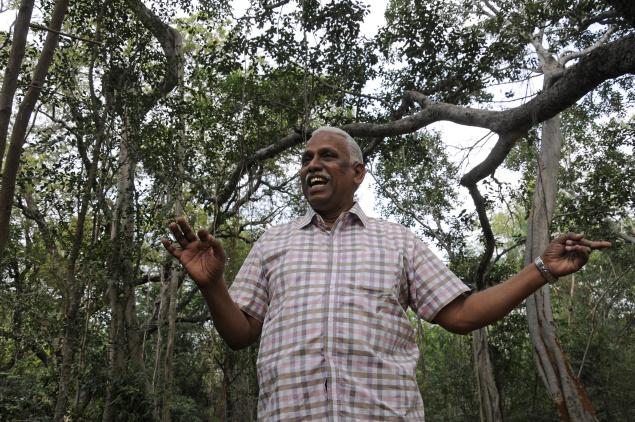 The NGO Kudumbam has focused on the development of the rural family and sustainable farming since its establishment in 1982
"Pongal was not only a festival of rice. It was a festival of sharing your best produce – rice, pulses and millets, and vegetables – with your neighbours," says Oswald Quintal, team leader of the non-governmental organisation (NGO) Kudumbam.
For over three decades, Quintal, originally a civil engineer specialising in irrigation management and known by many as 'Ozey', has been toiling with his team of field workers in Tamil Nadu and beyond to bring home the message of how agriculture and forestry are essentially inseparable.
"Agriculture in India is 4,000 years old. And home-forestry and home-gardening are not new concepts, so every farm produced its own vegetables," he says. Inter-cropping rice with pulses and millets, plus animal husbandry had insulated the farmer from financial ruin in the past. The emergence of big farming and monoculture (single-type) cropping has created food shortages and a whole host of related problems, Quintal contends.
And as the country faces its fourth year of drought and low-rainfall, keeping the next generation of farmers attached to their calling is getting harder. "This year, for the first time, we're are worried about drinking water for the whole of Pudukottai," says Quintal. "Every year, as the water table dropped, we have been trying to tell the farmer not to farm with the ground water, but by harvesting every drop of rain where it falls." But a state policy that until very recently subsidised the sinking of deep bore-wells in villages has taken its toll, he rues.
Kudumbam is the brainchild of organic farming pioneer Dr. G. Nammalvar (who died in 2013), Dr. Gandhimathi (a sociologist and environmental consultant from Tiruvannamalai now based in Bengaluru), and Quintal. And, as its name implies, the NGO has focused on the development of the rural family and sustainable farming since its establishment in 1982. Besides its head office in Tiruchi, it has centres in Tranquebar and Nagapattinam.
Starting from scratch
Quintal, from Tiruchi's Golden Rock area, and Nammalvar, who was a native of Tirukattupalli near Thanjavur, first met while working on a water management programme for the people displaced by the Mettur Dam in 1979, who had been re-settled in the Anchetty village (Dharmapuri district).
A little abashed that their engineering and farming skills had nothing to offer to the small farmers who were using the slopes of a high mountain as their field space, Quintal and Nammalvar spent two years documenting the more successful native agricultural techniques of the region.
As knowledge of these techniques spread, queries started pouring in from farmers in other districts. The duo shifted to Valambakudi village (20 kilometres from Tiruchi), and decided to start a programme that would keep the farming community engaged in sustainable and eco-friendly agriculture.
"It was very hard to take agricultural science across to the people," says Quintal. "So we went into street theatre to collect information on the history of the village tank, the productivity of the land there, the diversity of the cropping pattern and what it is today."
But a key challenge has been the farmer's single-minded quest for just irrigation.
"We were trying to tell them that we need to enhance soil moisture by increasing bunds and adding biomass to soil, go for drought-tolerant rice varieties and crop diversification, too," he says.
In the 1980s, Kudumbam initiated a campaign against a government sanctioned programme, supported by Sweden, to plant eucalyptus on 13,000 hectares of shrub forest in Pudukottai district, ostensibly to help create pulpwood for paper manufacturing.
Criticised by the Forest Department for not providing an alternative, the Kudumbam team decided to show how it could be done. With financial support from the National Wasteland Development Board, in 1987, the NGO worked on re-afforesting 11 sacred groves surrounding temples, spread over 400 acres.
The scenic and tranquil Ammankorai community forest today bears very little resemblance to the barren wasteland it was in 1987. As monkeys frolic in the tall trees, and the harsh sunlight diffuses in the verdant foliage, it's easy to see how this green belt supports Killukulavaipatti and Ulangankathanpatti villages. Kudumbam tapped into youth groups and women workers from here to ensure that the forest was kept clean and safe.
Rengaraj Karuppan, from Ulangankathanpatti, joined Kudumbam when he was 16, and has been working as a field co-ordinator at the forest for several years now.
"While developing this forest, the people here wanted trees that would provide them with food and firewood," he says.
"We started getting the seedlings ready in 1986. Now we notice that though we planted only 40 varieties, there are 170 types of trees here, thanks to the migrant birds and wildlife."
"For the past five years, we have been noticing that this area receives rainfall even though the neighbouring farms have been dry. So the green cover seems to have had an effect," says Quintal. "The forest lake also used to be a breeding ground for fish."
Training ground
Despite the success of the community forests, the question of making farming visibly profitable remained unanswered. So in 1990, Quintal, Dr. Nammalvar, and Dr. Gandhimathi, each invested Rs.20,000 to purchase 10 acres of land in Odugampatty village, 20 kilometres from Keeranur. "We chose it for various reasons – we had only that much money, and we were looking for land that resembled the small farmers' fields that we had seen in our travels," says Quintal.
This was to be the birthplace of the Kolunji Ecological Farm, which today has expanded by another 20 acres, and also has on its premises, a home for local children who have been by their relatives after their parents die, and a training school that offers free and paid courses to farmers.
"We realised that farmers don't believe something they can't see. So we went about creating community alternatives," says Quintal. The Kolunji farm is a living example of how barren land can be transformed through innovative cropping. As guests enjoy a simple vegetarian lunch in the community dining hall, two guinea fowls scrabble around for food scraps. Later, Quintal reveals that they also double up as 'anti-snake policemen'.
To a large extent, Nammalvar's responsibility was in training, while Quintal's was grounding the project and marketing it through the Low External Input and Sustainable Agriculture (Leisa) network, also set up in 1990. "We started with about 20 farmers and 11 NGOs. Today we have a membership of 82 NGOs and 50,000 farmers," says Quintal. A group of 500 certified organic farmers – the largest in the state – is spread within a 15 kilometre radius of the Kolunji farm. Organic millets and grains are available at Kudumbam's Highways Colony office in Tiruchi.
In addition to the biodiversity, a number of native irrigation and soil fertilising methods are in practical use here, which have attracted foreign and local research scholars in growing numbers.
As part of Kudumbam's female empowerment objective, a collective of single women and widows is engaged in agriculture on a shared plot of land at the Kolunji farm. The NGO has also worked to rehabilitate teenaged girls from the Pudukottai district rescued from harsh working conditions in the Tirupur garment industry. On the spurt of genetic engineering, Quintal says, "Our farmers and livestock breeders have been doing small changes for hundreds of ages. [But] multinational corporations are claiming minimally modified seeds to be their invention and putting a price on it. This is a theft on a country's sovereignty."
Asked if he misses his days as a civil engineer, Quintal smiles. "Sometimes," he admits. "But this is far more satisfying."
First Published in The Hindu