Editorial Comment: A legitimate cry for autonomy & respect, if Indian state deals with heavy hand, another 'naxal' situation in offing? Can roots of movement be understood, and dialogue to facilitate adivasi pathways to well-being? I don't support armed rebellions, but do the adivasis have an option, given the way the state has so far dealt with them? Increasingly, many adivasis are wondering, did they ever get independence? Peaceful dialogue is essential to avert an ugly civil war like situation.
Police Taken Hostage; MPs, MLAs Not Allowed: Inside Armed Adivasi Movement for Autonomy
Khunti, Jharkhand
It's early morning on March 4. Thousands of men, women and children from 30 villages are swarming all over Sonpur, a tribal hamlet located deep in forests, around 100 km from the nearest city—Ranchi. In around three hours from now, Sonpur will declare self-rule.
The village is hosting a Patthargarhi (installation of stone) ceremony, at the conclusion of which it will constitute a gram sabha, swear to boycott elections, stop sending its children to government schools and promise not to enroll for any government identification, including voter ID and Aadhaar.
Besides, state police and elected representatives will not be allowed in these villages anymore, non-Adivasis too will have to take permission before entering Patthargarhi villages; those who are allowed in will have to pay toll tax. And a vigilante force would be constituted to combat the security forces when need be. In the process, Sonpur will become the 60th village in this district to declare autonomy.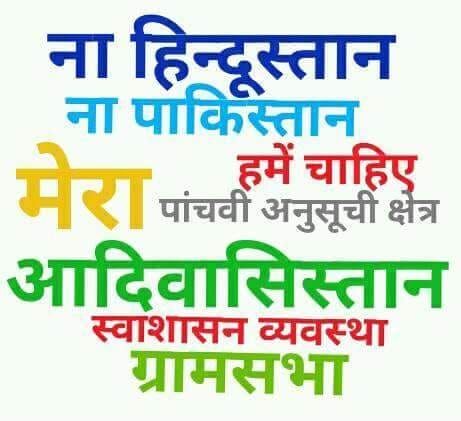 A whatsApp forward doing rounds in 'Patthargarhi' forums
The invitees—thousands of tribals from nearby villages—armed with sickles, bows and arrows, machetes, crossbows, and axes, look prepared for a war.
The ceremony due in Sonpur, a short while from now, has not only been conducted in 60 other villages of Khunti district and adjoining districts of Simdega, Gumla, East and West Singbhum, and in villages around Ranchi, but has happened, over the last one year, in hundreds of other villages in states like Madhya Pradesh and Odisha, which have significant adivasi population, and where News18 travelled for this story. 
A popular WhatsApp message, in groups actively engaged in Patthargarhi, goes, "Na Hindustan, na Pakistan…hame chahiye Adivasistan." A tribal MLA from Odisha's Birmitrapur, George Tirkey, who is leading Patthargarhi drive in his state, says he wants to create a special 'adivasi corridor'.
Intelligence and administrative officials have their own versions of why this armed rebellion is mushrooming in their areas—officers in Jharkhand claim Patthargarhi to be a front for illegal poppy cultivation aided by Naxals; in Odisha and Madhya Pradesh the political opposition is privately held responsible for using Patthargarhi as a weapon against the parties in power.
But what is similar in all these areas, is that thousands of Adivasis, who often have very little in common with each other, who are angry with being left behind by the state and being pushed around by industries, have found in Patthargarhi a unifying expression of dissent.
No matter that it has taken shape of a radical and armed movement, which has put them on a direct collision course with the state. As one tribal leader told News18, "Bhidant to nishchit hai [A showdown is inevitable]." 
Former Chief Justice SN Dhingra described this movement as a worrying development for the country. "It is unconstitutional, and looks like the beginning for another Naxal-styled movement. The state should have known about it and nipped it in the bud. But the fact that this Patthargarhi drive is going on at this pace is a worrying development for the country."
A noted academic who did not want to be identified had this to say about the movement: "This is an exclusionary alternative state model which is being created on ethnic grounds. They are denying the sovereignty of the state, and want an alternate sovereignty. They are basically saying that the state has given them nothing for the past seven decades and it is time they took their fates in their own hands. No state worth its salt will actually allow this to happen for very long. After a point the state will crack down on them."
Propelling this movement is an outlandish conspiracy theory, based on some forged documents, supported by a misinformed reading of the Constitution. According to it, Adivasis have Constitutional authority to declare self-rule in areas they dominate and they enjoy a lot of special, extra-judicial powers. "Ab saansad aur vidhayak ka pravesh bhi yahan varjit hai [MPs and MLAs are also not allowed in these villages anymore]," says a local from Kunti's Bhandra village.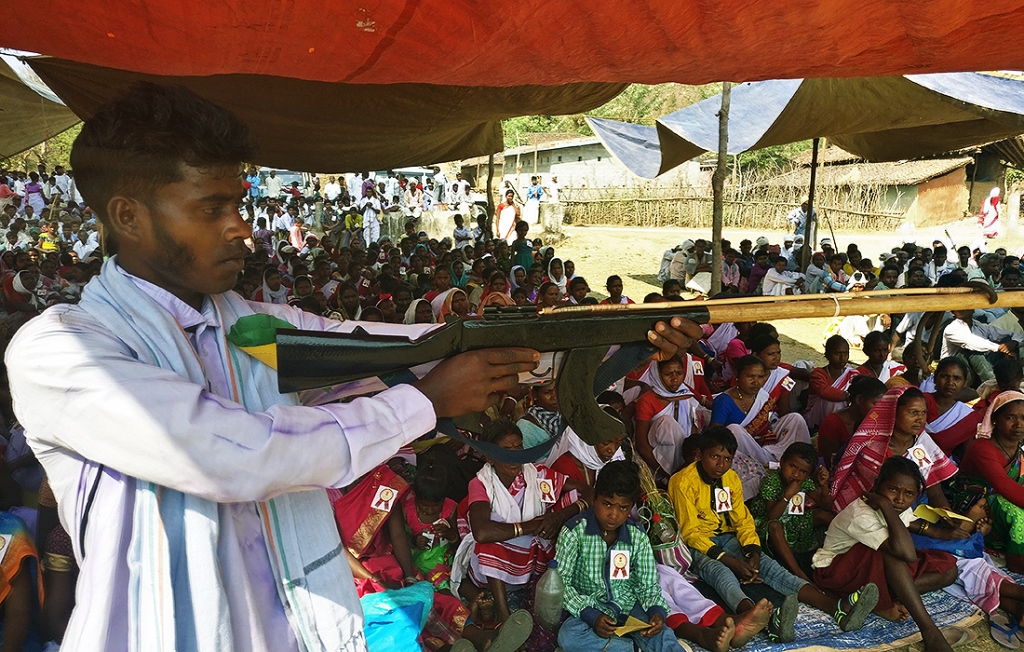 Some of the tribal leaders responsible for the Patthargarhi drive claim to have learnt these theories from Sati Pati ashram in Gujarat.
The ashram, started by a man named Kunwar Kesri Singh—who called himself 'Owner of India', has for last several years been advocating these theories, urging people to not pay taxes and prohibiting local tribals from getting official documentation.
"People, including those from Jharkhand, keep coming to us for education all the time, we can't keep tab on all of them. But it is true that certain awareness has come to our brothers in a few other states and we'll continue to spread this awareness," Sandeep Vasava, one of the members of ashram, based out of Sagbara said.
The stone in Sonpur that is about to be inaugurated reads that non-Adivasis are from now on prohibited to enter this village, and laws passed by Parliament or legislative assemblies don't apply here.
If this sounds unreasonable, illegal and unconstitutional, wait till you read the inscription on the stones installed in other villages. Take Kurunga for instance – the stone installed here proclaims that India never actually achieved Independence. "Our colonisers, the British, only transferred power to the 'Union of India' in 1870 on a 99-year lease that expired in 1969. [According to the popular theory, after 1969, all decisions affecting Adivasis have to be approved by the 'privy council' of the British Empire]."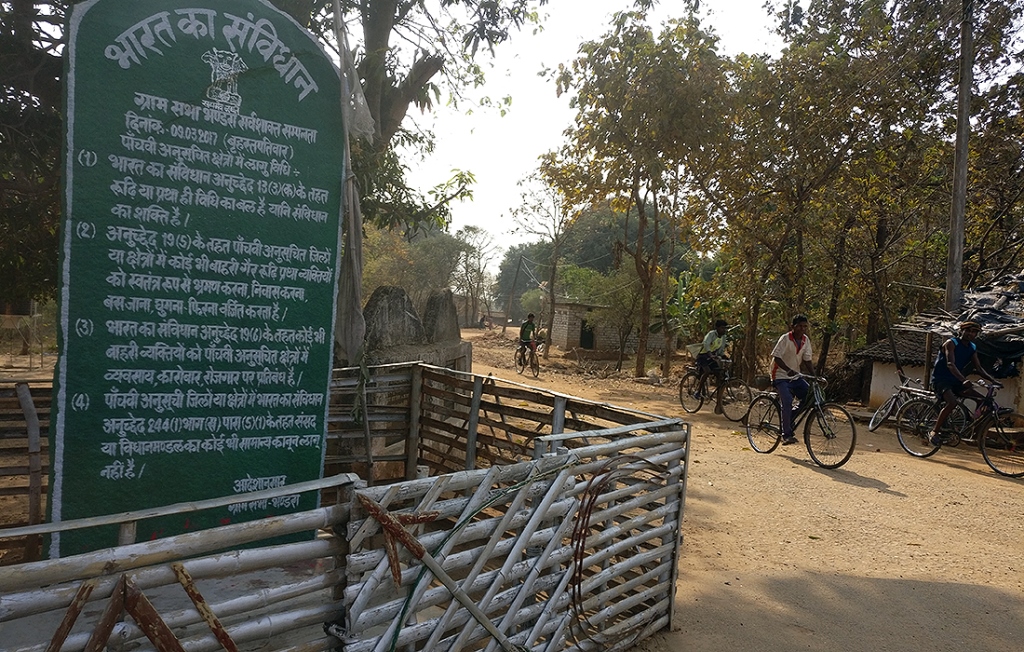 The stone claims that all identification cards—Aadhaar, voter ID, etc—are anti-adivasi documents. And that Adivasis are actually the rulers of India, not ordinary citizens on whom Indian laws like The Indian Penal Code (IPC) and The Code of Criminal Procedure (CrPC) apply; that in this country gram sabhas are constitutionally placed higher than electorally appointed institutions like Parliament or legislative assemblies.
"Na Lok Sabha, Na Vidhan Sabha, sabse upar Gram Sabha," goes one popular slogan.
"Kaaghaz ka tudka fat jaata hai, computer short circuit ho jaata hai. Magar ye patthar kahin nahi jaayega. Hamari aane waali naslein bhi isse sabak lengi (A piece of paper can be torn apart, computers can short circuit. But this stone will not go anywhere. Even the generations after us will learn from this stone)," says Joseph Purti, a senior tribal leader, and the chief guest at Sonpur.
Known more popularly as 'Professor' and 'Yusuf', Purti and his associates from Adivasi Mahasabha are some of the most wanted men in Jharkhand right now, but police have refrained from arresting them fearing large-scale backlash from local Adivasis, who have for the past few months been regularly clashing with police.
In August last year, over 100 policemen, including Khunti Superintendent of Police and 50 CRPF personnel, were held hostage for 12 hours by thousands of angry Adivasis after police forces tried to remove barricades put up by the locals to regulate the movement of people in Kanki—a Patthargarhi village. The security personnel were let go only after the intervention of the area deputy commissioner and DIG.
"NA LOK SABHA, NA VIDHAN SABHA, SABSE UPAR GRAM SABHA."
"It is a struggle for our survival. The government is setting up more and more industries in Jharkhand and displacing more and more of us. They are diluting land laws and leaving us homeless. We are not educated so none of us will find jobs at these industries. If we are left with no land, no money, and no jobs, how will we survive? We have been pushed to a point where we are ready to give or take lives if our Jal, Jangal, Jameen [Water, Forest, Land] are threatened," says a local of Bhandra village, who was part of the mob that had held the policemen hostage.
Stories of locals detaining policemen out on patrolling duty, who did not seek permission of gram sabhas in Patthargarhi villages before their entry, abound in villages around Khunti.
Sagar Munda, a tribal leader from Kurunga village, says he, along with his friends, had detained a group of 25 policemen after hearing that their gram sabha leader was arrested the previous night. Only after their gram sabha leader was released did they let the policemen go.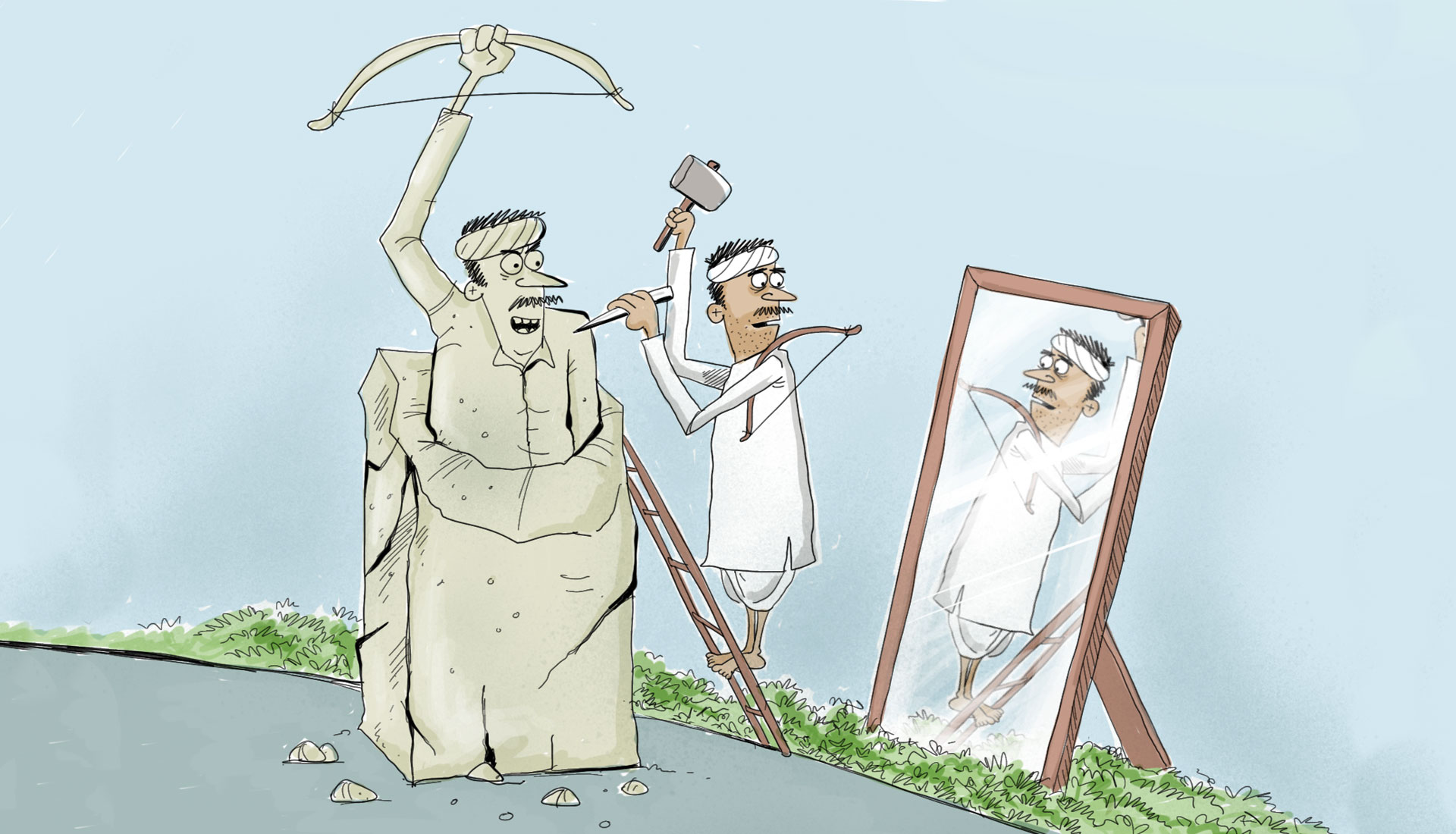 Back in Sonpur one person talks with pride about how Patthargarhi was done in his village despite all odds and in record time. "It was in Totpura village. It is located on top of a hill. There was no way such a heavy stone could have been carried to the top without a road. In one month, all the villagers got together, pounded plain a pathway, and then pulled a tractor all the way to the top," he says as the audience listens with awe.
While he talks, a group of women pass by. A few of them are armed, others are dressed for the day's performance. The women also bring along children, quivers and bows hang loose from their shoulders.
Joseph Purti arrives at slightly past 12 noon with a horde of bodyguards, some of who are armed with improvised crossbows made to look like AK47 assault rifles. Rows and rows of performers line up to give him a royal welcome. The performers dance for half a kilometre, pause as he inaugurates the stone, and dance for another half, leading him to his seat on the podium.
Munda, the tribal leader, starts addressing the audience spread across fields and nearby hillocks. He urges people to boycott elections. "What have the elections given us? Nothing. Till the time we keep on voting, we will keep getting displaced from our own homes…"
While the speaker sets the tone for Purti's speech, around 20 km from Sonpur, in Adki village, around a dozen villagers are sitting under a tree, discussing the ongoing events.
"What is happening all around isn't good. The truth is that they don't know what they're talking about. But it is also true that the government hasn't delivered. Government teachers deputed to teach at our schools rarely turned up. We don't have potable water, no roads and no electricity. What's happening is quite unfortunate," says a village elder.
One of them claims that only 20 percent villagers are in support of Patthargarhi and the rest of them are being made to attend by force. "But given the circumstances, how can you stop all this madness?"
"A PIECE OF PAPER CAN TEAR APART, COMPUTERS CAN SHORT CIRCUIT. BUT THIS STONE WILL NOT GO ANYWHERE."
While claiming that the developmental works will be "fast-tracked" and put on "high priority", the district administration also says to be left with few options, which is why it has started a counter-propaganda exercise against the wild conspiracy theories fuelling the Patthargarhi movement.
In an 'awareness' camp held in Kisan Bhawan in Adki, the Deputy Commissioner, Suraj Kumar, tells his audience of local villagers that the theories they're being fed on Constitution are false. "Some anti-national forces are trying to stir revolt. You shouldn't buy into these wild conspiracy theories. Are we being told that India never really achieved Independence and our local hero Birsa Munda died fighting the British in vain?" Singh says that he is preparing a document to counter the lies spread by anti-national forces which will be shared widely among villagers.
"All this stir is being created to allow poppy cultivators to make money. The season ends in April. That's when their leaders will take their share and flee, and that's when we will move in," SP Ashwini Kumar Sinha tells News18.
To a question about the possibility of Naxals being involved in Patthargarhi, Sinha says it is a possibility that the police isn't ruling out yet.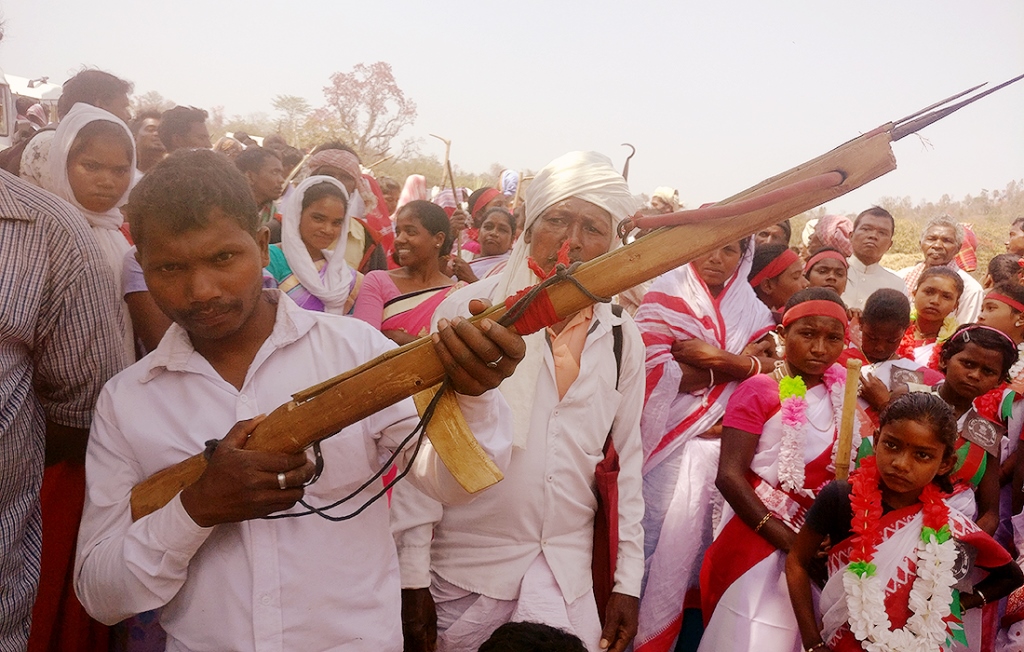 To ease tensions, some low-rung police officers, while interacting with villagers, take a dig at the Patthargarhi movement, "Why don't they create their own banks, mint their own currency, since they've created a separate nation?"
But the fact is that the administration is helplessly watching the unfolding of an armed rebellion by Adivasis, who constitute 26% of the state's population.
A senior police official, who did not wish to be named, was asked by News18 about the duration for which the police expected the movement to continue. He chose to answer the question indirectly.
"One of my seniors, who dealt with the Naxal situation when it initially broke out, had told me that any armed movement usually has a 20-year period when it rises and ebbs, after that it is replaced with something else." He refused to say anything more.
First published by News18