These women have come together to force the administration to give them designated work under the Mahatma Gandhi National Rural Employment Guarantee Act.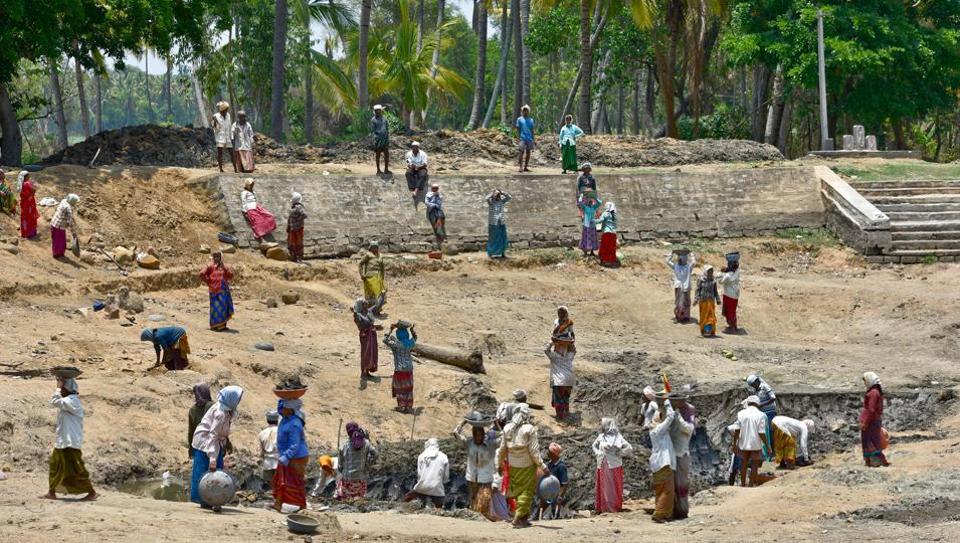 The scorching heat and glaring sun don't seem to deter the spirit of villagers clearing weed and silt from a dry lake in Bevanahalli, Mandya district.
Sowbhagya, one of the labourers, from the 75-member group is worried about completing the task assigned on time.
"The authorities gave us a go ahead only two weeks ago. This lake needs a lot of work and it will take at least a year to clear it. We will have to work on a tight schedule because the Southwest monsoon will begin next month," she said.
The Karnataka government's inept administration of lakes made headlines earlier this year when Bellandur Lake in Bengaluru caught fire because industrial effluents were being let into it. Recently, an irrigation tank in a village in Hassan district caught fire for similar reasons. However, a third consecutive year of drought has led to precariously low levels of water in reservoirs across the state, with the government announcing that it will only be able to provide water for drinking purposes.
Coming together
Sowbhagya is one of the 3,000 women in Mandya district, who are busy reviving lakes, ponds and irrigation tanks in 31 villages. These women have come together to force the administration to give them designated work under the Mahatma Gandhi National Rural Employment Guarantee Act.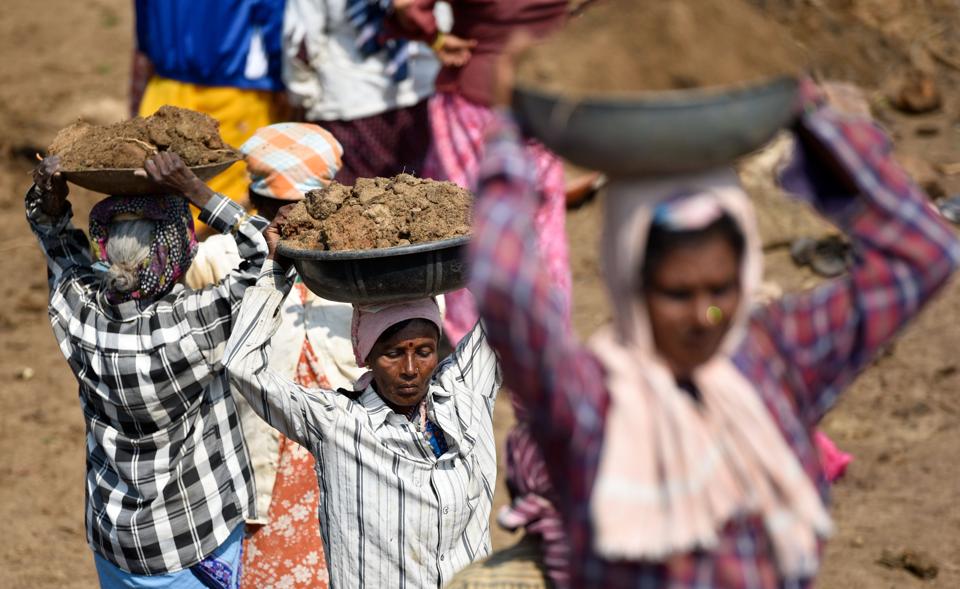 Shakuntala, a member of the group working in Bevanahalli, has never seen this kind of clearance conducted in lakes before.
"The lake has gone dry for the first time, leaving us with no water even for our cattle," she said. It is this water crisis that the women are out to address. And, in the lake rejuvenation project they have not just found a solution to the lack of work because of the failure of crops, but they are also attempting to ensure that the water bodies in their villages help mitigate such situations in the future.
An alarming trend
The women voice their concern about an alarming trend of bore-wells in the village. "Action needs to be taken quickly as now bore-wells are being dug up to the depth of 600ft. This was completely unheard of here," Sowbhagya said.
In Devipura, around 70 labourers are working on the village irrigation pond that has accumulated dry clay at the bottom.
Rathnamma, who is heading the project here, said, "This tanks served as a source of drinking water for us, our cattle and also for domestic chores. Now, we have reached a stage where some of us are using bore-wells even for drinking water purposes."
Rathnamma added that this is the first time such work is being carried out. "We hope to increase the carrying capacity of the tank to ensure it doesn't run dry like this again."
The women of Mandya are convinced that this is the way forward, inspired by the success of a similar movement by women in Gulbarga last year, where 28 water bodies were revived.
The way forward
KS Vimala, secretary of the Janawadi Mahila Sanghatane that came up with the idea, said, "We decided to focus on these water bodies because the state government did not seem to be concerned. We decided to take the lead and show them the way," she said. Rathnamma said the battle had just begun and they would take it one step at a time.
"We have faced opposition from within the villages and the administration," she said.
Protests to force the authorities to pay on time and to even let them continue with the work had become routine.
"None of this has been handed to us. We have had to fight with the authorities at every stage, from asking them to pay us on time to agreeing to our demand to let us work," Sowbhagya said.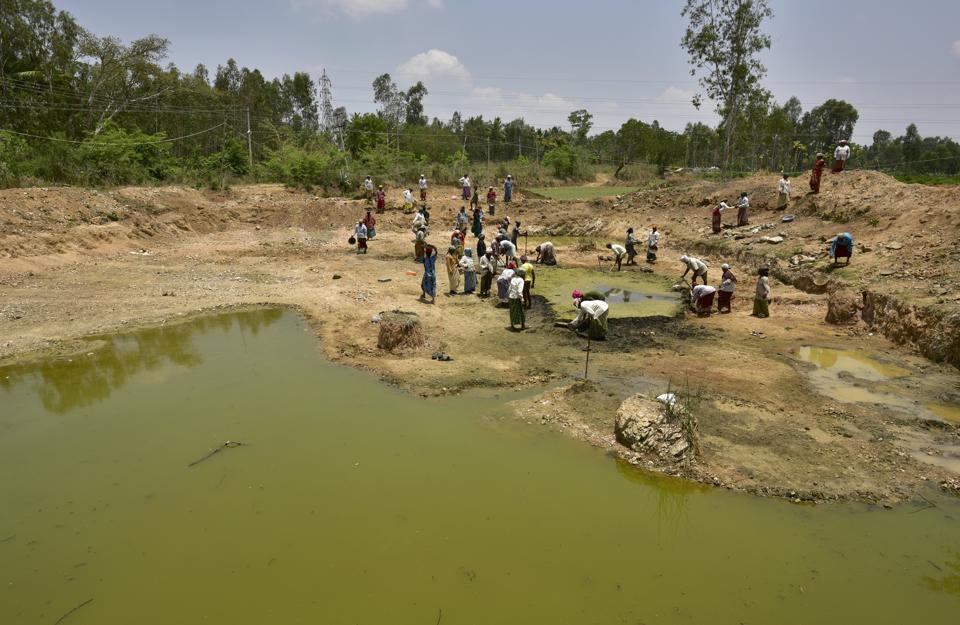 Rejuvenation a must
S Vishwanath, an expert on rainwater harvesting, said the movement has arrived at the right time. "This is definitely a welcome step. Rejuvenating these water bodies will definitely help the groundwater table. The government must study how efficiently water is used and create awareness among local communities about the rational use of water," he said.
The movement, meanwhile, is spreading to other districts.
Work has begun in Kolar, which is an arid area where people traditionally depended on these water bodies.
---
First published by Hindustan Times