Written specially for the Vikalp Sangam website
In the year 2015 I spent the months of September and December interning with an organization by the name Jan Sahas[1] in Dewas in Madhya Pradesh. I was a student of the school of social work in Tata Institute of Social Science (TISS), Mumbai at that time. We were a bunch of four students and we were told that we have to engage with the Garima Silai Kendra of Jan Sahas. This literally translates to Dignity Stitching Centers and quite rightfully so as it was meant to provide meaningful, dignified livelihood alternatives to women manual scavengers and their daughters or daughters-in-law who had discontinued the practice of manual scavenging[2]. The four silai kendras (stitching centers) were located in the villages of Bhaurasa and Tarana in Madhya Pradesh. These former manual scavengers in the two villages, belonging to different dalit communities, were almost all women. The women spoke Malwani and in the broken communication we had, I fully understood for the first time what my professors had been trying to teach us in class. Oppression has many layers and in this case it was based on caste, gender and class. The result was marginalization of sections of society which were then socially excluded and disadvantaged.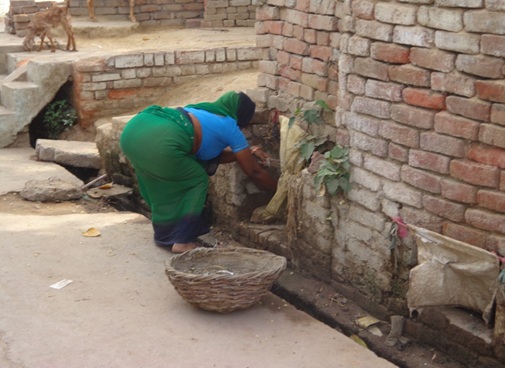 A woman manual scavenger at work. Photo credits: Jan Sahas
Jan Sahas and the March to Dignity
Though the constitution of independent India, in articles 15 and 17, prohibits discrimination on the basis of caste, abolishes untouchability and forbids its practice in any form; the shameful practice of manual scavenging still continues. Jan Sahas as an organization was founded in the year 2000, when its founder director Asif Shaikh, himself a young boy from the dalit Muslim community, was appalled at the continued discrimination of dalits and atrocities committed against them despite effective legislation like the SC/ ST (Prevention of Atrocities) Act, 1989 and The Employment of Manual Scavengers and Construction of Dry Latrines (Prohibition) Act, 1993. During the first two days of our orientation, Asif Shaikh told us that such a practice is a direct manifestation of caste-based discrimination and is often forced. People from the dalit community, are not only forced into manual scavenging but also 35 other related occupations (for example, lifting dead carcasses of animals and manual cleaning of pipelines and railway tracks) and are deemed untouchable by the larger upper caste society. Refusal to perform these roles often lead to abuse, assault and social boycott. He stressed on his belief that such practices can hardly be called an occupation and that it is in fact a form of slavery.
Jan Sahas, which is guided by the mantra, "Educate, Agitate, Organize" of Dr. Bhimrao Ambedkar, in the year 2008-09 organized a Rashtriya Garima Abhiyan Yatra or the National Campaign for Dignity and Eradication of Manual Scavenging. However it could not garner enough support from the upper castes in the society. The women manual scavengers were still being pressurized to do the demeaning work. Subsequently in 2012, a popular show called Satyamev Jayate on Star Plus aired an episode titled Dignity for all which was based on the issue of untouchability where Jan Sahas was also featured. This brought the issue to national attention once again and according to Asif Shaikh, the oppressing upper caste society then had to show their support. "They saw it on T.V. and now they knew that this practice was illegal", he explained. Following this event Jan Sahas organized the Maila Mukti Yatra or Nationwide March for total eradication of manual scavenging, traversing 10,000 kilometers involving 50,000 participants. During the event 5,000 liberated women took oath of ending the practice of manual scavenging. They burnt their bamboo baskets in a show of their determination to never go back to removing human excreta from dry latrines and sewers. "Why should they (the upper castes) come to us when a dog dies? Why should we be lifting a dog's carcass?", "Enough is enough. We will not pick their mal (feces) anymore. Everyone should clean their own toilets", echoed many such voices of women from dalit communities. This was an indication of dissent within the dalit communities in Madhya Pradesh against the oppressing upper castes and the practices of a highly unequal and fragmented Indian society. In the march, the state also showed their support. Madhya Pradesh government gave its commitment to eradicate the practice of manual scavenging and the Ministry of Panchayat and Rural Development announced 15,000 crores under Nirmal Bharat Abhiyan to build new flush toilets and abolish dry toilets from the country.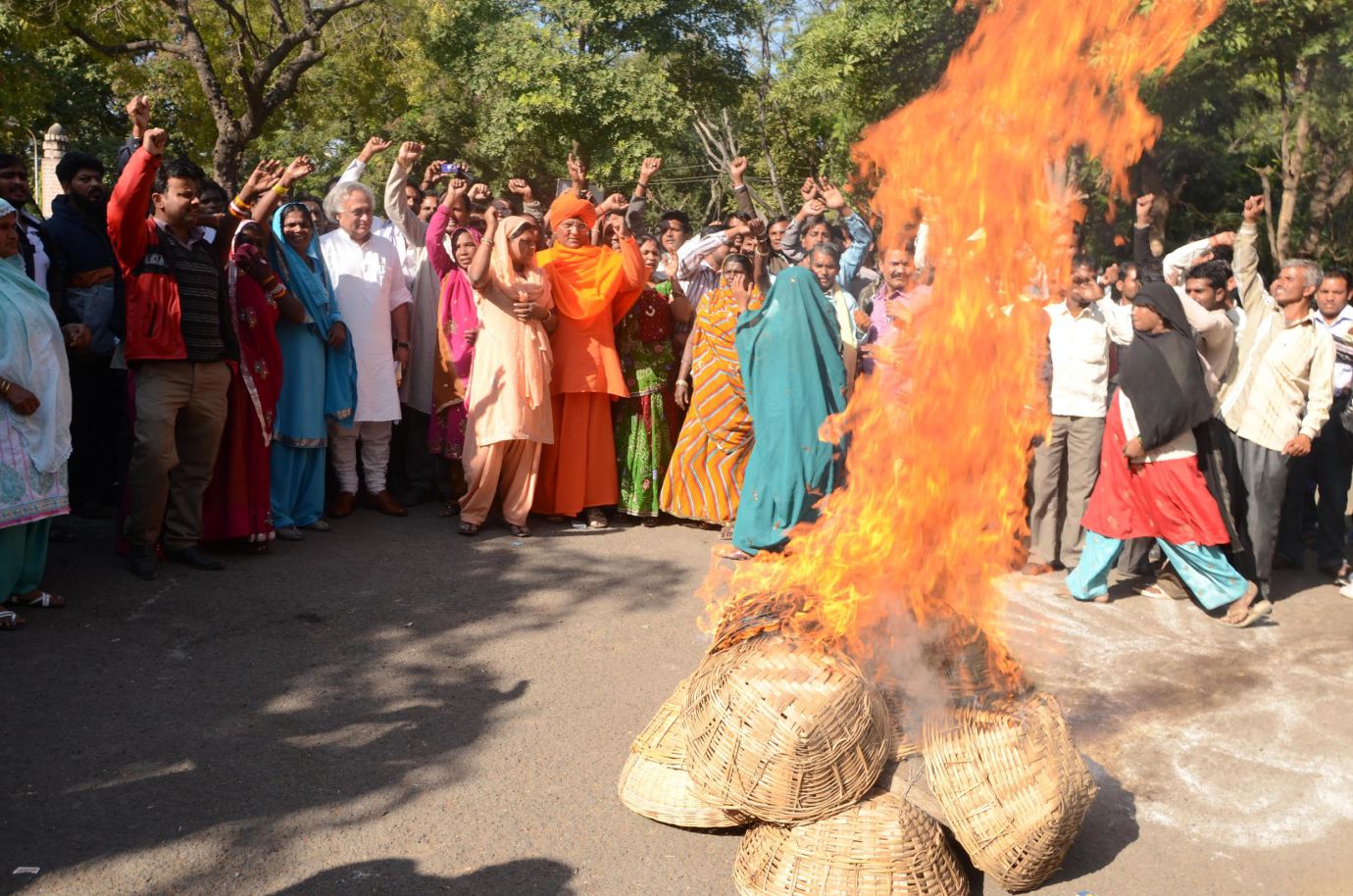 Burning of bamboo baskets in Maila Mukti Yatra. Photo credits: Jan Sahas
Following the event, in January 2013, the UN Commissioner for Human Rights congratulated Jan Sahas for its strong movement against manual scavenging and liberating thousands of women manual scavengers. Again in 2013, the government of India passed a new legislation entitled The Prohibition of Employment as Manual Scavengers and their Rehabilitation Act 2013 which was a step up from the previous legislation. The new legislation not only prohibited the employment of manual scavengers, the manual cleaning of sewers and septic tanks without protective equipment, and the construction of insanitary latrines but also sought to rehabilitate manual scavengers and maintain a survey of manual scavengers and their rehabilitation. This was a big victory for the nationwide political advocacy towards eradicating manual scavenging.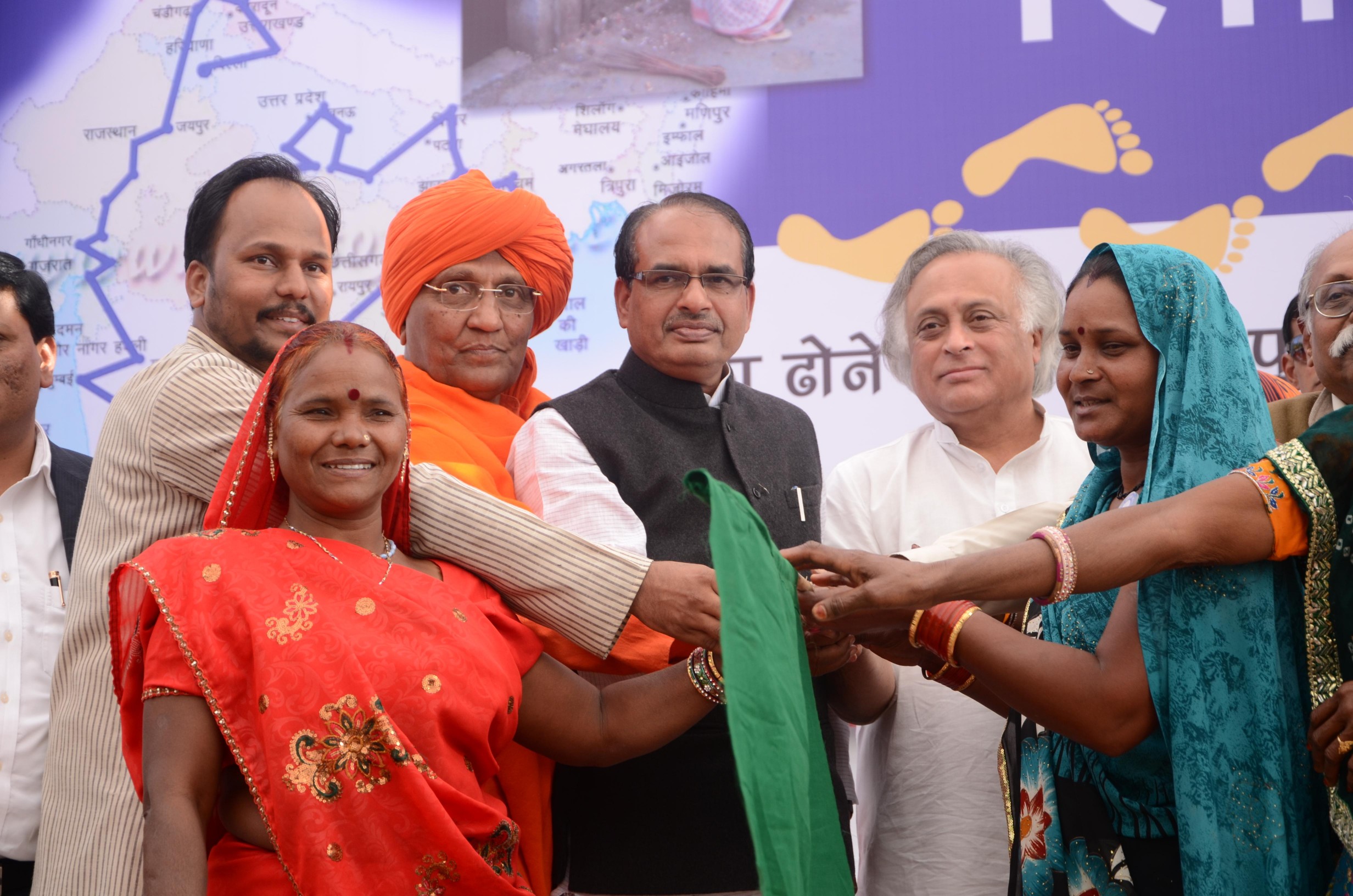 Women manual scavengers in Maila Mukti Yatra seen in this photo with Swami Agnivesh, Madhya Pradesh CM Shivraj Singh Chauhan and the then minister of Rural Development Jairam Ramesh. Photo credits: Jan Sahas
Jan Sahas as an organization has left no stone unturned to ensure social justice as well as well-being of manual scavengers, bonded labourers and their generations to come. Since its inception, it has not only organized the community of dalit manual scavengers and bonded laborers, campaigned to abolish manual scavenging, other forms of bonded labor, and for land rights, but also conducted programs on education, food, social security, capacity building and livelihood rehabilitation of liberated manual scavengers. The organization intensively works in 15 districts in the states of Madhya Pradesh, Uttar Pradesh and Rajasthan. It also has its presence in altogether 48 districts in 5 states (Madhya Pradesh, Uttar Pradesh, Rajasthan, Bihar and Maharashtra) through fellowships, networking and campaigns.
Back to the Silai Kendra
In 2015 there were around 100 women employed in the four centres in the villages Bhaurasa and Tarana. The three centers in Bhaurasa and Tarana were named Jagriti, Nayi Disha and Buniyad. The third silai kendra in Bhaurasa was recently formed by separating a few new learners from the Jagriti Silai Kendra. The women in these centers belonged to two Hindu dalit communities – Valmiki and Charmakar and one Muslim dalit community – Hela. Though these women manual scavengers who were liberated in the past years, they continued to be vulnerable because of the lack of livelihood security. Before the Garima Silai Kendra came up, their main source of livelihood was from working as sweepers in Nagar Nigam (Municipal Corporation), as agricultural labours or as manual labours at construction sites. But not all of the women had any or permanent jobs and with only male members in their family working, it was getting difficult to provide for the daily expenses of the household. In these circumstances, the idea and vision of Dignity and Design was conceived and the initiative was born in 2012 with seed fund from Bollywood actor Amir Khan. Dignity and Design is a registered company under the Companies Act which markets the produce from the Garima Silai Kendra under its own label. The Garima Silai Kendras are run by Self-Help Groups (SHGs) consisting of the liberated women manual scavengers. The SHGs and the silai kendras are both facilitated by Jan Sahas. The Dignity and Design planned to employ 3000 women over the next five years. However, the primary aim of this hybrid social enterprise was to provide dignity to women through their occupation and ensure their true rehabilitation in society. The scope of our work, as student interns, in these silai centres was to understand the contemporary livelihood struggles of the women, identify the gaps in their current endeavors, build a plan to improve their current business and therefore make the initiative sustainable.
Though our work involved a lot of market analysis, quality analysis of the products and looking at scope for improvement in the products design and range; we were mostly engaging with the women at the centers. In between discussions about how to improve the design and quality of the kurtis they made; we heard many of their past experiences. "In a dalit household, smoke from the chulha (earthen gas stove) could be seen only in the evening", recollected one woman from Bhaurasa indicating that the dalits cooked only in the evening. She explained to us that during their manual scavenging days, the whole day they toiled, cleaned toilets in houses of the upper castes, filled excreta in baskets to dispose them off at a distance and finally go home and bathe. "It would be almost three in the afternoon by the time we finished. Then we returned to the same houses of the upper castes, extended our hands for rotis (Indian bread) while they dropped rotis in our hands from a height so that there was no way they even mistakenly touched us" she continued with anger. "All our lives we have only eaten dry rotis in the day and cooked a meal only for dinner", added another woman. "In the rains the feces seeped out of the baskets which we would carry on your head and fall on our foreheads and face", said yet another woman with much pain and anger suggesting that it was about time this changed. Hela dalit women from the Tarana Silai Kendra revealed another set of disturbing events when we asked why most of them dropped out of school before matriculation. "We were made to sit in the back of the class and not treated well because our mothers did menial jobs". Today all these women, daughters and daughters-in-law of the women manual scavengers have given up the practice of manual scavenging which had been passing down from one generation of women to another in a dalit household as jagir[3].From the downtrodden untouchables, these women and men had transformed into individuals with strong voices who looked into the eye of the society and refuse being oppressed any more.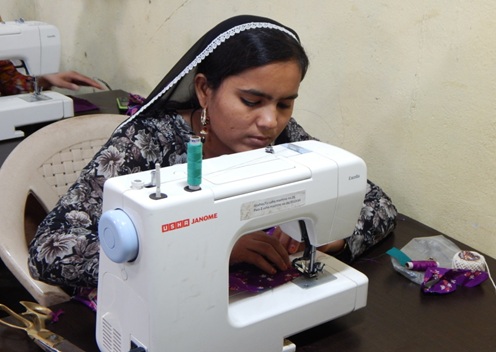 A woman from Hela dalit community at work behind a sewing machine. Photo credits: Jan Sahas
However, the silai kendras were faring badly. Women would often bunk the silai kendras to go to agricultural fields for labour and this threatened the continuity of the initiative. Social workers in Jan Sahas were much worried. We on the other hand wondered how the women did not feel a sense of ownership towards the silai kendras and chose to not come. When we investigated, we realized that it all came down to one reason – daily wage. The women needed daily wage or an equivalent monthly salary because for them feeding their families was as essential as protecting their dignity. Isn't it sad that a larger society took advantage of this kind of helplessness to push certain people into doing labor that was so dehumanizing?
In the next few weeks we had discussions with the women, urging them to not give up on the silai kendra. We included them in all discussions and planning and then finally went on to execution of our plans. With a few women we went to explore the local wholesale cloth market for fabrics, established an inventory management system, created new designs and products, priced them and set a desirable commission for the women tailors. The other women worked day and night to ensure a batch of products were ready for display and sale at a stall in our own college festival in Mumbai. Two women from the community also manned the stall along with two other activists from Jan Sahas, Om Prakash Malviya and Ali Hussain. It was huge success and the women went back to their villages proud and happy after a brief Mumbai darshan.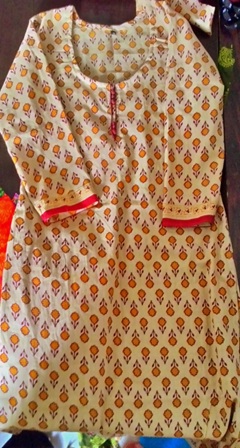 Kurti made by women at one of the Garima Silai Kendra. Photo credits: Sneha Gutgutia
Some concluding thoughts and what lies ahead
"Is this true emancipation?", "After all this, will the initiative still last?", these were questions in my head that I was grappling with. The initiative had become too dear to my heart but soon I had to move on. However, we stayed in touch with a few women from the center and Om Prakash Malviya and Ali Hussain, whom we fondly called Om bhai and Ali bhai. They would send us pictures of new apparels being made by women in the Garima Silai Kendras. Today another center has come up in the town of Dewas in addition to the existing centers in the villages of Bhaurasa and Tarana. This center also makes products like jute bags and file folders along with kurtis to widen their customer base. The women from the Jagriti Silai Kendra once told us that they feel proud when upper caste women come to their centers to buy kurtis. They also told that they enjoyed working at the center where the general atmosphere was fun filled and women pulled each other's legs, cracked jokes and laughed out loud. Some of the older women who led the campaigns for eradicating manual scavenging also played a crucial role in managing the centers and such other initiatives for alternative livelihood, for example, the agarbatti (incense stick) making center in Ujjain. Children were also going to school and youth were interested in higher education.
Indeed social justice was being delivered and empowerment was taking place, especially for women; as well as social and economic rehabilitation and political engagement of individuals from the manual scavenging communities. This itself is a reason to celebrate. Jan Sahas has come a long way in ensuring the above and I am glad that I could be a part of this journey.
However, there are still lakhs of people in India employed as manual scavengers. "We have to reach to the lakhs of people still doing this inhuman work", remarked Asif Shaikh in a T.V. interview. A recent article[4] in The Wire dated 23.10.18 alleged that the central and state governments deliberately under report the number of manual scavengers in the country. It also comments on the poor state of rehabilitation under The Prohibition of Employment as Manual Scavengers and their Rehabilitation Act 2013 and existence of rehabilitation schemes such as cash compensation of Rs. 40,000 to one member of a family of manual scavenger. Clearly, we need an honest intent in our policies, and not just show of intent, along with social movements to put an end to such abominable practices that still holds the Indian society hostage. The priority for a free nation which envisages fundamental rights such as right to equality, freedom and right to be free from exploitation; should be de facto freedom of all its citizens and there is no excuse that a democratically elected government can give for not making it happen in 70 years of its existence.
---
Contact the author