In a life that epitomised the struggles of the small Indian farmer, Dadaji Khobragade, the prolific rice breeder and farmer, strove against all odds to practise and uphold the core of traditional farming.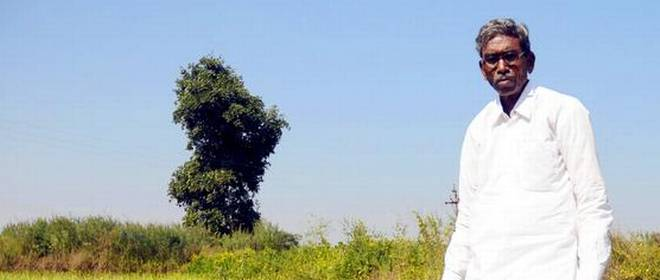 A small Dalit farmer from Nanded village in the Chandrapur district of Maharashtra, Dadaji Khobragade, 79, passed away on 3 June 2018; he had been ill following a paralytic stroke. Not many would have heard of this prolific rice breeder and farmer, although he made it to the Forbes list of the top seven rural entrepreneurs in India in 2010. The rice he developed, carefully selected and bred, known by the name HMT, is a saga all of its own.
The HMT Story
It was in 1983, while growing a local rice variety, Patel 3, that Dadaji noticed different characteristics in the crop. He selected a few plants and bred them. At that time he had no idea that this tasty rice would take the markets by storm. He did not even name the variety, but distributed the seeds in his village to, among others, a large landlord, who took the bumper crop generated by the variety to the market for sale. When the sellers asked for the name of this unknown variety, HMT—then a popular brand of wristwatches—was suggested. Still, this story of the rice being named, is not as complicated as the rest of its journey.
Despite the incursion of hybrid seeds, farmers would select, breed and multiply seeds on their own, without buying them in packets from private companies. Dadaji would not have ima­gined that a law would be passed many years later, ostensibly to protect the farmers' seeds and register them. Had such a law been present in 1982, perhaps, his HMT rice would have been registered sooner, and he would have had the satisfaction of "owning it," in a sense (but, then, he was in a way ­opposed to the intellectual property rights [IPR] regime, as well). In 2001, the Protection of Plant Varieties and Farmers' Rights (PPVFR) Act was passed, while an ­authority to test and register seeds was set up in 2005.
This IPR regime was much opposed by many farmers who did not want to fall into the trap of sharing their varieties or registering them. In what way did they benefit and why be part of a regime which could easily be misused? These debates may have escaped Dadaji in his rather remote village, but he ultimately bore the brunt of an unscrupulous establishment that took away from him what was his own.
Eleven years after he developed HMT, a scientist from the rice station at Sindewahi, affiliated to the Dr Panjabrao Deshmukh Krishi Vidyapeeth (PKV) at Akola approached Dadaji for his seeds, claiming he wanted to experiment with them. In 1998, the variety bred was released in the market as the PKV–HMT variety. Dadaji did not recover from the shock of having his variety rea­ppe­aring in another avatar; he was neither informed about it nor was his consent sought. The university did accept that it got the seeds from Dadaji, but stated that, unlike the farmer, it had the means to develop a purer strain of the variety.
Prolific Rice Breeder
When I met Dadaji in 2001, he had already developed seven varieties; a panicle from each variety was framed and hung on the wall of his small home. He was most proud of the DRK variety, one he named after himself, Dadaji Ramaji Khobragade. When he passed away, he had been almost bed-ridden for a while, he probably would have been unaware that that DRK, too, had been registered under the Protection of Plant Varieties and Farmers' Rights Authority in February 2018. He was already cut up about the registration of his HMT rice as "Dadaji HMT" in 2012.
Dadaji was thrilled to be awarded by the National Innovation Foundation (NIF) in 2005 and 2009, and that was when he gave the organisation the authority to apply for registration of HMT and DRK. He was paid a token of ₹50,000 for each variety. However, PKV–HMT was already registered by then, and the NIF has been blamed by some non-governmental organisations (NGOs) for not contesting the registration of PKV–HMT, as the seed had been developed by Dadaji. The NIF maintained that it
worked in the interest of grassroots innovators in the best manner possible. Since HMT has been a well-known trademark, to avoid any conflict with HMT or PKV HMT, for which an application had already been filed, the name Dadaji HMT was decided upon after obtaining the consent of Dadaji Khobragade.
There was something else which upset the farmer. When he was unable to repay the last of the loans from the Micro Venture Innovation Fund (MViF) of the NIF, as he was ill and the crops did not do well, the NIF suggested a technology transfer of his varieties to a private company which was willing to pay for them. Dadaji was, however, opposed to this idea, and with the help of Jacob Nellithanam of Bharat Beej Swaraj Manch, he travelled to New Delhi to revoke the authorisation given to the NIF. The NIF said that the technology transfer would have helped Dadaji financially, but it could not go against the wishes of any innovator. Yet, although the NIF could counsel, it ultimately has to abide by what an innovator says. It only filed applications for Dadaji HMT and DRK, though it tried to coordinate with Dadaji to file applications for other varieties as well.
Early on, Dadaji had many troubles. He sold his small piece of land of 1.5 acres to pay for treatment of his son's illness, and later farmed on some land owned by his relatives. In 2014, the Nationalist Congress Party leader Ajit Pawar, not known for his propensity to farmers, donated five acres to Dadaji, and his son Mitrajit has been growing rice and other crops on it.
It was the NIF award that propelled him into an agriculture hall of fame of sorts, with him eventually receiving over 100 awards. The NIF also helped him with loans from the MVIF up to ₹10 lakh, which he repaid fully. It was only the last loan of ₹3 lakh that he was unable to repay. His son has requested that the repayment of ₹2.3 lakh, including the 12.5% interest, be waived; the NIF will take a call on that.
Epitome of the Small Farmer
Dadaji's life epitomised the life of a small farmer in this country. He was poor and vulnerable, but he struggled against those odds to practise and ­uphold the core of traditional farming. His rice varieties are now part of a national registry and he has others too, which he has ­selected and bred. In the midst of the controversy surrounding HMT, one must not forget Dadaji's role as an innovator and also the encouragement and support from Jacob Nellithanam and other activists, and institutions like the NIF.
Primarily, however, credit must go to Jacob, who in his myriad travels across the country, found Dadaji. At Jacob's insistence, I travelled to Nagbid to meet the farmer and write an article about him, which was published in theHindu in 2001. It was following the publication of the article that an NGO proposed his name for the innovator's award at NIF, and we helped build a strong case for it. However, Dadaji soon realised that fame and awards did not translate into money, and he still had to borrow money for agriculture. Nevertheless, selecting and breeding crop varieties was in his blood, and he continued with his work for many years, leaving behind a small treasury of nine rice varieties (of which DRK seems to be even more promising than HMT). The fear that haunts his son is that although it has been registered by the PPVFR Act after a long wait, it could still be taken up for commercial breeding without his knowledge.
Jacob is critical of the role NIF played and states that the registration of PKV–HMT ought to have been challenged. He maintains that the NIF tried to force Dadaji to give away the rights of the seed to a private company for a price, so that he would get some money to repay the pending loan amount. Dadaji was opposed to his seeds being privatised. It remains to be seen if his family wishes to register his other seed varieties under the PPVFR Act.
All farmers are not necessarily happy with this variety registration and are still unsure of how it actually benefits them. As Shalini Bhutani, legal researcher and policy analyst on IPR and agriculture, points out,
When we started our agitation against the Dunkel Draft of WTO [World Trade Organization] and its trade-related intellectual property prescriptions, farmers were one of the largest constituencies to raise their voices against IPR on seeds and other life forms. However, many of them were coopted into agreement with one political masterstroke by passing the PPVFRA Act. The said law recognises farmers also as breeders, making them eligible for IPR. With this law, India can say that it is World Trade Organization (WTO)-compliant and also appease the seed industry. Yet, there are still many farmers and seed keepers who are opposed to the idea of IPR on seeds.
This version of the law attempts to ward off pressure to join the International Union for the Protection of New Varieties of Plants (UPOV), which can accommodate demands of the seed industry, but not that of farmers' seed sovereignty. Another major issue with the PPVFR Act is benefit sharing: no case of sharing benefits with farmers has taken place since the act came into force. Under the PPVFR Act, benefit sharing is one of the most important aspects of the farmers' rights. Section 26 provides for benefit sharing and the claims can be submitted by Indian citizens, or firms or NGOs ­established in India. Depending upon the extent and nature of the use of ­genetic material of the claimant in the development of the variety along with commercial utility and demand in the market of the variety, the breeder will deposit the amount in the National Gene Fund. However, in the name of prote­cting farmers' rights, how much money has been channelled into the National Gene Fund?
At the time of his death, when many of the issues related to farmer's rights, seeds and benefit sharing remain contested and unresolved, Dadaji leaves behind a quiet legacy of energetic research and innovation, and, of course, his precious rice varieties.
First published by Economic & Political Weekly