Written specially for Vikalp Sangam
Photographs by Amrutha Manjunath, Nikshep Trinetra and Shiba Desor.
In the high Himalayan landscape of Munsiari, situated at the tri-junction of India, Tibet and Nepal, food is entwined with all aspects of life and has a special place in the celebrations, seasons, health, livelihoods, security and memories. For instance, one must not forget to have ghee on the first day of Saawan (which is celebrated as Ghyu tyohar) or you will be reborn a slug in your next life. There is the custom of pathaun i.e. taking some food from home when visiting friends and relatives in other places. Gifts of food are also taken during Bhitauli in Chait month when one visits sisters in their marital homes, or then there are the khichadi invitations to sisters and daughters in January. Winters are the time for bhaang–timur-a-haag or a hot soup made with timoor. Byus tyohar is celebrated by eating sabzi of uncultivated jhankara (Phagopyrum cymosum) leaves. Special baar bagchi is prepared from maas ki dal as a community event at marriages. In mourning the passing of loved ones in the family, food like meat is given up.
With agriculture and transhumant pastoralism having been a predominant way of life, food choices and food practices have adapted to the ecosystem. Food from the forests continues to be a part of the diet – with teas made from polygonatum root/ ban madua and from taxus bark/ thunair, or wild meat consumed as a feast or as medicine. Long snowbound winters with a short growing season has meant drying seasonal vegetables like radishes, mustard leaves and sweet gourd/ kurrli. And like all frontier communities across the Himalaya, the tradition of brewing their own jaan or beer made from rice, barley and koni or foxtail millets is still practiced by the Bhotiya community. Sage or the fermented leftover rice is considered a delicacy to be eaten roasted with ghee. While many of these food items are found in the villages here itself, others are enjoyed through systems of exchanges across the climate band. There has also been a long culture of aan-katha (literally translated as answer-story) where people sit around the fire on cold evenings and exchange riddles and stories, often related to food, late into the night.
The caravans traversing to Tibet for trade, which continued till 1962, have shaped the saut shaumal or the travel foods of the region. These foods, like khaja, khajura, jeea sattu, ugal-ka-siltyu (buckwheat flour), dried meat and dried vegetables, have lingered on into this millenia and serve well for providing nourishment to the many who travel to Johar with their sheep herds on their annual seasonal migrations.
Saut shaumal is also the name that was given to a three-days-long community food festival held in village Sarmoli in May this year. The event was a part of Himal Kalasutra, an annual series of events (held in April-May) like marathons, creative-art, photography and bird-watching held every year in Sarmoli, culminating in a forest fair held at the restored natural pond of Mesar Kund. The event was organised by the community of Sarmoli, Himal Prakriti, Maati Collective, Jungli School and Himalayan Ark in association with Kalpavriksh, the Vikalp Sangam process and the Department of Science and Technology. The event was appreciated alike by people from around Munsiari and visitors from far-off places, and was enjoyed by people of different age-groups. Around 40 individuals participated in the food festival in total. This included people from Shilling, Shankhadhura, Sarmoli, Darkot villages of Munsiari, Uttarakhand, and participants from cities of Delhi, Bangalore, Chembur and Kolkata.
The idea behind Saut Shaumal was for the people of the region to come together and celebrate food and what it meant to them but instead of doing it in the form of long -winding discussions, to do it in the more elemental form of cooking and eating together. Every morning we would gather together and after a brief round of introductions and some sharings on food, would get to the task of cooking and preparing a lunch meal that could speak for itself. So over these three days, while there were conversations about delicious food memories, riddles and stories, medicinal foods, travel foods, kitchenware used in past and present, farming and its challenges, solar cookers and low-smoke chulhas and many other topics, the centre-piece of all attraction, attention and appreciation was always the lunch plate.
Day 1: The first lunch gave a glimpse of some of the diverse forms that cooked finger-millet or madua could take. There were two kinds of madua rotis; the normal madua roti as well as the thugroti where the outer layer is made of wheat flour, cheating you with its appearance, fon (a madua-based soup) and bari (a madua based halwa). This sumptuous millet meal was embellished with a dollop of ghee, a glass of butter milk and duangchu (salt ground with herbs and spices). For those with a sweet tooth, this was rounded off with a kheer made of foxtail millet (koni)
Day 2: The lunch on the second day was an opportunity for a cultural exchange of sorts. People from Shilling village in the Gori valley made Makki ki roti, makki ka halwa, bhaang ke beej ki chutney and a spicy preparation of kumyun. To this, the women of Sarmoli- Shankhadhura added their celebratory food of baar-baagchi, a bhaaji made of wild and cultivated leafy greens, pahadi raita, and bumla bhaat.
Day 3: On the third day, we had a glimpse of our old slow foods in the form of gojor, a type of khichdi made with rice and kala bhatt soaked overnight, and patyur – a preparation where green leafy vegetables (in this case the uncultivated jhankara) are loosely kneaded with wheat flour into small lumps that are then steamed and sauted with local herbs and spices. Women from the nearby village of Darkot prepared a delicious dish from an uncultivated vegetable called gwai and also brought turuchook (seabuckthorn) chutney. The chutney was a perfect match for puli (which looks a little like a pancake or a dosa, but is different from both). For dessert there was chunni, a thicker, sweeter and deep-fried version of puli.
Baar-Baagchi is traditionally a food prepared to celebrate weddings. While making it here, one of us said 'if we are making it we must also sing shagun'. And suddenly the place was alive with song and laughter (first).
Baar is the fried dough made of maas-ki-daal, with a small dab of sesame in the middle (second)
Baagchi is much like the ordinary Poori, except for an elaborately decorated border (third)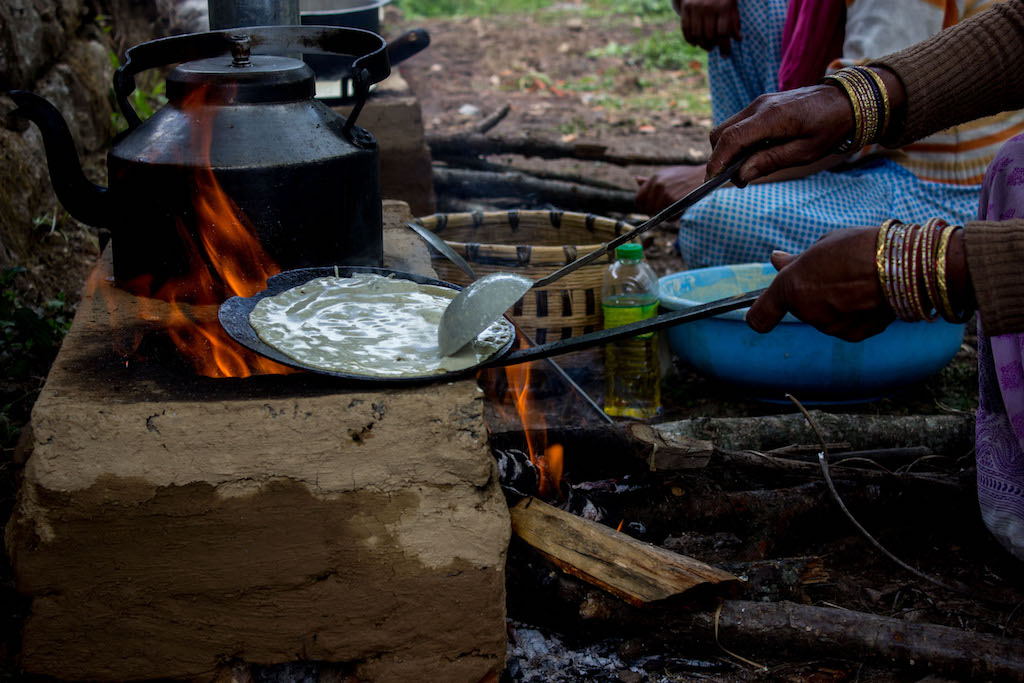 Puli is made from the flour of buckwheat, rice, and even wheat and is a breakfast for special occasions.
Here it is being made on a Himal Pan Chulah. These chulahs, designed by Himal Prakriti, are more fuel-efficient than the conventional chulah, give out much lesser smoke inside the kitchen, and are easy to make. During the festival, people who have been using these chulahs shared their experiences of its use with others, and almost everyone tried their hand on cooking something on these chulahs (Nikshep Trinetra).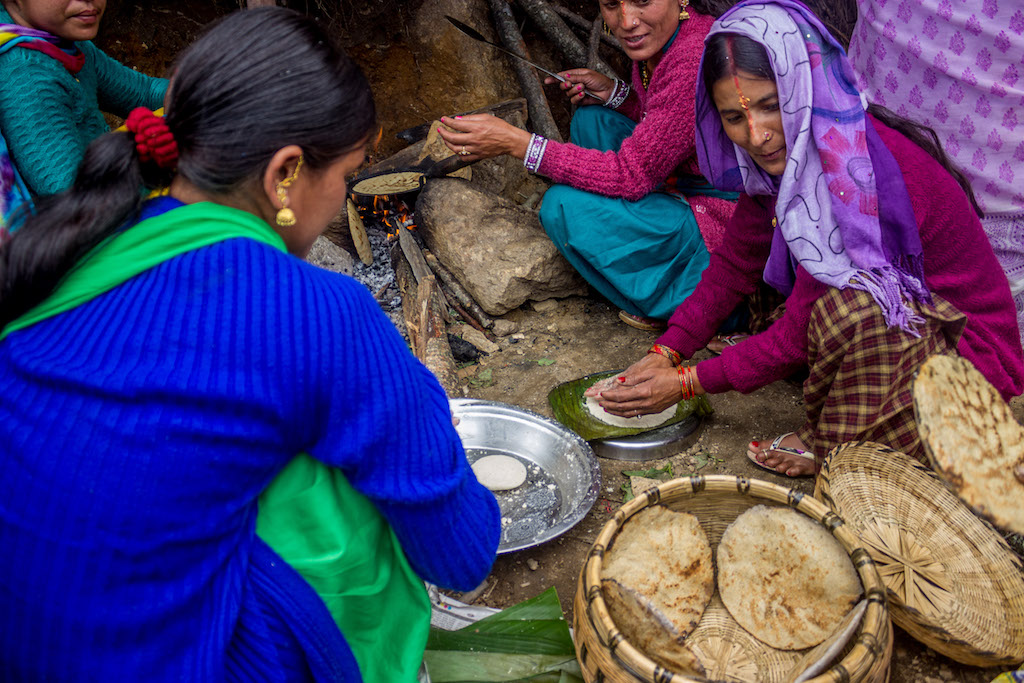 Women from Shilling village in the Gori valley treated everyone to delicious makki ki roti that were hand-patted onto a banana leaf before being cooked on a chulah. These rotis, while much relished, are a rare treat for people in Munsiari now where corn has slowly moved out of the dietary pattern (Nikshep Trinetra).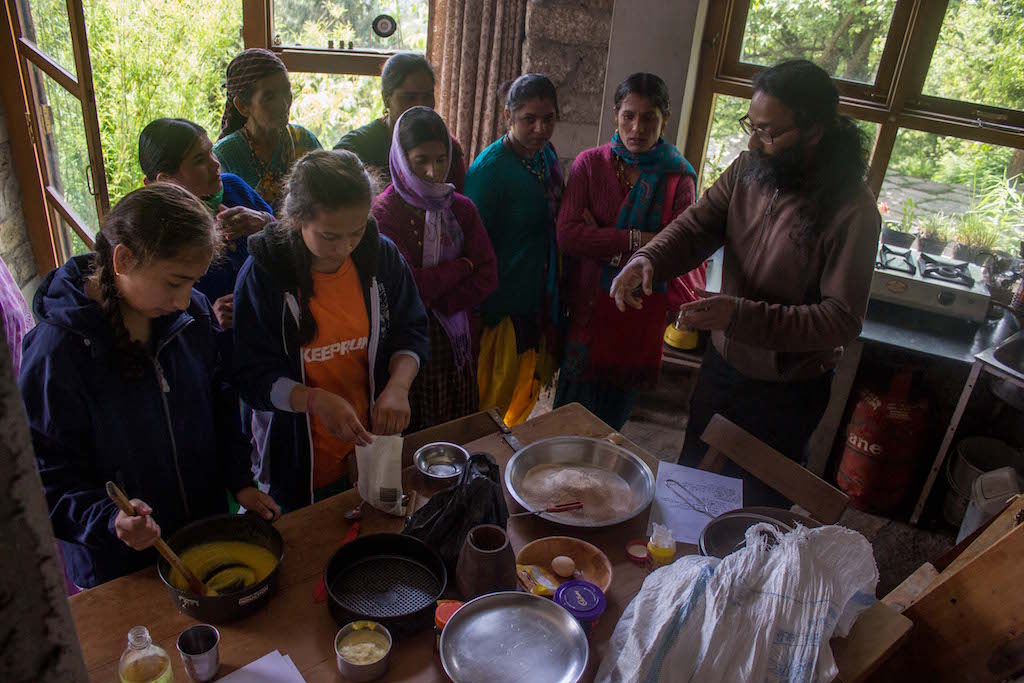 Food habits and preferences evolve, and we embrace the new favourite foods as well as the old ones. In that spirit, there was a baking session. Box-type solar cookers are used for baking on days when the weather cooperates (Nikshep Trinetra).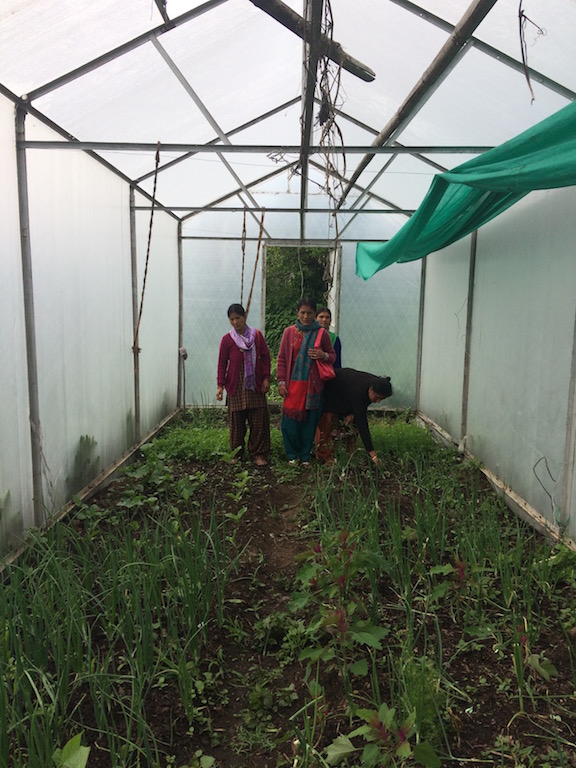 People shared their experiences about polyhouses (plastic greenhouses) and their role in helping grow vegetables. Women from the village of Shilling visited farmer Basanti Rawat's polyhouse in Shankhadhura (Shiba Desor).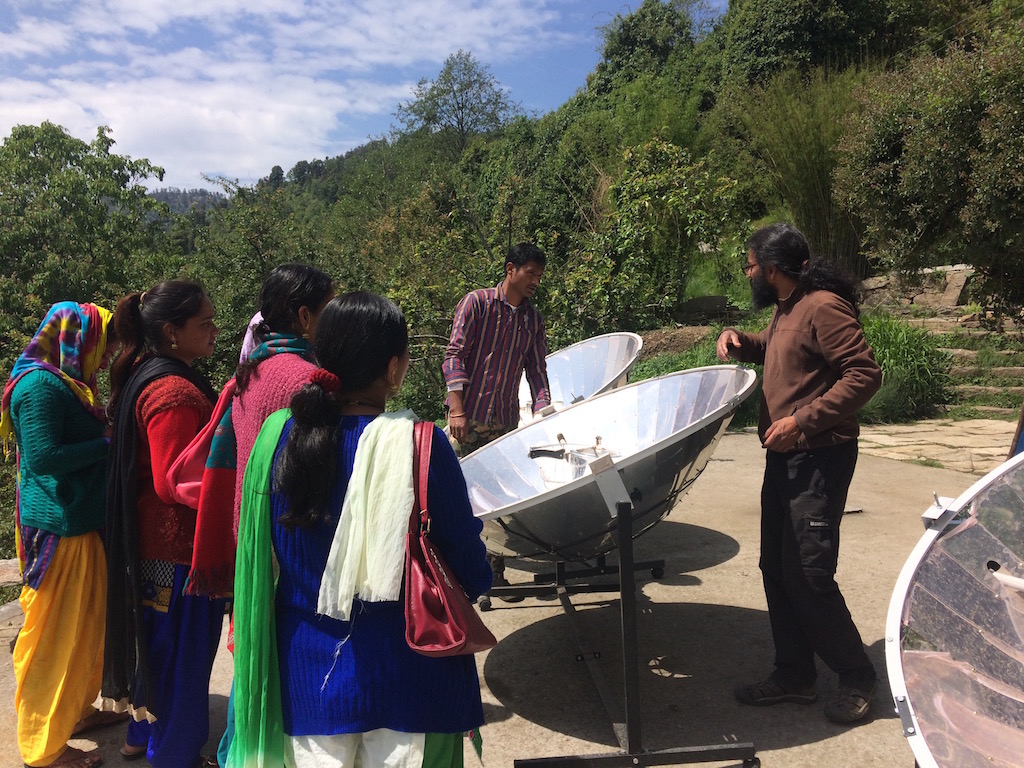 The use of parabolic solar concentrator for cooking food was demonstrated. This solar cooker, being promoted by Himal Prakriti in the region, can be used to cook food items such as rice, dal, vegetables and cakes in 30-40 minutes (Shiba Desor).
As a part of the festival, there was also an exhibition of posters giving a sense of the different initiatives in the area, their connections with food and environment as well as numerous recipe cards of regional cuisine (first, Nikshep Trinetra). One could also see a glimpse of the diversity of crop varieties (for crops like barley, various millets, wheat, rice) grown in Munsiari and in other areas of the Gori valley (second, Shiba Desor). The poster (third, Shiba Desor) invokes some of the local riddles associated with food, and was used to have an impromptu riddle contest, with visitors from other villages and cities sharing their own riddles.
Jeea-sattu is not just a traditional travel-food (or saut shaumal) but also a much relished winter breakfast, especially among the Bhotiya communities. Jeea is a salty tea made from luenth (taxus baccata) and ghee and sattu is the flour of roasted wheat, millet or barley (first, Shiba Desor). Here, jeea is being distributed in bowls to everyone, to be quickly followed by a spoonful of sattu (second, Nikshep Trinetra).
The connection of nourishing and delicious food with happiness was apparent in our expressions as we dug into our lunch plates (first, Amrutha Manjunath). And in the evening, when rain made us stay back for a little longer than we had planned to, on happy stomachs, we sang and danced (second, Nikshep Trinetra). A group photograph showing the participants of the workshop on the second day, as well as a slightly burnt cake (third, Nikshep Trinetra).
The first three paragraphs of this article have been adapted from a background note prepared by Maati.
Contact the author