Residents of Yelavali village inside Bhimashankar Wildlife Sanctuary in Maharashtra have made a collective decision to promote responsible ecotourism that is providing them with a sustainable livelihood
Villagers of Yelavali display some of the forest produce, as part of conservation tourism (Photo by Subhash Dolas)
In Yelavali, a village in Khed administrative block of Pune district, nine villagers sat in a small house with walls made of stones and wooden roof rafters. The villagers were engrossed in discussions of hosting 40 adventurers for 10 days at the eco-camp in their village.
Sangita Banere, the only educated woman in the village, stressed that the youth of their village should participate in the adventure camp to be held in October. Subhash, the only graduate, tried to convince fellow villagers to host guests at their houses.
The villagers deliberated on the homestay option since the eco-lodge that they constructed can house only 30 visitors. While promoting ecotourism, the villagers try to maintain a balance between conservation, livelihood and convenience.
Village inside wildlife sanctuary
Yelavali, with a population of 102 Mahadev Koli tribe residents, is one of the nine villages in the Bhimashankar Wildlife Sanctuary spread over 131 sq. km in the Western Ghats or Sahyadri Ranges. About 60km north of Pune, the village spread over 4 sq. km of rolling plain has only 16 families.
In 1985, Maharashtra government notified Bhimashankar as a sanctuary, under the Wildlife Protection Act 1972, to protect the large diversity of endemic and unique flora and fauna including the Giant Squirrel.
Thrice a day, state transport buses ply from Pune to Bhorgiri, which is about 80km from Pune. From Bhorgiri, one reaches Yelavali after trekking up for 2.5km through a dense forest and crossing Bhima River.
Yelavali promotes ecotourism
In 2012, Kalpavriksh, a Pune-based non-profit organization working on environmental and social issues helped the villagers start an ecotourism project.
Starting from July till the end of January, villagers host visitors who come to enjoy this part of Western Ghats that has not been touched by external influences. Some trek up from Lonavala. Many trek to visit Bhimashankar, a pilgrimage center having a Shiva temple that falls on the same plain as Yelavali.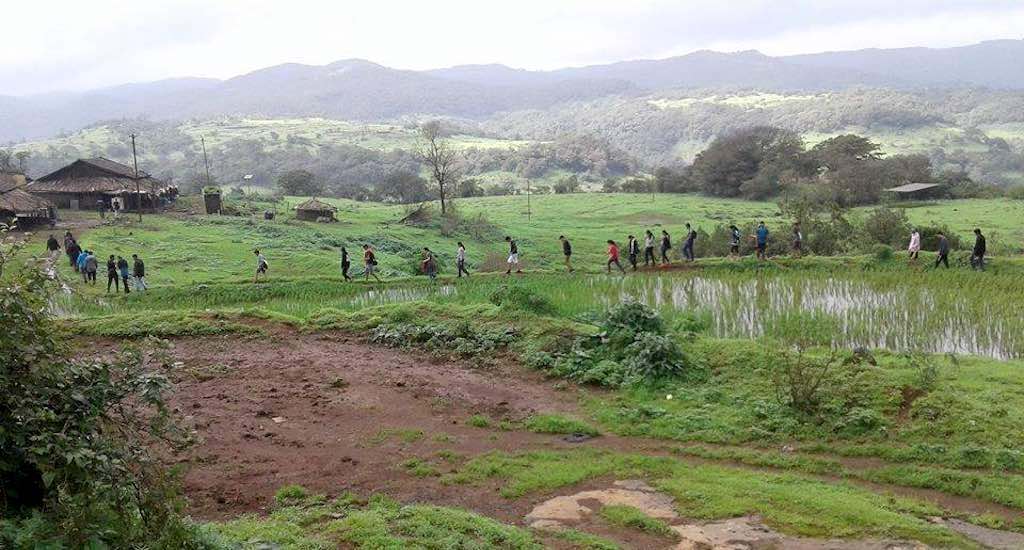 Houses here are generally built with wooden poles covered with cow dung or built by placing stones on each other. But the eco-lodge is a brick and mortar structure. The villagers trekked up with bricks, stones and cement bags on their shoulders and built the camping site eco-lodge that has three rooms, two toilets and two bathrooms.
New livelihood
Till 2012, there were no livelihood opportunities for villagers. They worked as laborers at Bhimashankar pilgrimage center or they went hunting. Villagers recounted the days during incessant rains when they survived drinking only milk or eating wild vegetables.
The villagers host up to 30 tourists per day on weekends. The villagers offer tea, breakfast, two meals and evening snacks every day for Rs 450 per head. "When tourists come, five to 10 people get to work," Subhash told VillageSquare.in.
After receiving information about arrival of tourists, a group of villagers begin work, to get everything ready. The previous evening, they clean the eco-lodge and arrange for water. A few men buy grocery like poha, wheat and so on to prepare food for the visitors. Women arrange for firewood.
"When tourists come, our day begins at 7am," Sakhubai Baner told VillageSquare.in. "We make tea, breakfast, and lunch in traditional stoves, using firewood." After preparing dinner and cleaning, their day ends at 11pm. A person receives Rs 200 as daily wage. "This is less but we get to work in our village," said Sakhubai.
Collective gain
The villagers work on a rotational basis, so that everyone gets to earn. "The more the number of tourists, the more we get to earn by cleaning, cooking and serving tourists," said Subhash.
"We have a village bank account in which all the revenue is deposited," said Subhash. "We discuss about bills, grocery and wages with all the villagers through regular meetings."
First year, over 20 tourists stayed in the eco-lodge. Over the years, the number has increased, with over 300 tourists staying last year. The villagers earn more than Rs 1,00,000 per year through their ecotourism project.
Social transformation
Almost all the kids from the village go to school in Bhorgiri or Ashram Shala, a residential schools for tribal people) at Tokawade. Interacting with trekkers has changed the tribal people immensely.
"We were too shy and would hide in houses when trekkers or forest officials came," Sangita told VillageSquare.in. "Encouragement from members of Kalpavriksh and communicating with tourists have made us confident." So much so, that the women now freely voice their rights with the forest officials.
They maintain data of email ids and contact numbers of tourists who visit Yelavali. When there is a lull or when they organize an exhibition at the village, they send messages and mail invites to their contacts. They have also begun a Facebook page called Yelavali Camping Site, to spread the word.
Wild vegetable exhibition
The elders of Yelavali know of more than 50 varieties of wild vegetables, but the children hardly know a few. To create an awareness about the vegetables, the villagers have been conducting Wild Vegetable Exhibition since 2014. The response has been good, with over 300 people from Pune and nearby villages visiting it.
The vegetables are not for sale. "Since the last two years, we have been holding an exhibition along with villagers of Yelavali, as people find it difficult to go to Yelavali," Manda Kate, of Bhorgiri village told VillageSquare.in.
With this initiative, the villagers hope to conserve the vegetables and also earn by selling locally prepared snacks and food to people who visit the exhibition. Lauding their initiative, the Khed panchayat samiti gave Yelavali villagers a prize of Rs 5,000 for their conservation efforts.
Sale of honey, medicinal plants
The women are adept in spotting beehives in the forest and in collecting honey. They can identify the source flower from the color and taste of the honey.
Taking a cue from the women of Bhorgiri who sell over 150kg of honey per year, women from Yelavali, who currently sell loose honey, have decided to create their own brand and sell honey in bottles in various quantities.
Besides, almost everyone in Yelavali sells medicinal plants at Bhimashankar, as they possess very good knowledge about many medicinal plants used traditionally to cure pains and so on. They put up stalls at Bhimashankar every day. Unaware of the value, they sold the plants for measly sums earlier. Pricing it better, now they see it as a good means of earning an income.
Ethics and sustainability
Villagers recounted instances when they refused to host tourists who brought alcohol. They did not give in to the visitors' demands, even when the latter offered more money.
The only brick building is the eco-lodge that can accommodate about 30 people. The villagers provide five tents, if there are a few more visitors. Villagers refuse to host more people than available capacity, so that the tourists do not experience any convenience.
First published by Village Square on 26 Sep. 2018