MEDIA RELEASE, 20th October 2022
In a gathering of gobas (nambardars) from various parts of Leh district, it has been decided to form an association of gobas at Ladakh level. The gathering was organised by gobas with Snow Leopard Conservancy – India Trust (SLC-IT), Nature Conservation Foundation (NCF), Ladakh Media and Arts Organisation (LAMO), Local Futures, and Kalpavriksh. About 35 nambardars/gobas participated in the gathering from various regions.
The meeting was based on a detailed study led by Kalpavriksh (a Pune-based organisation active in Ladakh), in coordination with the above-mentioned Ladakhi organisations, which is a follow up meeting of various other meetings & workshops conducted in the past few months.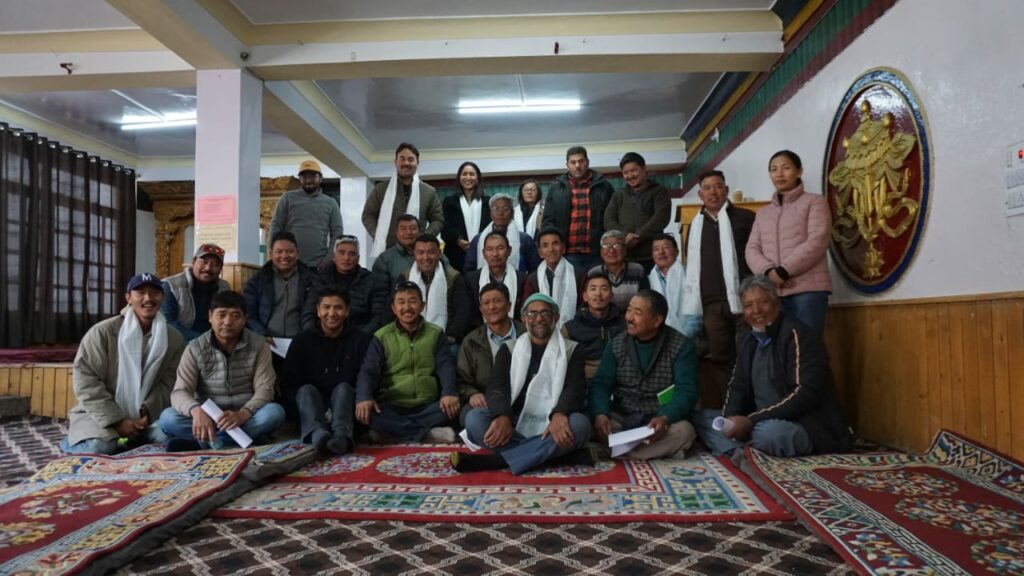 We are happy to announce that Ladakh Yoms Ki Goba Tsogspa (All Ladakh Goba Association, Leh District) has been formed today, which will soon be officially registered with the following nominated office bearers:
President:- Tsering Mutup ( Gonpa & Gangles)
Vice Presidents :- Manzoor Hussain ( Chuchot Shamma) & Ishey Tsering ( Matho)
General Secretary:- Tsewang Stobdan ( Alchi)
Joint Secretary:- Stobgais ( Phobrang ) & Tsering Sangdup ( Hunder Dok)
Cashier :- Rinchen Wangyal ( Phyang)
Executive members from each regions of Leh district were nominated as well.
This Association will take up various issues relating to gobas, to help strengthen their role for the benefit of Ladakhi society as a whole. 
Read the full report here.
Read the Goba Report Summary in Bodhi