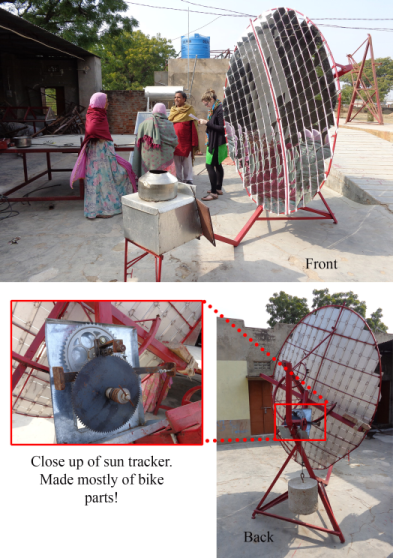 Specially written for Vikalp Sangam website
When we first arrived on the Barefoot College campus in Tilonia village of Ajmer district of Rajasthan, there was no one to greet us. The Taxi driver dropped us off and we started walking. The first site my friend and I came across was where these satellite dish-like contraptions made of mirrors stood. They were beautiful because of the way light reflected off the mirrors glittering and dancing.
I liked the no nonsense welcome because it meant we could just explore and ask questions. Barefoot College does offer a tour and it does have tourists, but they are not treated as special persons. This was refreshing. I enjoyed the tour and highly recommend it. I loved learning that the beautiful mirror satellite-dishes I spied earlier were solar cookers, created by a group of local village women, who, after attending the Barefoot College Parabolic Solar Cooker workshop, had decided to start a Women Barefoot Solar Cooker Engineers Association, to cut, weld, and build more of these cookers for their livelihoods.The association is 100% run by these women. The workspace was very well organized and open. It was amazing to see them at work and excited to answer our many questions.
Now local women no longer need to take the long walk from their villages looking for hard to find fuel wood and the women of the Barefoot Solar Cooker Engineers Association, are in control of their livelihoods. City dwellers would do well to erect such cookers too! For when it's renewable its doable!
Cover photo – Barefoot College
Other Photos by the author
Barefoot College website
Contact: [email protected], +91 (0)1463 288210 or +91 (0)1463 288351