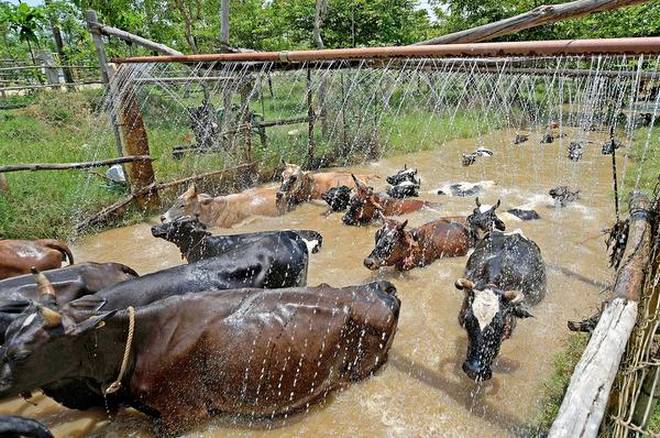 'Unscientific' innovations at a farm in Pudu Tamaraipatti have impressed veterinarians
The clock shows 5 a.m. Scores of cows come out of their sheds and line up in front of a gate. It is breakfast time. They slowly troop into the fodder area, eat like disciplined children and return. They do not jostle, jump the queue or rough up. And they do not have nose ropes. This is the result of a desi Pavlov-Skinner experiment on animals at a farm in Pudu Tamaraipatti on the Tiruvadavur Road. Earlier, a bell used to ring at 5 a.m. to announce that food is ready.
"We used to ring the bell twice a day to indicate that food is ready. Now the cows come on their own," says K. Deivendran, who has developed this integrated farm. The 50-acre farm, which came into existence in 2009, is a story of Deivendran's experiments with farming. Son of a farmer from Vellayathevanpatti in Theni district, Mr. Deivendran learnt all about agriculture from his parents, brother, friends and those who came to sell their produce at his vegetable commission mandi in Andipatti. "I do not have any scientific knowledge of agriculture. I have developed this farm purely on trial-and-error, applying native wisdom," says Mr. Deivendran. His "unscientific' innovations have impressed veterinarians so much that they have come to recommend them for others.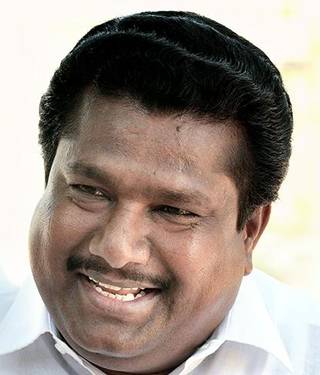 He has saved time and money by dispensing with the nose rope. "Cattle breeding becomes costly if the animals are handled by humans. Here, they enjoy an unfettered life. The nose rope is used only for bulls that are difficult to handle. Our workers touch the cows only for milking," he says. The cattle enjoy a luxurious bath twice a day, by standing in a row. Even pregnant cows are let out for bathing, which ensures hassle-free delivery. The animals swim through a 15-foot-deep canal and stop for a while to enjoy the shower at one end. The shower removes dirt from the face and head of the animal. Native practice of milking is adopted not to leave any residue that would cause discomfort and disease for the cow in the udder. Even the fodder is not wasted. Green fodder is shredded and placed in special containers that prevent spilling and wastage. Fresh coconut pulp is added to dry fodder, which gives the animals a sheen.
The scene is not different in the poultry and sheep farms. As a value added food, sheep eat popcorn made by roasting maize in hot sand. Chicks drink milk from plates. The birds are not cooped and they rest in the trees at night. "When cattle and birds have a free life, maintenance cost is low," he says. Mr. Deivendran has effectively addressed the water issue, which plagues farming. Out of the 10,000 saplings he planted in 2009, 8,000 trees now stand tall. The farm has adopted high density farming. This has brought down evaporation level. He uses drip system for irrigation by drawing water from nine rainwater harvesting ponds. "Not a drop of water is wasted here. Even waste water is filtered and recycled," says Mr. Deivendran. The farm provides free drinking water all round the year through a tap installed outside to residents of Pudu Tamaraipatti, says P. Manikandan, president, Madurai District (Wet and Dry) Farmers' Association.
Entry of chemicals is forbidden in this farm, where 25 species of trees are grown, and technology is passe. Only used materials such as casuarina poles, tin sheets and waste plastic are used all over. Free food is offered to all workers three times a day. According to Mr. Deivendran, farmers should scrupulously maintain profit-and-loss account, as a first step, to make farming a profitable venture. Pamayan, an expert in organic farming, is hopeful that this model can be adopted by any ordinary farmer or as a cooperative venture.
---
First published by The Hindu