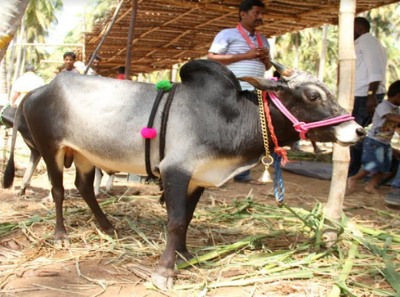 COIMBATORE: Two-feet tall, five years old and weighing about 50kg, the Thajavur Kuttai, a dwarf cow native to Thanjavur, stole the show on Saturday at the fourth edition of Kongu Naattu Kaalnadai Thiruvizha at Samathur near Pollachi. The proud owner T Deenadhayalan has eight such cows. "It grows to a maximum of 3 feet, is among the 300-odd left in TN and provides 1.5 litres milk a day," says the Pollachiresident.
A similar breed, Kerala Vechur, was brought by Manoj Prasannaof Andhiyur. More than 500 head of cattle, all native breeds, competed in various categories. Some rare breeds were Hallikar, native to Karnataka and brought from Mysuru.
B K Krishnaraj Vanavarayar, founder of Vanavarayar Foundation, who organised the event said, "This is a three-day event and is the result of a simple discussion at home on native breeds. We started it four years ago even before the jallikattu movement because we wanted to provide farmers an avenue to showcase their bulls. It is not only to create awareness on native breeds but also to revive them," he said.
For the competitions, the cows were divided based on their age and breed. Mailai, Kaari Sevalai, Kaari, Sevalai took part in the event and they were judged for their horns, hump, tails and appearance, keeping the breed standard in mind. For S P Kumarasamy of Arachalur, it was a proud moment when his Kangeyam Mailai won a prize. "I have nearly 10 at my farm. I brought five for the competition. What many people do not know is that it is only this breed that changes its colour thrice in its lifetime. When it is born it is brown and after it attains puberty it turns white. If it is sterilised, it becomes black and white."
Ram Mohan, a farmer of Vedasundhoor in Pollachi, said he lived with cattle. "But I sold them during the drought. I want my daughter to know about native breeds," he said.
Apart from cattle, native breeds of dogs, roosters and horses were also brought from across Tamil Nadu. Rekla races, native sweets and snacks were attractions.
First published by The Times of India
Read more on native cow species – Native cattle better suited to Climate Resilience