Linking failing health to hybrid seeds, Rahibai Soma Popere of Kombhalne village in Maharashtra conserves hundreds of native varieties and encourages other farmers to grow traditional crops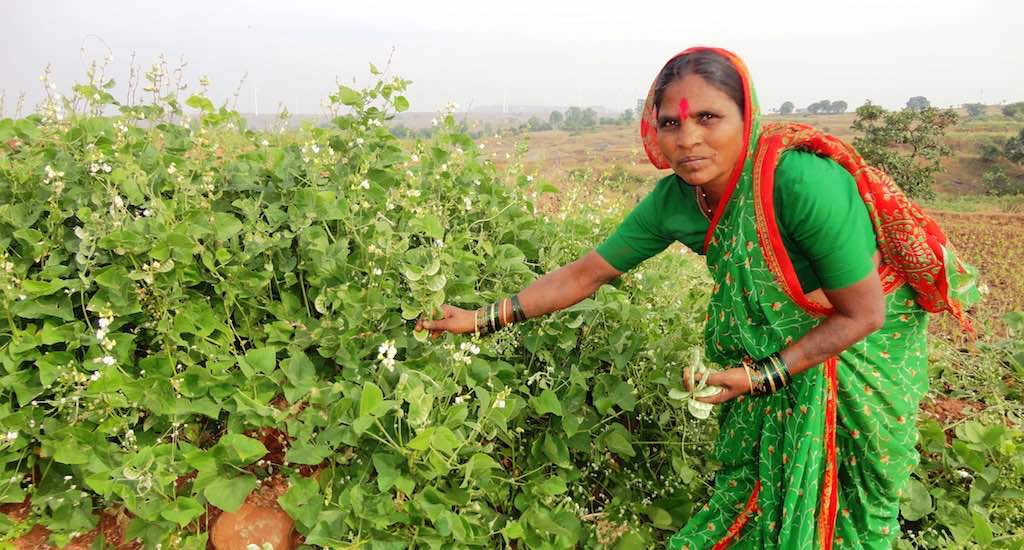 Rahibai in her field of native hyacinth bean that she has conserved. (Photo by MITTRA)
Five varieties of hyacinth beans conserved by her are being evaluated for morphological and yield traits at Mahatma Phule Krishi Vidyapeeth (MPKV) in Rahuri.
Moving forward
Having experienced the benefits of growing native crops, Rahibai wants more farmers to start farming the same. Towards this goal, a seed bank has been established. Community members manage the seed bank. Farmers are given seeds with the condition that they return twice the quantity of seeds they borrowed. This is proposed to be scaled in tiers at the village and block levels.
The seed bank distributes 122 varieties of 32 crops. Before the seed bank was established, farmers used to buy hybrid seeds, often on borrowed money. "If we use indigenous seeds and stop using chemical fertilizers, we can save almost Rs 5,000 a year," the farmers told VillageSquare.in.
Rahibai has applied for registration in Protection of Plant Varieties & Farmers' Rights Authority, India (PPV & FRA) under Farmers' Varieties. To promote the cause of conservation of landraces, she participates in programs such as the Indo-German Bilateral Co-operation in Seed Sector organized by PPV &FRA, besides local seed and agriculture fairs.
Rahibai wants to conserve and promote sustainable use of 250 varieties of different crops. To ensure nutritional security of tribal families, Rahibai plans to help 25,000 households establish kitchen gardens.
While Rahibai's efforts are making a visible impact at the district and state level, it is an immense contribution towards genetic diversity in the country's agricultural sector.
First published by Village Square
Read other articles on this subject Maharashtra's tribal farmers revive traditional crops, 'Seed Mother': The Woman Protecting India's indigenous crops
Watch a video on Rahibai's work.
Read about her in Marathi on  http://www.bytesofindia.com/Details/?NewsId=4959376736670856862