An exhibition in Srinagar, Concourse, showcased the work of artists based in the Valley and elsewhere.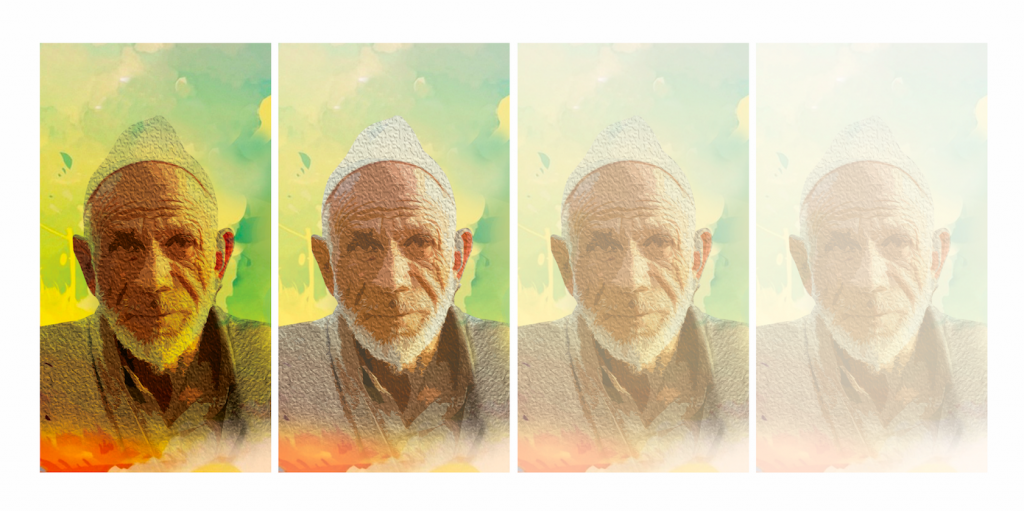 Srinagar: For the first time in 66 years, a diverse group of 60 prominent and upcoming Kashmiri Pandit and Muslim artists – half of them living outside Kashmir and the other half based in the Valley – came together to collaborate and showcase their art in an exhibition, Concourse. The exhibition was co-curated by Kashmiri artists Veer Munshi and Syed Mujtaba Rizvi, at the historic Old Silk Factory in Srinagar. The unique exhibition aimed at promoting the ideas of harmony and togetherness through the medium of art.
The organisers believe the exhibition will help connect Kashmiri art practitioners residing in other places with those living in the Valley, as well as acclaimed artists with emerging artists, senior artists with artists in training, and curators with art critics. Some prominent Kashmiri Pandit artists, who had migrated from the Valley during the turmoil of the 1990s, and also those who had left earlier to pursue their art and couldn't return, brought and showcased their new artworks specifically made for this exhibition. Their works were displayed alongside works of their contemporaries and emerging artists based in the Valley.
"The exhibition in its totality seeks to connect the Kashmiri public with the multi-talented art professionals who form the developing Kashmiri contemporary art community from within Kashmir and elsewhere," says Rizvi. "Such exhibits familiarise Kashmiris as well as people beyond Kashmir with the work of all artists participating in the exhibition, and it also helps bring Kashmiri contemporary art to the forefront in order to form new platforms and initiate new conversations and dialogues."
The history of Kashmir, and with its less explored relation to Central Asia, also reifies the motivation behind Concourse, say the organising artists. "In particular, the geographic and regional location of Kashmir in symbolic terms has always been one of influx, particularly in the valley where people from a great number of places came to rest and many times settle here," the organisers noted in a press release about the exhibition. "Thus Concourse, as an exhibition, emulates this greater history to bring together artists from multiple places in direct interaction and dialogue with artists from the valley, and in such a manner than the diversity within the exhibition is a microcosm of the diversity found within Kashmir itself."
Delhi-based Kashmiri artist Ashutosh Sapru, whose work 'self realization' is on display at the exhibition, says his artwork provides a peek into one's inner self. He used stone pebbles, wood, metal and glass mirror material to create this piece. "We often use the phrase 'to show the mirror' to convey truth and reality. Human body has energy and if we realise that energy and use it in the right direction, it can do wonders," Sapru explains his artwork. "The red triangular piece depicts our energy and its reflection in the mirror becomes a perfect square and the three steel rods hanging from the red triage wood play lovely music when one strikes them. That is the music of life which balances us."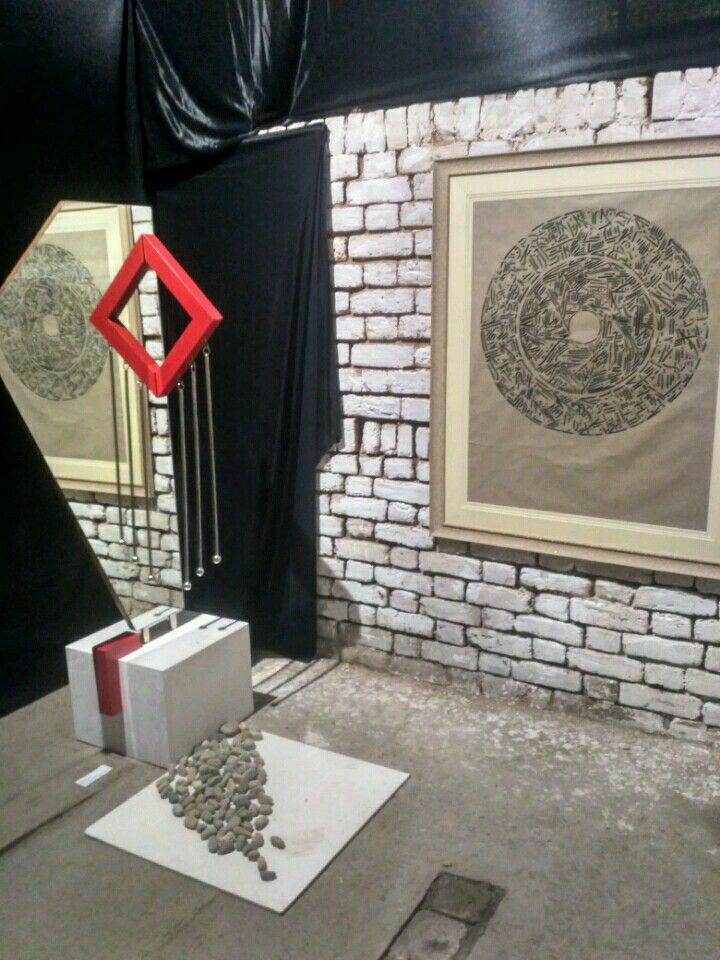 Neeraj Bakhshi, another Kashmir Pandit artist based in Delhi, originally hailing from southern Kashmir's Anantnag district, also has his work on display in the art show. With more than 20 solo shows to his credit, Bakshi mostly dabbles in watercolours, painting landscapes, touching on the themes of home and displacement. One of his paintings on display shows hundreds of ants who are entangled like human beings and have nowhere to escape; another watercolour painting is titled 'visitations', which he says presents a grim picture of the suffering of people caught up in conflicts all over the world. "I attended this show for the first time and I was happy to see many young fine arts college students here visiting us. They are very keen to learn more about our art and craft," he says. "They are talented and such shows also help them to get to know and connect with senior artists and learn from other experienced artists who are not based in Kashmir."
Chushool Mahaldar, another 55-year-old Kashmiri Pandit artist who has lived outside Kashmir for the past 30 years, has two pieces of art on display. He says he tries to be happy outside Kashmir, with a good job and a house of his own. "But the reality is that the thought that I am not in my homeland is painful to live with," says Mahaldar, whose artwork 'struggling smile' is on display at the show. "I get a feeling that I am stuck in wires and the pain is unbearable. It was a surprise to me when many people who saw this work on display could relate to this depiction and expressed that they too are going through the same pain."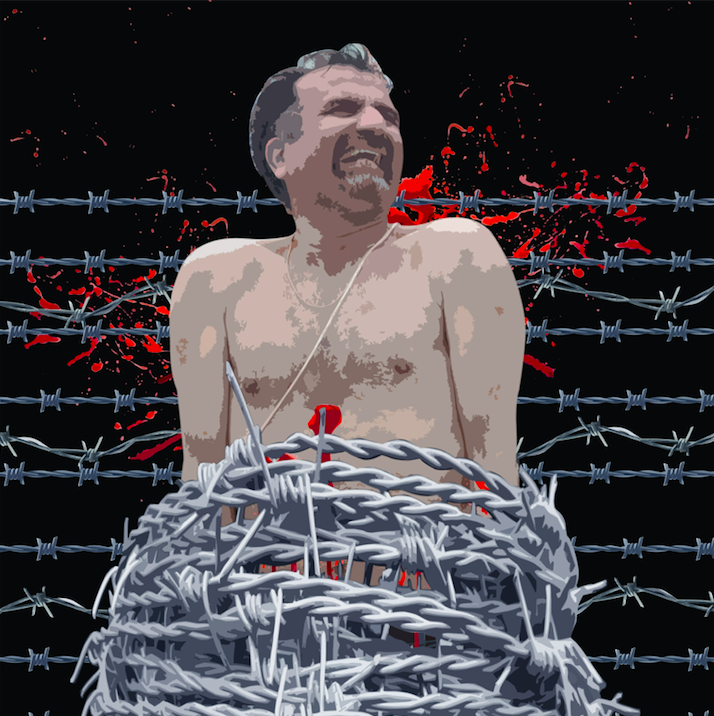 His other painting on display, titled 'fading memories, was recently created by him after a nostalgic conversation with a fellow artist outside the Valley, who was studying with him in Kashmir in the early 80s. "I told her that everything seems to be fine with me here but I am missing those moments, that love, humanity and freedom when we were all together living happily in the Valley," he says. "Her words forced me to think and I made this work. She said that even people living in Kashmir miss those days. So the 'fading memories' artwork shows the story of the people who suffer equally whether living in Kashmir or outside."
Another Kashmiri Pandit artist, Rajinder Tikoo, whose artwork made with wood, texted paper, paint and thread titled 'The Relic Rises' attracted a lot of visitors, says the work is indicative of his hopes for good times to come. "Through almost 38 years of my practice as a working sculptor and an academician in the field of visual arts, my work has always been Kashmir-centric," says Tikoo, who was born, brought up and educated in Kashmir, and is presently based in Jammu. "This artwork combines the elements of our traditional shrines."
He says the elements of enshrined cutting tools and black (dark) treatment to his artwork on display indicates their present-day utility. "The utility is to severe what we had all through held so much in respect and reverence," explains Tikoo, who has been the recipient of the J&K state sculpture award twice. "And a hanging with a graceful sienna treatment in the foreground of a subdued gold background and rising above the lateral elements is symbolic of reassurance in the instruments of our cherished faith as a people."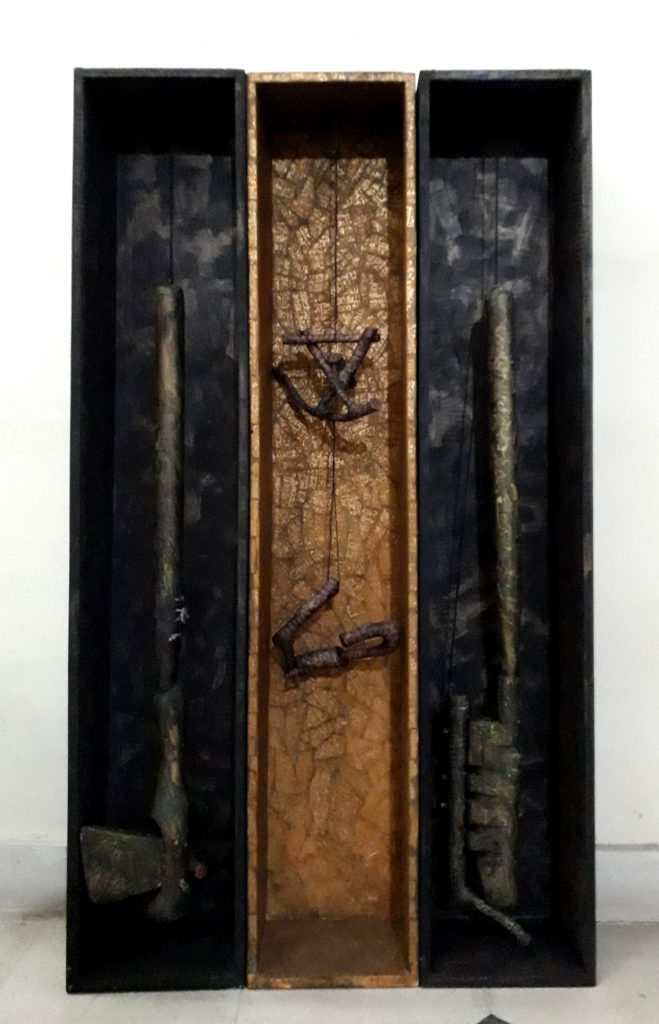 Tikoo says he has been working over the past few decades to preserve the relics and age-old traditions of Kashmir through his artwork. "I've been making efforts to represent our rich cultural heritage through an idiom which could have a lasting impact rather than be of mere news value," he says. "Kashmir is more than just homeland for us. This is where our hearts reside."
First published by The Wire