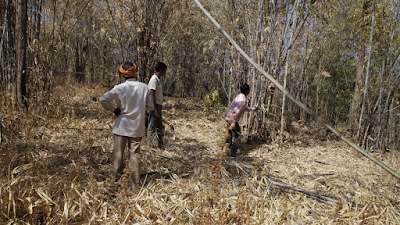 Even as the country is emerging from a total lockdown to reconcile with 'Unlock 1.0', the people in Rahu, a village cluster in the northern fringes of the Melghat Tiger Reserve in Maharashtra's Amravati district, are planning their bamboo harvests and distributing profits from last season's sales. Here, the community looks after 4500 hectare of forest land, and the summer months of April and May comprise the peak season for forest harvests.
In 2016, Rahu's community forest rights (CFR) claims over 1300 hectares of forests was legally recognised as per the Forest Rights Act 2006 (FRA), and in conjunction with the Panchayat Extension to Scheduled Areas (PESA) 1996, the community forests cover 4500 hectares of forests. For the last 4 years, villagers have also been engaged in marketing their Minor Forest Produce of bamboo and tendu collectively through their village Gram Sabha, which has become a sustained source of livelihood for the villagers.
Using Scientific & Sustainable Methods of Agriculture
While bamboo harvest season begins in January, and lasts 4-5 months, tendu season begins in May and lasts for almost 4 weeks. Rahu is the only village in the two blocks of Melghat that has also been harvesting bamboo. Almost all villagers and the needy from neighbouring villages participate in the harvest of bamboo, and this activity provides employment to hundreds in the area.
The villagers use scientific and sustainable methods, leaving a margin at the base while cutting and only cutting bamboo that can yield more than eight stems. The Gram Sabha of Rahu also issues a 'transit permit' for transportation of its minor forest produce and now acts as a leader for other gram sabhas in the surrounding areas of how communities could exercise their rights.
In the last four years, Rahu village has earned almost over Rs 3 crores from bamboo harvests and about 10 lakhs from tendu.
Around 50 percent of this income from bamboo harvesting goes into wages, transportation and harvesting operations, while some of the remaining amount is used for village welfare and development, and a large portion is used for the management costs of the next seasons. The gram sabha also responds creatively to people's needs.
A few years ago, the villagers decided to reduce the drudgery of women who labour while filling water, and thus, used the funds to install tap water connections for all households. Another year, they got handy solar lights to deal with the erratic electricity supplies and to take to the farm for night vigils. The gram sabha, recently recognising that a lot of money was going into alcohol, has brought about a complete ban on the brewing of liquor in the village.
How This Gram Sabha Ensures Accountability
Although in 2015 the gram sabha had zero funds when they started harvesting bamboo, by means of collective motivation, hard work, sound technical knowledge, wisdom and transparency, they managed to make profits in the first year itself. Since then, nothing has stopped their journey, rather, they have become more responsible. As per the FRA, the gram sabha is responsible for creating a CFR management committee, which is the institutional mechanism responsible for generating and carrying out a conservation, management and harvesting plan, and monitoring the gram sabha fund. In Rahu, a team of around 10 people have taken on this special responsibility at the time of harvests. Furthermore, they also lead forest patrols (to protect against forest fires and illegal forest theft) during the day, and if required, also during the night.
To ensure accountability, the gram sabha has adopted good book-keeping practices, carried out by a team of young people, both men and women. Also, most payments are done through banks, and audits are carried out regularly.
An indicator of financial stability is the reduced amount of outmigration from the village as there are employment opportunities available in the village to do with harvesting of forest produce. Furthermore, there are plans to work on processing of forest produce such as skilling people in the village to make crafts of bamboo or even marketing lac.
Even Amid Crisis, Forest Rights Allow Communities to Become 'Atmanirbhar'
This year marks the fifth year of MFP management, and it was initiated with a grand decision by the gram sabha to share profits made through the management of Minor Forest Produce with all villagers, while keeping funds for the future harvest. However, the decision did not end there. It was also resolved that this fund – of Rs 10,000 each to 175 households – would be deposited in the bank account of all the women of the household, and only in extremely exceptional cases would the funds be transferred to the men of the households. This resulted in transfer of funds to almost 95 percent of the women in the village with few exceptions of lapsed accounts or families with no adult female members.
With legal recognition of community forest rights, Rahu is an example of how in times of crisis forest rights allow communities to move forward in self-sustenance while protecting and conserving their forests, their livelihoods and empowering their own governance systems.