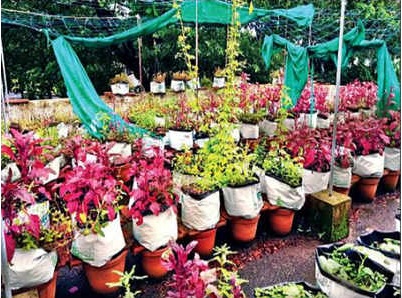 KOCHI: Though the concept of terrace or vegetable gardens had caught on like wildfire among city residents over the past few years, it has now started to earn them profits.
They have begun to find regular buyers not just among neighbours but local vendors too.
Residents in flats have started sharing their produce regularly forming WhatApp groups and displaying pictures to attract buyers.
"We have started the garden on the suggestion of a resident in our building. I and my friend Jaishree Jaikrishan have been doing it for the past five years," said Beena Ravindran, who cultivates and sells organic vegetables from the 20th floor of her apartment building.
The partners grow vegetables such as ladies finger, green chili, brinjal, drumstick and seasonally tomatoes. They sell the same on a WhatsApp group of the residents of the building. "We charge slightly higher prices than the market as all the vegetables we grow are 100 percent organic. All the revenue from selling goes into maintaining the garden," she said.
"We cultivate vegetables completely by ourselves, other than cleaning and mixing the soil for which we hire help," she added. She also said that gardening was easier on the 20th floor, where they utilize the common space for the garden, as there is less pest problems and plants receive direct sunlight.
"We use items like curd, lime and garlic to ensure that its completely organic. This makes the process expensive and we cannot do it on a largescale, but it does benefit the people living here."
Prince S from Thuthiyoor, a biotechnician, has been supplying organic vegetables to a nearby market for some years and is utilizing his terrace for cultivation more than the ground to avoid the loss caused by snails.
"Spinach is grown throughout the year in my 400 sq ft terrace on a lowbudget. Plantains are also grown but now I'm focusing more on the cultivation of mushrooms with the help of 'Atma' unit of 'Krishibhavan', which has funded Rs 20,000 for terrace farming," he said.
For Smitha Madhu from Kakkanad, an engineer, gardening of organic fruits and vegetables is a passion driven by the thought of providing safe vegetables to her children.
"Vegetables such as ladies finger, bitter gourd, spinach, chilli and peas are grown along with fruits such as guava, pomegranate, mulberry, hog plum (ambazham), Israelian orange and passion fruit," said Smitha.
Ambika Mohandas, an artist from Padamugal, started terrace gardening in 2006 and has used innovative ways to produce organic food. She reuses disposed material such as rubber tyres, tanks, compost pits, sacks and old plastic buckets for her gardening. She was selected the best female farmer in Thrikkakara municipality in 2014.
"I use only organic manure for plants such as lime, cow dung, trichoderma and groundnut fodder as prevention is better than cure. Waterlogging was an issue faced in terrace gardening, but now since I have painted the terrace floor with a water-proof elastomeric coating, this problem has been solved," said Ambika. Different types of vegetables, fruits and flowers are grown here. Every three months, she changes the varieties based on season.
---
First published on The Times of India