Sikkim allows people to forge fraternal ties with trees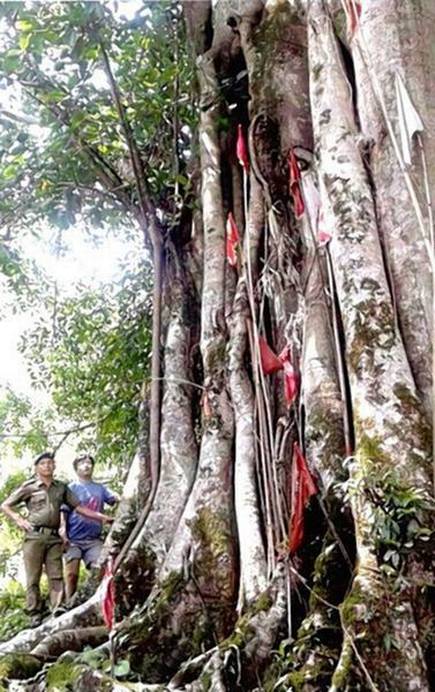 A forest mahagony, Indian almond and clustered sapphire berry, interwined by a rubber plant, in east Sikkim.  
Government notification also allows a person to adopt or preserve them in remembrance of a departed relative
Sikkim, one of the cleanest and greenest north-eastern States is keen to not just preserve its forest cover but also forge amity between people and trees.
Recently the Government of Sikkim came up with a unique way of preserving trees by encouraging people to forge a relationship of brotherhood or sisterhood with trees through a practice locally known as Mith/Mit or Mitini.
A recent notification by the Forests, Environment & Wildlife Management Department, Government of Sikkim titled Sikkim Forest Tree (Amity & Reverence) Rules 2017 states that the "State government shall allow any person to associate with trees standing on his or her private land or on any public land by entering into a Mith/Mit or Mitini relationship."
'Own child'
The notification also states that a person can also adopt a tree "as if it was his or her own child in which case the tree shall be called an adopted tree."
A third way to forge a relationship with a tree is by "preserving a tree in remembrance of a departed relative in which case the tree shall be called a smriti tree."
In case an individual wants to forge a relationship with a tree which does not stand on his or her land but another's, the person concerned shall execute an agreement with the owner and compensate him or her in terms of the market value of the timber or the wood contained in the tree.
In the second scenario if the person desires to enter into a relationship with a tree located on public land then permission from the said department or agency needs to be taken.
Specific forms
For every clause, the Sikkim Forest Department has issued specific forms which a person will have to fill up and submit to the forest authorities.
The notification states that after verification the Assistant Conservator of Forests will register the tree in the name of the person concerned.
Thomas Chandy, Principal Secretary and Principal Chief Conservator of Forests, told The Hindu that the idea behind the notification came from Chief Minister Pawan Kumar Chamling. He said the notification is in consonance with the age-old tradition of promoting amity between man and nature, particularly trees.
"Soon after the notification the State went for panchayat polls. We will take up the issue in a major way at the upcoming Paryavaran Mahotsav organised by the Sikkim government," Mr. Chandy said.
As per the Forest Survey of India, 2015 the forest cover of Sikkim is 47.80 % of the State's total geographical area. Over the past few years the State government has also started an initiative of identifying heritage trees where 21 trees of 25-ft. girth and above and 32 trees of 20-25 ft. girth have been demarcated as heritage trees.
The Sikkim Forest Tree (Amity & Reverence) Rules also prohibit felling or damage to any tree registered as Mith/Mit or Mitini, adopted or smriti and points out that any such violation shall be treated as a forest offence.
First published by The Hindu
More information including a glimpse of the process and the certificate declaring a tree as family.