Khamir presents Desi Oon, an exhibition that celebrates the indigenous wool of Kutch, at Bikaner House, New Delhi from January 10-13, 2020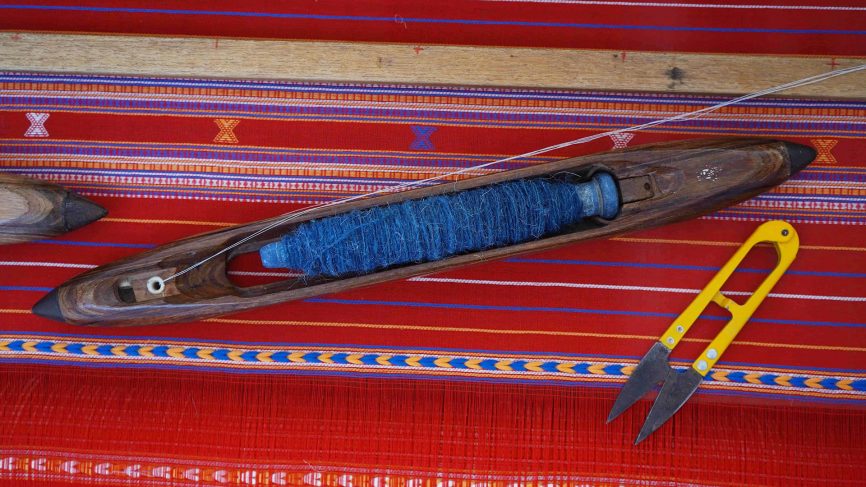 Bikaner House will be the Mecca for indigenous wool of Kutch under the aegis of Khami—a platform for preserving and facilitating the crafts, heritage, and cultural ecology of Kutch, Gujarat. Khamir was instituted post the 2001 earthquake with the objective of engagement and development of Kutch's rich creative industries. With 6,000 years of textile history to boast of, India's production of beautiful fabrics echo rural rhythms and nomadic instincts.
Weft and Weave
The title Desi Oon, Khamir makes us think of woven looms, villages decked with rows of dyed fabrics hanging from ropes, strung across sunny courtyards, drying under the hot sun. In the videos playing at Bikaner House you can watch women winding threads around bobbins. In ancient Hindu myths and legends, Kutch is referred to as "a desert with few and wild people".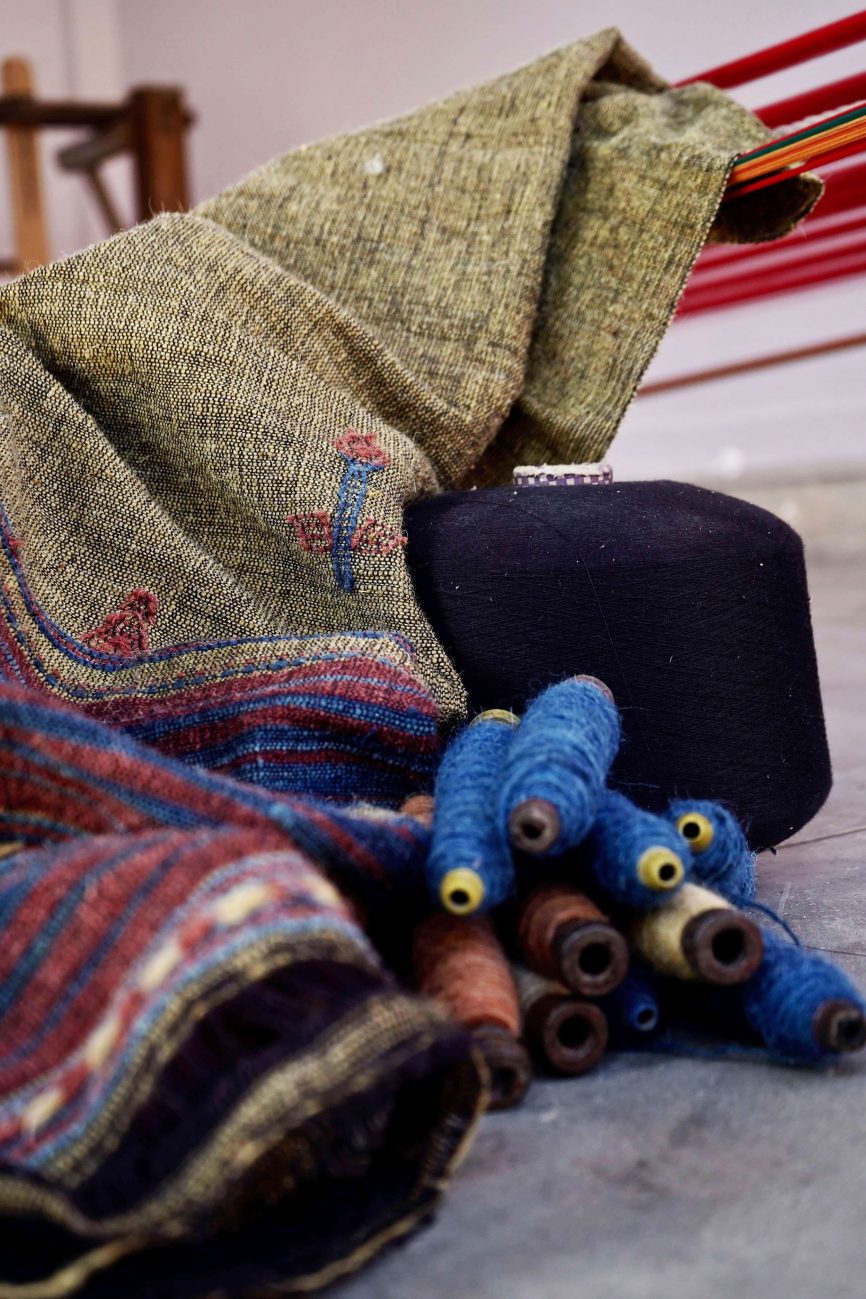 Woollen shawl with yarn bobbins
Artisans and Herders
Desi Oon, Khamir becomes an odyssey that delves deep into sheep pastoralism, and seeks to familiarise people with the local craft of spinning, weaving and dyeing wool. The show allows patrons to interact with some of Kutch's most respected artisans and herders, and learn about the intricacies of wool craft and herding. Khamir has collaborated with weavers, spinners, dyers, felters and designers to organise this exhibition, a first step in drawing the spotlight towards the utility of indigenous wool.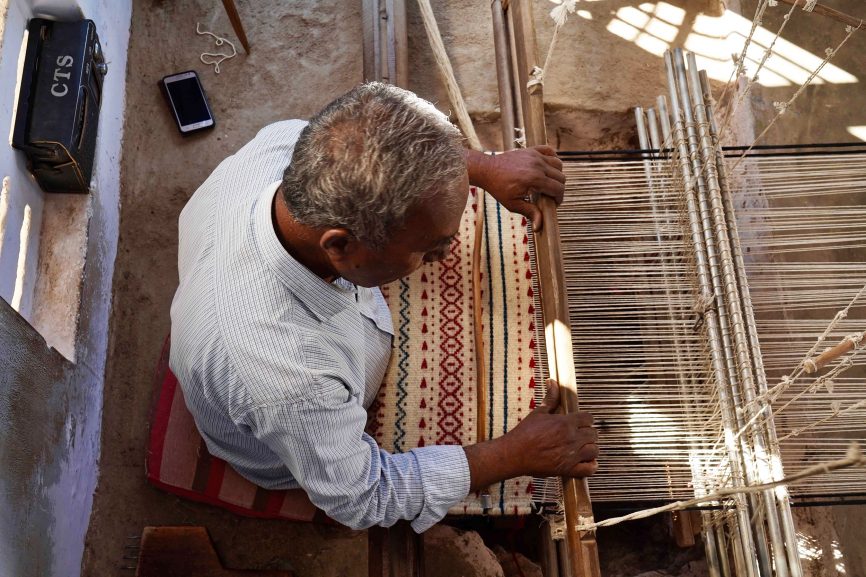 Virjibhai, an award winning carpet weaver working on his loom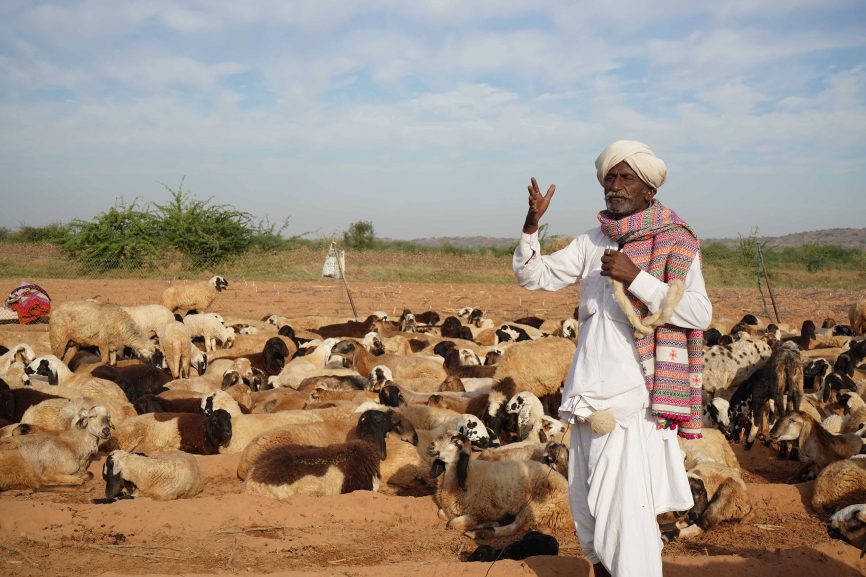 Jagabhai Rabari, a sheep herder from Mota Varnora village
Rugs and Dhurries
Folk and nomadic prints come alive in the woven rugs and dhurries. The darker and deepened hues of maroon, grey, charcoal and slate have a story to tell. Here are tales of everyday earnings—of an idiom that must find sustenance in its toil of honest earthy instincts that spring forth like earth songs that have lived through time and tide.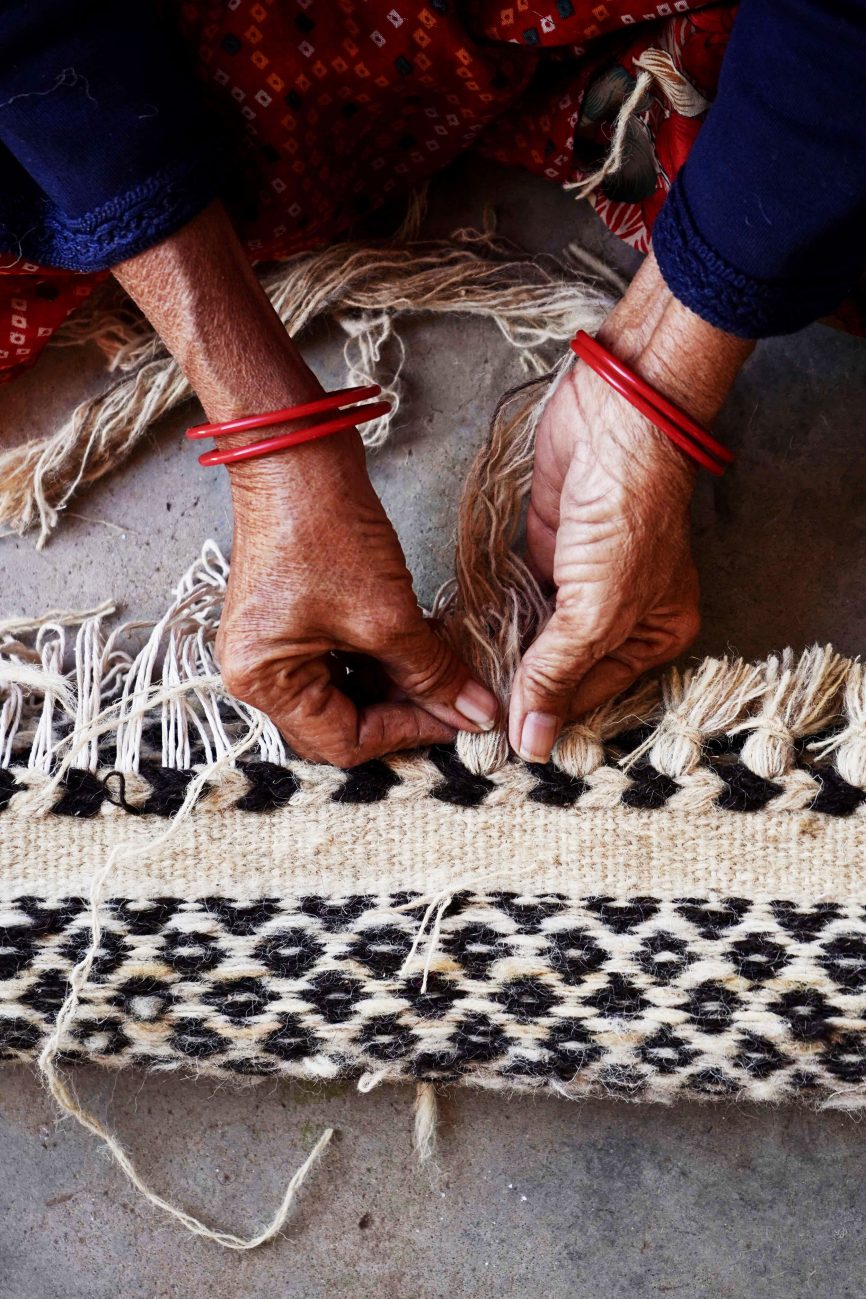 Making of a wool carpet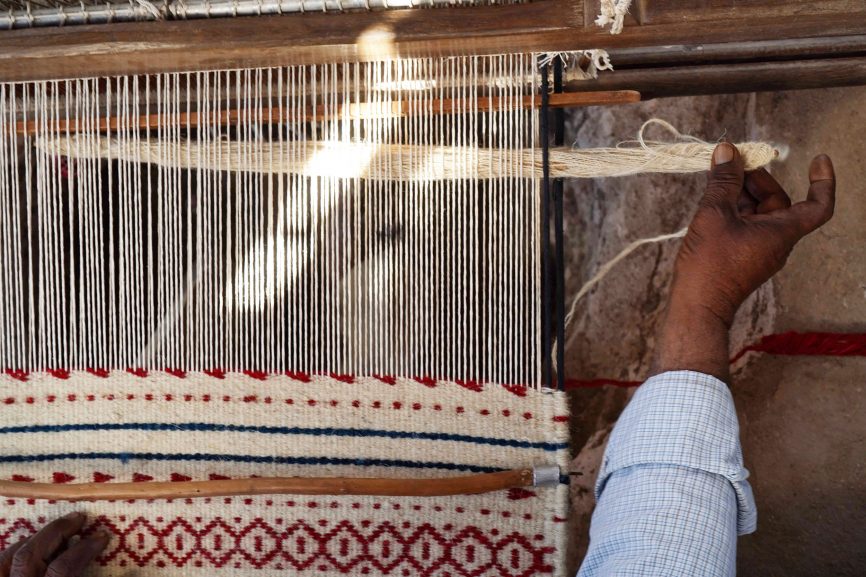 Weaving panja dhurri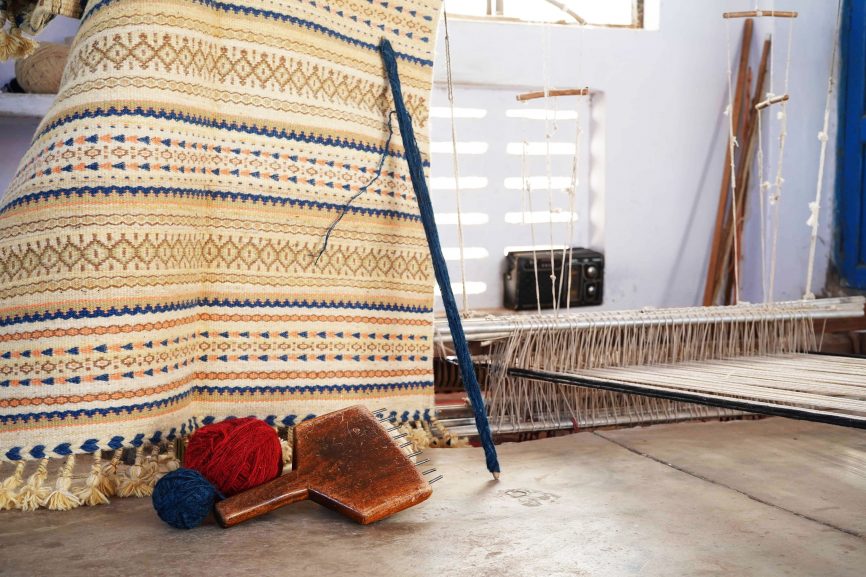 A panja dhurri product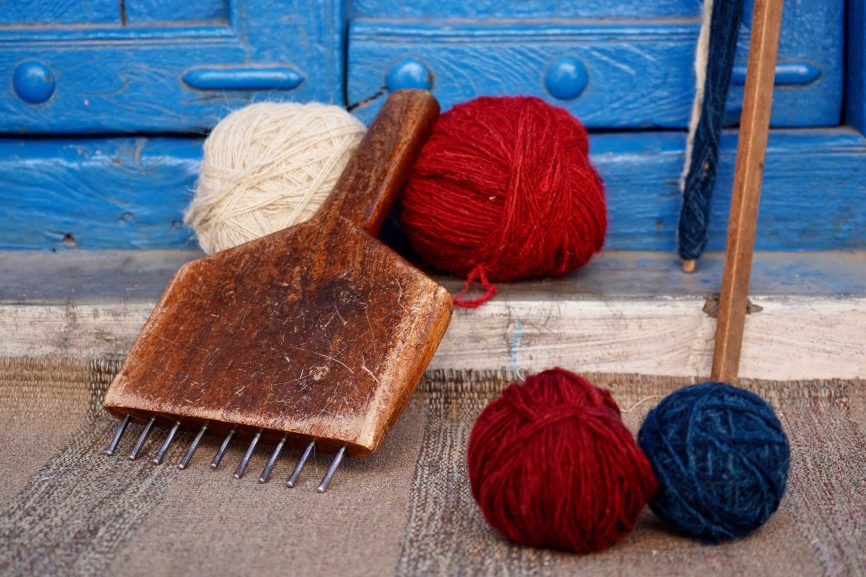 Sheep wool yarn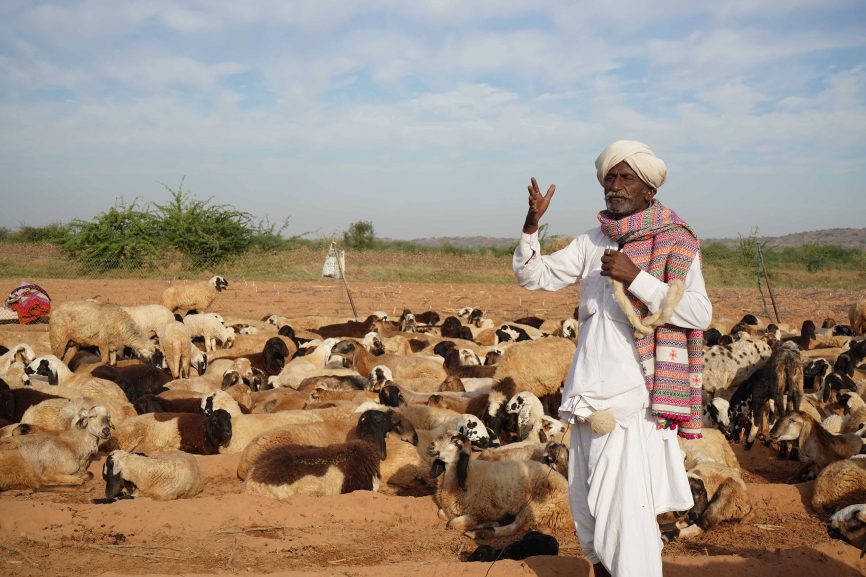 Workshops and Demonstrations
Khamir will also hold daily craft workshops, the participation registration for which will be on a first-come-first-serve basis for a subsidised fee. Workshops will be conducted on Desi Retiya (charkha) and there will be a Takli/Dhera (spindle) spinning demo. Besides, a Felting demo and workshop, and a Kutchi embroidery workshop with wool has also been planned. These will be complemented by demonstrations of Tangaliya weaving and Tabariya bag-craft.
Craft Value Chains
The exhibition will focus on the integrity of craft value chains which are dependent on local availability of raw materials. Sheep herding systems are of special importance for wool craft; such systems are also special because of their low carbon footprints. Patrons can witness the works of local artisan weavers and felters alongside Khamir-initiated designer collections. The exhibition will be inaugurated by a group of eminent civil society members, artisans and herders from regions across India. Designers Archana Shah of Bandhej and Amit and Richard of Amrich Designs will also be presenting their collections. All these will be limited edition collections that will be presented for market reaction. The wool for Desi Oon has been developed from indigenous Kutchi sheep yarn, and has been painstakingly procured from eight herders.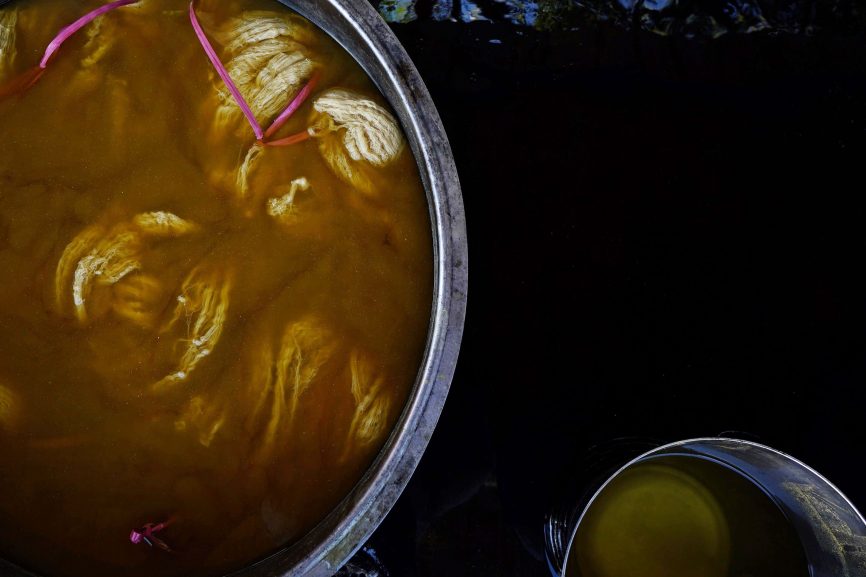 Pre-processing of yarn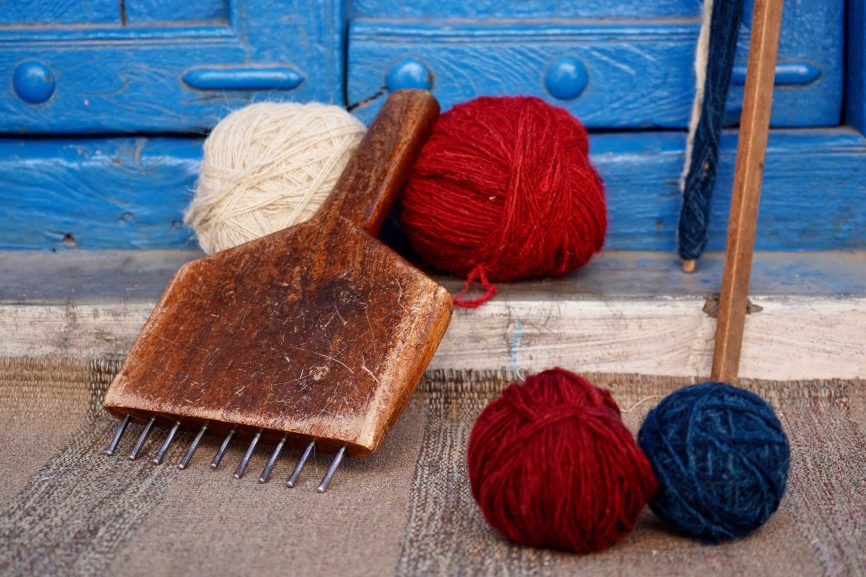 Sheep wool yarn
Textiles and Textures
Timeless textiles and eye-catching swatches of wool will make Bikaner House a special destination—added to this the experience of observing artisans at work. This exhibition will present a window to an ancient culture and help us find new relevance and immense pride in them. The raw beauty of Khamir's Kutch endeavour is worth preserving and supporting.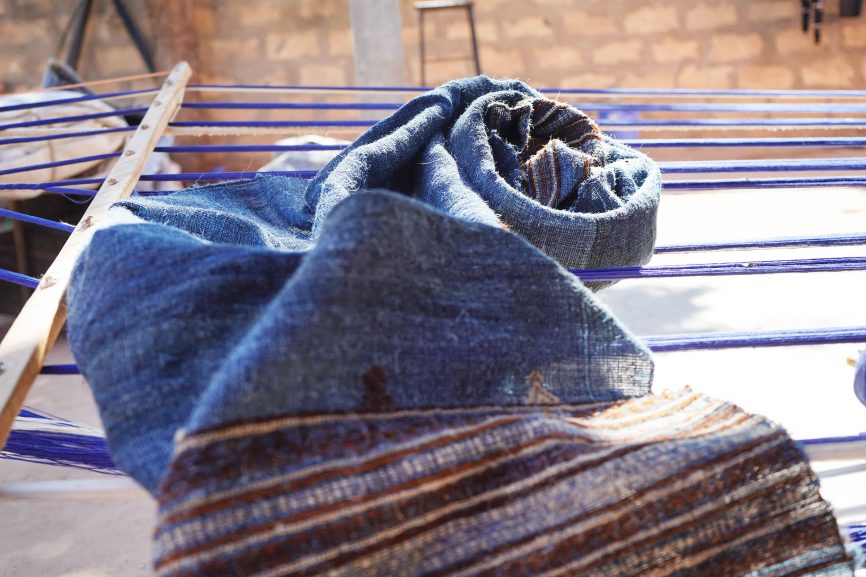 Desi Oon presented by Khamir, runs at Bikaner House, Delhi from January 10-13, 2020
First published by Architectural Digest on 10 Jan. 2020