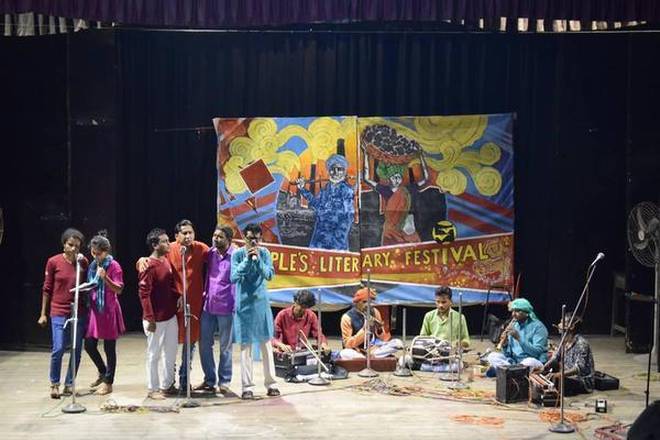 People's Literary Festival, held in Kolkata last month, means to grow into an alternative to regular lit fests
Sukanta Mancha, the auditorium off Phool Bagan crossing in north Kolkata named after the socialist poet Sukanta Bhattacharya, is largely nondescript and decrepit, and stands empty and lonely on most days. But on March 24 and 25 this year, it came to life as it played host to an event that was very different from those held in its better-known counterparts in the city like Kala Mandir or Gyan Manch.
Critical function
For two days, it became a space where marginalised literary voices were able to challenge the monolithic cultural narrative propagated by glamorous state and corporate-sponsored literary festivals. The idea behind the People's Literary Festival (PLF), said the organisers, was to "orient literature to its critical social function" and "to listen to and engage with dissenting voices".
The germ of the festival was planted early last year, when a group of student-activists interrupted a panel at the Tata Steel Kolkata Literary Festival, which had among its speakers the former president of the Jawaharlal Nehru Students' Union, Kanhaiya Kumar.
How could Kumar, they asked, be a member of the student's wing of the Communist Party of India and speak at such an event when it was barely a decade since a dozen adivasis were killed in Kalinganagar in Odisha for protesting against land acquisition by Tata Steel for a project?
The students belonged to the Bastar Solidarity Network (BSN), which had been formed to fill in information gaps and raise awareness about human rights violations in Bastar, as Jhelum Roy, one of its members, said. And their intervention that evening sparked a debate on the nature of corporate-funded cultural events.
According to Roy, popular and large lit fests "appropriate" the literature of the masses on the one hand, and on the other, "whitewash the histories of oppression in the heartlands of India… in areas like Bastar, Niyamgiri and Kalinganagar." While organising awareness campaigns, members of BSN realised the need for an alternative space where the marginalised can voice their opinions and share their culture. The result was this inaugural edition of People's Literary Festival, which was organised by the Kolkata chapter of BSN.
To differentiate itself from other festivals, PLF was entirely crowd-funded and, according to the organisers, free from "the diktats of any form of corporate or government sponsorship or funding."
The festival began with writer and activist Rinchin discussing the politics of children's literature with poet Vishu Rita Krocha and theatre activist Ankur. They concluded that pedagogy too is a function of the political. Rinchin noted that we do not "like it when the powerless start speaking back to us, especially when it becomes uncomfortable" and that we should encourage children to question instead of insisting on absolute obedience.
Another panel, which had among its speakers feminist-Ambedkarite poet Chhaya Koregaonkar, poet-activist Jacinta Kerketta, and poet Chandramohan S., explored what it means to forge verses in turbulent times. Chandramohan spoke about how mainstream literary events are complicit in the silencing of the marginalised.
Spirit of bonhomie
Poet and Telangana activist Skybaaba and author and academic Ghazala Jamil spoke about the plight of Muslims in India. Rebel-poet Varavara Rao said, "Most Muslims are forced to be apologists, given the communal atmosphere the nation has been gripped by."
Gender and sexual marginalisation was discussed by the doctor, poet and editor of Panikkudam, the first Tamil feminist magazine, Kutti Revathi, and poet-academic Haripriya Soibam.
Sahitya Akademi award-winning author Hansda Sowvendra Shekhar read out to the audience the excerpt from his book The Adivasi Will Not Dance that had caused a furore for being sexually explicit and had led to its temporary ban by the Jharkhand government for portraying Santal women in a "bad light."
The fight for Gorkhaland was given a platform through the screening of some of the works of Raja Puniani, a performer-poet from Darjeeling. There were also performances by a collective of activist-musicians from Chhattisgarh called Relaa.
Unfortunately, the audience must have been only about a hundred strong, mostly students, activists and academics. I noticed also a smattering of members from trade and peasants' unions, but the organisers pointed out that they were there on an individual capacity and not as representativesof their institutions. With time running short, the sessions did not invite questions from the audience, but I did see members of the crowd chatting animatedly with panellists about the issues discussed on stage, and about their works.
The atmosphere at the event was, of course, politically charged, but at the same time there was a sense of bonhomie. While in regular lit fests there is usually a bit of a distance between speakers and audience, here each segment flowed into the other.
The spirit of camaraderie had built up so much in those two days that, as Roy said, "a writer from Telengana left his poems for a writer from Nadia district in Bengal as a mark of solidarity."
It would appear that the event was successful insofar as it broke the mould of traditional lit fests and became truly independent of both corporate sponsorship and publishing house heft. Its aim was to create a dialogue among writers from various political standpoints and movements, and this also it did. The beginning seems to have been more political than literary, but as we well know, the literary is the political.
First published by The Hindu