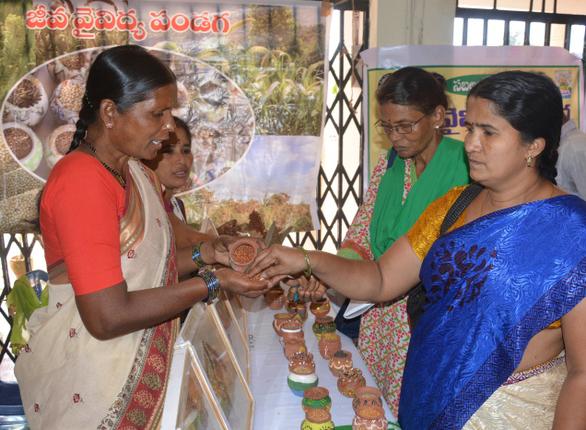 Millet farming might not be considered lucrative, but when one talks to P. Narasamma of Metlakunta in Nalkol mandal of Medak District, one of the many women millet farmers of the village, its revealed how satisfying the millet farming is.
The millet farmers are also continuing with the organic farming method followed by their forefathers. They are also able to convert a large number of farmers raising paddy and sugarcane to switch over to organic farming in their area.
No water for paddy
"We don't have borewells and so can't go for paddy or sugarcane. The millets can be raised with little water or no water. Some just prosper like that. We are not worried if the yield is low because what we spend on inputs is also low. We prepare our own seeds, use only organic manure and pesticides made at our homes with animal droppings, etc. Our products get at least Rs.10 more per kilo and we make profit and are happy", says Ms. Narasamma.
She is here in connection with the Jeeva Vaividhya Jaatara (biodiversity festival) organised by the Andhra University's Dr. Durgabai Deshmukh Centre for Women's Studies and NGOs Sabala and Sarada Valley Development Society, and explained in short the millet crop and how satisfied the farmers are.
Initially 20 farmers were raising millets and that number has gone up to 70 now and they produce various varieties of millets. Ms. Narasamma brought a few dozens of millets for display at the exhibition.
The millet farmer says the farmers in the village had even trained volunteers of Deccan Development Society telling them to just watch what they do on the field.
She feels that the Government must make all farmers grow all varieties of millets and is trying to meet Telangana Chief Minister K. Chandrasekhara Rao to discuss the issue and hold a meeting.
She wants to ask Prime Minister Narendra Modi to provide a cow or buffalo to each household so that organic manure and pesticides can also be prepared. She and other farmers managed to gather three lakh signatures at the behest of Congress leader Sonia Gandhi, when UPA was in power, to provide millets in the ration quota under the public distribution system since the millets help people keep good health. But by that time Ms. Sonia's party was defeated, she recounted.
---
First published by The Hindu