3 August 2020
To: The Editor, Business Standard
(with kind attn also: Press Council of India, Advertising Standards Council of India)
Re: The atrociously malicious and untruthful Advertorial published in the Business Standard on 29/7/2020
We were shocked to see the full page advertorial published in your newspaper on 29/7/2020 (page 11) sponsored by the Crop Care Federation of India (CCFI). We would like to collectively protest both its contents and the fact that BS allowed its platform to be used in this manner.
The advertorial contains shameless untruths, twisted logic, and is devoid of ethics; it is a form of verbal violence that should not find any space in any public forum, let alone a newspaper that prides itself in having high ethical and moral standards.
We have seen a history of such public attacks by industrial interests whose unethical practices are exposed by activists and researchers, e.g. in the case of smoking when the tobacco industry tried its best to mislead the public (and increasingly failed). The pesticide industry is on a back foot across the world, for justifiable reasons, as evidence of the negative impacts of its toxic products on human, animal, and environmental health mounts, and as farmers and organisations show how organic agriculture can be productive, sustainable, safe and healthy.
Each of the individuals that have been maligned, with vicious untruths, are known for their commitment to the cause of farmers' livelihoods and safe food, and to the environment and planet. Also, the bogey of 'foreign funding' displays poor logic (apart from malicious intent), especially considering that the ideology of chemical farming itself has come from the west, that the pesticide industry has itself been a beneficiary of foreign funding, and that the Indian state also gets foreign aid as also enthusiastically welcomes foreign investments.
As members of the Vikalp Sangam Core Group, consisting of over 50 civil society organisations, movements and networks that are committed to ecological sustainability, social justice, and economic democracy, we stand with the individuals and groups that have been unjustly attacked by CCFI. We have known many of them in their capacity as participants in civil society initiatives, as members of many committees of the government of India and state govts on the issue of promoting sustainable agriculture, and/or as scientists doing dedicated work.
We are aware that BS has published a clarification on 30/7/2020, dissociating itself from the contents of the advertorial. However, this clarification needs to be put out as prominently as the advertorial. It should also be given prominently online, if not already done.
We urge that full space be given to the individuals who have been attacked by CCFI, to respond. In fact BS should invite them to do so, and offer at least a full page for such responses along with your retraction; and further, provide space for articles demonstrating the viability and necessity of organic farming and chemical-free food.
We also hope that this will serve as an important lesson on the responsibility of newspapers like BS with regard to what kind of advertisements and advertorials are accepted for publication, using the highest ethical standards.
Thanking you,
( signed by Ashish Kothari, [email protected])
On behalf of the underlisted organizational members of the Vikalp Sangam Core Group (listed alphabetically). The Vikalp Sangam process is a platform to bring together movements, groups and individuals working on just, equitable and sustainable pathways to human and ecological well-being. It rejects the current model of development and the structures of inequality and injustice underlying it, and searches for alternatives in practice and vision. About 60 movements and organisations around the country are involved. For more information, pl. see /about/
ACCORD (Tamil Nadu)
Alliance for Sustainable and Holistic Agriculture (national)
Alternative Law Forum (Bengaluru)
Ashoka Trust for Research in Ecology and the Environment (Bengaluru)
BHASHA (Gujarat)
Bhoomi College (Bengaluru)
Blue Ribbon Movement (Mumbai)
Centre for Education and Documentation (Mumbai)
Centre for Environment Education (Gujarat)
Centre for Equity Studies (Delhi)
CGNetSwara (Chhattisgarh)
Chalakudypuzha Samrakshana Samithi / River Research Centre (Kerala)
ComMutiny: The Youth Collective (Delhi)
Deccan Development Society (Telangana)
Deer Park (Himachal Pradesh)
Development Alternatives (Delhi)
Dharamitra (Maharashtra)
Ekta Parishad (several states)
Ektha (Chennai)
EQUATIONS (Bengaluru)
Extinction Rebellion India (national)
Gene Campaign (Delhi)
Goonj (national)
Greenpeace India (Bengaluru)
Health Swaraaj Samvaad (national)
Ideosync (Delhi)
Jagori Rural (Himachal Pradesh)
Kalpavriksh (Maharashtra)
Knowledge in Civil Society (national)
Kriti Team (Delhi)
Ladakh Arts and Media Organisation (Ladakh)
Local Futures (Ladakh)
Maati (Uttarakhand)
Mahila Kisan Adhikar Manch (national)
MALAR (Tamil Nadu)
Mazdoor Kisan Shakti Sangathan (Rajasthan)
National Alliance of Peoples' Movements (national)
North East Slow Food and Agrobiodiversity Society (Meghalaya)
People's Resource Centre (Delhi)
Peoples' Science Institute (Uttarakhand)
Revitalising Rainfed Agriculture Network (national)
reStore (Chennai)
Sahjeevan (Kachchh)
Sambhaavnaa (Himachal Pradesh)
Samvedana (Maharashtra)
Sangama (Bengaluru)
Sangat (Delhi)
School for Democracy (Rajasthan)
School for Rural Development and Environment (Kashmir)
Shikshantar (Rajasthan)
Snow Leopard Conservancy India Trust (Ladakh)
Social Entrepreneurship Association (Tamil Nadu)
SOPPECOM (Maharashtra)
South Asian Dialogue on Ecological Democracy (Delhi)
Students' Environmental and Cultural Movement of Ladakh (Ladakh)
Thanal (Kerala)
Titli Trust (Uttarakhand)
Tribal Health Initiative (Tamil Nadu)
URMUL (Rajasthan)
Vrikshamitra (Maharashtra)
Watershed Support Services and Activities Network (Andhra Pradesh/Telangana)
Youth Alliance (Delhi)
(and in individual capacity):
Sushma Iyengar,
Dinesh Abrol,
Ovais Sultan Khan,
Bablu Ganguly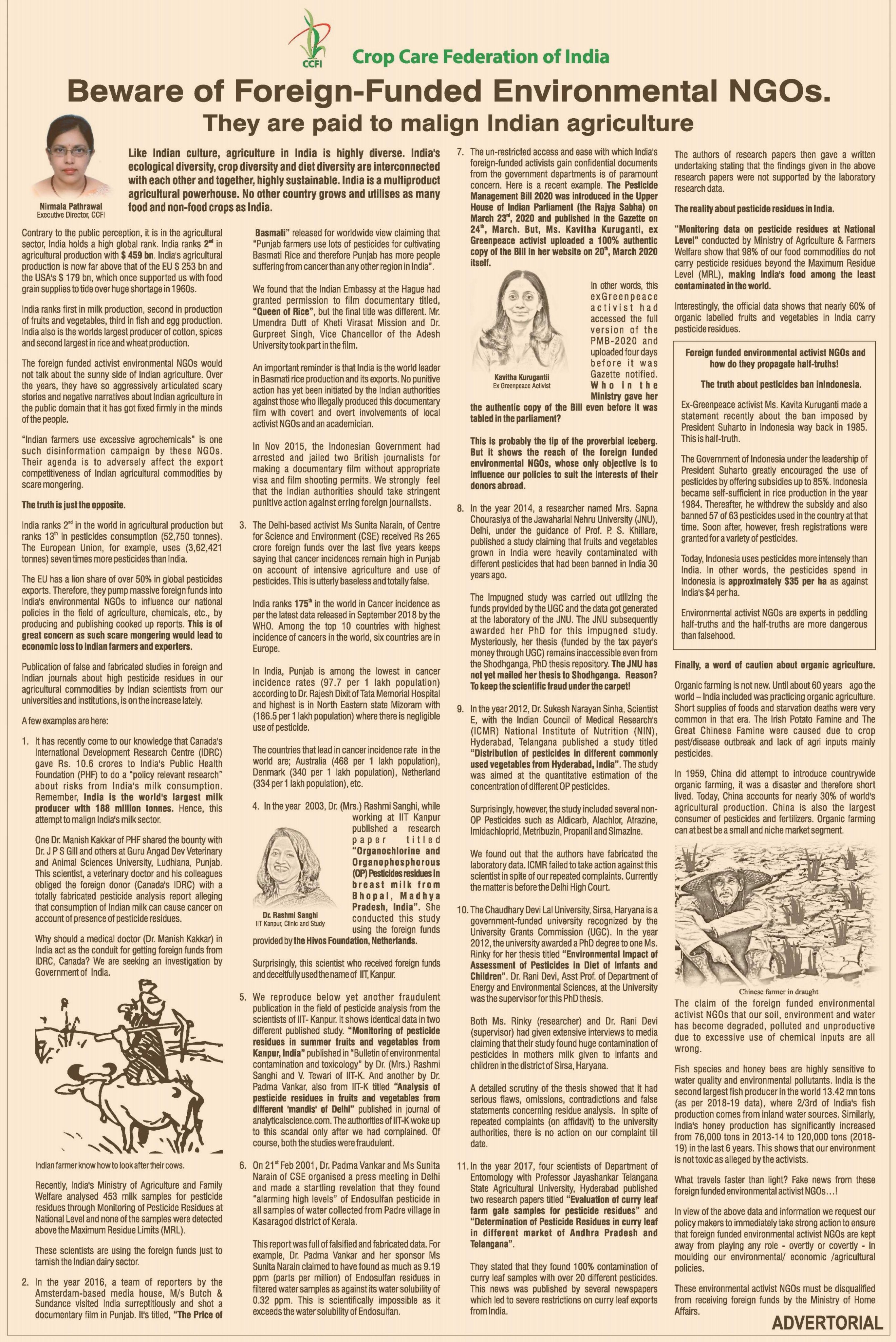 Read a Rebuttal of the above advertorial by Kavitha Kuruganti
Also read WHY ZBNF IS GOOD FOR INDIA by Kavitha Kuruganti