Parindey: Rupsi Garg
Alivelihood: Community Work
Region: Jaito, Punjab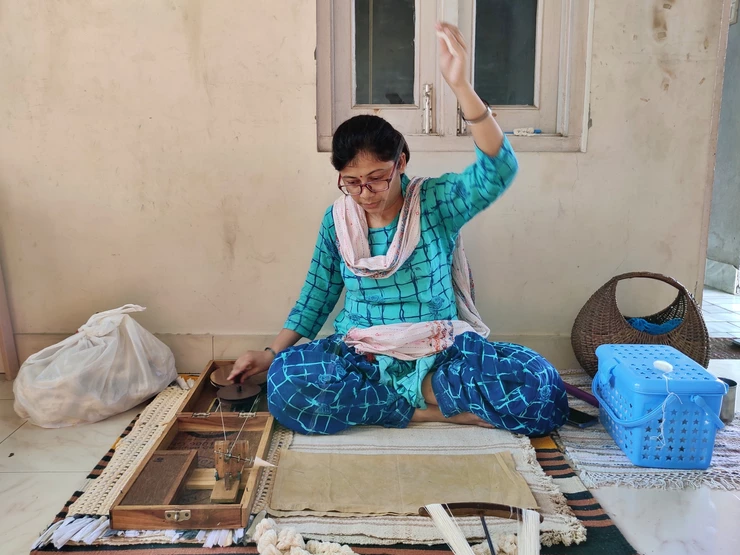 "When people weave, their emotions and love are woven into the fabric. This way, our physical and mental health needs are addressed, which is impossible with machine-made cloth. The spinning process requires extreme patience and softness, and women should lead it further. This art is deeply associated with our own lives. Most importantly, we derive self-satisfaction or satisfaction of our soul, which reverses the idea of labour—now we are working only because we connect with our work and enjoy it. This is a sincere way to address issues of health, labour, and happiness."
– Rupsi Garg
Gandhi, with his slender physique, sitting with his charkha, was one of those historical images that could transform or touch people's very consciences. What did it mean for us? Where does it stay in our memory now? What ideas does it evoke? All of it comes alive today in the town of Jaito, Punjab, where an aura of sanctity spreads when Rupsi, in her utmost simplicity, walks up to her room, opens her charkha box, and begins spinning silently. Moment by moment, the ideas of freedom and power turn upside down with the wheel, and in the softness of the thread being made, she lays out the map of true development and socio-spiritual guidance for India.
Rupsi was introduced to the charkha by a friend in Bangalore in 2017. She began spinning, unsure of what destiny had in store for her. Her decision to learn this art came from a deeper source, and only when it transformed her within, did it start to flow out of her wherever she walked. Born and raised in the small village of Tepla in Punjab, Rupsi acquired education upto graduation in Biotechnology from Haryana. Her cultural roots were strong and close to her heart, but she would realise them only later. In 2011, she moved to Hyderabad to pursue research at the Centre for Cellular and Molecular Biology and completed her master's in Development Studies at Azim Premji University, Bangalore. Influenced by Gandhi's idea of swaraj (self-rule) and Guruji Ravindra Sharma's talks, she subsequently returned to her hometown to work with the Kheti Virasat Mission (KVM), a socio-ecological movement that promotes organic farming in harmony with nature in rural Punjab to ensure nutritional security. In the last few decades, chemical-intensive agriculture in Punjab has increased food-chain toxicity, affecting women the most. Increased mechanisation diminished their function in agriculture and more of them are affected by ailments such cancer, anaemia, and reproductive difficulties. Working with KVM became a vital part of Rupsi's life. She was organising women on the field to grow vegetable gardens at home and spreading awareness on the consumption of poisonous food. Thus, she built trust in her people, especially women. She found a treasure no one could see.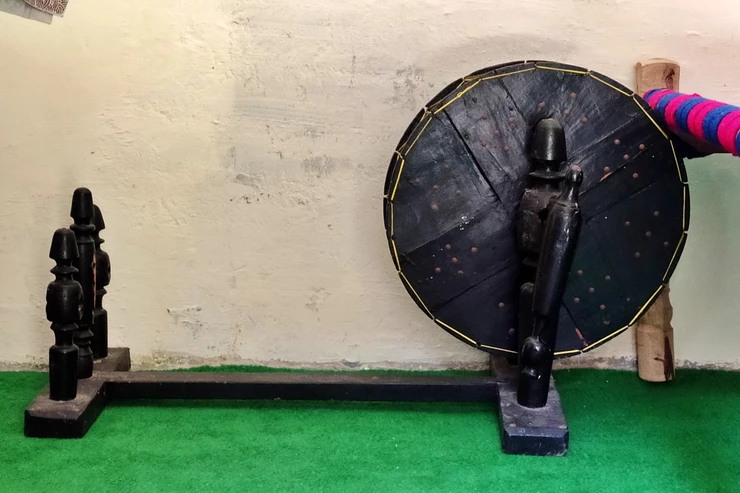 Charkha spinning, hand weaving, and handloom weaving have been a long and rich tradition in Punjab. Trinjan was a Punjabi tradition in which women would gather to spin charkhas, sing songs, counsel, dine, and learn from one another. The implications of this practice were much deeper and provided the village with a strong sovereign foundation, platform for artistic expression, and sense of connectedness in the community. Such cultural gatherings were lost due to industrialisation and modernisation; charkhas were abandoned, and livelihoods were affected. Women have become confined to domestic duties and reliant on ready-made apparel. The loss of tradition somewhere symbolised the loss of their freedom.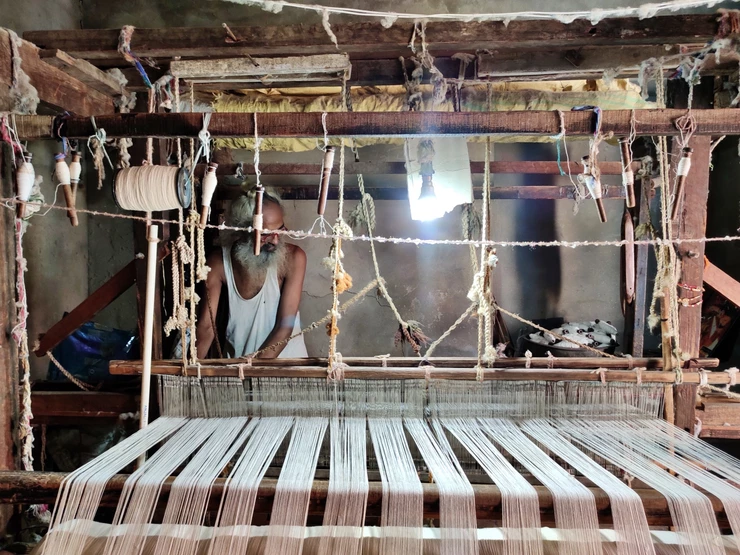 "Let me weave your name, in the loom of my mind
Let me weave freedom in the loom of my mind."
– Unknown
When Rupsi visited the Punjabi districts of Faridkot, Barnala, and Muktsar, the women started speaking about the charkha, opening old locked boxes containing handwoven cloth, and its eventual stagnation as the market made it obsolete. The interactions were magical, and Rupsi's connection with the charkha made these conversations reach her heart. Asserting the importance of cloth self-sufficiency and a holistic village unit, she began her effort to revive the lost tradition of Trinjan. Under her initiative called 'Trinjan', she identifies local artisans and encourages and provides them with a platform to reconnect with their art, earn a livelihood, and unite for a cause. This is achieved by acknowledging the villages' existing resources, utilising local knowledge, and creating a value chain of interrelated units. First, under the guidance of KVM, farmers are encouraged to grow indigenous cotton. This cotton is procured by Trinjan, hand-spun using charkhas, and handwoven by rural artisans. Other arts like embroidery, basket weaving, and knitting are also encouraged. This external assistance has helped these artists revive their art pridefully and become independent. It also creates a generational bond as the elderly teach the youngsters. Trinjan is a strong and growing collective with more than 350 spinners, dyers, and weavers. Today, Rupsi says that she was destined to come face-to-face with this situation and that she was led here from within.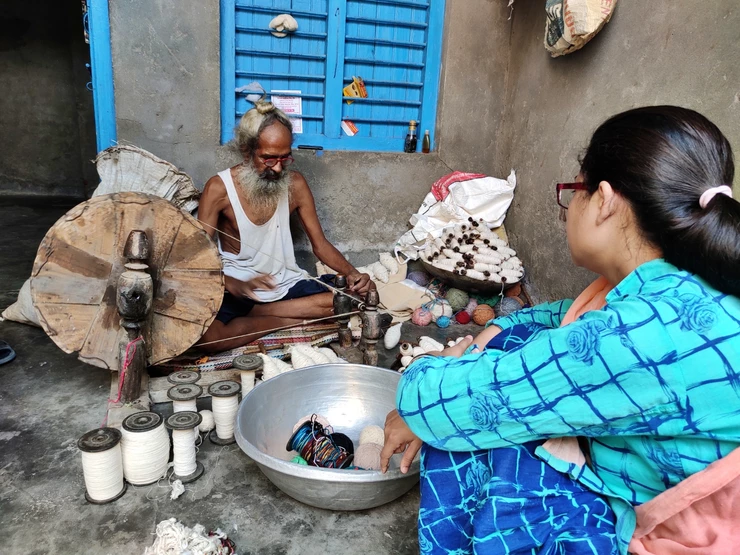 Rupsi speaks about a social ecosystem, of which economics is only one aspect. Trinjan was never about money but about empowering people through art and community. She emphasises the value of understanding the village ecosystem and its power when it is rightly channelised. As Gandhi stated, the charkha in these villages symbolises freedom from foreign rule, healthy life, and dignity. The Khadi concept involves decentralising the production and distribution chain for basic needs. Rupsi, alongside Trinjan, tries to guide us to the true path of development.
One of the challenges that Rupsi is concerned about is migration in Punjab, where youth prefer to flee their culture and study abroad rather than take charge of their own community's water, farming, and education. "Why do we lack a support system for securing our younger generation in our villages? The lack of skill transfer is the major reason behind the vanishing of local knowledge because children do not want to learn what their mothers did. It is deemed outdated. We need to create interest in young people to carry on our tradition," she asserts. Furthermore, Rupsi notes that developing a sustainable market for these products in an era of fast fashion presents another significant challenge since these artisans must be compensated fairly for their labour in making cloth.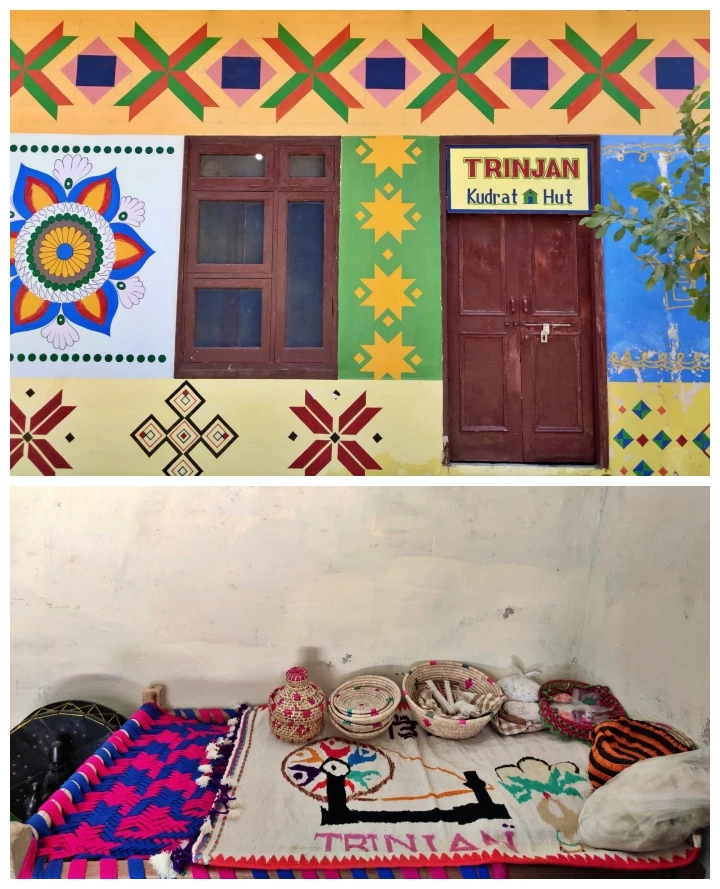 Trinjan is one of several paths to progress and self-reliance. Rupsi believes it is vital to preserve our local traditional knowledge, whether it be farming, art, or folklore; otherwise, our most precious resources for wellbeing deteriorate. The youth of our country must rediscover the ground realities and richness of our local resources. Reflecting on her work, Rupsi states, "When we are making a thread, what comes out of it is another thing, but the inner process we go through while making it is what is transformational, liberating, honest and holds the true integrity of labour and self. The whole life is an act of teaching and learning and finding inner freedom through which we step onto the true path of dharma and serve all."
Understanding Rupsi's work requires an understanding of the charkha, the relationship of art to society, local customs, the idea of swaraj, and the role of women in development. According to Gandhi, "the charkha replaces the spirit of exploitation with the spirit of service." And spinning, as Rupsi says, "teaches us many things, like how to balance things, identify the inner voice, respect labour, and clarity of vision." Rupsi emphasises that "whatever we choose to do, we should do it with all our heart because our heart raises the voice of the inner soul, which we can only identify when we listen to it and become agents of betterment for ourselves and our surroundings." Trinjan, for her, is about bringing that inner voice to the outer world. She continues to spin every day and wants to be recognized as a spinner all through the beautiful course of her life.

"TRINJAN is Weaving the Social Fabric with a Compassionate Warp and Dedicated Weft."
– Rupsi Garg
Rupsi Garg can be reached at: [email protected]
Website: https://khetivirasatmission.org/trinjan
Follow them on social media: https://www.instagram.com/trinjan_kvm/
First Published by 52 Parindey on 12 May 2022