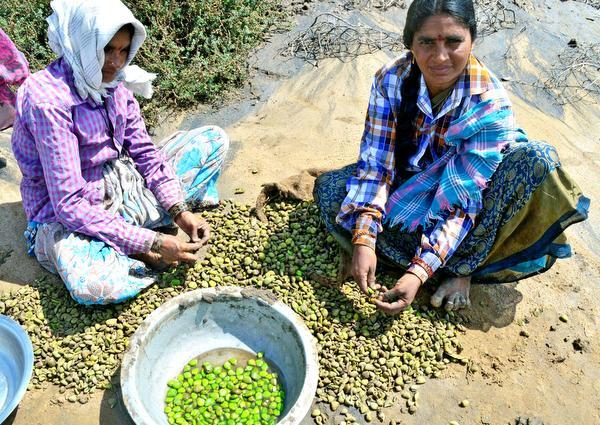 They have played a pivotal role in conservation of seven mangrove species
Venturing into one of the rarest eco-regions of the world — the Sorlagondi mangrove forest— has become a regular chore for a group of ten women for two months every year.
A visit to the dense forest in the Krishna Wildlife Sanctuary between October and November will offer a peep into their activity of collecting seed of mangrove plant species. The lesser known is fact that they became unsung heroes in conserving the seven mangrove plant species, including Avicennia marina and Avicennia officinalis. Like every other woman member of her group, Kokkiligadda Muriamma, 38, reaches the sanctuary before sunrise and begins her six-hour daily task of collecting seeds.
The women belonging to Sorlagondi venture into the forest on barefoot. Holding a bamboo basket in their hands or a gunny bag on their shoulders, these women collect at least a few thousands of seeds and nuts of the mangrove plant species.
Nursery-mode treatment
"The survival rate of a seed that falls from the tree is very low. Hence, we peel the nut and raise it in the local soil for a week. The nursery-mode treatment to the seed is a success," Ms. Muriamma told The Hindu. Usually, half of the seed germinates, much to the delight of the seed collectors.
"We have been hired by the M.S. Swaminathan Research Foundation to supply seeds and raise them in the reserve forest. We are being paid Rs. 170 each per day," said another seed collector K. Seeta Kumari. "We are happy to be part of raising the forest. The two-month activity is all about how we spend our leisure time," said Naga Laxmi Naidu, a seed collector. Recently, the women shared their experiences during a field study by experts who are working on the United Nation's Green Climate Fund.
---
First published by The Hindu