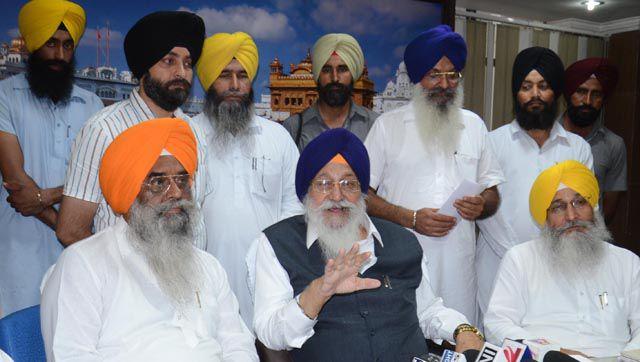 SGPC president Avtar Singh Makkar (centre) addressing a press conference in Amritsar on Thursday. (Sameer Sehgal/HT)
Committed to serve only healthy 'langar' (food cooked in community kitchens of shrines) to devotees, the Shiromani Gurdwara Parbandhak Committee (SGPC) has declared its intention of producing organic seed of different types of food grains, vegetables and pulses, and then distributing these among farmers for growing in their agricultural fields.
The SGPC may produce these organic seeds under the brand name, 'Shiromani', on agricultural land owned by it.
The idea was floated at a recently-held meeting of senior SGPC officials with officials of the Punjab Agro's department, Punjab agriculture and horticulture departments and officials of Panchkula-based Regional Centre for Organic Farming. The meeting that held at Teja Singh Samundri Hall on the Golden Temple complex was also attended by managers of 35 gurdwaras managed by the SGPC.
The organic seeds idea was suggested by BS Sohal, joint director, agriculture, while Punjab Agro's managing director KS Pannu backed the idea, saying, "It will help making organic farming popular in Punjab."
Sohal said the seeds produced by the SGPC could be neatly packed and distributed free of cost among devotees, who come to pay obeisance at gurdwaras. "Of course, it will have to be ensured that those being given the seeds are farmers," he added.
"You can even distribute it as 'parsad' among devotees in the same manner as you have been distributing saplings among devotees outside shrines such as the Golden Temple. In this manner, you will have large quantities of organically-produced healthy items for langars in various shrines," Sohal suggested at the meeting.
SGPC secretaries Roop Singh and Manjit Singh agreed with the idea and said they would discuss the matter with their chief Avtar Singh Makkar. They made it clear that the religious body could bear losses for such a noble cause and could distribute the organically-produced seeds free of cost.
Change in stance
Earlier, in a similar meeting, the SGPC had expressed its desire for going into organic farming on the land owned by it. And, it was suggested that one to five acres attached to 35 shrines would be used exclusively for organic farming and the produce would be used for preparing langar in these shrines.
"We are aware that in Punjab foodgrains, pulses and vegetables are being laced with chemicals and are harmful to health, leading to disease like cancer. These same foodgrains make their way to our langars.
We are keen that organically-produced and healthy foodgrains, vegetables and pulses are used in our langars," stated Roop Singh, while addressing the meeting.
However, after Sohal put forwarded the organic seed proposal, SGPC officials were quick to endorse the idea. This will not only make organic farming popular, but larger quantities of wheat, rice, vegetables and pulses, grown organically by farmers from the SGPC produced seeds will be available for use in the langars of shrines.
First published in Hindustan Times