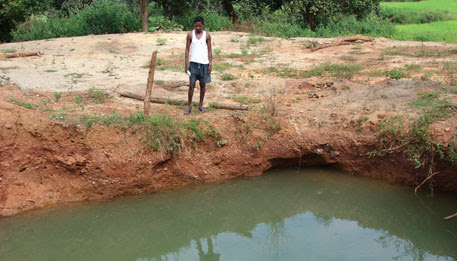 SURAT: For Arvind Patel, a farmer in Dinod Village of Mangrol Taluka in Surat district, it was a dream to take two or more crops in a year. His land on a hilly terrain meant water flowing away even if the rain was good. But last year he was able to take three crops of wheat, sesame and lady finger. The quality and quantity of crop increased.
This miracle was possible because of setting up an injection well in a village pond. Today the farmers of eight villages around Dinod are reaping the benefits.
Arvind Patel said, "We have not suffered shortage of water in our bore wells since last year. The water levels have not gone down."
The farmers with the help of experts from district watershed development unit (DWDU) have been able to raise ground water levels by two feet in one year and increase their crop out by 15% to 20% by using additional stored water and stopping soil erosion. This technique is also being replicated in Patan and Junagadh.
It was in 2013-14 that the injection well was set up. While digging up this well with a three meter diameter in the center of the pond, an inlet that was two feet higher than high flood level (HFL) was kept. A filter was placed to clean the water it percolates in the soil.
A DWDU civil engineer Mayur Kapadia said, "The intention was to get the excess water underground which can improve the water levels in the whole area. It also stopped soil erosion."
"We adopted this method to stop land from getting flooded and increase crop output," said Tausif Akhtar, a technical expert.
A water harvesting expert at Sardar Vallabhbahi National Institute of Technology (SVNIT) Dr Jayanti Patel said, "More crop per drop can be achieved by this method. This can be encouraged in rural sector where existing ponds are available and rain water goes waste."
First published by Times of India