Lack of land and water left tribes without vegetables in their diet, as buying vegetables was beyond their means. Growing vegetables in bags fulfills the need at no cost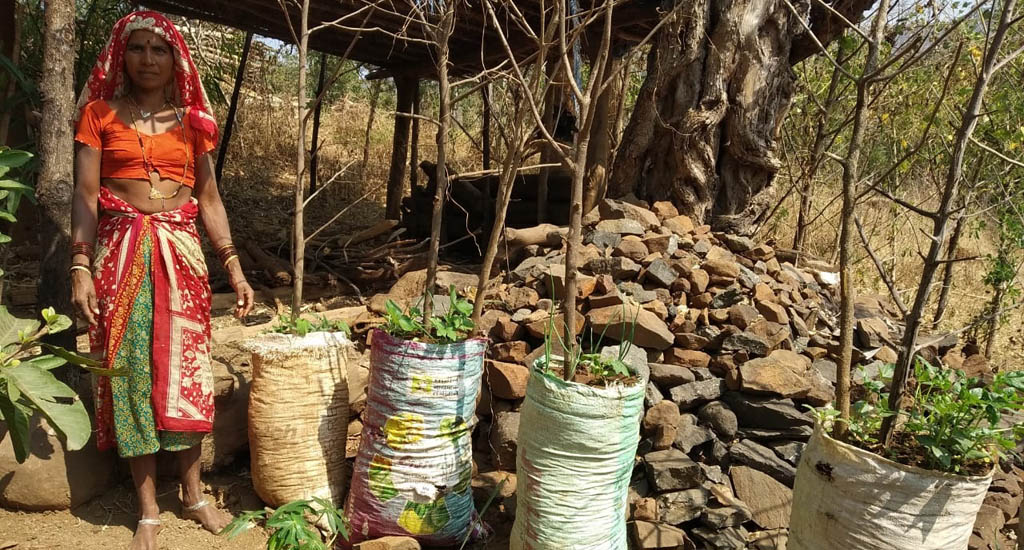 For women like Shevantibai, who have no land, growing vegetables in bags, provides them much-needed nutrition at no cost (Photo by Kailas Kokare)
Life as a member of a tribal community, in the hillside village of Pipalpada in Ahwa administrative block of Dang district in Gujarat, is full of hardships and challenges. Majority of the land falls under Purna Wildlife Sanctuary. Villagers grow rice mostly, and finger millet on pasture lands of the mountain slopes.
Tribes here practice rain-fed farming but do not own the land. The forest department gives permission to practice agriculture to sustain themselves and hence the villagers cannot sell the land. The villagers' work includes working on their farms and bringing firewood.
Ujjwala Yojana, a scheme through which gas cylinders are given to families below poverty line, has reached the area. However, many people have not received the cylinder and the ones who have, are afraid to use it on a daily basis. "Difficulty in replacing the empty cylinder and lack of training on usage and safety are the main reasons," Shevantibai, a villager, told VillageSquare.in.
In such a scenario, without any land, the tribes had no means of consuming vegetables. But with the landless Dang women growing vegetables in bags now, they are able to include vegetables in their diet every day, almost free of cost.
Lack of livelihood options
Monsoon does not last long in this village on the border between Maharashtra and Gujarat. People go in search of water when summer starts. Over summer, the tribal community struggles for water. There are very little employment opportunities.
Hence, men and younger couples move for work to nearby cities or work in sugarcane plantation or sugarcane factories, mainly in Tapi, Navsari, Badauli, and Saeen areas. Migrated villagers work on farms and factories, mostly for a period of six months.
In this part of Dang, which is one of the poorest districts in the country, villagers migrate as families, so that men and women can work on the farms, and women can prepare food. Old people and middle-aged women stay back in the village, to take care of the farm and prepare it for the monsoon.
Diet sans vegetables
"We do not have enough to eat during summers. We survive on nachani roti made of ragi, and chutany, a paste made of red or green chilly," Anjanabai a resident of Pipalpada told VillageSquare.in.
A lot of research indicates that lack of nutrient-rich food impacts the overall physical development of individuals, especially the development of children. And furthermore, with the societal structure of hierarchy, women suffer the most from lack of nutrients.
"In the past we used to eat many kinds of vegetables from the mountains but over time things have changed. Dependence on the jungle is mostly for firewood nowadays," Meeraben of Gundvahal village told VillageSquare.in.
Nutrition gap
Aga Khan Rural Support Program (AKRSP), that has set up women's self-help groups (SHGs), introduced improvements in farming practices and conducted small-scale entrepreneurship trainings, to empower the community, observed the nutrition gap.
Observing that the tribes consumed hardly any vegetables, AKRSP started the campaign for landless kitchen gardens, also known as bori bagicha among the locals. Bori bagicha, which means garden-in-a-bag, was initiated as the villagers do not own land where they can grow vegetables.
Although villagers have access to drinking water now, water is still scarce for agriculture. The idea behind the landless kitchen gardens is that, despite lack of water and land availability, there was still the possibility of growing vegetables in bags.
Vegetables at no cost
With landless kitchen gardens, the tribal communities have started to use diverse vegetables in their diet. With resources, at a minimum cost of Rs 10 to 50 for the seeds, families can have multiple vegetables daily for their consumption.
The women fill 3 to 5 used bags with compost and soil and choose to grow bitter gourd, ridge gourd, bottle gourd, tomatoes, pumpkin and other vegetables. Initially AKRSP conducted a workshop to teach the women, and provided them with seeds and bags. Now the women get the seeds through their SHGs.
Prior to this intervention, as getting vegetables from the mountains reduced over time, community members started to buy vegetables from the nearby market. The women would buy vegetables if they had money. But they bought limited quantity as the vegetables are beyond their means.
They do buy vegetables from the market occasionally now, but to a limited extent. The money that they used to spend on buying vegetables is now spent on other things including seeds for the bori bagicha. They find it much cheaper and easier to grow vegetables at home. Bori bagicha project is in progress across Dang district.
Access to vegetables in the diet means better health, though a proper study to measure the impact of the vegetable consumption is yet to be done. But for now, women are happy and grateful that they are getting vegetables in their diet at almost no cost. Some women have gone further and set up nurseries, and sell plants and vegetables at the market.
First published by Village Square on 17 Aug. 2020