The initiative is a step forward to attract people to the dying heritage of trams
The first tram in the world to have a library is now open in Kolkata. Passing through College Street also known as 'boipara' or "the area of books", the single coach AC tram will run regularly between Esplanade and Shyambazar, one of the oldest tram routes in the city.
Since Cyclone Amphan ravaged the city in May, tram services had remained shut until  September 24 which is also the day of the inauguration of the Library On Wheels, the name of the tram library. Passengers boarding this tram are being given a free pen for a week as they leaf through magazines and books kept on shelves inside the tram.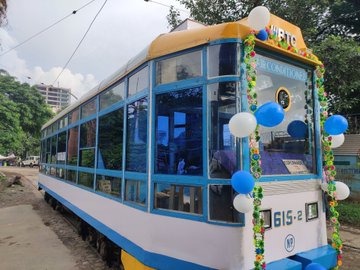 The route of the tram coincides with almost 30 educational institutions such as Scottish Church Collegiate School, Bethune College, Adi Mahakali Pathsala, Presidency University, Hindu School, Calcutta University and Calcutta Medical College and Hospital. All of them have earned their place in history as premium educational hubs. The tram expects to attract students from these institutions as it includes an extensive list of books on competitive examinations such as WBCS, GMAT and GRE.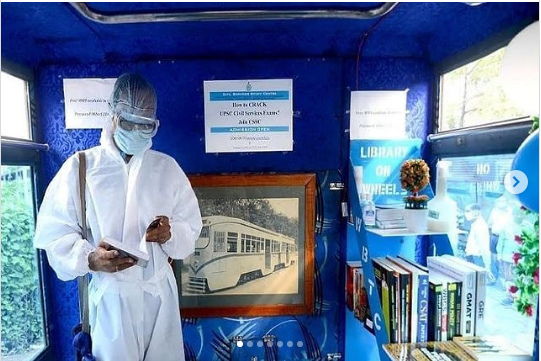 Officials have said that they have plans to do book launches inside the tram with esteemed authors. Book reading sessions and literature festivals are also on the cards.
The idea behind the tram library launched by West Bengal Transport Corporation (WBTC) is to attract the attention of people to trams which is a part of the heritage of Kolkata. The tram has free WiFi for the tech savvy generation through which people can read e-books.
Regular sanitisation will be done to prevent any form of virus contraction as India continues to see a rise in COVID-19 cases.
First published by Outlook India on 26 Sep. 2020