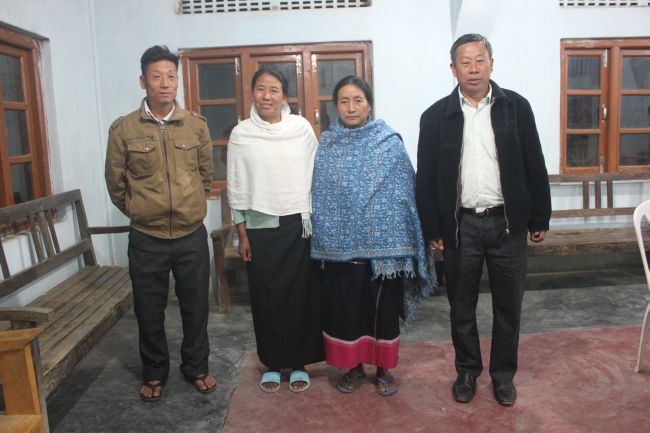 Morung Express Feature
Sümi (Phek)
In Sümi Village folklore, millet (Etsübe) is the 'elder brother' of the 'female' paddy (Erübe). Millets have been traditionally harvested and eaten before paddy; even the traditional millets festival once held greater fervour. Patriarchal as that may be, paddy won the war on securing the fertile valley, banishing millets to terrain where it grows best—the steep jhum field slopes.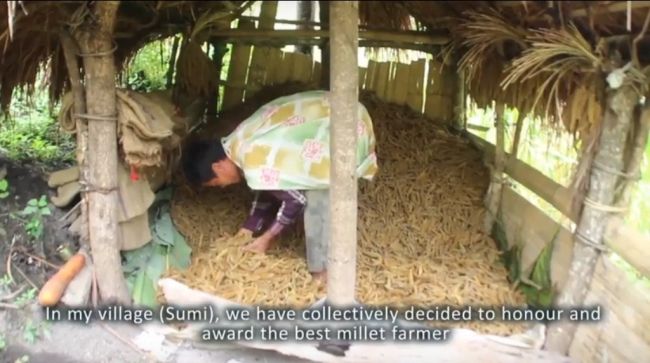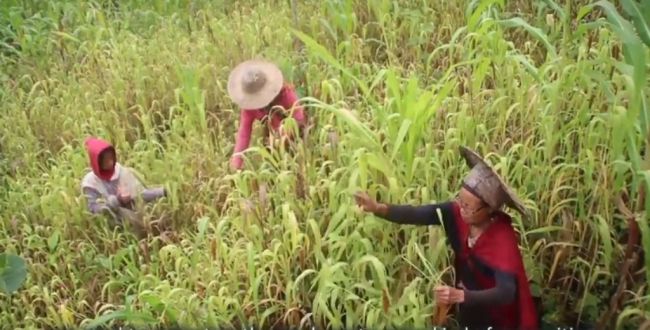 This was no easy task. Like all domesticated crops, millets needed help from humans, sparse to come by in the past decade. Consumption had declined, so had production. The rich agro biodiversity as well as grain-based wealth of the people declined alongside. The people of Sümi Village in Phek district of Nagaland took timely note and action, leading to a prospering village polity. Women became leading decision makers in the change that swept the village.
Winds of change
We are at a discussion with Diwetso Lohe (52), Pastor of the Sümi Village Baptist Church (SVBC), Neitelo Rhakho (50), Chairperson of the Sümi Village Council (SVC), Kezungulou Wezah (65) and Kezukhalou Shama (40), both members of the SVC as well as farmers and seed keepers. The discussion, at the SVBC's guest house, is facilitated and translated by North East Network (NEN) Nagaland's Programme Manager, Wekowe-u Tsuhah.
Wezah and Shama have become the second batch of women core members of the Sümi Village Council; 2010 saw the first ever entry of two women into the SVC alongside 5 male members and 3 Gaon Buras (GBs). In progressive ideals, the Sümi Village Baptist Church is not to be left behind. Two women are members of its core deacon board.
"We encourage women to take part in Church activities, to speak from the pulpit and take up various roles that influence society," says Pastor Lohe on how they laid base to empower women to talk in public and assert their voices. "Due to various programs and conventions of the Church, we became acquainted with various issues that made us realize that women are needed in making some core community decisions," concurs Wezah.
Alongside, the SVC witnessed an increasing number of cases that needed women for collective decision making. In yesteryears, the women's society of the village spoke once annually at community programs, able to bring only marginal issues to the common table. Now, they are part of the SVC that meets twice a month or even thrice a week at times depending on issues.
While issues particular to women exist, Wezah prefers to use a different example of women's role. With women taking up more activities at home and outside, she explains, "When material needs to be provided under central schemes like Indira Awas Yojana, women are in a better position to collate information on which family needs what, to bring the right beneficiaries."
Wezah and Shama brought up issues of marketing sheds needed for farmers to sell their produce, arrangements to be made for visiting guests, right shawls to be given on right occasions and even bringing men folk back to the field for collective farming.
Pastor Lohe gives an example. In 2015, when the SVBC celebrated its golden jubilee, the women suggested that they cultivate local cotton to make the shawls to be gifted to guests. Their only condition was that men lend a hand. This way, many young men and women learned to cultivate, process and weave local cotton, a dying tradition. Shama says that the knowledge of agriculture and seeds give women a position of influence over grassroots policy making.
Besides, "Women have brought a culture of dialogue to village council meetings by controlling the tendency towards aggression in the rest of us," notes Rhakho who has been the Chairperson of the SVC for 12 years, and under whose tenure women leaders were brought into the policy arena. He remains skeptical that women loaded with work at home may find it difficult in the long run to step into public processes but Wezah suggests a way out.
"Men need to share the workload at home so that both can partake in decision making for the community. Like millets and paddy, men and women should work and produce together," she wisely chips in.
Harvesting millets
These visions for a shared future eventually led to the revival of millets in Sümi Village.
"Millets were always a part of our food culture. They were particularly known to be an insurance against sudden changes in climate or food scarcity due to accidents," says Pastor Lohe after Wezah tells us the traditional lore on millets. But a blanket ban on burning forests for jhum cultivation by apex bodies, the arrival of market rice, migration of young people to cities, crop attack by birds, difficulty to process—they list in that order—led to reduction in collective farming practices that help retain a large part of Naga agro biodiversity.
Millets remained uncultivated in the village for more than 10 years but any granary had stocks of old millets, keeping its whiff alive. 5 years back, the NEN Nagaland in neighbouring Chizami village started talking about the benefits of millets and its cultivation practices for the community. A chord struck home. Those who heard NEN's message started consulting elders about the veracity of these claims. Benefits stood affirmed repeatedly.
So the village decided to instate awards, three years ago, for the 'Best Millet (and vegetables) Grower' from the village. This was an extension of a previous award that prized successful paddy cultivation. The Church chipped in to gift winners (first, second and third) with cash prizes as well as farming tools.
"The award is always handed over to the woman of the household," says Rhakho, reiterating women's role in the growing prosperity of the village. Village decisions, he notes, on livestock or grains cannot be made without women.
With millets, more vegetables get cultivated in the field due to which the local markets thrive. The regulation of rates for such items also needs women for they understand the investment—labour, seeds, tools, storage— required and can gauge market prices better.
Today, Sümi Village in Phek is prospering, becoming increasingly self sufficient in producing food, as well as economically robust by selling local produce. Its development through collective decision making has led to judicious use of central schemes that are keeping rural economies going. With its neat, clean and plural atmosphere, the village has become a model for progressive politics, sparking fresh hopes for a humanity that it not just shared but also self sufficient.
---
First published on The Morung Express