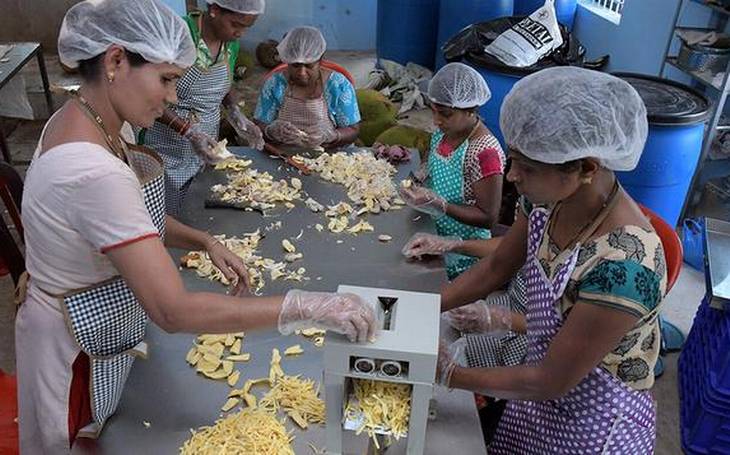 Chips up Workers prepare jackfruit finger chips at the Pingara jackfruit FPO in Vitla, Dakshina Kannada district
Pingara Horticulture in Karnataka is using the fruit to make papads, chips and halwa
MANGALURU, MAY 22
A farmer producer organisation (FPO) in Karnataka's Dakshina Kannada district is putting the humble jackfruit back on the table. Long ignored in the region, the jackfruit actually lends itself to being transformed into a value-added product or two. However, not much attention is paid to its cultivation by most farmers as it is not the main crop and does not require any work.
Often, jackfruit grown in the backyard goes waste; only a few small or micro units in the private sector manufacture value-added products from it in coastal Karnataka.
Now, Pingara Horticulture Farmers' Producer Company Ltd, located near Vitla town, about 50 km from Mangaluru, is aiming to change that.
K Ramkishor, President of Pingara Horticulture, told BusinessLine that 1,000 farmers within a 15-km radius of Vitla are members of the FPO, which is supported by the Karnataka Horticulture Department.
He said the FPO members were inspired by the efforts of Shree Padre, a farmer from Kasaragod in Kerala, who has been spreading awareness about the neglected crop's potential for the last decade-and-a-half.
Value-added products
He said the FPO produces value-added jackfruit products such as papads, finger chips and halwa.
The Pingara FPO has the capacity to process around 400 kg of raw jackfruit a day. This can go up to 600-700 kg a day, though sustaining it in the off-season is difficult as the FPO employs 18 people, mostly women, he said.
The FPO prepares around 1,000 pieces of papad and 5 kg of chips a day. It produces around 50 kg of jackfruit halwa in a week. It is also working on a kind of jackfruit payasam and hopes to market the product soon.
Ramkishor said the FPO collects raw jackfruit from farmers' doorsteps. Some also deliver the fruit to the FPO. The farmers are offered ₹2 a kg if the jackfruit is collected. Those who deliver the jackfruit to the FPO are paid ₹4 a kg.
The Karnataka Horticulture Department has provided a 90 per cent subsidy on the cost of the equipment to produce value-added jackfruit products.
Production is limited to the period between April and September. Keeping the requirements of jackfruit during the off-season in mind, some raw jackfruits are kept in brine to prepare products such as papads.
Pingara also takes up the manufacture of value-added banana products in the off-season to sustain its activities. In addition, it also provides agri implements on hire to farmers.
First published by The Hindu