Editorial Comment: Mining for Lithium, the demand for which might grow substantially, could be ecologically unsustainable and socially disruptive in the near future.
People of Maligaon village in Odisha are for the first time using lithium ferro-phosphate batteries invented by Nobel laureate John Goodenough to store power from their solar mini-grid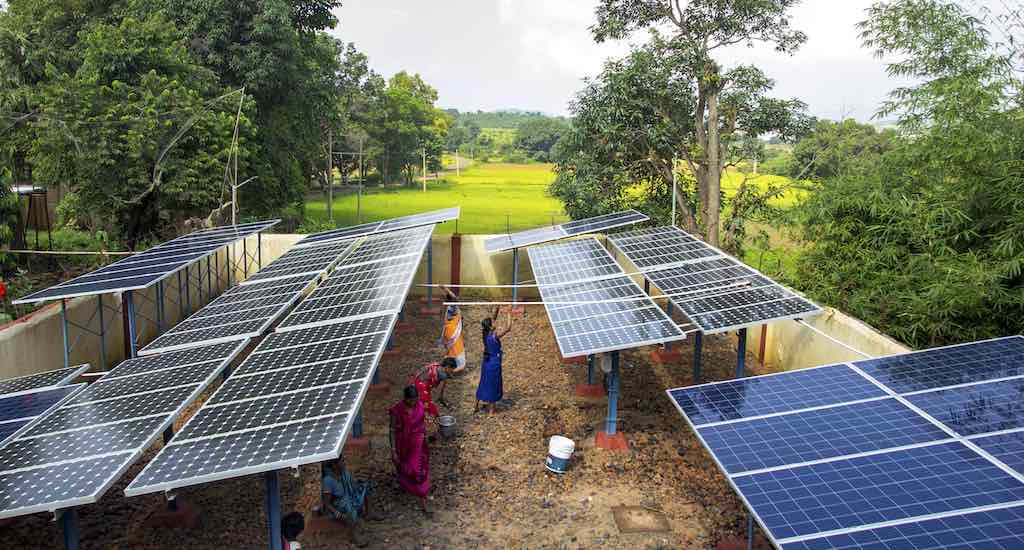 Women in Maligaon carrying out maintenance work at the village's solar panels. Four such groups have been created to take care of the regular maintenance and upkeep of the powerhouse (Photograph by Ashutosh Bhat)
The 2019 Nobel Prize for Chemistry has been awarded jointly to John B. Goodenough, M. Stanley Whittingham and Akira Yoshino for the development of lithium-ion batteries. Interestingly, Odisha has at least two connections to this. One, through a key associate of Goodenough, and the other through his invention of the lithium ferro-phosphate (LFP) batteries.
The first scientific paper about use of LFP appeared in the Journal of the Electrochemical Society in 1997. The three authors are Akshaya K. Padhi, K.S. Nanjundaswamy and Goodenough. The three were attached to the Centre for Material Science and Engineering at the University of Texas at Austin. Lead author Padhi, who did his schooling from Sainik School, Bhubaneswar, and his Bachelors in Engineering from the Indira Gandhi Institute of Technology in Dhenkanal district of Odisha, is a true-blue Odia. He is now a Cell Engineer with Apple Inc.
Of greater interest is the second connection. Maligaon is a village of 46 households located in Thuamul Rampur block of Kalahandi District, Odisha. Gram Vikas and the residents of Maligaon have been partners for over 30 years. Together, Gram Vikas and Maligaon villagers have built toilets, bathing rooms and potable water systems for every home in Maligaon, educated children of Maligaon in Gram Vikas' residential schools and electrified every home in Maligaon at a time when the nearest point of connection to the main grid was over 30 km away.
Solar mini-grid
The initiative to electrify every home in Maligaon was implemented as a solar micro-grid in 2009. The main system components included a 9.63 kW total photovoltaic (PV) array capacity, 96 kWh tubular lead-acid battery bank and an Urja Bandhu (charge controller that makes available a fixed amount of energy daily) in every home.
This system was intended to introduce electricity to the people of Maligaon. Thus, the main use of the system was for indoor and outdoor lighting. Through the Urja Bandhu, each household was restricted to a fixed daily budget of electricity with a fixed monthly charge. The system was to be run and maintained by a single operator, an individual from Maligaon who was trained for this role.
Unfortunately, the single operator model proved to lack the necessary checks and balances to prevent misuse. In 2013, the solar micro-grid failed due to the premature death of the tubular lead acid batteries, likely as a combined result of manufacturing defects and improper maintenance by the operator.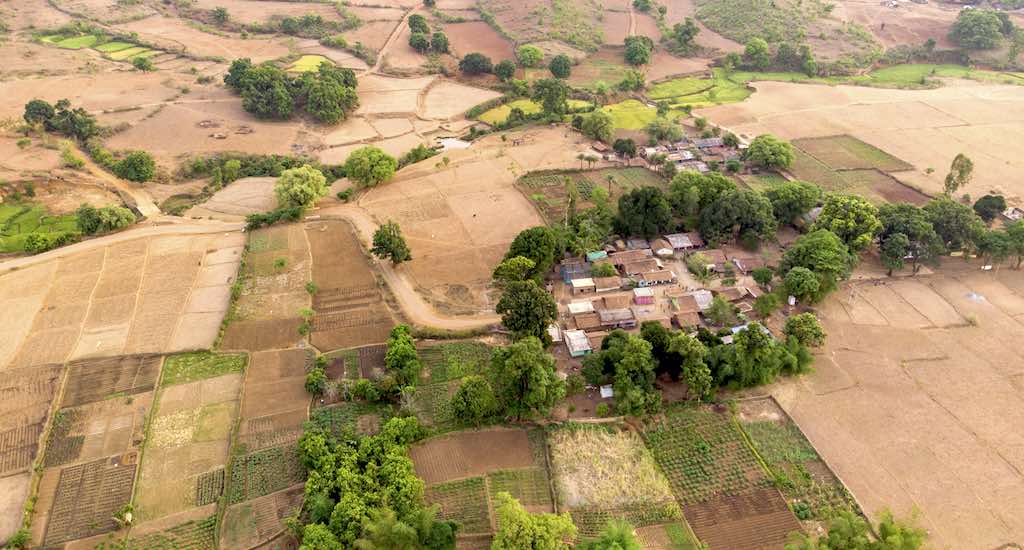 An aerial view of Maligaon village (Photograph by Ajaya Behera)
In 2014, the main grid was installed in Maligaon with simple single-phase (household use) electricity. However, blackouts sometimes last up to months at a stretch during monsoon seasons and almost all households still use kerosene lamps during blackouts.
Still, the arrival of the main grid in Maligaon along with a general increase in income has allowed the use of electricity in Maligaon to go beyond lighting. Several houses in Maligaon now have televisions and fans in addition to lights. Overall, the main grid has given the people of Maligaon a tentative grip on the next rung up the energy ladder, but it lacks the quality (single-phase is only for household use) and consistency (long blackouts) to allow them to truly ascend upward.
Reviving solar power supply
In 2018, the villagers approached Gram Vikas, requesting help for reviving the solar power supply, as they found that the grid electricity was not reliable. Eshaan Patheria, a young graduate of Harvard University, in a break-year before starting his PhD at CalTech in electrochemistry, came on board as a volunteer, thanks to the Youth for India Fellowship of the SBI Foundation. With Eshaan providing the leadership, Gram Vikas supported the village to revive its solar micro-grid project.
Using his technical knowledge and conducting extensive research, Patheria concluded that lithium-ion batteries were best suited for the revival of the system, as these were more efficient, required less maintenance and had much longer life than other alternatives. The revived system has an additional 7 kW capacity, provides three-phase power, uses LFP batteries for storage and smart meters at the consumer level.
The original system in Maligaon had a 9.63 kW total PV array capacity. Based on new electricity usage analysis in Maligaon, the current total usage is 7 kW. Since the renewed system is intended to work for a minimum of 10 years and has to cater to energy intensive livelihood activities, the total PV array capacity has been increased to 16 kW.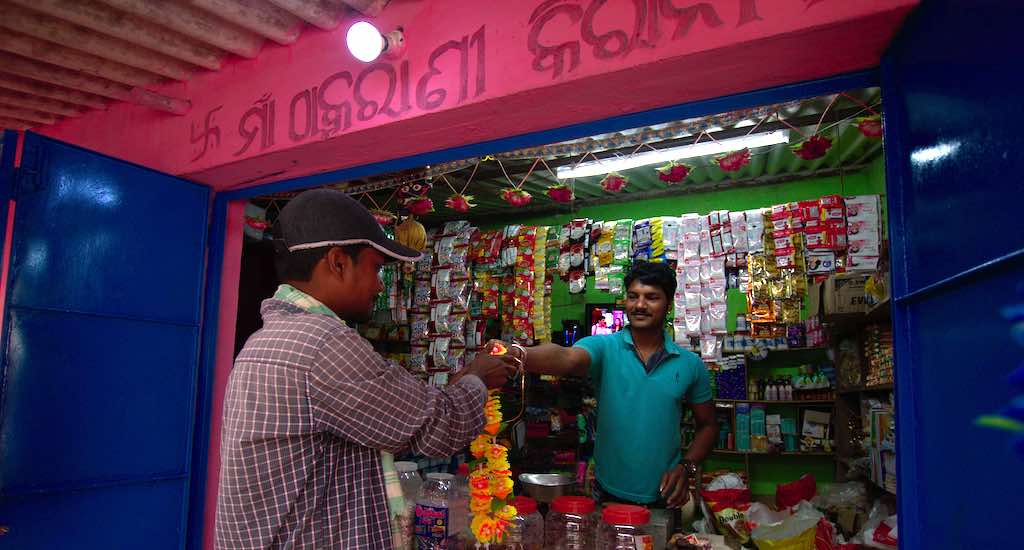 Shopkeeper Sudam Nayak can now run his refrigerator and keep his shop open till late evening (Photograph by Ashutosh Bhat)
Out of the (minimum) 10 years that the system will operate, we predict that in the first year the users will need to familiarize themselves with the solar power supply system at their current usage of 7 kW and learn the ropes of basic management and use of the system. Thereafter, we expect an increase in usage up to 1 kW per year in the form of either livelihood activities or increased household use so that after 10 years, their total use is about 16 kW.
Livelihood activities
The original micro-grid in Maligaon only provided single-phase electricity, which is suitable for household use. However, most livelihood activities that require electricity require three-phase power to cater to heavy inductive loads like pumps for irrigation or motors for harvesting and further processing of crops. Three phase power for livelihood activities is a vital part of the next rung up the energy ladder that the people of Maligaon did not have access to.
The new system provides consistent and high quality three-phase power to support any potential livelihood activities which will also be easily separated into three separate single-phases to continue to support household use.
LFP is a relatively new battery technology with several advantages over the old tubular lead-acid battery technology that was originally used. LFP batteries have the longest lifetime out of battery technologies used for micro-grid / grid energy storage. Furthermore, lead-acid batteries require regular maintenance — namely monthly distilled water top-ups — which is both time consuming and expensive.
LFP batteries require no maintenance. The battery management system (BMS) with remote monitoring capability will help detect any problems early and remotely so that they can be solved before they can significantly affect the overall system performance.
Smart meters are devices that collect real-time data on energy consumption at the household level to be shared with the electricity supplier (Gram Vikas) and consumer. They also include intuitive software for consumers and suppliers to visualize and understand this data in order to promote sustainable usage. Smart meters will allow better management and use of the system compared to the originally used analogue meters, which were just simple charge controllers.
The revived Maligaon system was commissioned in early September 2019. As far as we know, the Maligaon Solar Micro-Grid is the first instance where a village level electricity generation unit has used LFP batteries. The Nobel Prize and the noble batteries of Maligaon make a great pair this season.
First published by Village Square on 14 Oct. 2019