Specially written for Vikalp Sangam
A short report by Alex Jensen and Sehjo Singh for Vikalp Sangam friends
Nov 11-13, 2022 Mysuru, Karnataka
We had the good fortune of travelling from the Vikalp Sangam Core group meeting to the Kisan Swaraj Sammelan after just a week long gap spent delighting in the beauty of Timbaktu Collective in southern Andhra Pradesh and dreaming of the wide welcoming roads of Mysuru and the tempting smells of its unhurried roadside eateries, but what we received was a feast for the soul.
From November 11-13, 2022, some 2,000 people from across India converged on Mysore at the Karnataka State Open University for the 5th Kisan Swaraj Sammelan, the country's largest gathering for the recognition, promotion, defense and celebration of food sovereignty based in agro-ecology and traditional local food systems everywhere, organised by the Alliance for Holistic and Sustainable Agriculture (ASHA) Network. The number of attendees exceeded by many hundreds the number originally planned for and expected, and the organisers quickly adjusted and pivoted to accommodate and encourage the incredible enthusiasm and hunger for such an event. This, as much as anything, was a testament to the growing breadth of the movement of people in India who are simultaneously fed up with the industrialised/ing food system and its devastation of ecology and health, and yearning for sane, nourishing alternatives.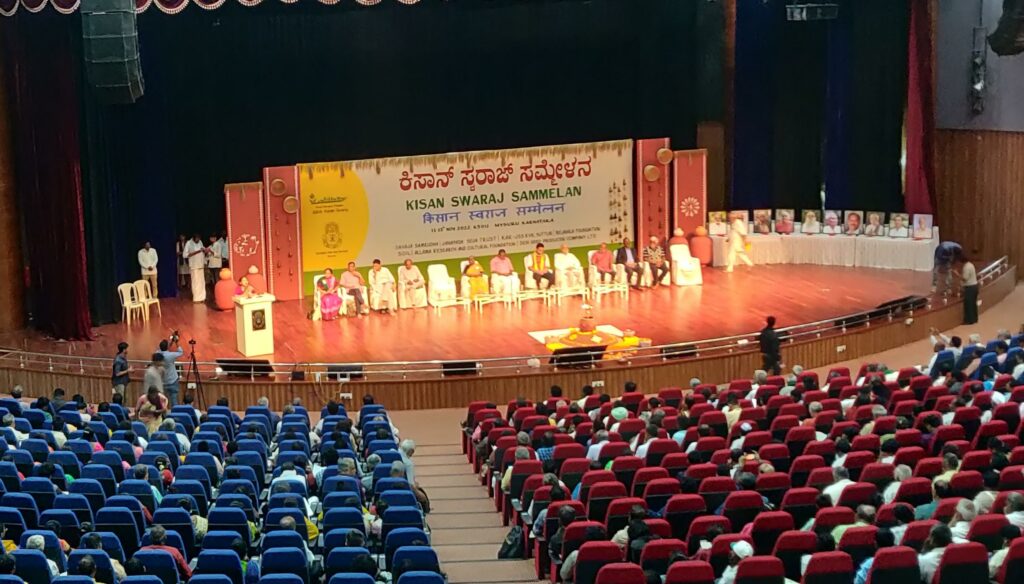 The sammelan commenced with a moving homage to some of the pioneers of the ecological farming movement in India (Dr. Nammalvar, Shri Bhaskar Save, Dr. Om Rupela, Shri Bharama Gowda, Shri Jayaraman, Shri Doddaballapura Narayana Reddy, Shri Debjeet Sarangi, Prof. Radha Mohan, Dr. Vanaja Ramprasad) who have, sadly, passed on, but whose lifework and spirit continue to inspire and guide an ever-widening circle of passionate food activists. The existence of the sammelan itself was a testament to their life's impact.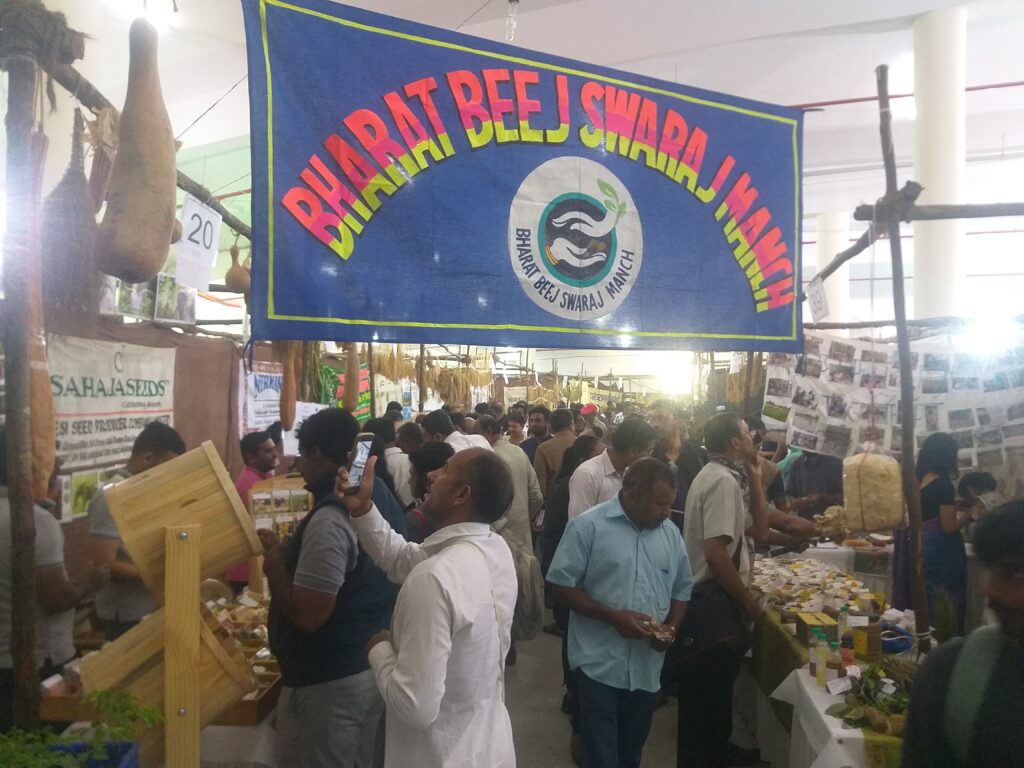 Several of us had volunteered as interpreters/translators and hence were privy to the serious pre-planning for making knowledge sharing across Indian languages in the conference as seamless as possible. Notes on all the major themes had been circulated before the conference – one or two pagers, very accessible ones with as many translations as possible – Hindi, Kannada, Malayalam, Tamil. After a few hiccups, the translations in various languages done through a wireless system available to people through their phones worked very well.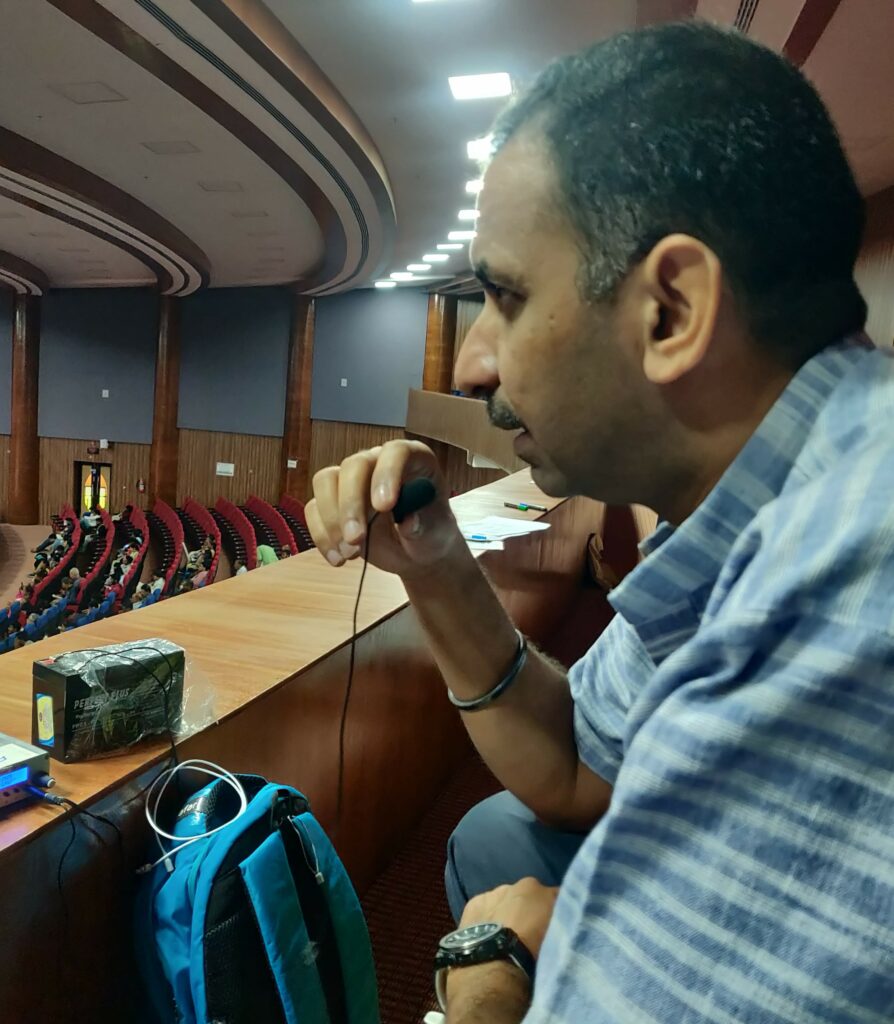 The sammelan did not seek any sponsorship – it was paid through registrations and donations from friends. Everyone came at their own cost. Hosted by the Karnataka Open university, plenaries were held in its auditorium and various parallel sessions, film screenings, and master classes were held in its class rooms, corridors, corners, and maidans. Healthy portions of both critique of the mainstream system and a plethora of alternatives were dished up at the sammelan, alongside literal platefuls of delectable traditional organic foods from regions across the country at the carnival-like food tent. All of us had a set of coupons for each day which ensured that if one had breakfast from Chhattisgarh, then one would have lunch from Rajasthan and dinner from Tamil Nādu, and so on, so that within 3 days we would have tasted the offering of chefs and enthusiasts from all the regions. Admirably, the whole event was zero waste, with single-use disposable plastics strictly proscribed.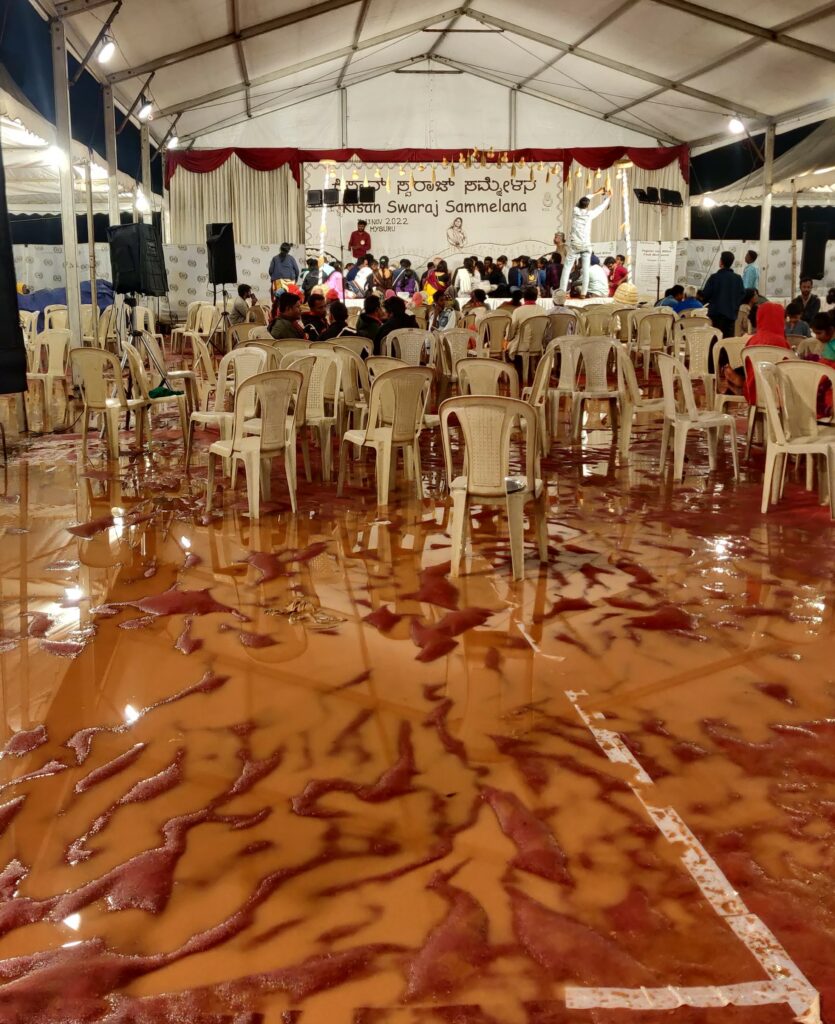 Attendees were undeterred by unseasonable steady rain during the three days of the sammelan, packing the main auditorium of the university for plenary sessions, eagerly fanning out across the campus to find breakout sessions of interest amongst the dozens on offer, participating in hands-on workshops (pottery, urban gardening, cotton spinning and natural dyeing, handmade soap-making, seed saving), and plying row after row of stalls of the mela in the auditorium's basement to take in but a snapshot of the astonishing, overwhelming diversity and beauty of the people's food economy.
With over 100 seed savers from 18 states of India displaying over 2,000 varieties of crops, this mela could have been a conference unto itself. Not only seed savers, but desi cloth-makers, advocacy organisations, eco-product makers, crafts persons, alternative publishers and more, each with an inspiring story and a veritable cornucopia of abundance laid out on the tables before them. Outside the hall, the stalls continued, featuring uncultivated foods, roots and tubers, and indigenous banana diversity.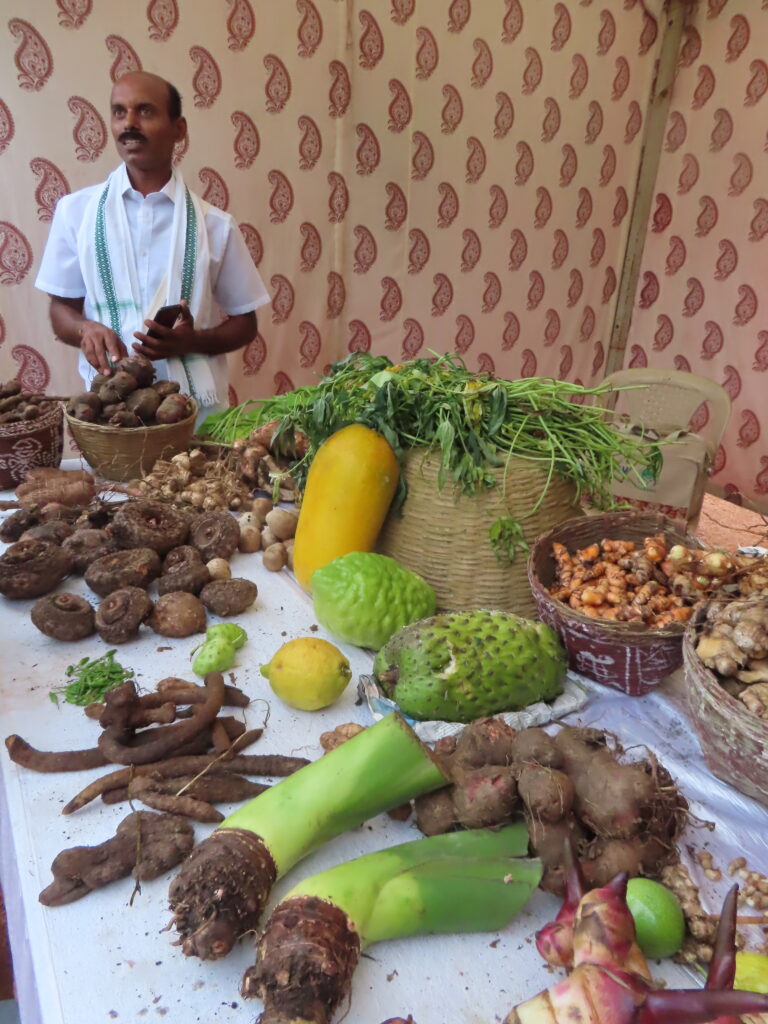 Many were selling their products there, but this was much more than a mere marketplace. It was an opportunity to witness, at a glance, what the dominant corporate food and media system systematically blinds us to, the huge legacy of varieties, types, and qualities of seeds, cultivars and foods that have been co-created by small farmers in conversation with their unique ecologies across the country and which are still being nurtured, still persisting in spite of the ill-named Green Revolution's best efforts to flatten and extinguish this real wealth and replace it with monoculture in the fields and on our plates. It was also the best possible answer to the mindset that food cannot be grown without chemicals, and only the industrial food system can 'feed the country'.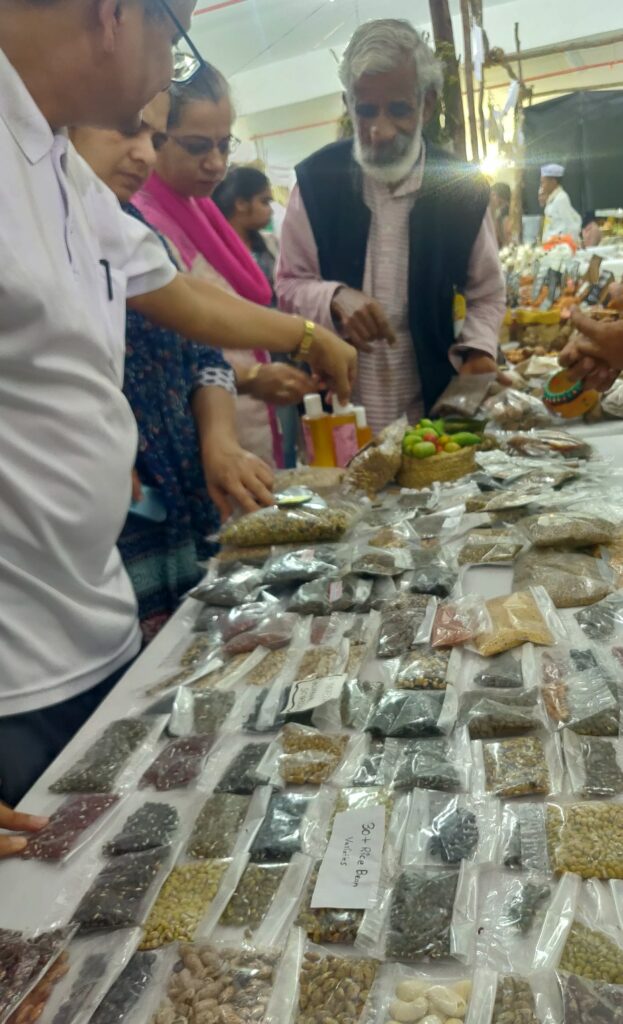 This mindset has been deliberately created through systematic agribusiness indoctrination and propaganda. Though the role of the state, of governments vis-à-vis food and farming in India has arguably been one predominantly of promoting the very industrial model against which the sammelan was organised, it is also the case that there are counter trends even from official precincts, and that not all governments or government departments are created equal. In a plenary session on the second day – 'Scaling up of agro-ecology: Lessons from all over India' – attendees got to learn about several impressive state government initiatives in Kerala, Chhattisgarh, Himachal Pradesh, Karnataka, Odisha and Andhra Pradesh, each pushing agro-ecological transition on a scale that is having a transformative impact in countering the chemical-intensive industrial paradigm.
Vijay Kumar, Special Chief Secretary of Andhra Pradesh emphasised that transforming a farmer from chemical-intensive to natural farming requires not only a lot of time and unlearning of deep-seated beliefs about the need for chemicals, but also requires changing the entire village, creating viable, attractive livelihood options in the villages. Changing the entire village, in turn, requires changing the entire state. An agroecological transition such as is being attempted through the Andhra Pradesh Community Managed Natural Farming programme is much more than just applying different agricultural techniques, but is equally a matter of social change and collective action and organisation. The programme has a special focus on landless farmer workers across the state, providing assistance to set up highly diversified kitchen gardens to meet household nutrition requirements (see box).
Andhra Pradesh Community Managed Natural Farming programme is being implemented across that state by a new agency created specifically for the purpose, the Department of Natural Farming. The impetus for this programme was the urgent need to address the multiple intersecting crises related to food and farming today: farmers' distress, consumer issues like food safety and nutrition, grave environmental impacts of conventional chemical farming (soil degradation, water emergency, global warming, decreased biodiversity, etc.), the impacts of climate change on farming, and the role of conventional farming in driving climate change, to name a prominent few. Natural farming – farming in harmony with nature – is a solution for all of these multiple interlocking emergencies. The programme was started in 2016, with around 40,000 farmers from 700 villages. By 2021, the number of participating farmers had increased to 630,000, from over 3,700 villages. This represents about 10-12 percent of farmers, 27 percent of villages and 4 percent of the area of the state covered, making it the largest natural farming programme in the country. The vision is to convert all 60 lakh farmer households and 20 lakh farm-worker households and 60 lakh hectares of farmland in AP to natural farming by 2031.
Through the lens of both scientific knowledge and traditional wisdom, the parallel sessions addressed issues and challenges ranging from climate change adaptations with hyper localized information paradigm shifts, to agri-digital technologies, to traditional methods of seed and soil conservation. There were several forums on policy debate including the Forest Rights Act and how to make best use of joint rights and habitat rights. It was heartening to see Adivasi farmers from remote parts of Chhattisgarh taking active part in the session and many others.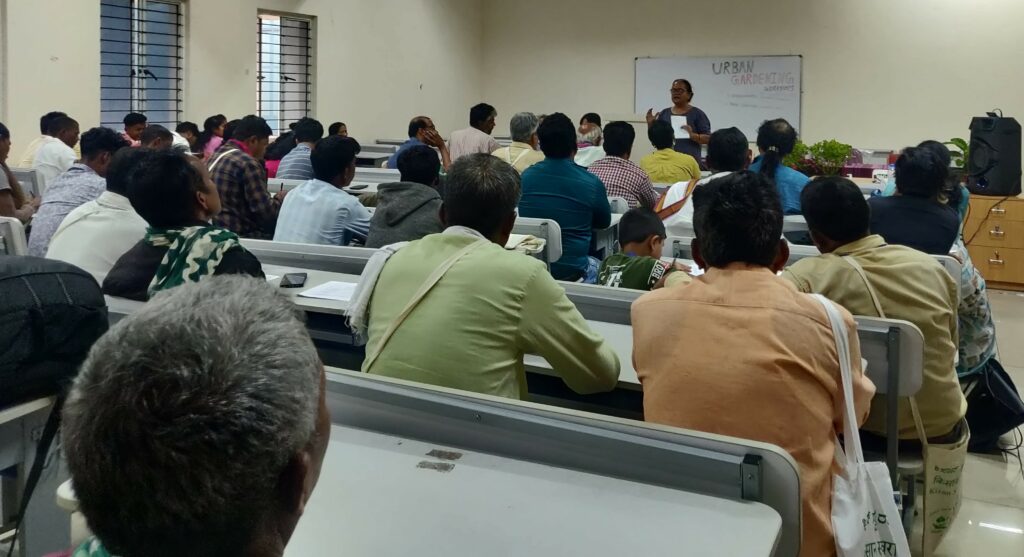 Just a sample of the bounty of concurrent sessions on offer included: seed rights of farmers; trade justice and resistance to free trade; impacts of digitalization in agriculture; special challenges for women, Adivasi, and tenant farmers and agricultural labourers; controversies around food-fortification schemes and of course the government's ongoing effort in cahoots with industry to foist genetically modified proprietary seeds into Indian agriculture and thence Indian diets.
If there was one frustration at the sammelan (no, not the muddy wet feet at the food tent), it was this: a superabundance of options, an embarrassment of riches, a good problem to have! One agonised about which sessions to attend, which to miss. Luckily, parallel sessions were repeated during the day, so that one could partake a little more of the valuable wisdom. Similar big hits were the masterclasses held every day by india's well-known ecological farmers – N Devakumar & Prakash, Julie & Vivek Cariappa, Ranjeet Singh, Malvikaa Solanki, Nandish BN & Raghava, Pramod CVR, Sabarmatee, Sarvdaman Patel Shivanapura Ramesh, Subhash Sharma, Sundararaman, Suresh Desai, Syed Ghani Khan & Shri Bore Gowda, Vasant Futane and Vijay Jardhari. One could not have enough of the precious experience of those who had devoted a life time to the myriad ways of mother nature.
There was a continued insistence at the sammelan at all forums, from the main podium to the small groups, that all ways of agro-ecology, organic/natural/regenerative farming and the like are welcome; what matters are the principles and practices, and these include: improving soil structure and biology by keeping the soil covered with diverse crops and trees throughout the year, minimal disturbance of soils, improving water absorption and retention, use of indigenous seeds and animal breeds, strict proscription of synthetic chemical inputs, inter alia. Any move to divide us, creating smaller and smaller self-righteous groups is not the way of the Kisan Swaraj Movement. All those who believe and practice a way of farming that respects the plurality of life, were welcome at the forum.. All those who believed and practiced a way of farming that respects the plurality of life, were welcome at the forum.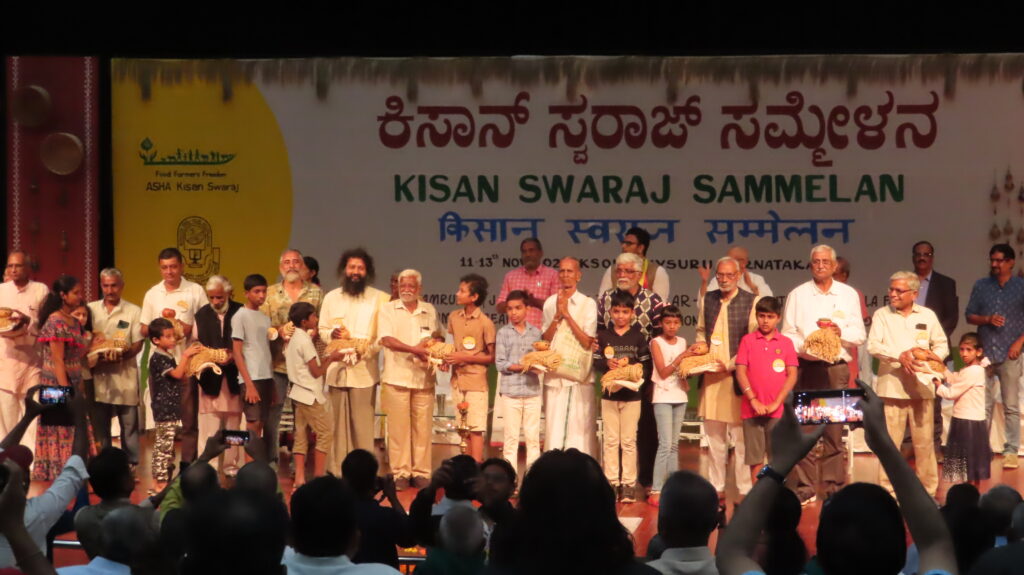 In the valedictory session of the last day, Usha Soolapani of Thanal in Kerala panned out from the experience in Kerala to give a 'big picture' reflection on the state of food and farming in India and the direction of change needed. The Green Revolution in Kerala, as everywhere, had profoundly destructive impacts on agriculture and the local food system in the state, displacing locally adapted varieties with commercial "high-yielding" ones, and promoting a massive shift to chemical input dependence. She lamented there has been a devastating erosion of traditional agro-ecological knowledge. Urban kids only know their food when it's on the table but now even rural kids are becoming alienated from food and farming, from the land and the sources of our sustenance.
As agro-ecologist Debal Deb emphasised throughout his sessions at the sammelan, conventional chemical-based agriculture is based on simplification of complex systems, from polyculture to monoculture, making it less resilient. The solution is to reverse this, making agronomic systems based on natural ecosystems that are more complex – increasing species and genetic diversity – and also not just changing from chemical to natural, but reviving our knowledge systems so we again learn to innovate locally and enhance our food systems as our forebears did.
Usha emphasised that we need to go back into our villages, and increase urban food production as well. The crises facing farmers today are not just a problem of or for farmers, but for all of us, and we cannot rely on the same scientific community who got us into this mess to get us out of it, but rather, on the farmers doing the work on the ground. She pointed out that the collectivisation of farming is the next most important step in making this transition. Through the 'Green Revolution' farmers were forced into individualistic competition. Our task today is to reverse this trend, return to the collective and the common. Climate change also demands we build joint resilience at the grassroots community level – restoring our environments, breaking the global supply chain system and promoting localisation. We have to get back to local markets, instead of production for export like we have in so many places today, where farmers send their harvests out of the villages and then turn around and have to buy processed food packaged in plastic – both good healthy food and money is leaking out of the villages in this system.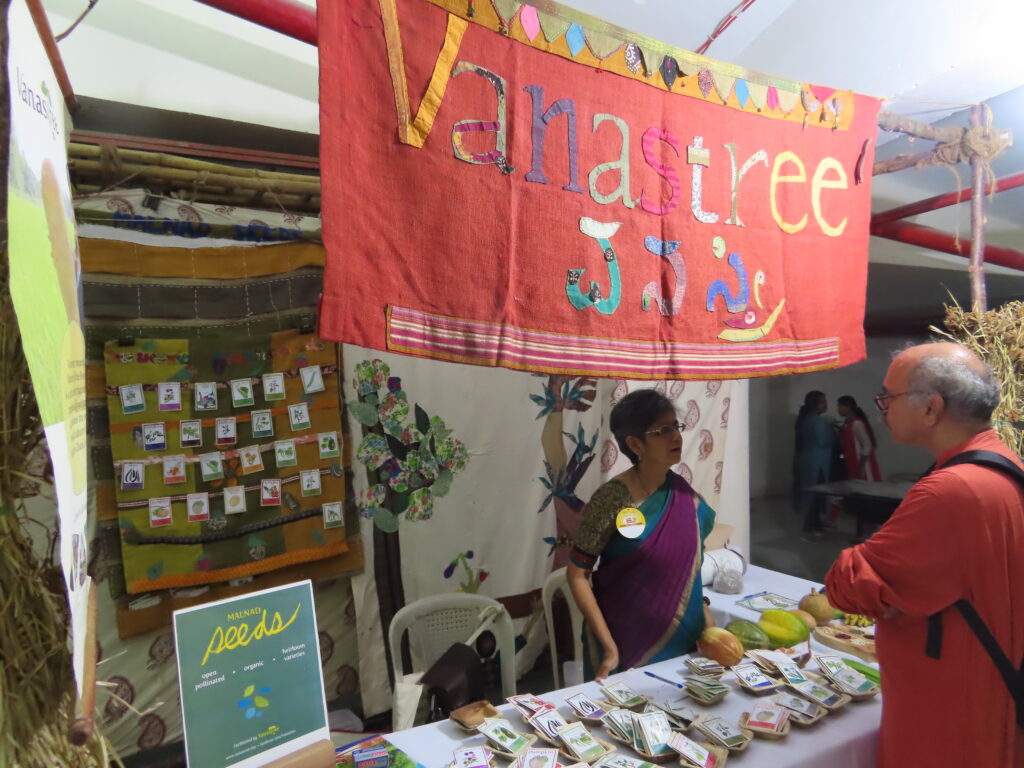 It was very good that the organisers brought the parallel sessions on Adivasi, Dalit, women, landless and tenant farmers, together as a plenary. It is them, most often with overlapping vulnerable identities who comprise the massive majority of the farming community. Their world view and their strong articulation was eye-opening even for many of us familiar with the issues on how complete is their lack of connection to any support structure. In fact they suffer a double whammy when non-farming owners are piled with support and subsidies, which makes them even more reluctant to let tenant farmers be recognized. They also shared that as dalits or Adivasis, their vulnerabilities are especially acute as it is they who are so often landless and forced to accept the worst conditions as labour and/or as tenant farmers, and even more so when they are women. This session should probably have been slotted earlier to have framed the whole sammelan from the eyes of this majority. We hope these concerns will be in the forefront in the future sammelans.
The sammelan was like a big family reunion of the stalwart rebels – activists, Adivasi, Dalit, and women farmers – against corporate food systems, struggling valiantly for decades – on their farms, in the public sphere, in cyberspace, on the streets and in the courts – to prevent India's agro-ecological legacy from being snuffed out and its food and agricultural economies from being converted ever more ruthlessly into a facsimile of the corporate-industrial model of the West.
These rebels comprise the ASHA Network, and many of them were directly involved in the extraordinary effort of organising this gathering, while others brought their seeds, their stories, their experience and knowledge to share. It was not only a reunion, of course, but an introduction and invitation to a new generation of agro-ecologists, food activists, and changemakers of all sorts who left full of motivation and determination to carry forward the energy and learnings from the sammelan in their places and create a powerful nationwide force for a profound shift in direction, a regeneration of the kinds of food systems we know we need to heal both land and people. To return to Vijay Kumar's observation that the biggest barrier to an agro-ecological transition in India is the mindset that food cannot be grown without chemicals, the very fact of the sammelan itself shows that this barrier is crumbling.
Please find here the declaration adopted by the sammelan which is a short succinct summary of the concerns and a clean direction towards the way forward. http://kisanswaraj.in/2022/11/18/declaration-of-the-kisan-swaraj-sammelan-2022/
Contact the authors: Alex Jensen and Sehjo Singh