As we commemorate International Women's Week, in remote villages of Odisha, women farmers, traditional custodians of seeds, are conserving indigenous seeds, reviving soil health and nutritional biodiversity
Women who had conserved and preserved indigenous seed varieties brought the same to the festival that encouraged them to revive agricultural biodiversity (Photo by Rakhi Ghosh)
On an early morning in December, farmers, especially women farmers, moved in a rally, singing and dancing. They were on their way to Gambharikhola, a small remote village in Odisha's Nayagarh district, passing through hills and lush green forests.
Women farmers from 18 villages gathered in Gambharikhola to participate in the first ever indigenous seeds festival in Nayagarh district. Each woman farmer carried indigenous seeds in a small decorated earthen pot, placing it on her head, which showed their respect towards seeds, farming and farmland.
It was a different experience for visitors from cities, to witness such kind of a festival where more than 200 varieties of paddy, pulses, millets, sorghum, maize and vegetable seeds were displayed at the indigenous seeds festival in a village surrounded by forests.
The seed festival drove home the importance of indigenous seeds among farmers, the benefits of local varieties and the need to conserve the same to revive agricultural biodiversity.
Seed festival
The indigenous seeds festival had been organized by Nirman, a non-governmental organization working in the field of agriculture and organic farming in Odisha. The festival showed the possibility of a pesticides-free environment.
In 2012, Nirman organized Burlang seed festival in Kandhamal district, among the Kutia Kondh tribes, after the harvest of crops. The idea was to encourage tribal farmers to conserve indigenous seeds, and give the farmers an opportunity to celebrate the revival of biodiversity by displaying local seeds and farming practices.
The aim of Burlang festival was conservation of seeds, farming systems and on enhancing crop diversity, to improve food and nutrition security. There was also exchange of seeds, experience and knowledge on farming practices.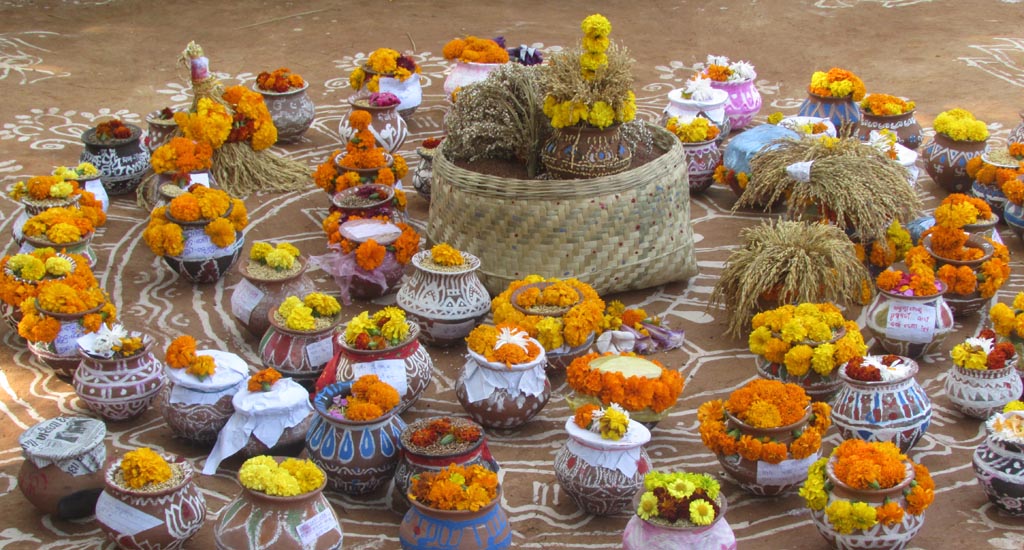 Indigenous seeds displayed at a seed festival that helped spread awareness among farmers on the importance of conserving local seeds (Photo by Rakhi Ghosh)
The intent of the indigenous seed festival in Nayagarh was also to spread the knowledge of seed conservation and promote women farmers conserving seeds. "Seed festivals give us an opportunity to display the indigenous seeds that we preserve and conserve," said Pratima Jani of Raisora village in Nayagarh district.
Hybrid seeds
"Farmers used to pass on their knowledge of seeds and conservation to the next generation," said Prasant Mohanty, executive director of Nirman. "Of late, farmers, even the marginalized ones, started depending upon hybrid seeds that have an adverse impact on their food habits, health, food security, income and climate."
Farmers who own only 2 or 3 acres of land also prefer buying hybrid seeds from the market than using indigenous seeds. As the small and marginal farmers started depending upon hybrid seeds, they had to spend extra amount on fertilizers and pesticides.
"We learnt the technique from our forebears and have been preserving indigenous seeds for generations. But, as hybrid seeds are easily available in the market and there is a misconception that hybrid seeds give more yield than indigenous seeds, farmers are opting for hybrids," said Pratima Jani.
Speaking to VillageSquare.in, Pratima Jani said that her husband agreed to sow indigenous seeds only in one acre of land out of the 3 acres of land that they own.
For better health
The Food and Agriculture Organization (FAO) in its first ever report on the state of biodiversity has noted that loss of biodiversity in agriculture and excessive use of fertilizer for cultivation are the foremost reasons for malnutrition.
Local and endemic crops that have evolved over time are a rich source of nutrition. Rapid commercialization of agriculture has led to the cultivation of a few commercial crops at the expense of local crops, resulting in the virtual extinction of nutritional biodiversity.
Some data also indicate that diseases like cancer, skin diseases and lifestyle diseases may be caused by eating food loaded with pesticides. There is every chance that not only urban dwellers, but rural poor will also be affected by these diseases as use of pesticides and chemicals is increasing in remote villages.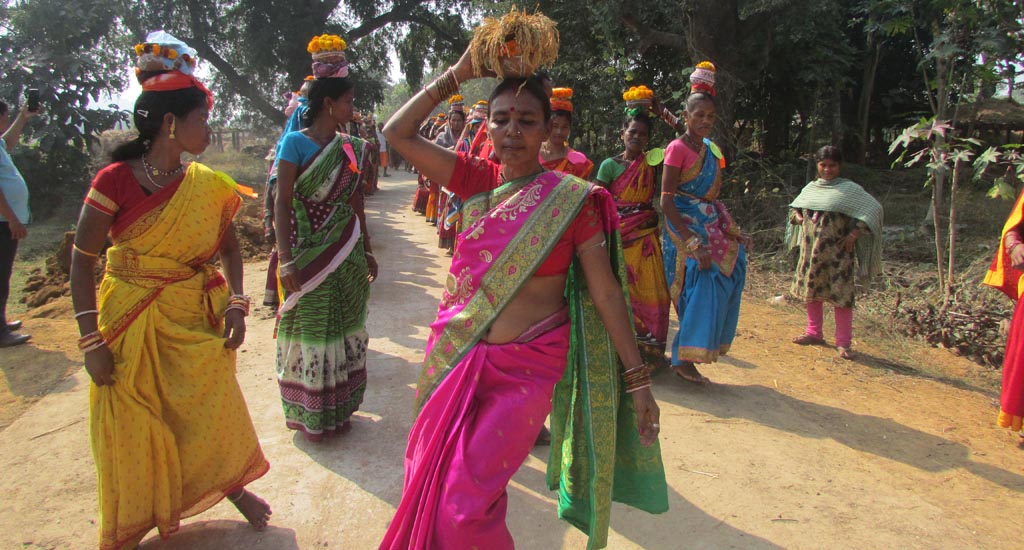 Women farmers singing and dancing their way to seed festival, carrying an indigenous seeds that would improve the nutritional status (Photo by Rakhi Ghosh)
According to Siba Prasad Sahu, secretary of Ahimsha Club, who educates villagers in Bargarh district (with the highest number of cancer patients), high use of pesticides on hybrid seeds has spoiled soil health. "It's high time we improved soil nutrients by using organic manure, and sowing indigenous seeds," he said.
Choice of right seeds
Many farmers who attended the seed festival know the importance of indigenous seeds, but are reluctant to use them, as they feel that indigenous seeds are not resilient to climate change.
"There is a need to do characterization of seeds and segregate them based on their yield, climate resilience and pest resilience; this will encourage farmers to use indigenous seeds," Bidhyadhar Maharana, climate change expert, told VillageSquare.in.
He said, farmers need to follow certain processes before sowing indigenous seeds in their fields – these include segregation, proper storage and testing of seeds before sowing on their field. "Sometimes, due to fungus, farmers do not get the expected yield," he said.
"If farmers choose the right variety of indigenous seeds even if the yield is less, they can sell it at a premium price. Because the price of organic food is higher than conventionally farmed food," he said. He emphasized that there are specific indigenous seeds proven to give more yield than hybrid seeds.
Empowering women peasants
Kanchan Behera of Raisora village, who had brought a variety of seeds to the festival said, "I hope to get a different variety of seed (paddy) to sow in my one acre land." She learnt conservation and preservation of seeds from her mother. After marriage she and her mother-in-law continue the practice.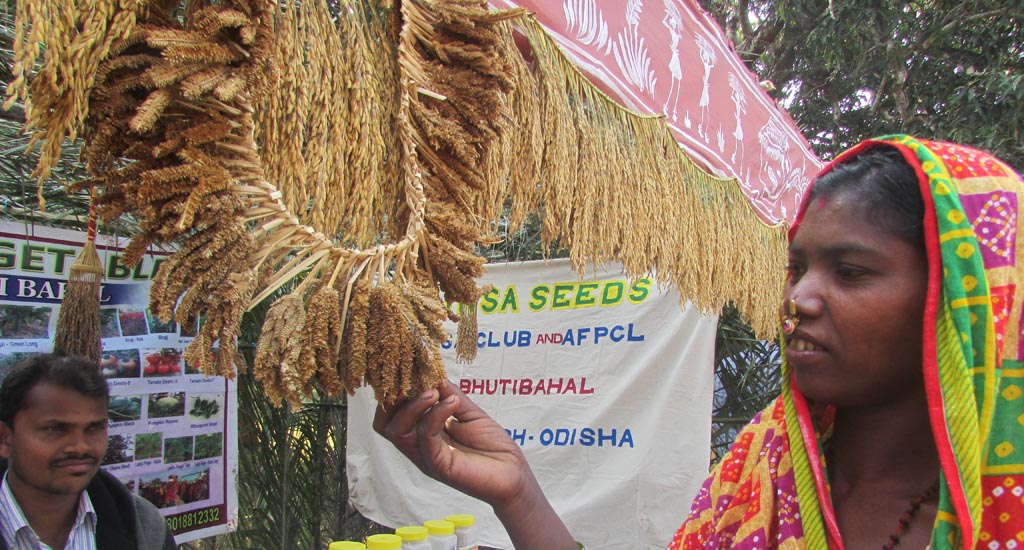 A woman farmer who understands the importance of seed conservation participated in the indigenous seed festival (Photo by Rakhi Ghosh)
"In our 2 acres, we follow organic farming. The yield is enough to feed our four member family. We sell the surplus in the market," said Behera. "If you use hybrid seeds you have to invest on fertilizers to increase productivity. So, women in remote villages need to preserve seeds for the next season's cultivation."
Earlier, in remote villages, women had the knowledge of conservation and storage of seeds and this empowered them at home as well as in the community. Of late, as their husbands started using hybrid seeds, most of the seed preservation knowledge was lost.
Way forward
According to Maharana, in remote villages, seed bank concept needs to be encouraged and women peasants should be taught conservation, preservation and storage of seeds. It would help in exchange of seeds, improve nutrients in soil and have a positive impact on agricultural biodiversity.
"When farmers sow hybrid seeds, government provides subsidy for water, electricity, tractor, fertilizer, weeder, fuel and pesticide. But there is no subsidy for sowing indigenous seeds," Maharana told VillageSquare.in. "To encourage the farmers, government needs to support them."
"Ecological farming practices need to be strengthened and if farmers follow proper procedure in selecting indigenous seeds and practice organic farming, it will increase productivity and have a positive impact on soil health, biodiversity and human health," said Mohanty.
First published by Village Square on 11 Mar. 2020
Read an older article on Seed Saving tradition in Odisha Experts Stressed Revival of Millet Farming in Odisha
Read a paper Community Self-Organisation from a Social-Ecological Perspective: 'Burlang Yatra' and Revival of Millets in Odisha (India) by Lopamudra Patnaik Saxena on Burlang Yatra or community seed festival.