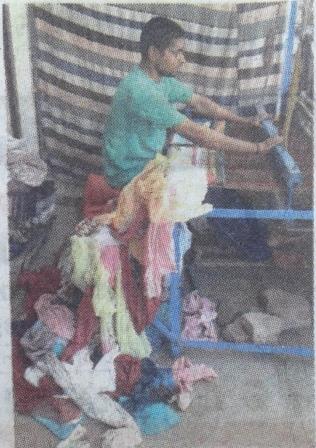 "What to do with old clothes which are not acceptable for re-use?" is a challenge faced by many middleclass housewives. A team of 10 livelihood-seeking Weavers who have migrated from the vicinity of Panipat (Haryana)  to Pune offer a solution.
Making rugs and mats from old, torn clothes, this team effectively creates new and useful articles from old and useless stuff. The Bunkar Khaddi is the Handloom which they have adapted for this purpose. It needs no electricity, for it runs exclusively on human power. The weavers use about 5 kilos of the fabric extracted from old clothes to create a bedcover or other article, charging between a hundred, and five hundred rupees, depending upon its size and quality.
They also have another machine that extracts yarn from old clothes, providing  material for creation of rugs.
Visit them at Kadari Handloom
Opp. Svami Samarth Matth
Shastrinagar, Kothrud
Pune 38