Written specially for Vikalp Sangam
My mornings in the Rakkar village were one of the most satisfying ones. Walking along the stream, called khadd by the locals, had become my ritual. On one side of the river is the Tibetan Institute Norbulingka where there is a small shop that serves really good Thukpa. And on the other side of the river is Rakkar village.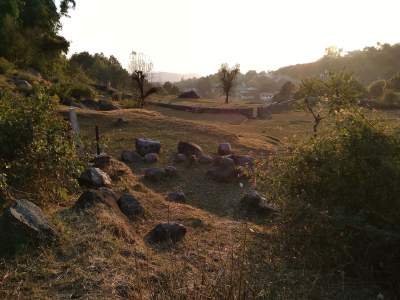 Rakkar is a home to various initiatives by local people as well as by people who have settled here from outside. One such initiative is Jagori Grameen, (JG), which works with rural communities and families in nearly 150 villages of the three districts of Himachal Pradesh – Kangra, Sirmor and Chamba.
Jagori (http://www.jagori.org/) was first set up in 1983 in Delhi as a feminist organization, a feminist training pioneer as well as a resource centre as part of the national feminist movement. Setting up Jagori in Himachal Pradesh as Jagori Grameen in the year 2003 was driven by the aspiration of a few feminists, especially Abha Bhaiya, one of the founders of JG. The intention of JG was to bridge the gap between women's oppression in patriarchal systems and the exploitation of the land within the rising corporatization of agriculture. Over a period of time, while feminist movements gained visibility in bigger cities, a need was felt to address the issues of women in rural India. Especially in the sub-region of the northern India – Haryana, Punjab, and Himachal Pradesh – where there was no presence of feminist movement or significant women's organizations. To start with, JG as a community based collective, began working in 25 villages. With time, the space has been an inspiring story of women's collectivization and empowerment. The collective has helped in building leadership among women, training them (TARA-training and Research Academy was started in 2008) from the feminist perspective, addressing issues faced by women farmers, violence against women, health rights and entitlements.
With a beautiful landscape around its premises, TARA, which is a training centre, is also a feminist retreat centre. Every year, a number of volunteers and interns contribute for shorter or longer durations of time. JG has different teams working on different issues of the community; it has three strong community based programs-
SAFAL (Sustainable Agriculture Forest and Land) program has done pioneering work in reviving organic agriculture. It has worked towards motivating farmers to convert their land back to natural/ organic farming, greening of the forest, traditional seed preservation and creating a market for organic food – perishable and non-perishable. This is extremely crucial at a time when small and marginal farmers are being pushed to commercial farming to meet market demands.
"Women's labour and time is central to farming, yet they are never recognized as farmers. In fact, no farming community can survive without women's contribution and wisdom", says Abha Bhaiya while explaining JG's focus on women farmers. The work is primarily with women farmers having small land holdings with an objective to help them to go back to organic farming (or the new buzz word-'zero budget farming') as well as linking them to dignified and sustainable livelihoods.
Kishorilal is a farmer from Bagdu village in Himachal and has been working with Jagori for many years now. During an interview, he said-
"I remember in the beginning, our farms used to be forced sprayed with chemicals at night by the agricultural department. The yield from it looked so unnatural but the production increased. By the time we realized what its undesirable side effects were, livestock was replaced with tractors, and cow dung with chemicals."
Currently, working in four blocks in HP, there are village-level women's groups which are getting training related to farming, taken for exposure visits to organic farming sites or for learning new techniques and helping them to access government schemes and training. Primarily working with the small farmers, the objective is to build awareness about the inter-linkages between the communities, health of the land and nutritional value of food, with a focus on the overall wellbeing of the family. The program is getting expanded and more and more farmers are returning to traditional farming methods. Farmers cultivate primarily for self-consumption and the extra produce is sold in the markets under the brand name 'Green Leaf'. At present, there are around 26 farmers associated with Green Leaf.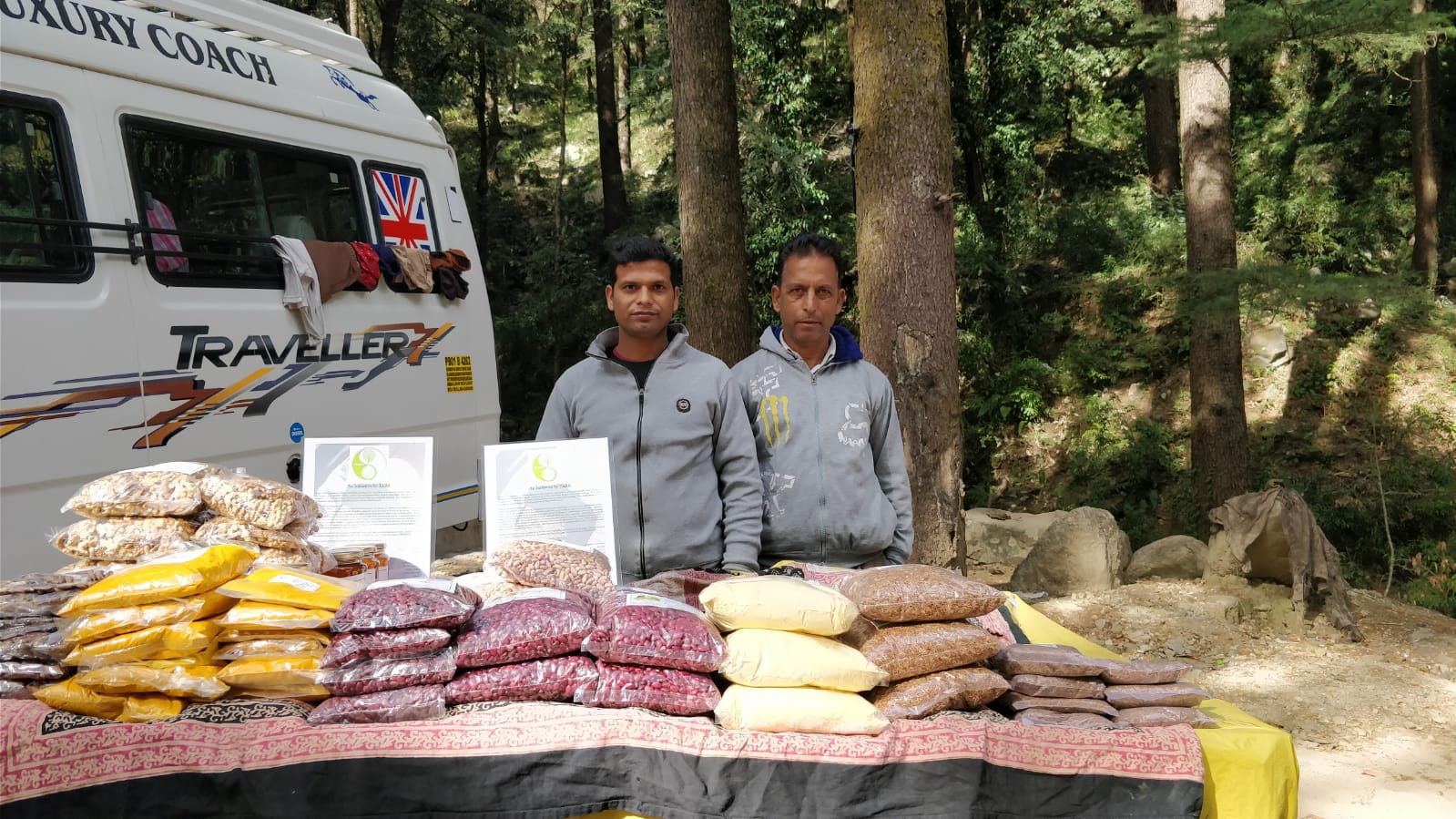 Ashish and Kamlesh of Jagori's Green Leaf program at the stall during a Christmas market in 2017. Jagori also organizes food festivals with the communities, trying to reclaim the knowledge of traditional food and herbal medicines. Photo-Aliya Tuzhilin.
There seems a lot of potential to expand organic farming. While walking through the village Tremblu, Sunita Choudhary, a local resident, showed me her mushroom cultivation. She remarked, "The yield is good, and so is the money".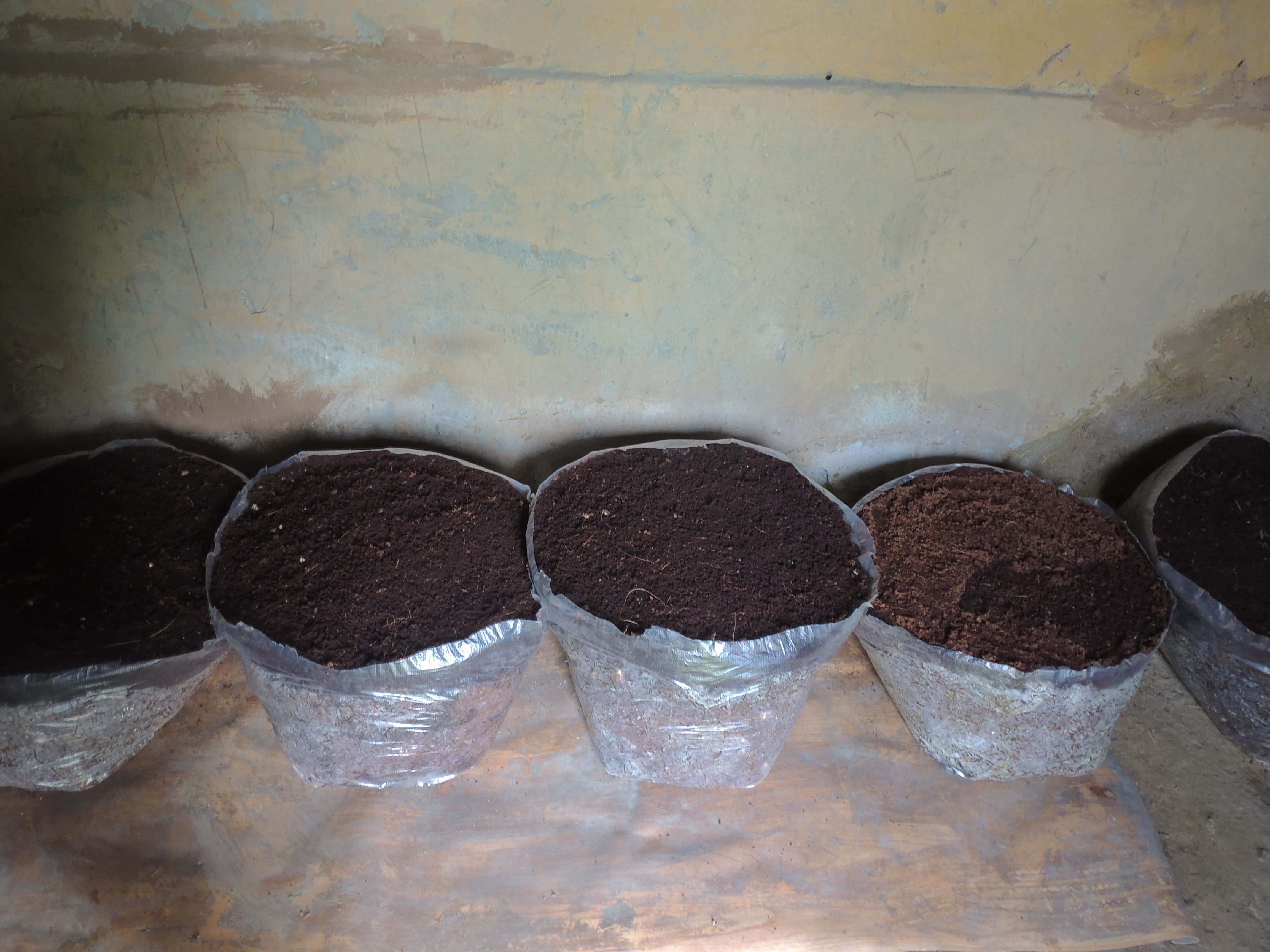 Mushroom is becoming a popular cash crop among these women farmers. It was during this discussion that one of the elderly mentioned the trend of youth leaving farming and such initiatives by JG show some hope for them to return to farming.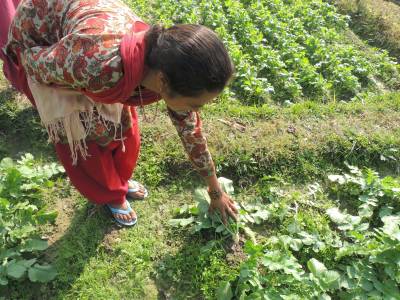 Sunita Choudhary, a local organic farmer is quite happy with her produce this year!
The second program of JG is AWAJ (Aware Woman's Action for Justice). It is one of the central programs and has three components:
Freedom from violence and addressing cases of 'violence against women' (VAW),
The right to health and well being,
Building leadership among women and increasing their political participation.
In addition, the program has initiated Nari Adalats (women's courts), which are community based institutions set up to address issues pertaining to violence against women. At the moment there are five such Adalats run by local women known as barefoot lawyers. These barefoot lawyers are trained by the lawyers on the various kinds of cases, such as, dowry, domestic violence, divorce and sexual harassment. So far, they have addressed more than 1500 cases of violence against women and a few cases of men as well.
JG plays the role of a bridge between the community and the various state departments to ensure the implementation of government schemes and provides access to the promised entitlement. They recently organized a public awareness campaign (Jan Jagrukta Abhiyan) in the Rait block where they brought the administration and the communities face to face. I got an opportunity to join the JG team on their door to door campaign for the upcoming public hearing. That day we went to a couple of village meetings informing villagers about the public hearing. The issues discussed in these meetings ranged from pension to road construction, to building water pipelines, to issues of increasing alcoholism to accessing ration shops and the delay in implementation of sarkari schemes.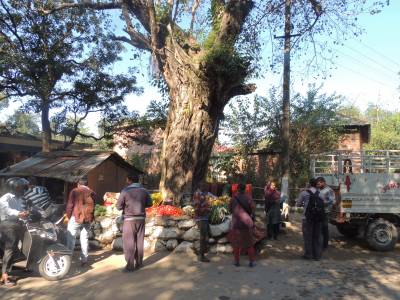 During the door to door campaign.
Regular training and capacity building sessions are held for all JG team members as well as for the community members including women who stand for the panchayat and district level elections. One of the team members, Rajni, who runs the Violence Against Women (VAW) team, is working in JG for ten years. In between, she was also a Major of Dharamshala city for two and a half years and rejoined the JG team later. In Rajni's words,
"Working with JG has been a personal journey too. What we learn as feminist activists, we take to our homes, thus influencing and challenging patriarchy at family level also. Each of the team members has come a long way in understanding this system and fighting against it."
AGAJ (Aware Girl's Action for Justice) is a shift from the original program titled 'Social Architects of Tomorrow' (SATH) in Himachal, a youth empowerment program. AGAJ is entirely focused on the empowerment of and leadership building among adolescent girls. The program reaches out to nearly five thousand girls. There are sessions on gender sensitization, body literacy, sexual rights, and health and nutrition awareness. One of the regular events is a Kishori Utsav, an adolescent girls' fair. This fair is also a space for expression and brilliant performances on issues surrounding gender inequality, female foeticide and violence.
At the Kishori Mela in 2018 – "Those who love daughters give them equal property rights"
"A fearless and equal society for women is my vision for an alternative society" says Kaushalya from Tangroti village who is also a converted organic farmer. While JG has been challenging patriarchy and capitalist systems, there is still a long way to go to uproot the systems. One of the major struggles is of moving forward with the demand for joint pattas (titles to land holdings) for women and men.
JG is the national secretariat of the international One Billion Rising (OBR) campaign, which is a global movement to end gender based violence. JG takes the campaign to a large number of states on issues of assertion of rights enshrined in the constitution and their violation. It has also been revolutionary in raising political consciousness on gender related issues. Such political campaigns are an ongoing process. There is no time to pause.
The challenge before JG is how all this engagement will be transferred into the hands of the community as they begin to set up their own institutional mechanism. JG is moving in that direction – slowly but definitely.
Contact the author
The author is with Kalpavriksh